When R. Rex Parris, the Republican mayor of Lancaster, California, wanted to revamp local manufacturing and move his city toward renewable energy, he turned to an unlikely ally: China.
Lancaster is a working-class desert town north of Los Angeles ― not exactly a bustling center of global commerce. But Parris cajoled the Chinese electric vehicle company BYD into building a local factory for electric buses. To court the firm, Parris made multiple trips to China, cut down the city's lengthy permitting process and directly matched BYD with an RV factory in search of a new owner.
The refurbished BYD bus factory now employs hundreds of welders, painters and engineers, and Lancaster is on its way to an entirely electric and locally built fleet of city buses, made possible by Chinese investment. Last fall, the company broke ground on the third phase of the factory, which will add tens of thousands of square feet of new production space.
Mayor Parris's China outreach stands in stark contrast to the nativist and protectionist rhetoric coming out of the White House. President Donald Trump has argued for a blanket 45 percent tariff on imports from China. He believes this will push American companies manufacturing in China to move factories and jobs back to the U.S. ― or at least scare Chinese leaders into other concessions. But in actuality, a border tax would backfire. Companies would duck tariffs by moving to Southeast Asia, and prices for everyday goods would rise for Americans.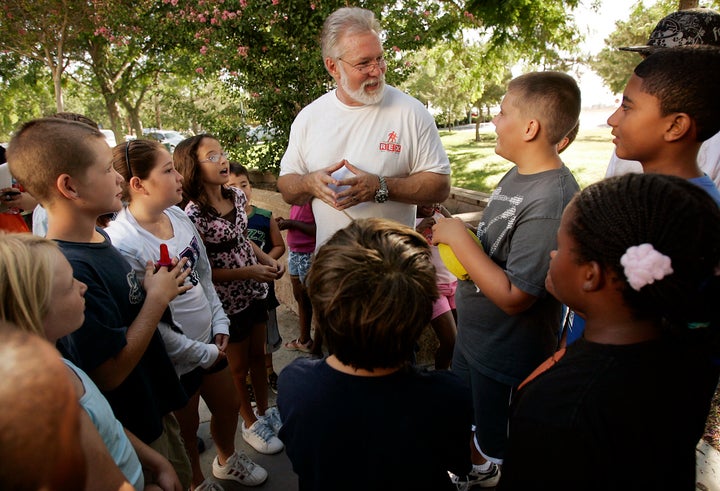 Instead of putting the kibosh on free trade, Trump should take inspiration for U.S.-China policy from local leaders like Parris. Right now, entrepreneurial American mayors are doing the grunt work to capitalize on a massive boom in Chinese outbound investment, tourism and immigration. They're traveling to China to promote land for development, businesses for investment and cities for tourism.
Part pitchmen and part policymakers, mayors have the incentives and the flexibility needed to entice Chinese investors. In a small town, every new storefront counts, and mayors are free from the paralyzing weight of global geopolitical machinations. They don't lose sleep over the South China Sea or issue provocative statements about Taiwan. Their careers ride on getting things done in their jurisdiction: creating jobs, housing, safe streets and good schools.
A recent wave of outbound Chinese citizens and capital is helping them do just that. In 2016, Chinese acquisitions and investments in U.S. companies tripled to $45.6 billion. Chinese families purchased U.S. homes worth $27.3 billion ― greater than the next four countries combined. In the San Francisco Bay Area, Boston, Miami and beyond, Chinese developers are funding very large real estate developments on land that previously lay fallow for years; the Bay Area developments include some affordable housing.
Chinese tourism to the U.S. grew by nearly 15 percent in 2016, to 3 million visitors, with each spending an average of $2,500 on shopping, restaurants and hotels. Last year, a record-breaking 330,000 Chinese students ― many of them paying full tuition ― enrolled at American colleges that have been gutted by funding cuts.
Entrepreneurial American mayors are doing the grunt work to capitalize on a massive boom in Chinese investment and immigration.
Mayors aren't alone in pushing this hyper-localization of U.S.-China relations. Working alongside them are proactive governors, county supervisors, university presidents and environmental regulators, all reaching out to Chinese counterparts in search of investment and cooperation that will make an impact on the ground. These grassroots ties are knocking the Sino-U.S. narrative down from the pedestal of great power politics. The engine room of the relationship has moved from the Politburo to PTA meetings, from the White House to City Hall.
But when international relations mix with neighborhood politics, the results can be volatile. China's growing footprint on U.S. soil is already generating anxiety among Americans. As Chinese all-cash homebuyers snap up properties, longtime renters fear being priced out of their own neighborhoods. Surging enrollment of Chinese students at public universities has sparked criticism from locals that admission is being auctioned off to the highest bidder. Chinese investors have ruffled feathers from Alabama to San Francisco for injecting a heavy dose of Chinese culture into the workplace or failing to understand local laws.
Parris's own ambitions haven't been free from controversy. Shortly after BYD opened its electric bus factory, locals lashed out at his next China plan: subsidizing an underfunded local hospital by bringing in Chinese "birth tourists," wealthy women who get U.S. citizenship for their child by giving birth on American soil. When word of Parris' plan got out, local papers filled with a cartoon of Chinese soldiers goose-stepping into Lancaster, Mao's Little Red Book in one hand and newborn babies in the other. Parris was forced to abandon the plan.
The engine room of the U.S.-China relationship has moved from the White House to City Hall.
Then BYD ran into its own problems when a raid by the California labor commissioner led to accusations that the company was paying Chinese workers below minimum wage. Local union activists protested outside BYD's Los Angeles headquarters, decrying the city's courtship of the company. The labor commissioner later dropped nearly all the charges, but the public relations debacle exposed both how unprepared some Chinese companies are for American civil society and how deep suspicion of foreign investors can run. 
China's presence in America comes with frictions. Chinese factories are creating jobs in manufacturing towns, but they're also rubbing up against labor standards. Tuition from Chinese students is keeping some public universities afloat, but it's also heightening competition for spots at those schools. Chinese developers are kickstarting stagnant real estate projects, but Chinese homebuyers are driving up prices in those same neighborhoods.
These thorny tradeoffs are best dealt with on a local level by mayors embedded in their communities and responsive to their constituents' needs. Mayors know that working Americans care more about jobs and housing than posturing on trade or territorial claims in distant seas. If Trump wants to put Americans first when it comes to China, he can start by letting America's mayors take the lead.