WUHAN, China -– The eyes of the Chinese people are fixed on the Yangtze River, where Monday evening a cruise boat capsized in what could be the worst maritime disaster in years. As of Tuesday evening only 14 of the 456 people aboard the Eastern Star had been rescued, and five bodies had been found. That leaves hundreds of families and loved ones anxiously awaiting news.
The Chinese government dispatched rescue boats, military police and doctors to the scene of the accident. Premier Li Keqiang arrived at the river Tuesday, and state media reported he was directing operations on site.
Photos and video from the scene showed rescue workers crouching atop the ship's hull, banging on the metal and listening for a reply. The rescue workers appeared to hear a response, and during the day, three survivors were pulled from the hull.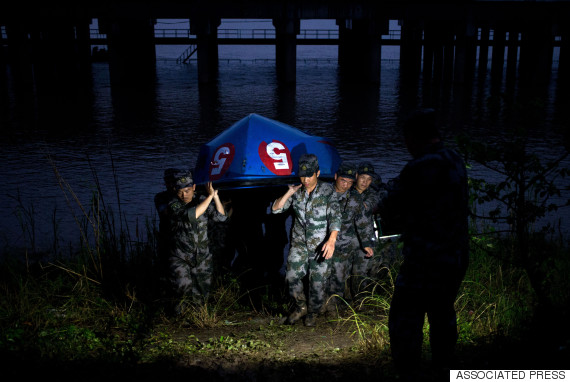 Chinese soldiers on Tuesday carry their boat to the embankment after their search and rescue operation near a capsized cruise ship on the Yangtze River in Jianli in central China's Hubei province. (AP Photo/Andy Wong)
The ship's captain and chief engineer had been taken into police custody, but state-run Xinhua News reports that the boat does not appear to have been overloaded or lacking in life vests.
Media reports say many of the passengers aboard were between 50 and 80 years old. They hailed primarily from China's more prosperous eastern provinces and were traveling as part of an organized tour group. Package tour groups are popular among Chinese retirees who finally have the time and resources to travel around their country. The Yangtze River stretches over 3,900 miles, making it the longest river in China. The segment of the river where the boat sank is a popular area for scenic river cruises.
Disasters of this scope have turned into political flashpoints in the past. The sinking of a ferry carrying hundreds of students in South Korea last year became a major debacle for the president. In 2011, a high-speed train crash in southern China quickly became a referendum on China's breakneck pace of development after social media seized on evidence of incompetent rescue efforts and coverups.
President Xi Jinping has made anti-corruption and strong central leadership a corner-piece of his administration's public image. That greatly ups the stakes on rescue efforts and how blame is attributed for the accident.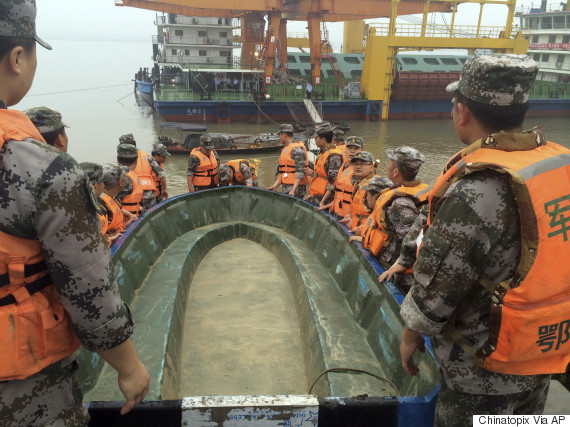 In the provincial capital of Wuhan, about a three-hour drive from where the boat sank, citizens pored over social media postings about the tragedy and rescue efforts. Residents with friends in the army or medical teams proudly showed pictures of them being deployed, and small crowds of taxi drivers chewed over the days events.
"It's really tragic, but [the government] has reacted quickly," said Zheng Wenju, a taxi driver who hails from the area and now works in Wuhan. "They sent the number two [leader, Premier Li Keqiang] so you can tell how important it is. There's nothing bigger than the people."
But some families worried about loved ones were less impressed. Several media outlets reported some were angry about the lack of information about whether their loved ones were indeed on the ship. Reports have also begun to surface about directives from propaganda authorities ordering local media to only reprint official government accounts of events.
After a period of uncertainty, China's Meteorological Administration has reportedly said a level 12 cyclone caused the boat to capsize. Rough weather conditions on Monday night made initial rescue efforts difficult.
The rescue of a passenger on Tuesday was captured on video.
Tuesday did see some miraculous stories of survival emerge. State-run Xinhua News relayed the story of Zhang Hui, a 43-year-old manager at a travel agency who managed to crawl out a window as the boat capsized. Zhang said after 9 p.m. Monday, the rainstorm grew so intense that many cabins began to flood, and he noticed the boat beginning to lean.
"It was really tilting, about 45 degrees," Zhang told Xinhua. "Some small bottles were falling over. I'd pick them up and put them back, but then they'd fall over again."
At that point he turned to a coworker: "It looks like we've got a big problem."
Then the boat began flipping, turning in less than a minute. Grabbing a life jacket, he and his coworkers climbed toward a window that had turned and was now above their heads. With water up to his neck, he escaped.
Unable to swim, Zhang's lifejacket allowed him to float downstream for 10 hours through the night. As the sun rose he was finally able to claw his way to shore. From a local hospital, Zhang was finally able to call his wife and son. The first words out of his mouth told them everything they needed to hear.
"I'm still alive."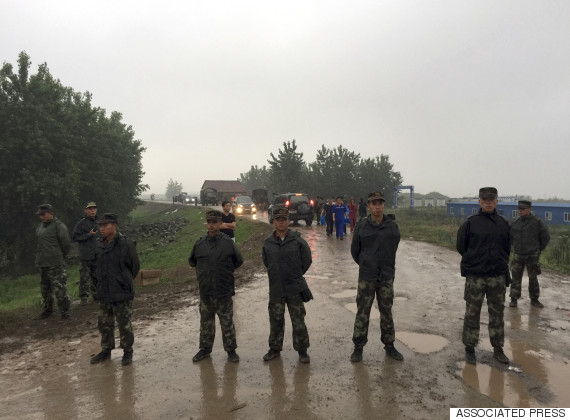 Chinese paramilitary policemen block a road leading to a command center set up for rescue operations of a capsized cruise ship on the Yangtze River in Jianli in central China's Hubei province, Tuesday, June 2, 2015. (AP Photo/Andy Wong)