ISTANBUL — For millions of Syrians, a simple food voucher distributed by the United Nations' World Food Program is the only thing ensuring they won't starve.
But on Monday, the humanitarian organization responsible for feeding 6 million at-risk Syrians announced it was slashing food aid meant to feed 1.7 million people, citing a grave shortfall in funding.
Now, aid groups warn that the threat of hunger could prompt more child marriages, sexual exploitation, displacement and even refugees returning to war-torn Syria.
Early this week, refugees in neighboring Lebanon and Jordan received text messages from WFP saying that they would no longer receive food assistance.
"We deeply regret that WFP has not yet received funds to reload your blue card for food for December 2014," a text sent to Syrian refugees in Lebanon read, according to WFP. "We will inform you by SMS as soon as funding is received and we can resume food assistance."
What began in 2011 as a rebellion against the regime of Syrian President Bashar Assad has spiraled into a brutal civil war claiming more than 200,000 lives. Amid the bloodshed and mass displacement of roughly half the Syrian population, the WFP is tasked with feeding 4 million people within Syria and 2 million refugees in neighboring countries — an effort that costs about $35 million a week.
Joelle Eid, a spokeswoman for WFP in Amman, Jordan, said that some refugees — the lucky ones — may be able to fall back on their own savings to buy food. But others will have to make serious and potentially dangerous changes in order to get by. She says many refugees have told her that without food aid, they may have to return to Syria.
"Families will be forced to cut back on their meals, perhaps remove their children from school to look for work," said Eid. "[There will be] an increase in child marriages as a result of the difficulty of their living conditions, not to mention that in the long run their food security will be endangered. Some people might consider moving from where they're staying to look for other sources of food."
On Wednesday, WFP, which is funded by contributions from governments, corporations and individuals, launched a 72-hour social media campaign in a desperate attempt to raise $64 million dollars. If the aid group reaches its goal, WFP says, it will resume the voucher program immediately.
Here is an up-to-date list, compiled by the U.N. Office for the Coordination of Humanitarian Affairs, that describes which countries have given what — and which have yet to follow through on their pledges.
In early November, Yacoub El Hillo, the U.N. resident and humanitarian coordinator in Damascus, Syria, told The WorldPost that the world could do more to help Syrians. He warned that millions of Syrians could be left without food, shelter and medical assistance this winter if the U.N. doesn't receive more donations — and fast.
"I am worried that the suffering of the Syrian people is now eclipsed by the attention given to ISIL," he said over Skype, referring to the extremist group that calls itself the Islamic State. "But also by the military action, at the expense of the people who are the key victims."
The International Rescue Committee, a prominent humanitarian charity, has also warned that the food aid cuts could spell disaster for the refugees it assists.
"We operate three women's centers and two health clinics in the urban areas of Ramtha, Irbid and Mafraq [in Jordan]," Meghan Garrity, an IRC field coordinator in Jordan, told The WorldPost over email. "And [we] have many Syrian women coming to us hysterical because of these cuts."
Garrity told The WorldPost that refugees aided by the IRC have said they may have to return to Syria due to the food aid cuts, as well as a Nov. 24 announcement from the Jordanian government that health care assistance for Syrian refugees will no longer be free.
"The refugees we serve have told us about fears of eviction from their houses, having to take their children out of school to work, reducing meals for their family, increased risk of sexual exploitation and increasing debts," Garrity wrote. "Many refugees say they don't know how they will survive in this new environment."
While the WFP has assured refugees in Jordan that they can return to refugee camps, where food aid has not been cut, conditions inside the camps are often grim. Host countries are struggling to cope with the massive influx of needy refugees, and borders are tightening.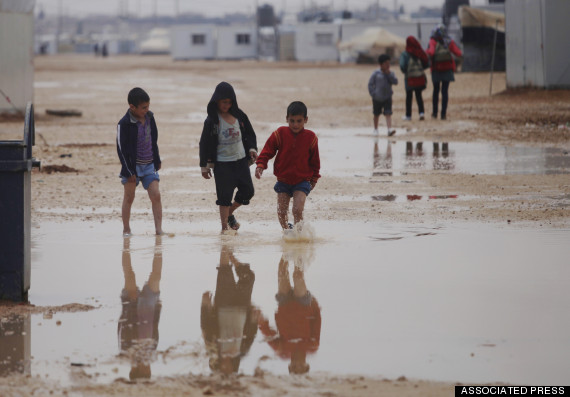 Syrian refugee children walk through a puddle after heavy rains hit the Zaatari refugee camp near the Syrian border in Mafraq, Jordan, Thursday, May 8, 2014. (AP Photo/Mohammad Hannon)
"Unfortunately many refugees are telling us they would rather return to Syria than live in the camps," Garrity said. "The text message is definitely causing panic."
Many Syrians say that going back home, however little of "home" might be left, is worth the risk if there's no promise of a better life in neighboring countries.
Eid told The WorldPost that in September, she asked Syrian refugees what would happen if they lost their monthly food assistance. She recalled one woman's teary-eyed response in particular.
"My husband will force us to go back to Syria," Eid says the woman told her.
Eid then asked the woman if it was safe enough to return.
"No, it's not safe," the woman said. "But if we're going to go hungry here, we might as well be hungry in our own homes."