HASAN AL SHAM, Iraq ― When Sarbast Salih and his men enter a house formerly held by ISIS, they don't go through the front door. Instead, they shimmy in through a window.
It's one small precaution Lt. Col. Salih and his Kurdish Peshmerga unit take when they defuse bombs and clear villages of explosives. 
Like the rest of his squad, he does it with his bare hands. "We only have our eyes and pliers," Salih said with a proud smile on Tuesday morning. 
Tasked with detecting and defusing IEDs, the men serve a crucial role in the U.S.-backed operation launched this week to drive ISIS from Mosul, northern Iraq ― the extremists' last major stronghold in the country.
Embedded with Salih's unit on Tuesday, I watched as they patrolled a road in the village of Hasan al Sham, around 30 miles from Mosul. Peshmerga fighters had retaken this northern Iraqi village from ISIS on Monday.
Sometimes Islamic State fighters lay IEDs across main roads. Other times the group puts the explosives in Qurans or on top of front doors. The detonator in one coil of explosives in Hasan al Sham was tiny and clear, nearly impossible to see.
"Everything is suspect," Salih said.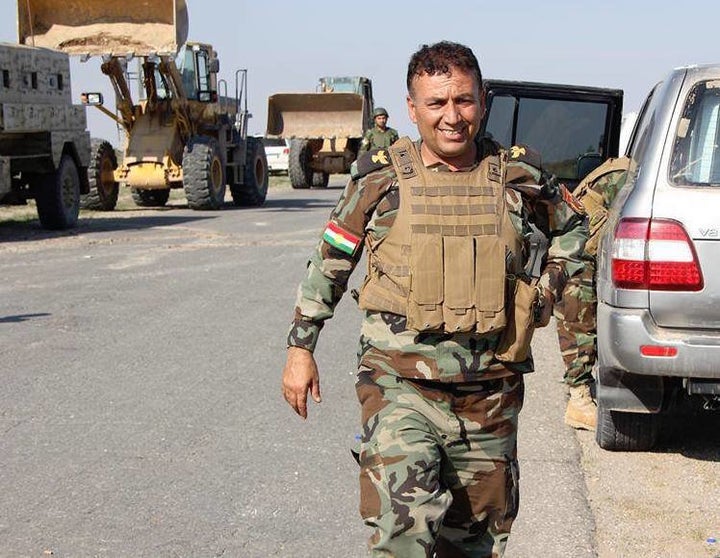 The cheap and easy-to-make explosives are key to the hardline group's "scorched earth" campaign. They destroy anything and everything when driven out, making it uninhabitable and impassable for civilians and military forces alike. Hasan al Sham is littered with bombs. It's a trademark move that could prolong the battle for Mosul.
As Iraqi and Kurdish forces advance on Iraq's second largest city of Mosul, the task of clearing surrounding villages littered with IEDs is a difficult one.  
Most of Salih's men don't wear gloves, shatter-proof glasses or demining suits. They simply don't have any. Nobody dons a helmet ― though there were a few spare ones sitting idle inside an armored car ― and only a few wore beat-up flak jackets.
Some of the Peshmerga bomb crew drove up in an armored, mine-resistant "Badger" vehicle ― although most drove in unarmored pick-up trucks and SUVs ― and the Iraqis had at least one minesweeper vehicle.
But much of actual bomb disposal is done by hand, with the crew's faces mere inches from the explosives.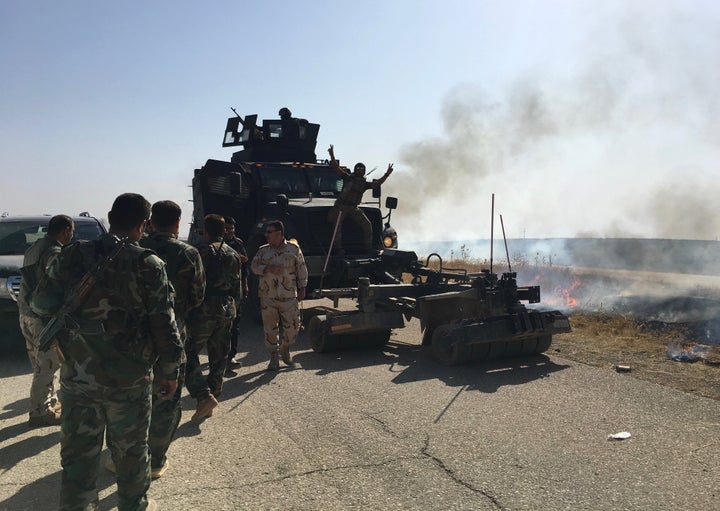 What they really need are radio frequency-jamming devices, like the U.S. military uses, to stop remote-controlled bombs, Salih explained.
"This is my weapon," joked one Peshmerga fighter, pointing at an old pair of pliers.
The grassy banks on either side of the road leading through Hasan al Sham were in flames on Tuesday, set alight by deminers hoping to destroy or detonate any hidden IEDs.
Sometimes, crew members resort to shooting at a suspected bomb if they're worried they can't dismantle it correctly.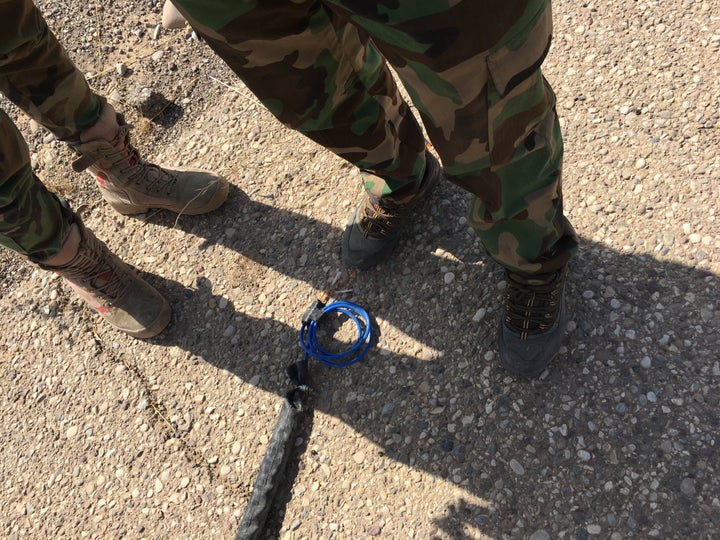 A long convoy of military vehicles screeched to a halt there Tuesday. The Islamic State was nowhere to be seen, but the group had left a deadly parting gift in its retreat: a booby-trapped trench that made the road impassable.
"ISIS puts them in hidden places," said another Kurdish fighter, also in charge of demining operations who introduced himself as Lt. Sirwan. Behind him, a man on his team hunched over, peering at an IED stuck in rubble. "Some of these bombs take us an hour to defuse."
Peshmerga deminers say they've learned to work through the terror.
"The men who fight know when they could die," Sirwan said. "But we don't know when or where. If we show our fear, we can't do our job." 
So far, Kurdish and Iraqi forces ― backed by U.S.-led coalition airpower ― have reclaimed at least 20 largely uninhabited villages around Mosul. The offensive stalled on Tuesday, leaving a break in fighting for men like Sirwan to go in, methodically clearing strategic roads.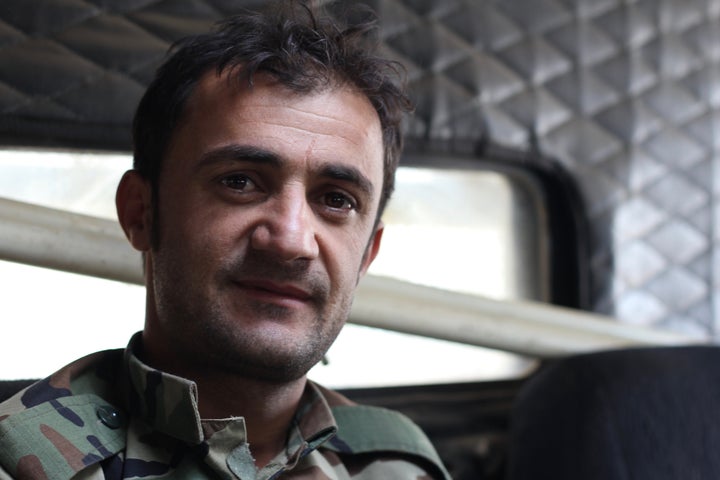 Salih has found upwards of 500 ISIS bombs himself, by his own count.
Peshmerga have disposed of over roughly 13,000 IEDs since 2014, according to Gen. Mahmoud Kakay, a Peshmerga commander who was near the front line in Khazir on Monday. (That number could not be independently verified.) He estimated it could take three months or more to fully clear "liberated" villages of hidden explosives and booby traps.
Both Kurdish and Iraqi forces took part in bomb disposal in Hasan al Sham.
That cooperation is key to the Mosul operation, which involves a handful of fighting forces including troops, Kurdish Peshmerga, Shiite militias, Turkish troops and Sunni tribal fighters. Some are bitter rivals.
After a few rounds of bickering on Tuesday, the Iraqi and Kurdish forces each decided to take a side of the two-lane gravel road to clear.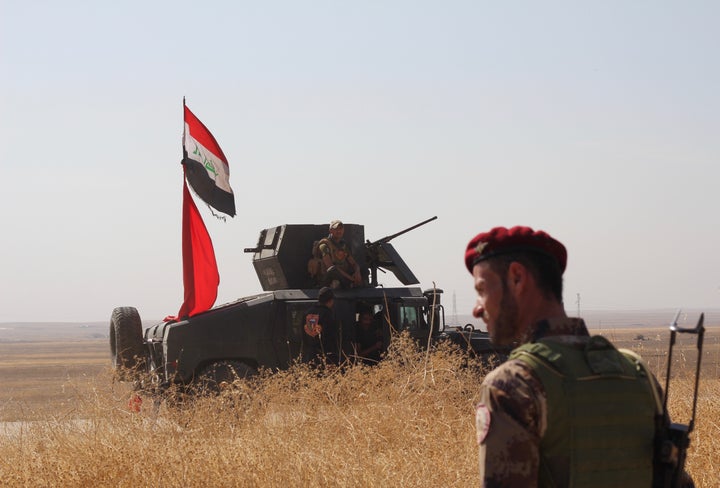 Iraqi Kurds have long pushed for greater autonomy from Baghdad and the fight against ISIS. They have expanded their semiautonomous territory by roughly 40 percent after stepping up when many Iraqi forces fled Mosul in 2014 when ISIS attacked and took over.
"Don't go with the Iraqis," one Peshmerga fighter later told me, shaking his head angrily.
The fight for Mosul will take sustained cooperation. ISIS militants are using civilians as human shields, as they've done before, according to reports from inside the city.
And they're expected to ramp up suicide bombings and plant IEDs as coalition-backed forces move towards the city.
ISIS has had over two years to prepare for this moment, building trenches, digging tunnels and incorporating themselves amongst the civilian population to avoid airstrikes.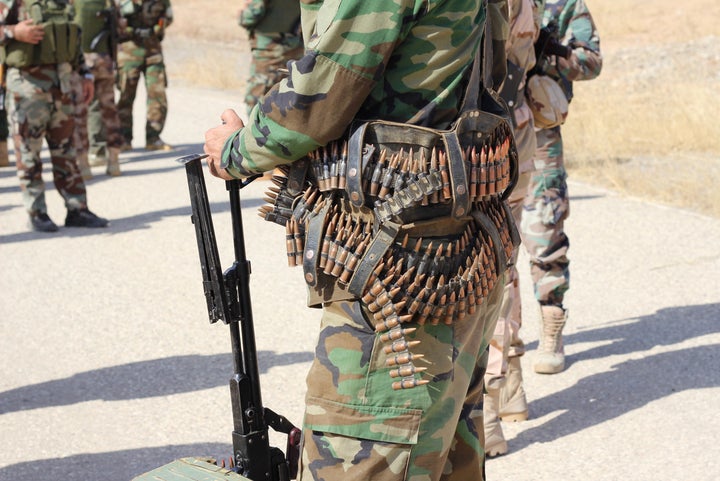 There has not yet been a mass exodus of civilians from Mosul, as there has been from other areas under ISIS control. Iraq military fliers dropped over the city told civilians to stay indoors. And there are no safe exit routes.
But that doesn't mean people won't leave if given a chance. 
Some 200,000 Iraqis could become displaced in initial weeks of the operation, the United Nations said Tuesday, and 1 million people overall could eventually need shelter and humanitarian assistance. There isn't nearly enough room in camps or supplies for those numbers.
Land mines pose the greatest risk to people fleeing ISIS-controlled territory.
One family in Debaga camp for internally displaced Iraqis told me on Wednesday a 15-year-old relative had died during their flight from Hawija, in the Kirkuk province of Iraq. They were forced to leave his body behind.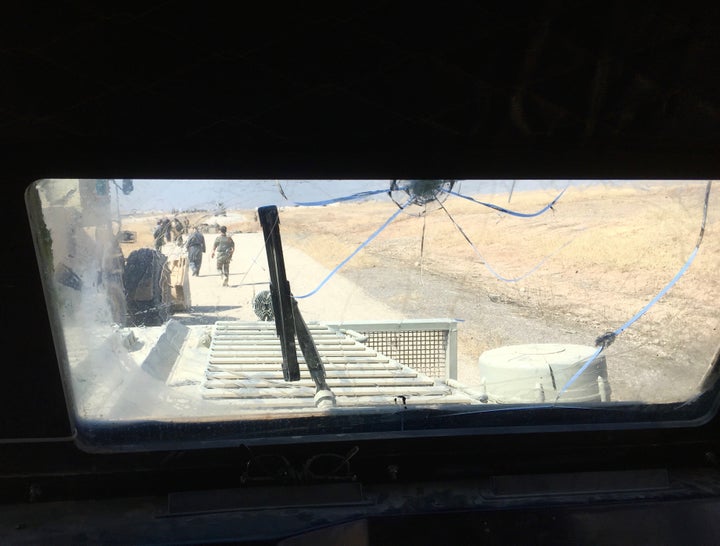 Standing on the side of the road in Hasan al Sham, bulldozers roaring as they pushed through potentially explosives-laden mounds of sand, Salih explained why he stuck with a job that killed so many of his friends.
"I think, if I don't defuse this bomb, civilians will die," he said. He knew it was dangerous work.
Between 2014, when ISIS seized large swathes of Iraq, and Tuesday, seven men on Salih's team had been killed by hidden bombs. Every time he went out, his family would make frantic calls to make sure he survived the day's work.
On Tuesday night, those calls went unreturned. 
Hours after I left, Salih was killed while trying to dismantle an ISIS improvised explosive device. He was 43.