ISTANBUL — For 19-year-old Iraqi comedian Siryan Amer Shabow, laughter is like air. Without it, there's no surviving.
When violent Islamic State fighters took over his predominantly Christian city of Bakhdida in the summer of 2014, forcing thousands of people to flee for their lives, many displaced Iraqis felt hopeless.
Comedy was a way for Shabow to breathe air back into his people's shattered lives — and his own.
Over the weekend, Shabow joined dozens of other Iraqi comedians, writers, cartoonists and performers at a workshop led by three U.S.-based comedians who flew into Erbil, the capital of northern Iraq's semi-autonomous Kurdish region.
"After displacement, comedy had a bigger role in my life," Shabow, who loves puppetry and theater, told The WorldPost. "Comedy is very important to plant a simple smile on people's faces." He said it's his "duty" to bring joy to displaced children.
The two-day event, hosted by the Iraqi media company Yalla, featured Joe Randazzo, former editor of The Onion and writer at Comedy Central's "@midnight with Chris Hardwick"; Mo Amer, a Palestinian-American comic known for his work with the comedy troupe Allah Made Me Funny; and Maeve Higgins, an Irish writer and stand-up comedian who has appeared on "Inside Amy Schumer."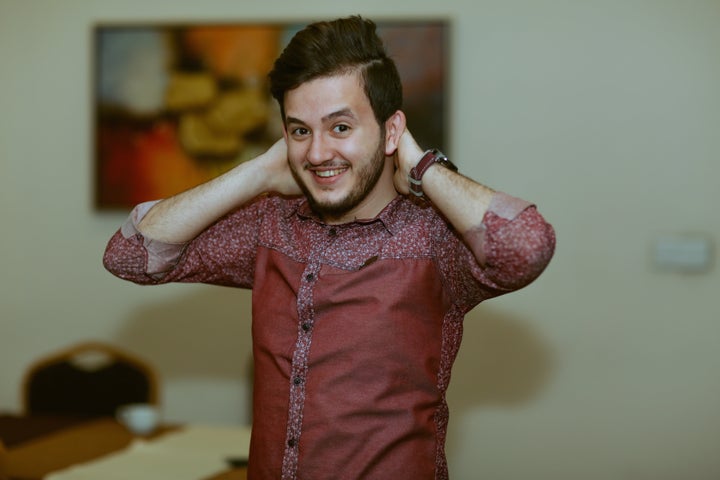 When Yalla first approached Higgins, she jumped at the chance to work with Iraqi creatives and share ideas in what she called the "common language" of comedy. She quickly recruited fellow comics Randazzo and Amer.
The workshop hosted a wide range of talents. There were writers, like Russel Hasan from Baghdad, who's working on her first novel, about a "deep-thinking person isolated from the world." There were animators who make satirical videos that depict ISIS extremists as creatures with goat voices.
Just an hour's drive or so from Erbil, where the workshop took place and where many displaced Iraqis now live, ISIS boasts control over Mosul, Iraq's second-largest city.
"Here, where ISIS have been an actual threat, these jokesters have taken back their power and and used it the best way they know," said Higgins, who praised the inventiveness, hard work and good humor she's encountered in the Iraqi comedy world. 
"I feel those elements are lacking in the U.K. and U.S. comedy scene, where many people 'do comedy' as a way to build their own brand, which I find crass and cynical," she said. "In Iraq, the comedians I've met are keen to use comedy as a form of self-expression, as a release valve and as an opportunity to transcend the reality of life."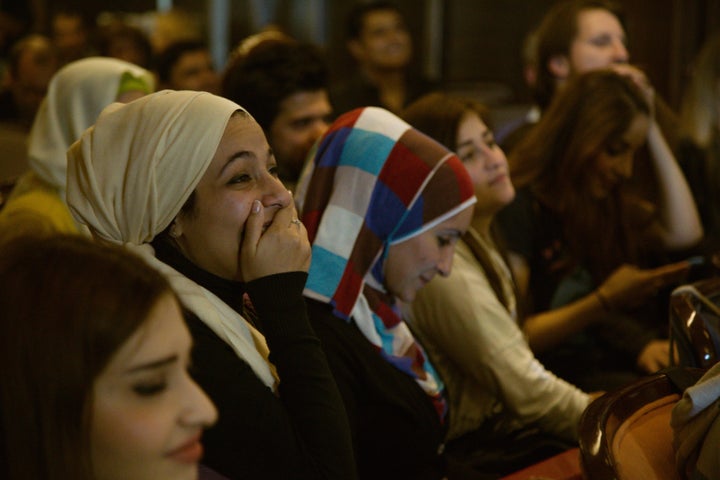 People at the workshop, some of whom have hundreds of thousands of followers on social media despite having few resources and no formal training, talked a lot about satire and its role in Iraq.
"Holding the people in power responsible, making fun of them, taking them down a few pegs, can actually have an effect on cultural perception," Randazzo said.
But unlike in the U.S. comedy scene, poking fun at ISIS, or even government and security forces, can have serious, sometimes fatal consequences here.
Famed Syrian cartoonist Ali Farzat, who joined the workshop by Skype, knows this firsthand. For decades, he's been drawing politically charged cartoons that often satirize strongmen and corrupt officials. In 2011, masked assailants thought to be regime forces broke Farzat's hands after he published a cartoon depicting Syrian President Bashar Assad fleeing town with Libya's Muammar Gaddafi, who had been overthrown just days earlier. 
Some of the comedians were "understandably nervous" about using satire as a political tool, Randazzo noted.
Many of the comedians, like Shabow, want to focus on using comedy to send positive messages — whether it's to promote the idea of unity in a country so divided by political and sectarian lines, or to simply create joy amid so much suffering. 
"There's a great sense of endeavor here," Randazzo said. "People want to improve their world, to make a go of it."