AL AOUR, Egypt — Death is everywhere in Al Aour. When a video surfaced late Sunday showing Islamic State fighters beheading 21 men in Libya, it seemed no family here was spared. Thirteen of the victims hailed from this dusty Egyptian town, roughly three hours south of Cairo.
The men were laborers, gone for months on end, who sent home hard-earned money to feed entire families. They left their impoverished home in Egypt to work in Libya for a better future, despite the dangers. What they found instead was a militant group hell-bent on humiliating and harming them because they were Christian. While most of the people killed by the Islamic State have been Muslim, the group's recent propaganda video made a point to threaten Christianity as a religion. The fact that the 21 men were Egyptian made them even more sought-out targets: citizens of a country cracking down on Islamists both within its own borders and inside Libya.
On Jan. 3 at around 2:30 a.m. in the coastal Libyan city of Sirte, masked gunmen began knocking on doors, according to survivors. They were looking for Christians marked with traditional tattoos on their hands that identified them as Copts, an ancient Christian sect in Egypt. Some men were pulled from their beds at gunpoint. Others hid and prayed, only to later see their captured friends and family members decapitated in a widely circulated and highly produced Islamic State video.
But in this tight-knit village, these men will not be remembered for their brutal murders. They are remembered as beloved husbands, sons, brothers, cousins and friends. In death, their lives are celebrated.
Here are the lives they lived, as told by family members.
Hani Abdel Messihah, 32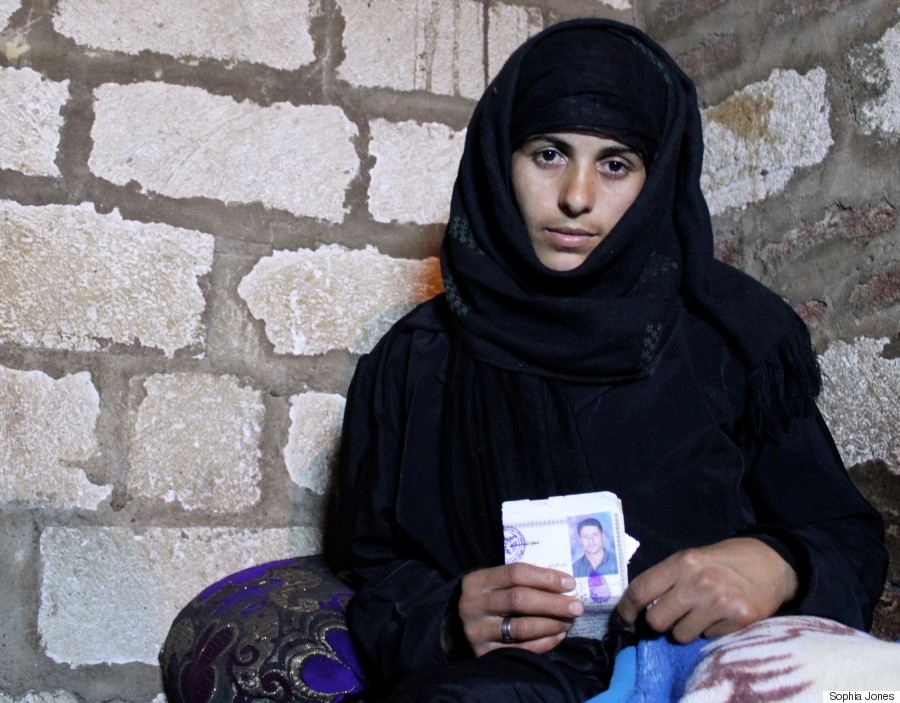 Magda Aziz, 29, holds the photo of her late husband, killed by ISIS, as she sits in her home in Al Aour, Egypt, on Tuesday.
Hani loved his four children — three girls and a boy, the youngest — more than anything in the world, his family says. He was gentle and kind, always making a joke whenever he could. His wife Magda Aziz, 29, will forever remember his laugh.
"I felt like he was an angel," Magda said of her deeply devout husband. "There was a prayer in anything he said."
Hani desperately wanted to come home after eight months laboring in Libya. He was sick and tired of the relentless violence and the constant threat of kidnapping. But leaving was a difficult choice. There was money in Libya, unlike in Al Aour, money that he needed to support Magda and his children. But he finally decided to come home to his family, she said. He was killed before he ever got a chance to leave.
"He took care of all of us," Magda explains, weakly. The women around her nod in unison, passing around a faded photograph of the smiling father with his little boy.
"He was so kind," Magda says. "He gave us hugs and kisses."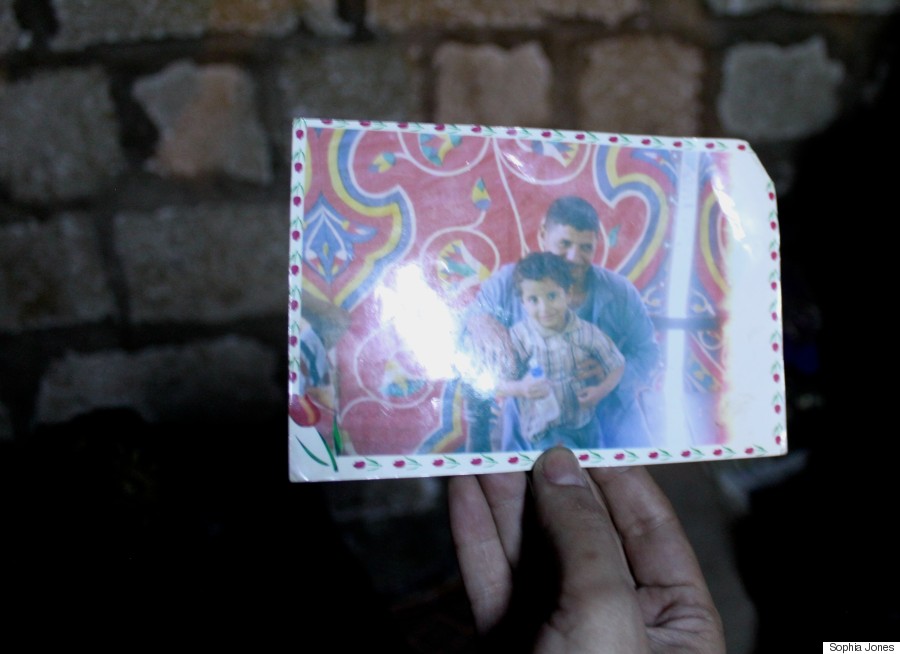 Hani Abdel Messihah, 32, killed by ISIS in Libya, smiles with his young son in a worn photograph.
Magda will never forget the last conversation she had with her husband. He called on New Year's wanting to speak with each of his children. The couple exchanged tender words. He asked if she wanted or needed anything — he would try to get it to her, whatever it was. She remembers saying, "I want you safe." And he asked her to pray for him. She never heard from Hani again.
When she saw the video of his beheading on Egyptian television, her family cried so hard that she says neighbors called an ambulance. She doesn't talk much about how she feels now, apart from the fact that she's still in shock.
"I miss him," she says with a whisper.
Her three daughters sit around her, clinging to their mother. The oldest girl begins to weep as the younger two stare off, unable to comprehend the grief around them.
"Your dad is in the sky," a relative says, hoping to console the little girl. "He's in the heavens."
Video by May Kamel.
Yousef Shoukry, 24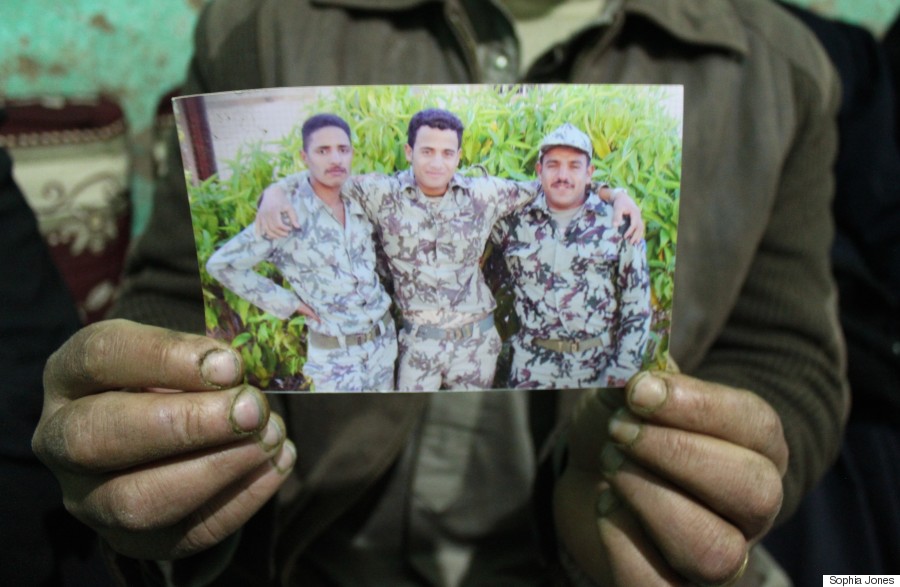 Shenouda Shoukry holds up a photo of his brother of Yousef Shoukry (pictured right), a 24-year-old Coptic Christian beheaded by the Islamic State.
Yousef was a quiet young man with the heart of a child, his family says. All he wanted to do was find a job and start a family.
But after leaving the army after high school, there were few job prospects. He couldn't live the life he wanted, his mother, Theresa, recalls, sitting in her home surrounded by family.
But the Libyan border wasn't too far, and many men before Yousef had gone to work there already. He decided to leave Egypt. His mother begged him not to go, but he wouldn't listen. She says that his faith gave him the courage to go to Libya in the face of danger. "I have one God, he's the same here and there," she remembers Yousef saying.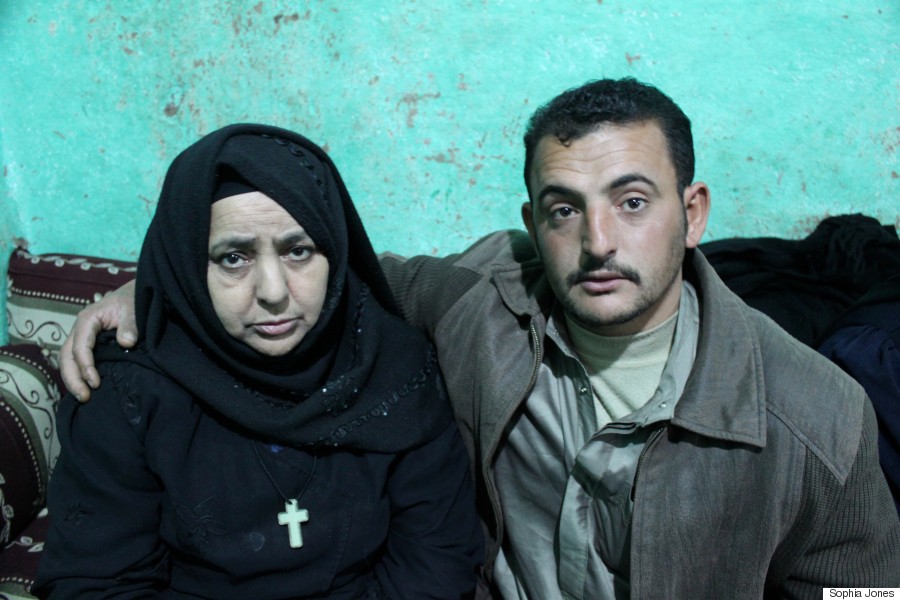 A mother and son mourn the loss of Yousef Shoukry.
A steady stream of women walk into the room, all dressed in black. They reach out to comfort the grieving mother.
"He's a martyr," she says, holding her cross close to her heart. "I know he's in a better place."
Everyone in the family looked up to Yousef. His sister says he was curious and always in good spirits, despite the family's hard circumstances.
His older brother, Shenouda, 27, the middle brother of four, says he was always proud of him.
"He lived according to the book," he said, holding a photo of Yousef as a young soldier. "I can't remember something he did wrong."
Yousef always joked with Shenouda to hurry up and get married so it could be his turn. He was saving up to support a family.
The last time the family spoke with Yousef was when he called on New Year's. "I told him I'd pray for him," she remembers. "I said: 'May God make your life easier.'"
Theresa refused to watch the video showing her son beheaded. But her other son says he made himself watch it.
"I saw that he had strength in his last moments," the 27-year-old man said, insisting that there was a heavenly light shining on his brother's face, even after he was decapitated. "And that consoled me."
Video by May Kamel.
Towadros Yousef, 42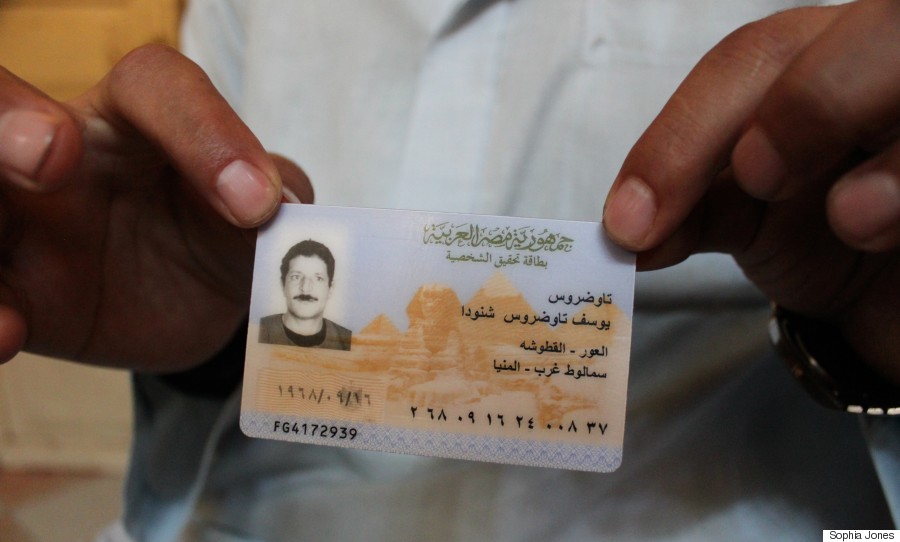 A Coptic Christian man holds up the ID of his brother, Towadros Yousef, who was murdered by the Islamic State.
Long before he was murdered by extremists, Towadros was sacrificing so that his family could live better lives. A year and a half ago, he traveled from his village of Al Aour to Libya. Far from the comfort and safety of home, the 42-year-old father of three — two boys and a girl — labored away to provide for his family.
He was an introvert, the quiet one in the room. "He wasn't one to make a lot of noise about anything," his brother remembers, smiling. But he was a fighter, determined to give his children a better life than he had.
"He was a really hard worker," his older brother, Bebawi Yousef, 34, says, sitting in the pew of a small church in Al Aour. "He loved working."
Life in Libya was difficult, to say the least, but it was worth it for Towadros to put food on his family's table. He was a family man, above all else.
"He was happiest being with his family and kids," Bebawi says fondly. "He was a kind person."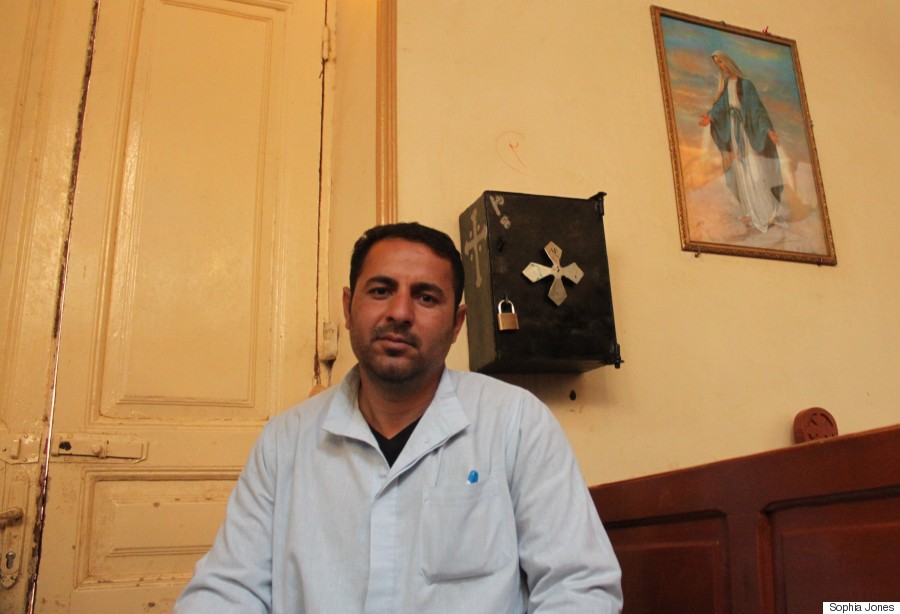 Bebawi Yousef sits in a pew at the church in Al Aour, Egypt, on Tuesday during a ceremony mourning the loss of 21 Coptic Christians, including his older brother, who were murdered by ISIS.
Bebawi remembers his last conversation with his brother with regret. Towadros called to see how everyone was and he said he wanted to come home, finally. He was ready. The doting father was worried that something bad would happen to him and he wouldn't be able to support his family anymore.
"We told him to wait," Bebawi recalls. "Because they were targeting Christians. We said, 'If you come now at New Year's, it's dangerous.'" The family thought he was safer staying put than traveling on the dangerous roads back to Egypt.
Up until the last moment, Bebawi was ready to do anything to help save his brother. He traveled from Al-Aour to Cairo to talk on an Egyptian television show to raise awareness about the case of the kidnapped Copts. Five minutes before going on air, he received the fateful call from his local priest.
"My condolences," Bebawi remembers him saying. "It's over. They've passed."
He can't believe that Towadros is gone. "I was trying to hold onto the last bit of hope," he says somberly. Maged Suleiman Shahata, 40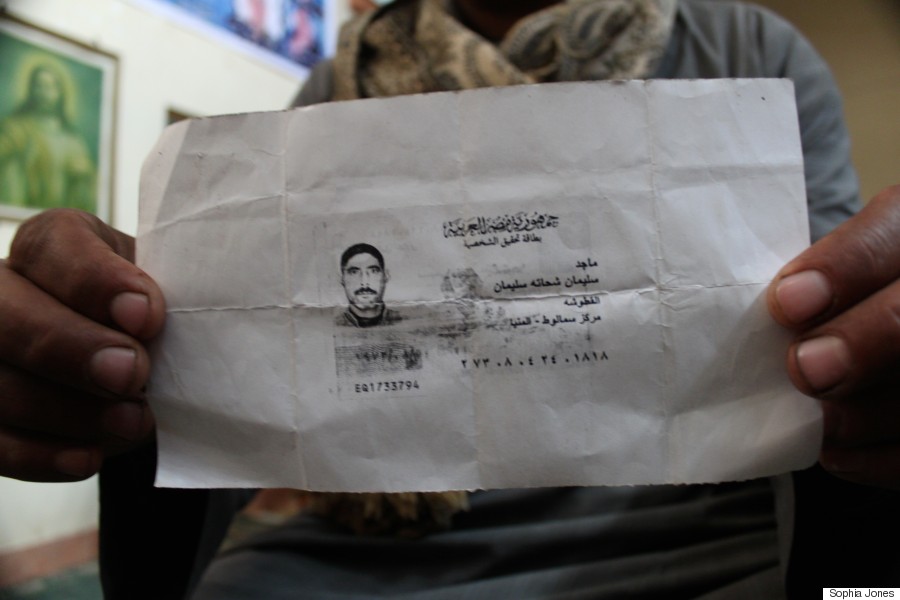 The brother of Maged Suleiman Shahata, a Coptic Christian killed by ISIS, shows a photo of his brother's ID card at a church in Al Aour, Egypt, on Tuesday.
Maged was born into poverty and so were his children. But the father of three was determined to change their futures.
"My brother, the way they lived," he said, shaking his head at the family's poverty. "It was him and his wife and three children in one room together."
"That's how hard life is here," he said, sitting in a Coptic Church surrounded by mourners. "That's how hard he worked. He was fed up with having no money. There is no work in the south."
Maged ventured to Libya, like many others from his village, hoping to earn enough money to change his family's life. Maged was proud that despite their poor financial situation, his oldest daughter was in college. It made the long, hard, dangerous work in Libya worth everything.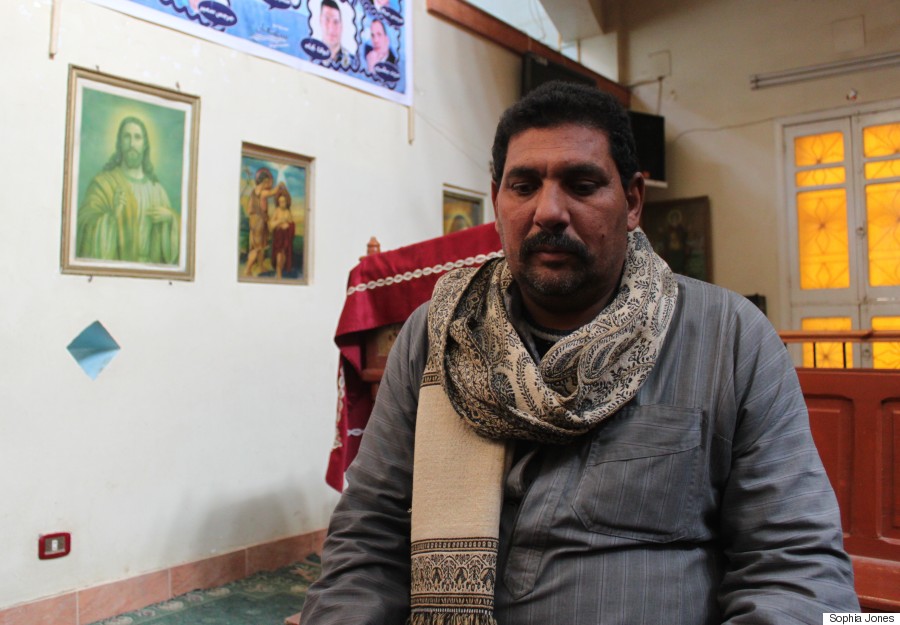 Emat Suleiman Shahta mourns the loss of his brother who was beheaded by ISIS.
Emad spoke with his brother just hours before he was kidnapped. He asked Maged about another group of Christians who had just been snatched up by ISIS, worried that it could happen to him, too. Maged's last words to him, he painfully remembers, were that his phone credit was out. "I didn't know what that would mean," he said, upset that he didn't get a chance to say goodbye or tell him how much he meant to him.
"He was a very sweet man," Emad said. "Easily embarrassed."
Video by May Kamel.
Emad mourns his brother's death, but he isn't consumed with hatred. Instead, he looks past the senseless killing and finds hope in his belief that Maged and the other 20 men are now in a safe place where no one can hurt them.
"We are proud that they went to the father in the sky," he said with a warm smile.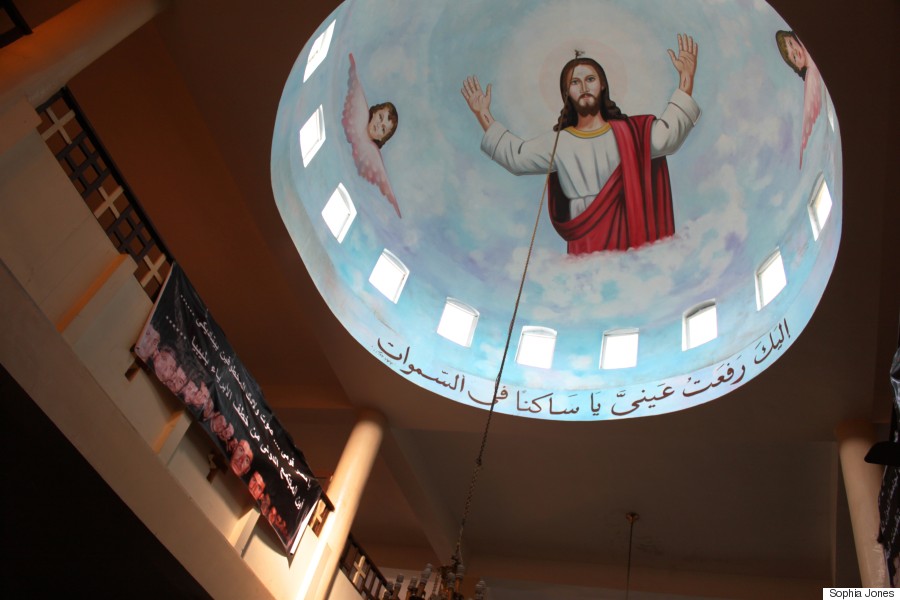 A banner showing the faces of Coptic Christians killed by ISIS hangs from the painted ceiling of the Coptic Church in Al Aour, Egypt, on Tuesday.
Here are the names of the rest of the Christian men killed by the Islamic State in Libya, according to a list provided to The WorldPost by a Coptic church representative in Minya.
5. Milad Makeen Zaky6. Abanub Ayad Atiya7. Kirollos Shokry Fawzy (Kirollos Bashree Fawzy)8. Bishoy Astafanus Kamel9. Malak Ibrahim Sinweet10. Girgis Milad Sinweet11. Mina Fayez Aziz12. Samuel Alham Wilson13. Samuel Astafanus Kamel14. Ezat Bishri Naseef15. Loqa Nagaty Anees16. Munir Gaber Adly17. Esam Badir Samir18. Malak Farag Abram19. Sameh Salah (Sameh Salah Farug)20. Girgis Sameer Maglee21. Unknown (While the Egyptian government has said that all 21 men were Coptic Christians, a document compiled by the church in Minya and provided to The WorldPost lists only 20 names)
May Kamel contributed reporting from Al Aour.