SINJAR, Iraq — Up a steep road that snakes around northern Iraq's Mount Sinjar lies a ghost city.
The so-called Islamic State,  also known as ISIS, showed up on Sinjar's doorstep 15 months ago, hellbent on killing, raping and terrorizing members of the religious minority and expanding territory for their self-declared "caliphate". And so they did.
But on Friday, ISIS' control ended when Kurdish forces, backed by US airstrikes, successfully pushed out the extremist fighters, whose merciless attacks on the Yazidi population may amount to genocide, according to the United Nations.
The WorldPost traveled with Kurdish and Yazidi fighters to Sinjar on Sunday. All that's left is the empty carcass of a once-thriving place and the stuff of nightmares.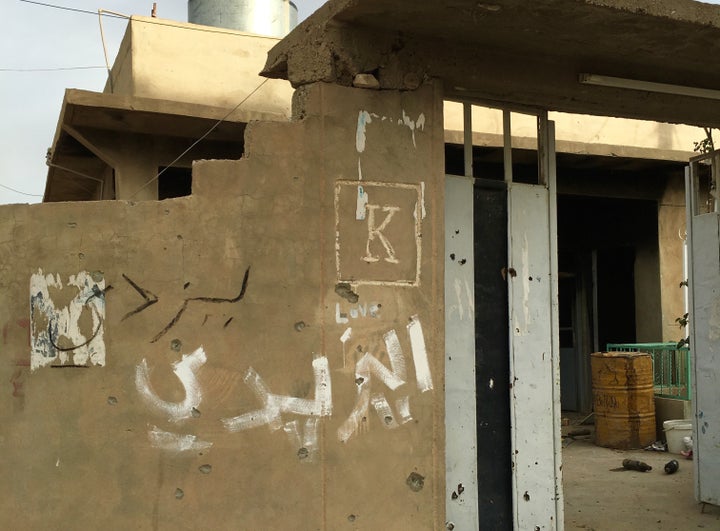 Ugly lettering stains the exterior of family homes, reading "Yazidi", "Sunni" and "Shia" in Arabic, evidence of the extremists' violent sectarian nature. Muslims around the world have denounced their violent interpretation of Islam and the majority of ISIS victims are Sunni Muslims. 
Locals said ISIS largely left Sunni families alone in Sinjar if they followed their orders, but the extremists violently targeted the Yazidi and Shia Muslim families. They burned their homes, took women as sex slaves and killed those they deemed "devil worshippers." 
ISIS has waged war on the Yazidi because of their faith, which is made up of different aspects of Islam, Christianity, Judaism and the pre-Islamic Persian religion of Zoroastrianism. 
When the extremist fighters rolled through Sinjar late last summer, they took hundreds of women and young girls captive. They killed many considered too old to be sex slaves and took the younger ones to places like the northern Iraqi city of Mosul, which is still under ISIS control.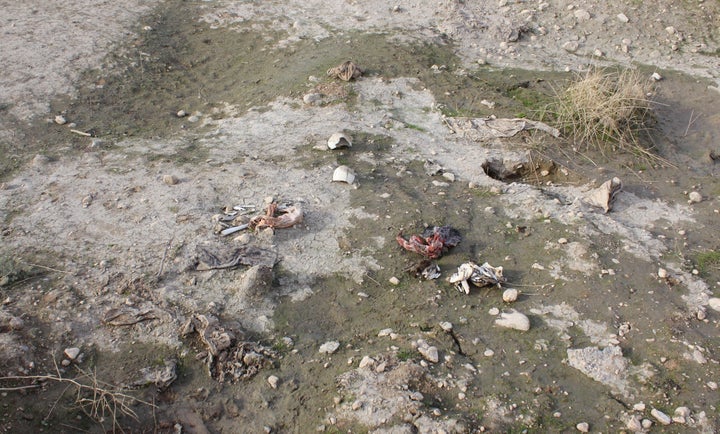 This weekend, the site of what is believed to be a mass grave holding nearly 80 bodies of Yazidi women was discovered. Several skulls and bones lay on top of the damp earth, evidence of the horrors that may be hidden underground.   "My family has five missing girls," one young Yazidi fighter told The WorldPost as he stood guard in brown fatigues. His relative, 19-year-old Khoula, recently called him from Mosul, where she told him she had been "married off" by ISIS to 16 different men. He hasn't heard from the other four missing girls and women, whom ISIS snatched the day they took over. He never expects to see them again, he said, solemnly. Yazidi fighters burned the homes of former Sunni inhabitants on Sunday in an act of revenge. While some Sunni families fled ISIS, other families stayed behind or moved to different cities still under the extremists' control.  Local security forces known as Asayesh went from house to house to survey the damage, keeping a watchful eye out for improvised explosive devices and booby traps that ISIS had left behind. In one home, the extremists had dug a 65-foot-long underground tunnel that led outside, perhaps to hide from airstrikes overhead.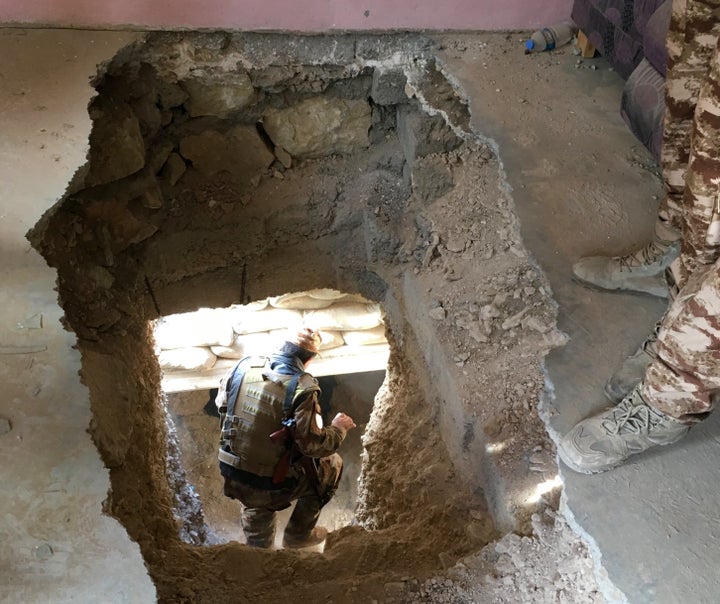 Asayesh officer Majdel al Sheikh said security forces had found five IEDs in the past couple days and two ISIS suicide bombers holed up in the city. 
Locals said a booby trap exploded when someone opened a Quran, another left in a fridge. Others are wired so that they explode when a door is opened.
ISIS documents lay scattered on the floors of homes seized by the extremists, including a laminated 33-page document titled "The Thirty Commandments for The Princes and Soldiers of The Islamic State".
It was reportedly written by Abu Hamza al-Muhajir, the nom de guerre of an Egyptian al Qaeda leader killed in a US airstrike in Iraq five years ago.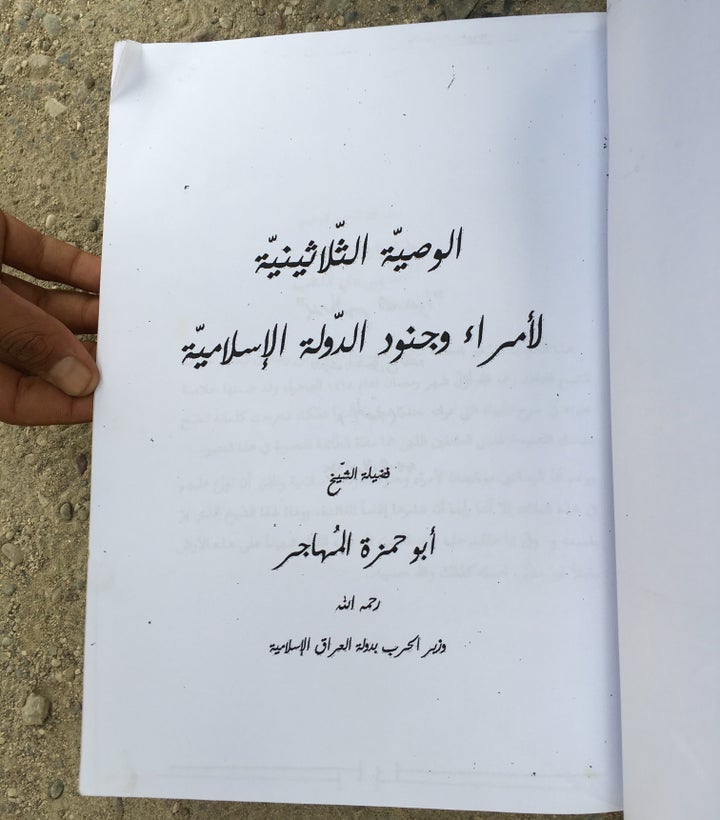 "It's still not safe," the officer, said, looking around and shrugging nervously. "ISIS could be anywhere."
The extremists had  torched his home because they knew he was an Asayesh officer, he said.
Al Sheikh invited The WorldPost into the charred remains of his house, where he lived with his wife and two young daughters. Before walking inside, he picked up a doll on the ground.
"I bought this for my daughter in Erbil," he explained with a sad smile. Setting it down gently on a concrete wall in what used to be his courtyard, he said: "F*****g ISIS."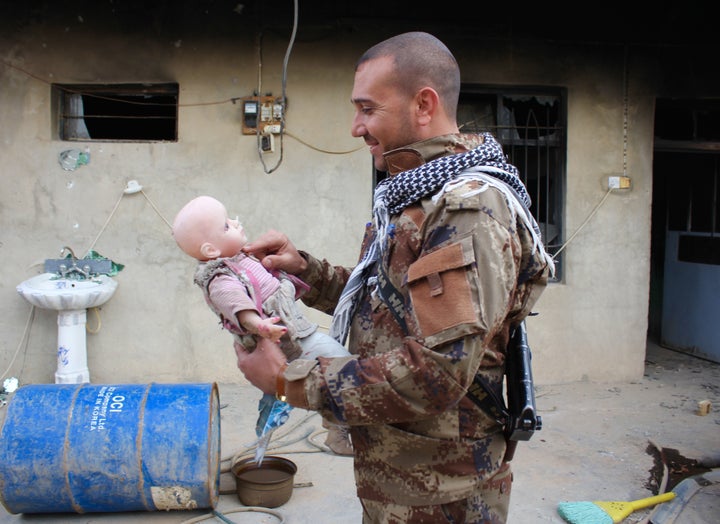 They were trapped on Mount Sinjar for six days, along with thousands of other Yazidis when ISIS came, with no food or water. They survived with the help of the Kurdistan Workers' Party, a militant group the US deems terrorists, which has battled the Turkish state for three decades in the name of Kurdish rights. 
Now, al Sheikh is left with nothing. He plans to head to Europe with his family like so many before him, shaking his head when asked if he was deterred by the bloody terrorist attacks in Paris. 
On the filthy floor of his wrecked home is a burnt child's tricycle and a ceramic mug that reads "love". The only thing that seems to have survived ISIS is leafy green shrub in the backyard.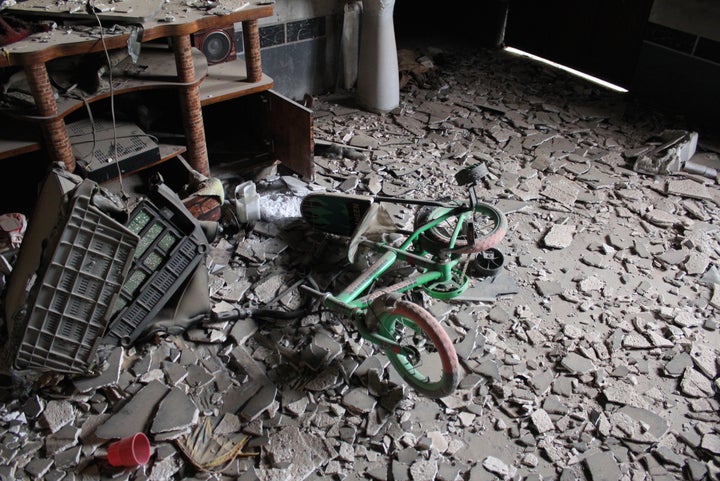 ISIS may be gone from Sinjar, for now, but it doesn't look like civilians will be able to rebuild anytime soon. Towns nearby that have been free from the extremists for months are still uninhabited.
Few people have enough money or resources to start from scratch and the region's messy politics may only prolong their misery. 
"We're sad when people say Sinjar is free," a Yazidi fighter said as he paced back and forth down a street in ruins. "This is not freedom. Our dignity is gone."
Bryar Saeed contributed reporting from Sinjar.