GAZA CITY — When Israeli airstrikes hit Nuseirat refugee camp in central Gaza this week, Sena Alissa held her pregnant belly as blood dripped between her legs. And then, her water broke. Frantic and petrified, her family desperately tried to find someone to drive her to the hospital. They didn't have a car. But nobody would take her — it was too dangerous, they all said. Three hours later, she made it to the refugee camp hospital, but they didn't have the capacity to deliver premature babies.
"I was more than terrified," she says while holding her newborn baby girl in a bed in Gaza City's struggling al-Shifa hospital, 20 minutes from Nuseirat. "I'm giving birth in war."
This week, as Hamas fires hundreds of rockets at Israel, and Israel strikes Gaza from land, air and sea, the maternity ward here has been filled with women like Alissa, many of whom are suffering from complications like pre-term labor, miscarriages, and stillbirths brought on by the stress of war. Doctors in southern Israel say women dealing with life under rocket fire are suffering from similar problems.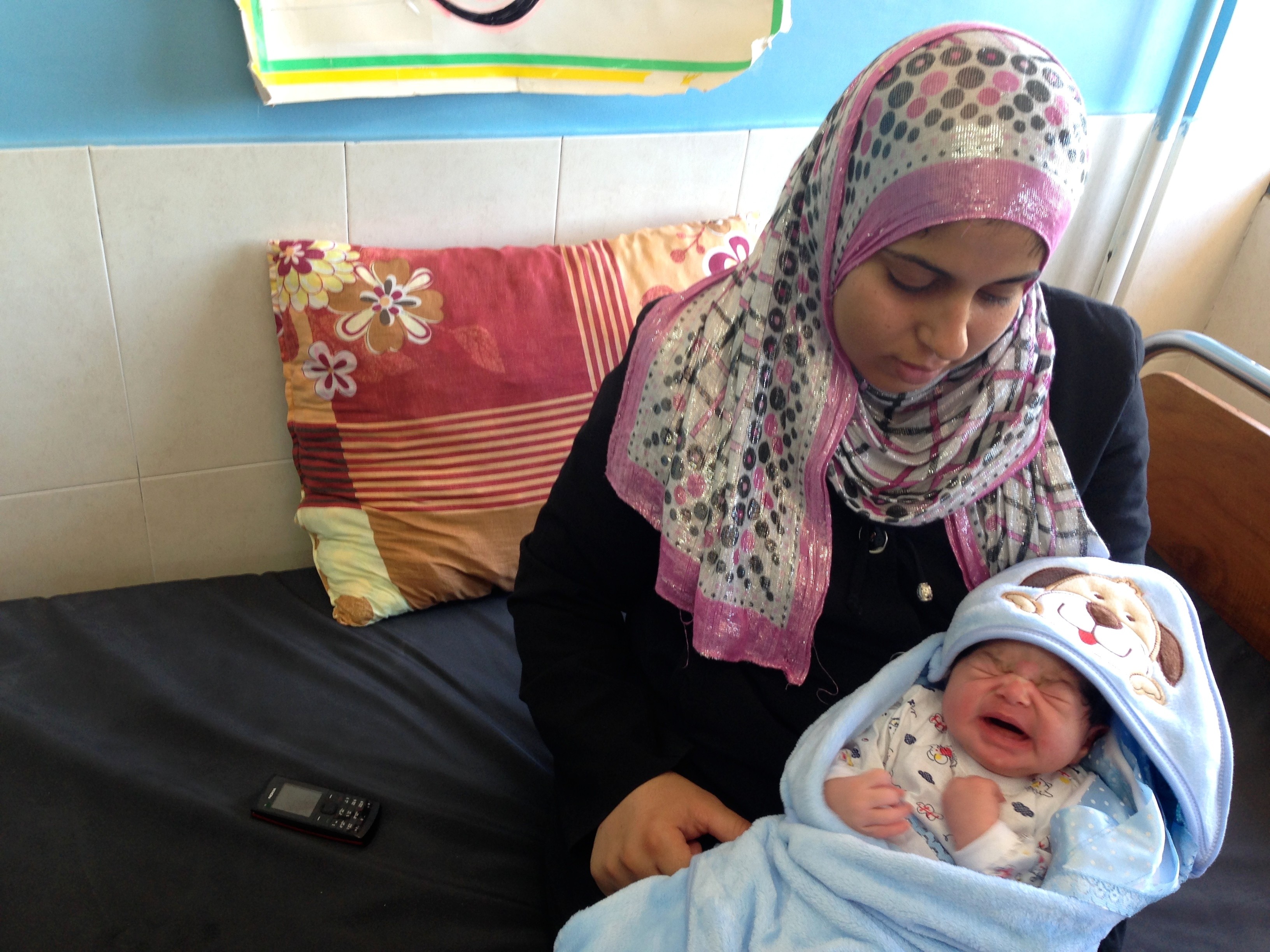 A woman who goes by Asma rocks her baby boy named Mohsen in al-Shifa hospital in Gaza City. She fled airstrikes in her neighborhood while she was pregnant.
Across the hall from Alissa and her baby girl, Batoul, is 21-year-old Reema al-Hawaity, also from Nuseirta refugee camp. Eight months pregnant this week, she feared she would lose her baby — and perhaps her own life — when the strikes hit her neighborhood. First came the explosions. Then, her stomach pain. She was two centimeters dilated when she made it to the refugee camp hospital. Now, she's resting in al-Shifa hospital, suffering from gestational diabetes and with a baby on the way who nurses say will likely come before it should.
Next to al-Hawaity is a young woman who introduces herself as Asma, with a tiny baby cooing and kicking next to her on the rusty hospital bed. "The pain started when the shelling started," she says meekly. "I was only thinking of the baby."
An hour after the air strikes began, her family decided to evacuate their house, with 9-months-pregnant Asma in tow. They live right next to the police station — a likely target, they say. The group rushed into the street, splitting into two groups to walk to their nearest relatives' homes.
"I was so worried I'd lose him," Asma says. "It felt like our ears would explode with the sound of the explosions."
When she finally made it to a clinic, doctors induced labor. Asma delivered a healthy baby boy named Mohsen.
Understaffed and running out of both equipment and medicine, al-Shifa hospital is struggling to take care of the pregnant women like Reema and new mothers like Sena and Asma. In many rooms where one or two women would normally be, there are five beds lined up next to each other. With 46 of the hospital's roughly 150 maternity ward nurses stuck at home or afraid to come to work because of the air strikes, according to staff, the hospital is putting as many women as possible in one room to better look after the patients.
Three babies have died here this week, according to Sumer Suleiman, the maternity ward's supervising nurse who has worked here for eight years and through seemingly endless war. The trend of early pregnancy and birth complications during fighting is a frequent one, she says.
Just over the border in southern Israel, where rocket sirens now regularly sound, pregnant women are also under threat.
"Patients are reluctant to go to the hospital because every time you go out of your house, you are vulnerable to the missiles," Dr. Eyal Anteby, the head of obstetrics and gynecology at Barzilai Medical Center in Ashkelon, southern Israel, told The WorldPost by phone. "We see less patients going to the emergency room. They come late when they are in more advanced stages of labor."
Anteby says there's a strong correlation between stress during rocket fire and pre-term labor and other complications, especially in places like Ashkelon, where rocket fire from Gaza is common. According to one study, conducted by Ben-Gurion University of the Negev (BGU) researchers last year, women in Israel exposed to rocket attacks had a 59 percent greater risk of miscarrying compared to women away from rocket fire.
"In the past when the shelling was mostly in Sderot, pregnant women would many times come to Ashkelon, saying they lost the feeling of the baby. It was safer in Ashkelon," Anteby says.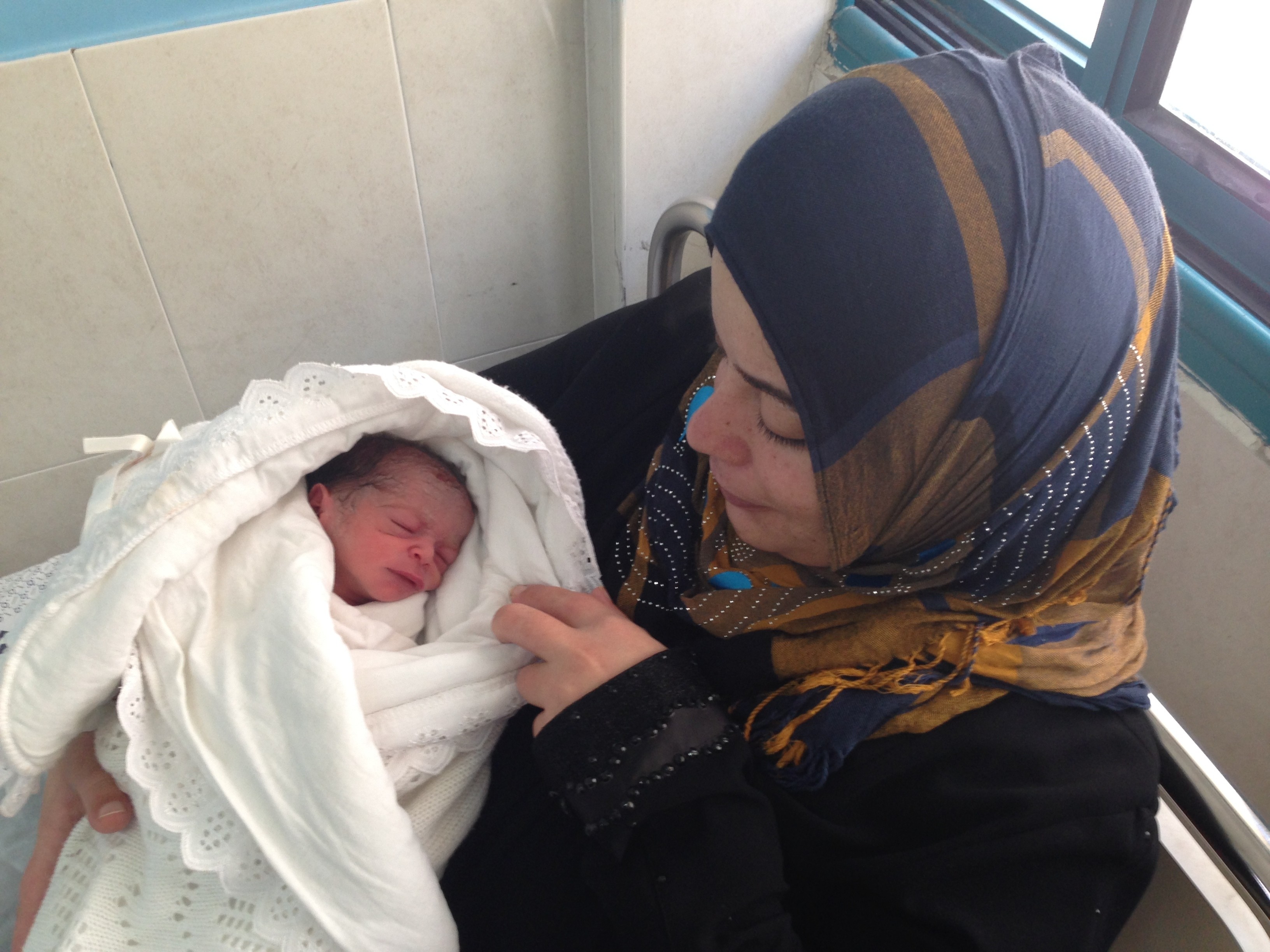 Sena Alissa holds her newborn baby girl, Batoul, a few hours after delivering her in al-Shifa hospital in Gaza City.
Like mothers in southern Israel, Alissa and other Palestinian mothers here at al-Shifa say they desperately want to stay at the hospital where it is safe. More than 150 Palestinians have been killed, the Associated Press reported Saturday. No Israeli citizens have been killed, largely thanks to the nation's Iron Done missile interceptor. While Palestinians decry Israel's bombardment of civilian areas, Israel says Hamas uses civilians as human shields and militants launch rockets from densely populated neighborhoods.
The women at al-Shifa don't want to take their fragile newborn babies home, where war is inescapable. The morgue downstairs holds the bodies of Palestinians, many of whom are civilians, killed in Israeli strikes this week. And small children, much like their own, are recovering from life-threatening injuries in nearby hospital wards.
"We can't send them back to their houses," says Sumer, who is nine months pregnant herself. As she speaks, there is a loud boom in the distance, its sound traveling through the open window. She keeps talking, seemingly unaffected, but places one hand protectively on her round belly.
Abeer Ayyoub contributed reporting from Gaza City.