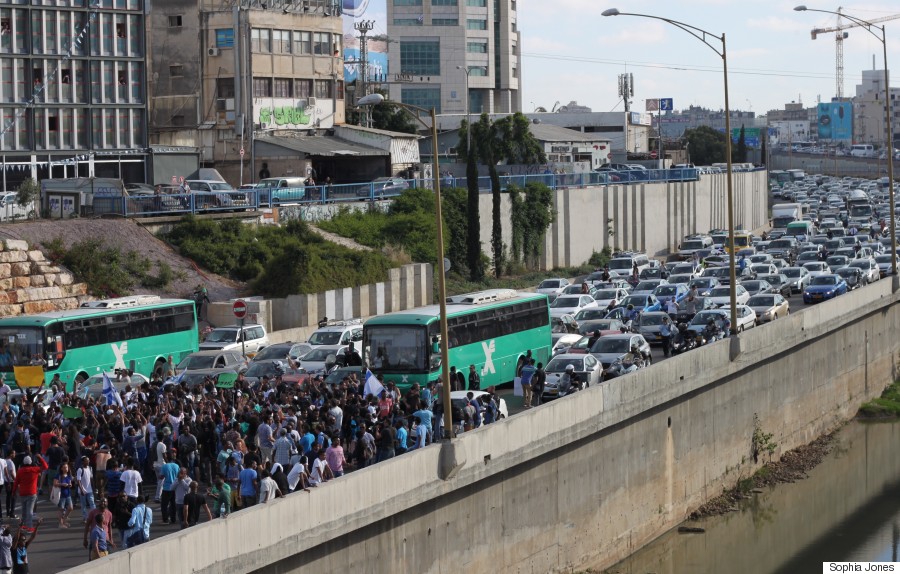 TEL AVIV — Last week's viral video showing an Israeli policeman beating an Ethiopian-Israeli soldier triggered mass protests in Tel Aviv during Sunday's rush hour. Thousands of Israelis poured into the streets to demand an end to recurring racism, particularly within the government and police force.
Some protesters, many of whom were Israeli Jews of Ethiopian descent, sat in the middle of large intersections in Tel Aviv, purposely stopping traffic to bring attention to what they say is inherent racism within parts of Israeli society. Others linked arms and led marches down streets, raising their fists and Israeli flags high above the crowd.
One protester, Daniel Arefayne, told The WorldPost that it wasn't just the brutal video that prompted him to come to the demonstration with his three young children. Incidents of violence and racism toward Ethiopian-Israelis keep happening, he said, and he's sick of it. He wants his children to have a better, safer future in Israel.
"We are here to say it's enough," he said, tightly holding the hands of his kids. "We are equal. We may have a different color, but we're human."
Some Israelis, as well as African migrants and Palestinians, have long complained of what they say is systemic racism in Israel.
Sunday, people of all colors and creeds came out to show their support for Ethiopian-Israelis, a group that has about 135,000 people in a country's 8 million.
"I want them to know they aren't alone," said Ben Blugrond, an Israeli citizen originally from Baltimore. "I know it's a sad thing to say, but I want them to see there are white faces here. I want to show solidarity."
While a smaller protest in Jerusalem turned relatively violent Thursday evening, with clashes between protesters and police, Tel Aviv's demonstration stayed largely peaceful. The WorldPost witnessed one brief scuffle between security forces and protesters, in which it appeared that demonstrators surrounded and pushed a nearby vehicle with a passenger inside. In another moment of anger, a man walked through the protest, angrily shouting against the march, but fellow protesters pulled each other back so as not to engage with him.
Security forces, both uniformed and plain-clothed, were deployed in large numbers, but it wasn't all tense. The WorldPost saw several Ethiopian-Israeli protesters talking, laughing and shaking hands with policemen.
But by nightfall, the protest took a violent turn in Tel Aviv's Rabin Square, with police officers using tear gas on demonstrators who are said to have thrown rocks and overturned police cars. Over two dozen officers have reportedly been injured so far this evening and at least several protesters. Helicopters hovered low in the sky late into the night.
Police Insp.-Gen. Yohanan Danino said investigations over police misconduct would be re-opened, but this promise is met with skepticism by some Ethiopian-Israelis who fear it's all talk.
"We need help," said Braca Ariela Tamno, a young Ethiopian-Israeli woman and mother, explaining why she was marching. "God, help us."
"The police don't like black men and women and children," she continued as protesters rushed past her to join the swelling crowd.
This post has been updated with reports of the protests turning violent.
Here are some photos of Sunday's mass march through Tel Aviv: