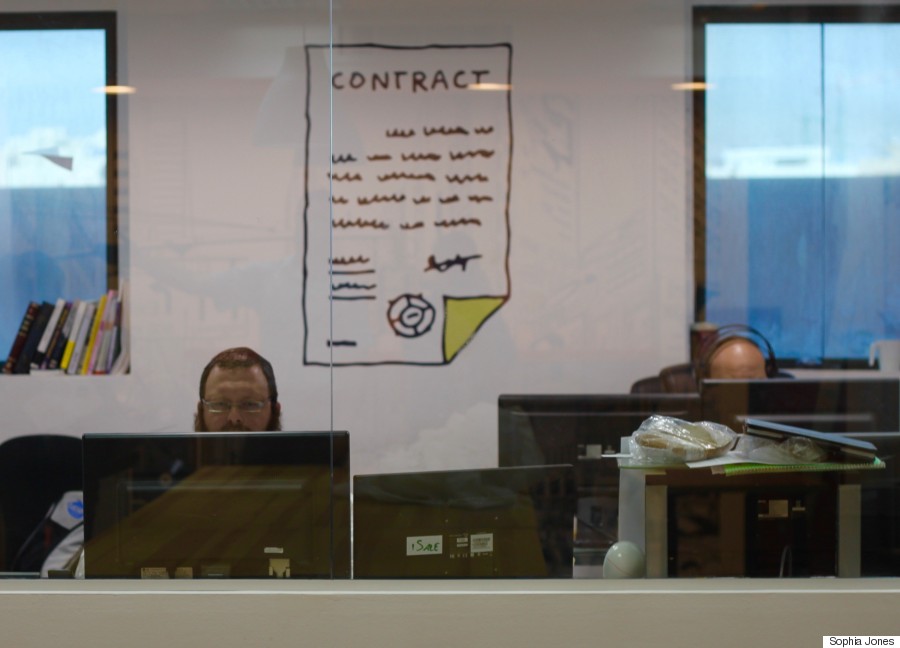 An ultra-Orthodox man works at Haredi Hi-Tech Forum in Bnei Brak, Israel.
BNEI BRAK, Israel — "3,000 years ago, the people of Israel came from Egypt," Yitzik Crombie begins, sitting in his ultra-modern office. He tells a story of faith and tradition — one that unexpectedly ends at a technology startup on the outskirts of Tel Aviv.
It is here that ultra-Orthodox Judaism and high-tech align in what Crombie says is the very thing that could save his insular community in the impoverished city of Bnei Brak.
"The Jews here aren't integrated with the secular community," he explains. "But we need money and we need work."
That's why Crombie and his business partner, Racheli Ganot, decided to found a tech incubator four months ago as part of their Haredi Hi-Tech Forum. The incubator specifically targets the Haredi community — much of which lives below the poverty line — and is the first of its kind.
"We're doing the same thing [in this startup] as in Tel Aviv," Crombie says. Just a few miles away lies bustling, liberal Tel Aviv — a technology hub known around the world for innovation. "We need to bring the high-tech to Bnei Brak."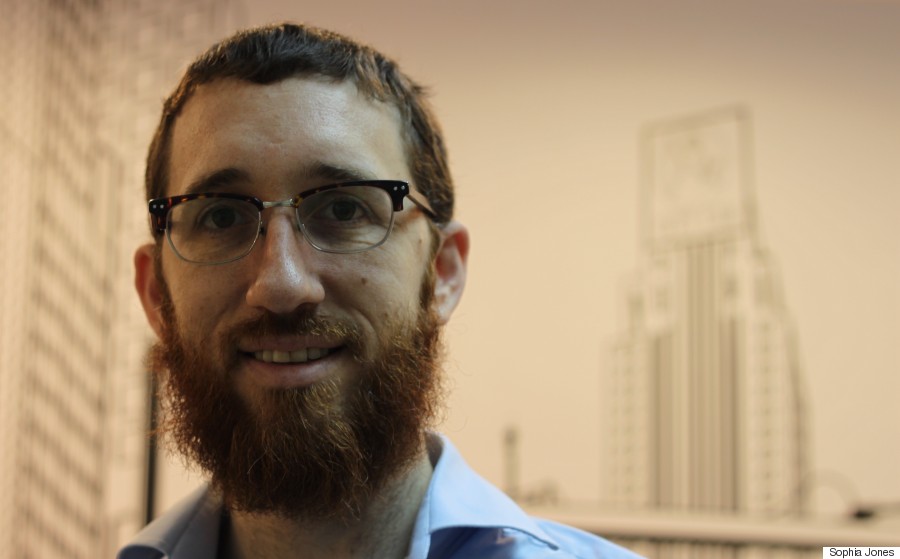 Yitzik Crombie in his office in Bnei Brak.
Those in Crombie's community, known as the Haredim (meaning "'those who tremble" before God, in Hebrew), cling to tradition. Most men do not work and many refuse to perform compulsory military service, devoting their days to learning Torah and living off what is now meager state support. Making up roughly 10 percent of the population and growing fast, they have drawn much controversy, with some Israelis saying they take advantage of the state at the expense of secular Israelis who work and serve in the Israeli Defense Forces.
But in recent years, the Haredi community has taken to the world of technology. Some Haredim now even learn programming in post-high school programs, catering to the new job market.
Crombie says he frequently receives emails from ultra-Orthodox Jews detailing a big idea that they have. "But they don't know what to do with it," he says.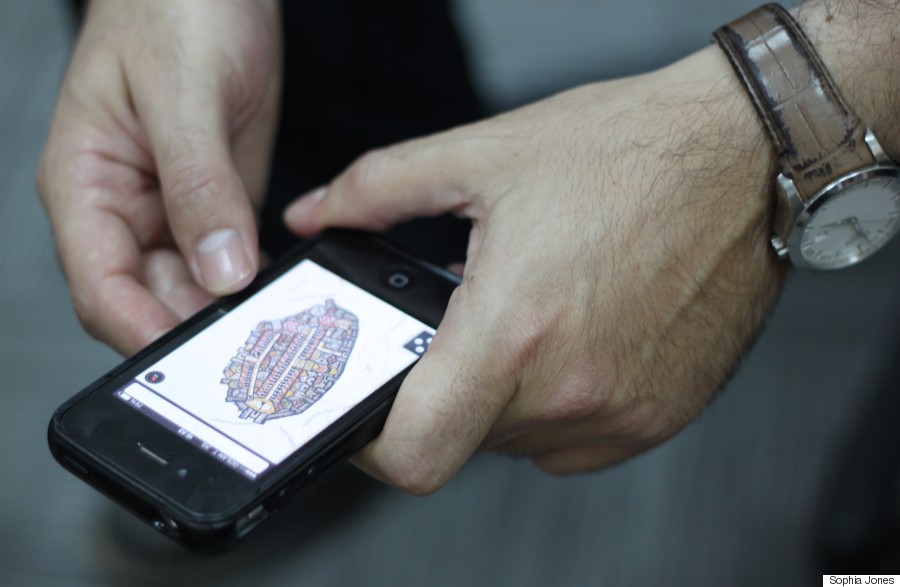 A young ultra-Orthodox man who is part of the incubator program holds an iPhone with a map he hopes to make interactive.
The incubator's program, set to last for two years, recently took in 10 startups, providing funding (85 percent from the Israeli government and 15 percent from investors) and mentorship for the entrepreneurs.
Benjamin, one of 21 participants in the program (who asked not to include his last name), says he just didn't know how to bring his idea to the market. When he saw information about the incubator posted on a website he says is frequented by religious developers, he immediately reached out and applied.
"They understand our needs as religious people," Benjamin explains, holding an iPhone with a photo of a map. He and his cousin came up with the idea for a startup that would turn maps, say from Disney World or Jerusalem, into interactive experiences. "We hope this place will help us," he says.
While Crombie is an ardent advocate for his community, he says ultra-Orthodox people face obstacles in the high-tech world. Some don't use computers or the Internet, for religious reasons. And many, like himself, grow up without much of an education in English, math, and science, focusing instead on studying religion.
But now, more high-tech courses are offered in the community and people are learning skills as adults in order to enter the field.
Most notably, the high-tech sector has changed the lives of Haredi women, many of whom now work at startups so that their husbands can continue to study Torah. Before, women who worked were confined to more traditionally "female" positions, like teachers.
"It's a new generation," explains Chavi, a hardworking mother of two who has worked at Rachip for six years. She asked to only use her first name, out of concern. With a book of Jewish prayers sitting next to her keyboard, she types away, working on a project that builds chips for satellites. She arrives early every morning so that she can leave early to pick up her children at school, since her husband gets home late from Torah study. "It's nice that this is working out," she says. "We see the reality after we've worked so hard."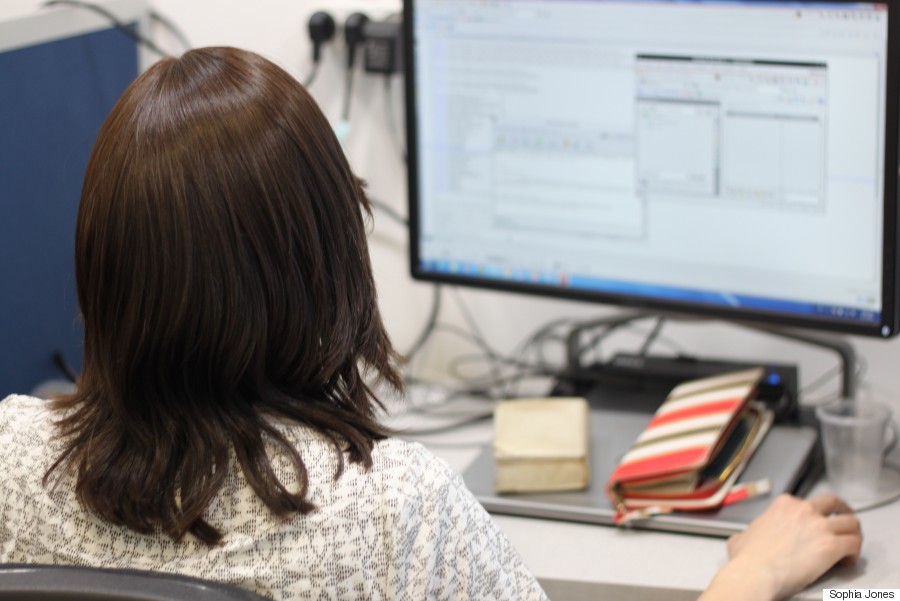 An ultra-Orthodox woman works at her computer at Haredi Hi-Tech Forum with a Jewish prayer book sitting in front of her.
At Haredi Hi-Tech Forum's office, Crombie's startup, iSale, employs four men and four women. Ganot's startup, Rachip, has a total staff of 100 people -– all Haredi women. According to strict ultra-Orthodox beliefs, the office remains gender-segregated, with women on one side and men on the other.
"In 1993, there was a basic course for women to learn programming, and my father said, 'Why not?'" Ganot recalls. "I was one of the first people in my class with a computer."
Soon, Ganot expanded her education and went to work in high-tech at an Israeli company that was not ultra-Orthodox. She was the only Haredi woman there.
Realizing there was real opportunity, she eventually decided to start her own company. It all began with one room and a few employees. Now, with a successful business under her belt, she's mentoring some of the community's best and brightest entrepreneurs.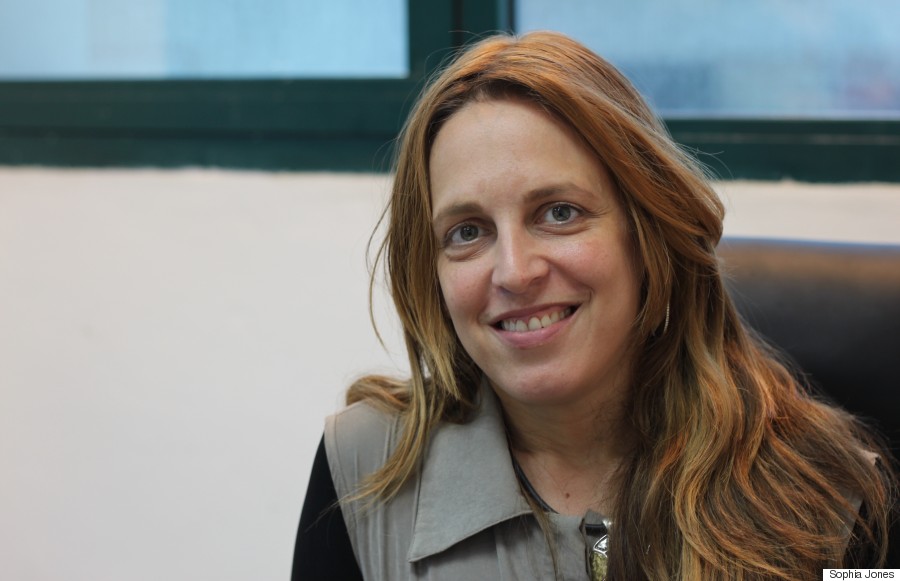 Racheli Ganot sits in her office.
"We're making waves," she says, with a smile.
Despite their bold entrepreneurship and big vision, Crombie and Ganot insist they're not trying to change their community, but rather to provide better opportunities so that the way of life can continue. While the minority group in Israel has been resistant to change, fighting to keep their traditions alive, the business-minded duo says local rabbis have been nothing but supportive of their endeavors.
"I want my children to become rabbis," Crombie says, hopeful that they would devote their lives to faith. But then he grins. "Or maybe my co-CEOs."
Shira Rubin contributed reporting from Bnei Brak.
This post has been updated with the correct spelling of Yitzik Crombie's last name. It is Crombie, not Krombi.