AMMAN, Jordan — The Islamic State group's brutal killing of a young Jordanian pilot has only emboldened the Hashemite Kingdom to expand its fight against the militants, despite an undercurrent of opposition and extremism within its own borders.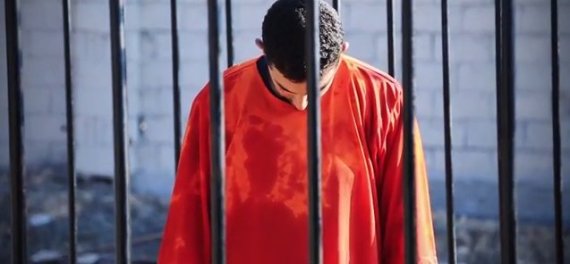 An image from the Islamic State's propaganda video that shows Jordanian pilot Lt. Muath al-Kaseasbeh being burned alive in a metal cage.
Jordan's King Abdullah II arrived in Amman on Wednesday to throngs of supporters waving Jordanian flags and buses with banners commemorating Lt. Muath al-Kaseasbeh, the 26-year-old fighter pilot burned alive by Islamic State militants. Much of the capital was in mourning, still shellshocked from the ruthlessly violent propaganda video of al-Kaseasbeh's death, which had been widely circulated on social media Tuesday.
"Animals are more humane than them," said 45-year-old frame shop owner Salah al-Masri, referring to the Islamic State group, which is also known as ISIS or ISIL. "Jordan was defending victims when it joined the coalition [fighting the Islamic State group]. This is a holy movement."
But despite the king's vow to wage a "relentless war" against the Islamic State group — a declaration backed by many Jordanians who are demanding revenge for the pilot's murder — there is an undeniable sense of doubt among other citizens. They question Jordan's role in the U.S.-led air campaign desperately trying to reel in the group that has claimed large swaths of Iraq and Syria.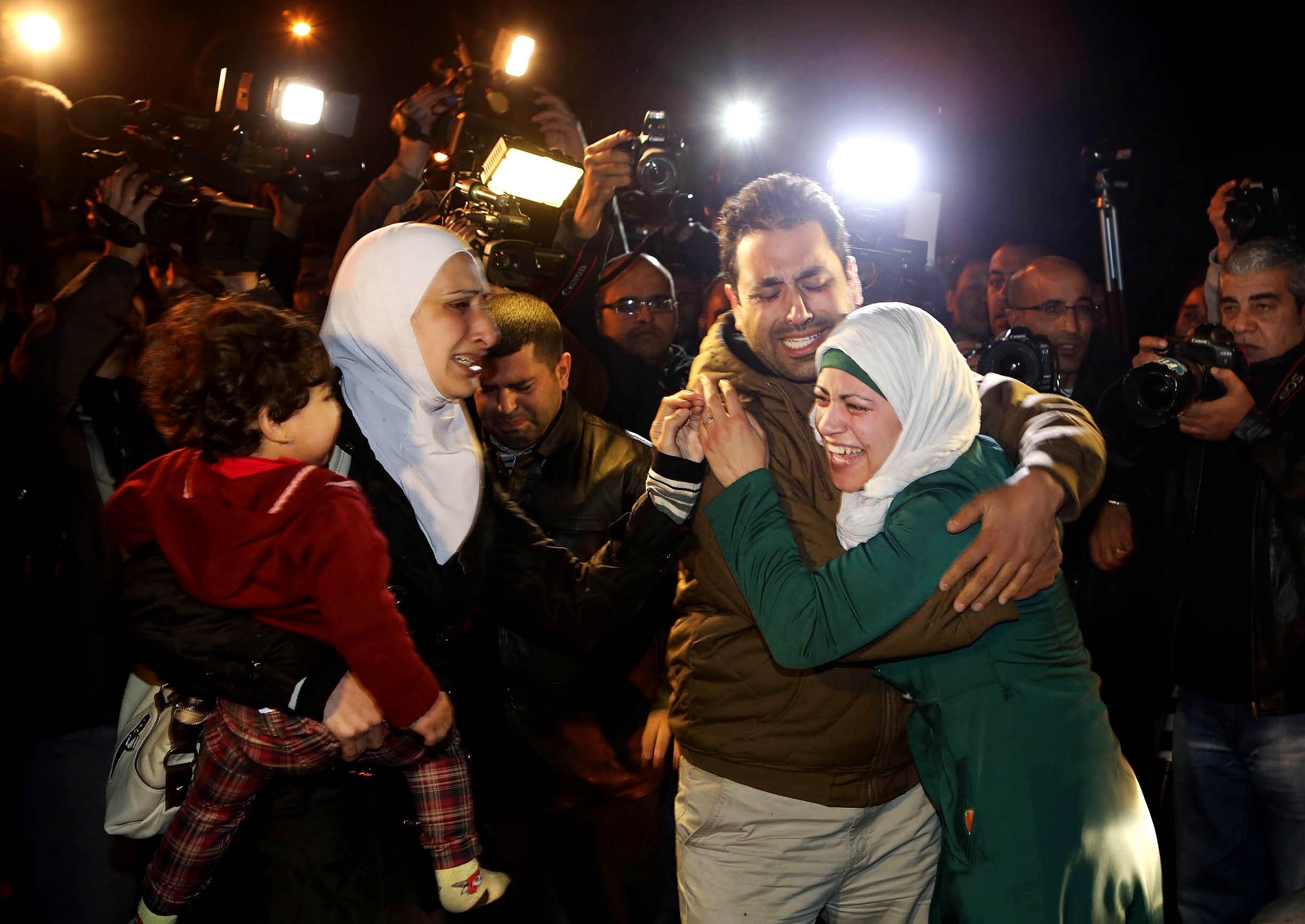 A man comforts al-Kaseasbeh's wife during a protest in front of Amman's Royal Palace, Jan. 28, 2015. (AP Photo/Raad Adayleh)
"I support this crisis to be solved, not Jordan fighting ISIS," explained Souheil, a 23-year-old shopkeeper in Amman who referred to the late pilot as Jordan's "martyr."
Atef Kawar, a member of the Jordanian parliament representing the kingdom's Christian minority, also expressed concerns over the United States and other Arab countries invested in combating the Islamic State group.
"I think that we should all unite as one hand to fight terrorism," he told The WorldPost over the phone. "It's to our country's benefit [to be part of the coalition]. But clearly, the coalition doesn't have a plan."
On Tuesday, Abdullah met with President Barack Obama in Washington to reaffirm the two countries' determination to fight the Islamic State group, despite apparent efforts by the militants to coax Jordan out of the coalition. Al-Kaseasbeh was captured by the Islamic State after his F-16 crashed during a bombing mission over northern Syria in December, and his death has been seen as a violent and symbolic slap in the face to Jordan, one of the key Arab countries battling the militant group.
Instead of backing down, though, Jordan responded with a show of force, executing two Iraqi prisoners linked to al Qaeda before the sun rose Wednesday. The prisoners were Ziad al-Karbouli and Sajida al-Rishawi, the latter of whom was the would-be suicide bomber whose release the Islamic State had demanded in exchange for al-Kaseasbeh.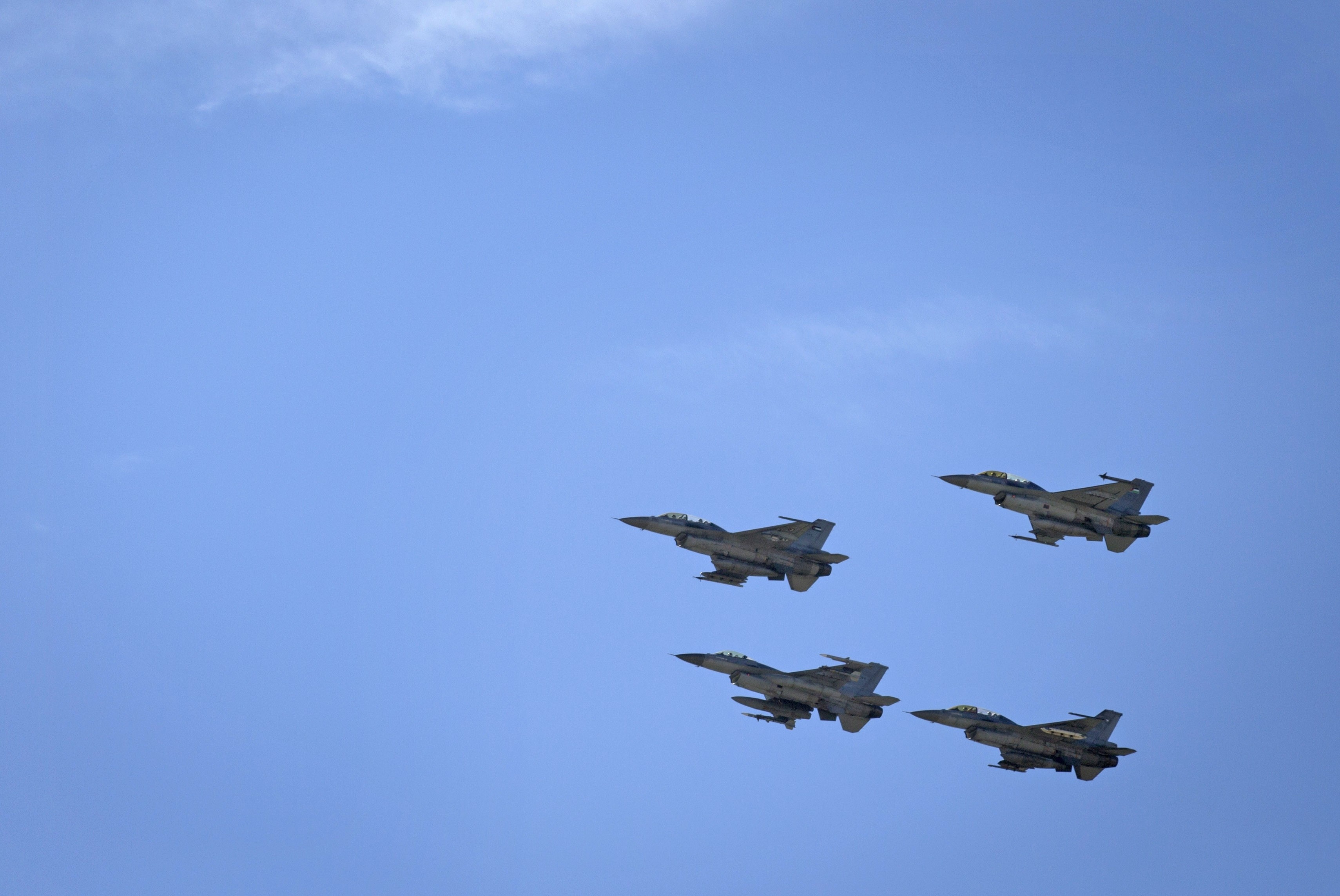 Jordanian Air Force fighter jets fly during al-Kaseasbeh's funeral at his home village of Ai, near Karak, Jordan, Feb. 4, 2015. (AP Photo/Nasser Nasser)
Al-Kaseasbeh's capture and grisly fate have further complicated the U.S.-led air campaign against the Islamic State group. On Tuesday, The New York Times reported that the United Arab Emirates, another key player in the coalition, halted its airstrikes in December after al-Kaseasbeh was taken, out of fear for the safety of its own fighter pilots.
Meanwhile, Jordan is also facing the simmering dilemma of its own citizens actively supporting and joining the same extremist group Jordan seeks to destroy.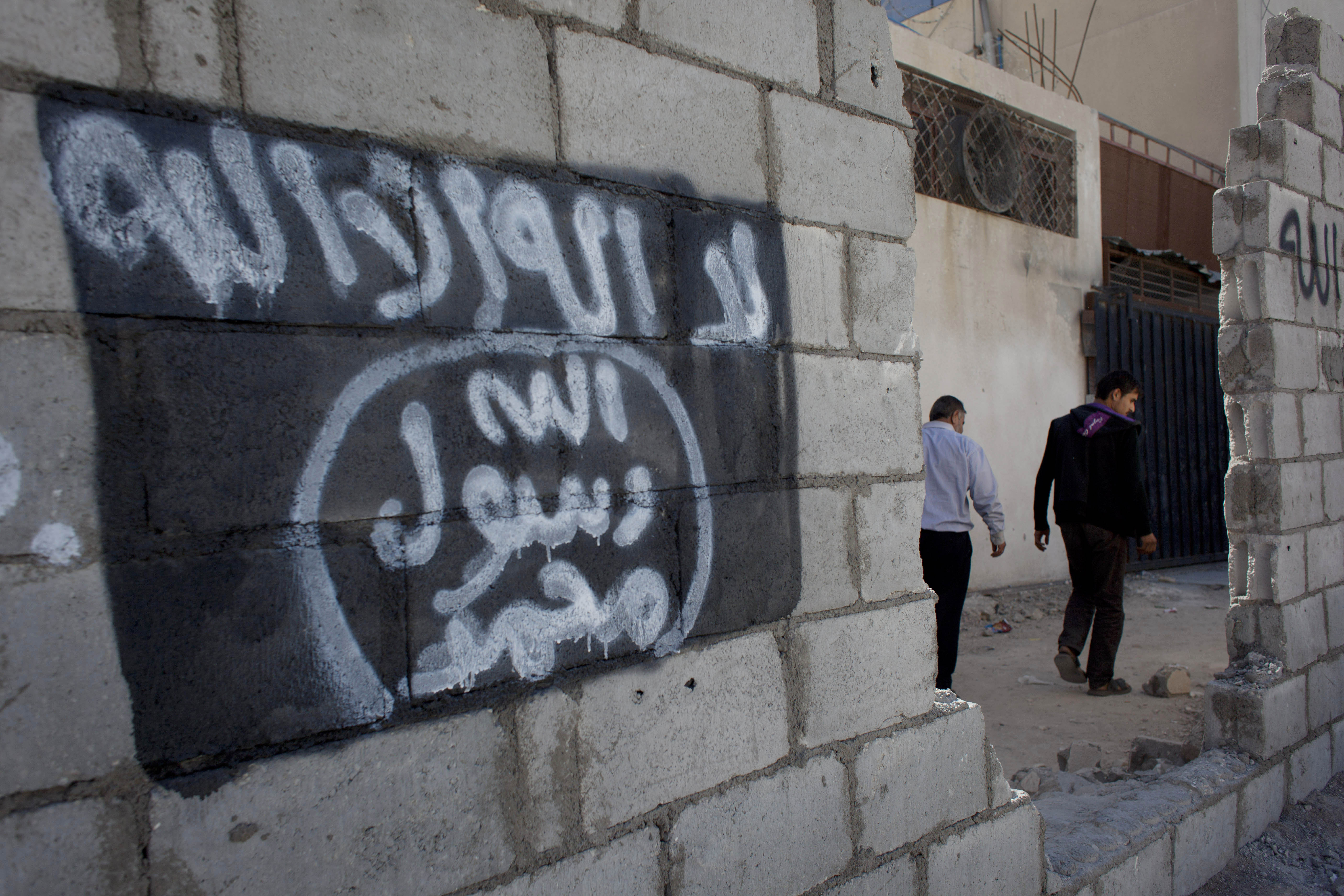 Two Jordanian men walk past graffiti depicting the flag of the Islamic State group with Arabic that reads "There is only one God and Muhammad is his prophet," in the city of Ma'an, Jordan, Oct. 28, 2014. (AP Photo/Nasser Nasser)
At least 1500 Jordanians are thought to have joined the ranks of the Islamic State in Iraq and Syria.
"I think some Jordanians support ISIS because they are fed up," Marwan Shehadeh, a researcher on political Islam, told The WorldPost at his Amman office on Wednesday. "They don't have their own freedom. Jordan and other regimes are not serious on reforming the political and economic scene. The people are frustrated."
Shehadeh said he'd heard from sources in pro-Islamic State communities in Jordan that security forces carried out arrests of suspected extremists in multiple cities Wednesday morning.
Over the past year, Jordan has ramped up efforts to root out its own Islamic State members and supporters. Flags and graffiti in support of the Islamic State group have become commonplace in the impoverished desert city of Ma'an, nearly a three-hour drive south from cosmopolitan Amman.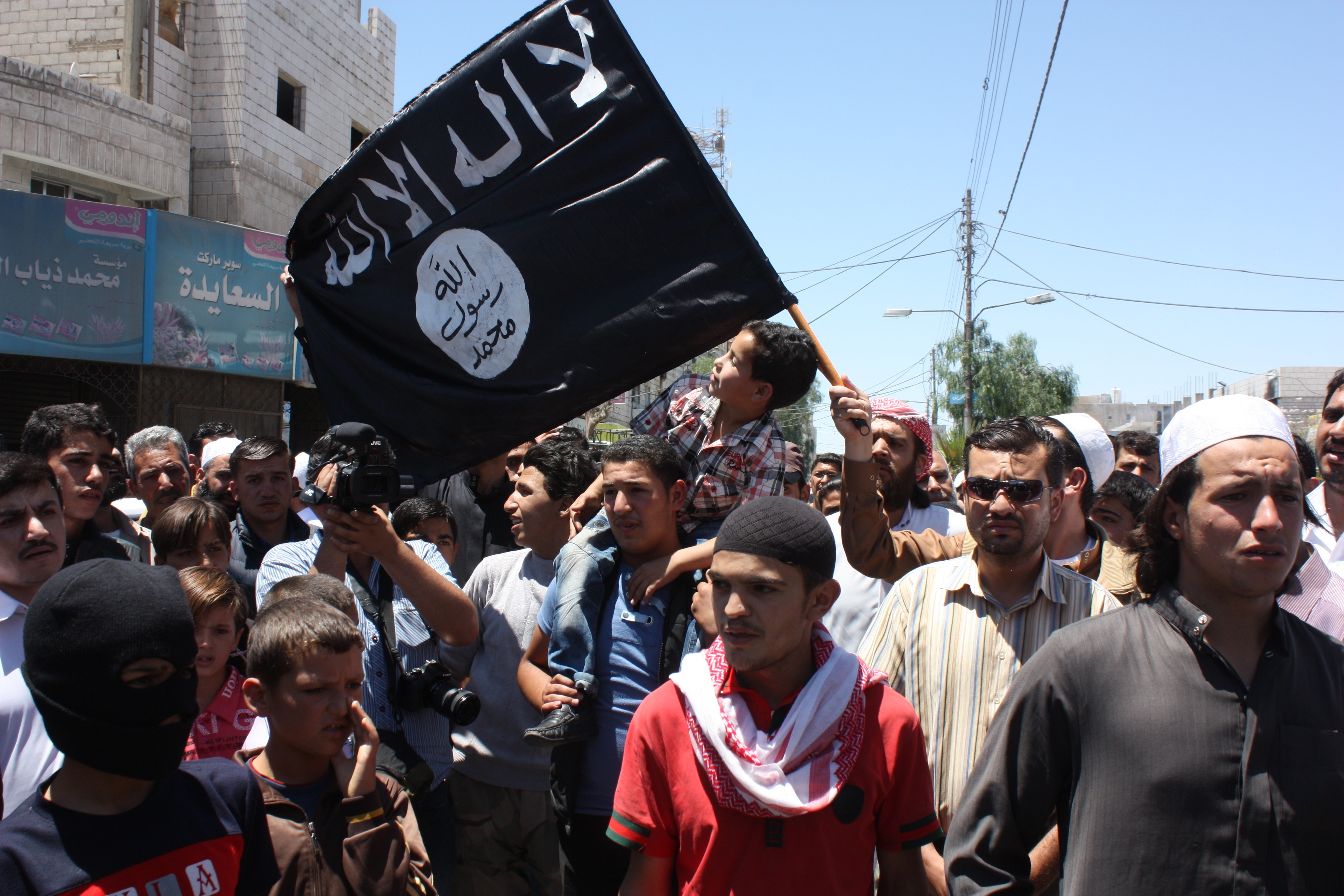 Demonstrators in Ma'an, Jordan, unfurl banners in support of the Islamic State in Iraq and Syria on June 25, 2014, marking the second public show of support for the militant group in the kingdom in less than a week. (Photo by Taylor Luck/The Washington Post via Getty Images)
"Around 200 Jordanians were arrested who supported ISIS in the last few months," said Abdel Kader Khatib, a lawyer who says he represents people accused of belonging to the Islamic State or other radical groups like Jabhat al-Nusra, also known as al Qaeda in Syria. Khatib said that many of those accused were caught advocating for extremist groups on social media like Facebook and Twitter. Others, he said, returned to Jordan after leaving ISIS, only to find themselves enemies of the state.
While Khatib insisted he doesn't support the Islamic State, he also said he disagrees with Jordan's war on the group.
"This is not our war," he said simply.
Ibraheem Shaheen contributed reporting from Amman.