BAGHDAD — If it wasn't for a phone call from his wife asking to meet up for lunch, Baleeg Nasr likely would have died when a massive car bomb detonated next to his shop last Monday.
The attack, meant to target his predominantly Shiite neighborhood of Habibiya in the capital's bomb-rocked Sadr City, killed nine people and wounded dozens.
"I'm very lucky — as big as the sky," he says with a timid smile, standing next to a pile of debris that used to be his cell phone store for seven years. Some of his friends, including a teenage soccer player with high hopes of joining Iraq's national team, were lost in the blast.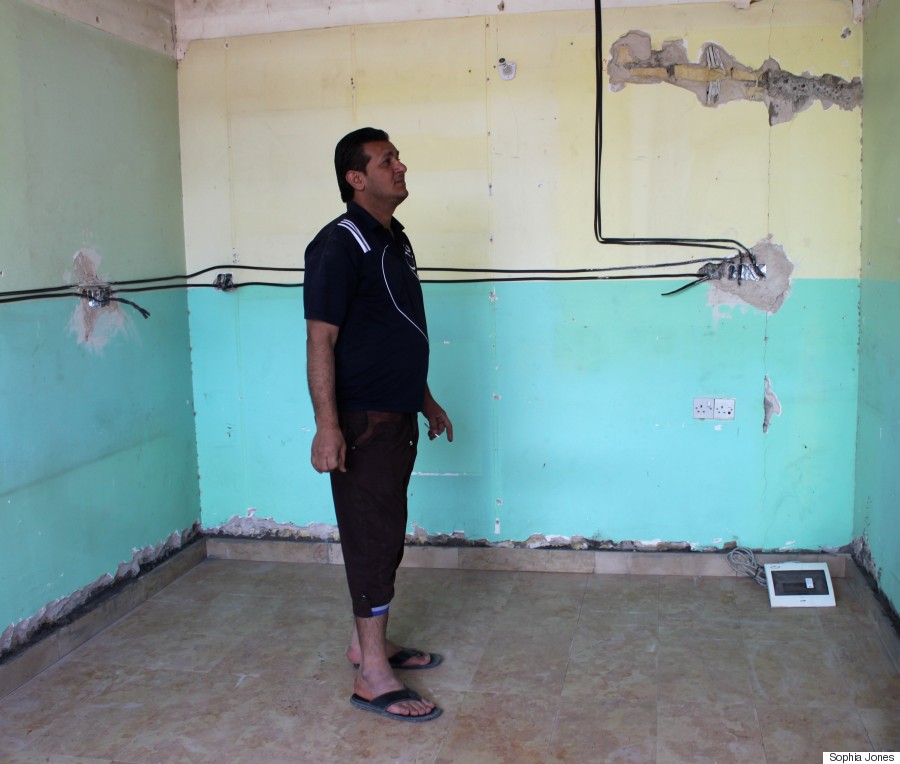 An Iraqi man stands in what used to be his cell phone store in Sadr City on March 27. A car bomb ripped through it the week earlier, destroying everything inside.
Despite a reduced rate of attacks in the capital and life slowly trickling back after the government lifted a 12-year curfew in early February, the threat of bombings remains a part of life in Baghdad — as does a powerful sense of resilience.
"For the last month, we felt real safety in Baghdad, but unfortunately, [the bombings] happened again," Nasr explains as men and boys pounded away at the remaining metal on the gutted first floor, salvaging what they could.
The blast destroyed tens of thousands of dollars in merchandise, but Nasr said he'll reopen as soon as possible. So will his neighbors. The staff of the dentistry office upstairs, where windows are blown out and debris is scattered everywhere, say they expect to receive patients in just two weeks.
"Life continues," Nasr says. "What can we do? We're used to this."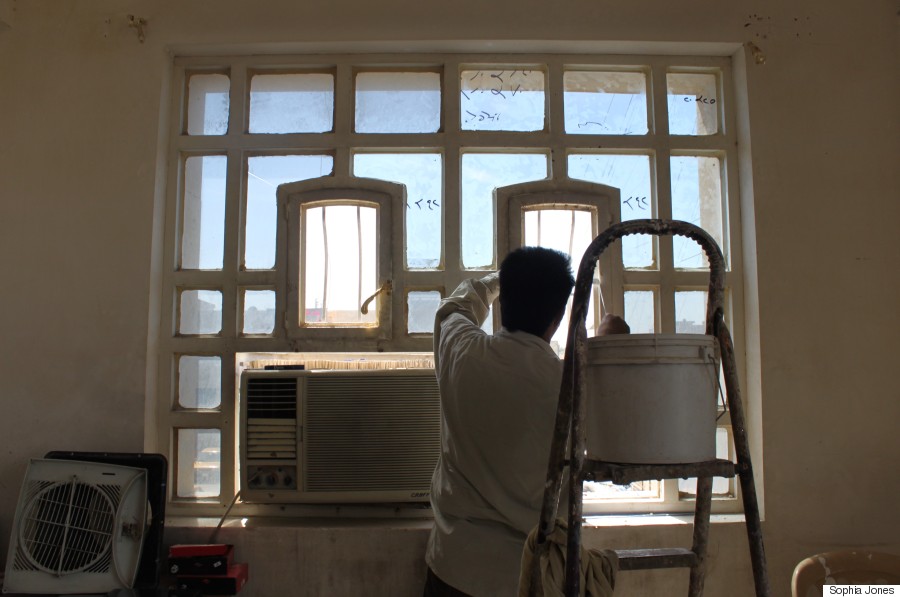 A man repairs windows at a dentistry office in Baghdad's bomb-rocked Sadr City after a car bomb exploded outside a week earlier.
Baghdad residents feared the worst last summer when the so-called Islamic State took control of large swaths of the country's north and west, causing Iraq's military to nearly crumble. The extremists then looked poised to take the capital. Thousands of men took up arms to fill the security void, most of them joining an informal army made up of Shiite militiamen, to defend Baghdad from the hardline invaders. And in recent months, a desperate crackdown here to root out the extremist cells building and detonating bombs has drastically curbed the rate of attacks.
Meanwhile, ISIS militants are focused on holding ground elsewhere in the country, according to Saad Naeem of the Baghdad Operations Command, so the extremist group has been giving less support to its cells within and surrounding the capital.
"ISIS wants to deliver a message to the people that they exist," Naeem said, sitting in an office at Adnan Palace, the former home of Saddam Hussein's longtime defense minister Adnan Khairallah, and now the heavily guarded headquarters for army and police forces tasked with securing the capital.
"But we are always after them," he insisted. "There are so many sleeper cells in Baghdad."
Iraqi forces have launched nine massive operations in Baghdad since September 2014 to squelch ISIS activity, Naeem said.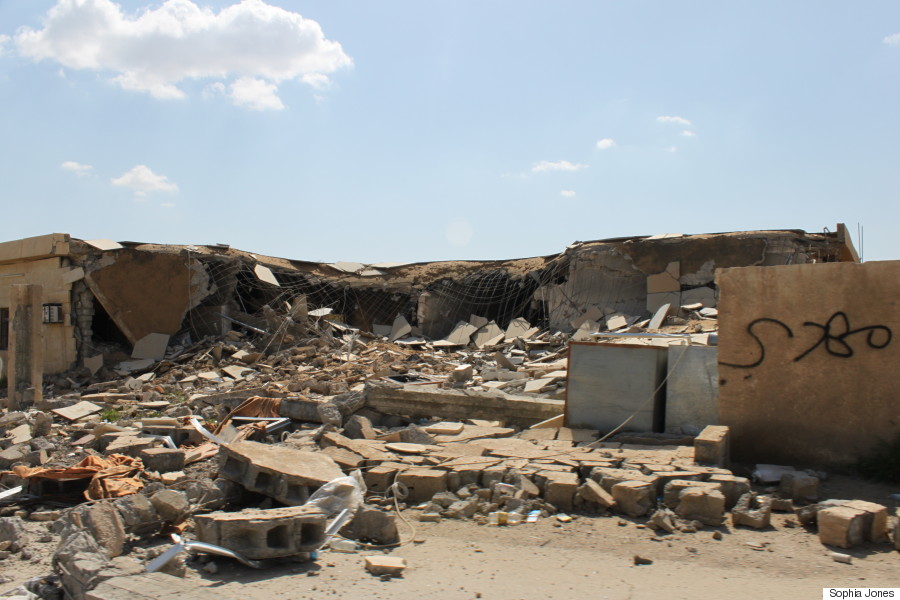 A neighborhood on the outskirts of Tikrit, lies in complete destruction after Iraqi forces and Iran-backed Shiite militias battled the Islamic State.
While Baghdad is witnessing a relative sense of calm compared to previous years, when bombs sometimes ripped through the city every day, war has taken hold of much of the rest of the country.
Thousands of people are displaced — by ISIS violence, as well as by Iran-backed Shiite militias fighting ISIS who are accused of pushing out and persecuting Sunni populations — and entire neighborhoods lie in ruins. Iraqi forces backed by U.S.-led coalition airstrikes are struggling to drive out several hundred remaining ISIS militants in the besieged city of Tikrit, 120 miles northwest of Baghdad. Many Iraqis here say they worry the country could catapult back into the senseless bloodshed of 2006-2007.
Despite war drums beating across the country, and the threat of attacks still very real in Baghdad, many Iraqis are taking advantage of what newfound freedom they have in the capital — who knows how long it will last?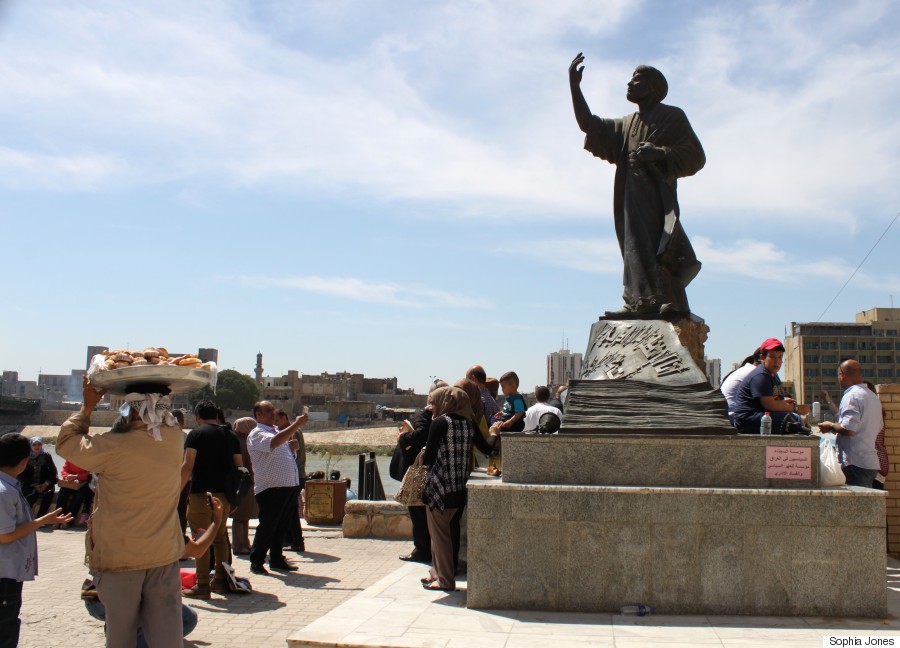 Iraqis hang out and pose for pictures next to a statue of famous poet Abu Al Tayeb al-Mutanabbi in Baghdad on March 27.
The long-time curfew that forced people into their homes at midnight is gone for now. Cafes and restaurants are bustling late into the night. And on Fridays, the first day of the weekend, families pour into public parks and spaces, drinking coffee, taking selfies and going shopping.
On Baghdad's famous Mutanabbi Street, where merchants sell books — from religious texts to Charlotte Brontë — as far as the eye can see, hundreds of men, women and children pass their Friday afternoon in leisure. For a moment, however brief, fear seemingly subsides.
At the nearly century-old Shahbander Cafe, where Iraqi intellectuals, poets, artists and lovers of conversation congregate over shisha pipes and lemon tea, owner Mohammed al-Khashali gives his two cents on Iraqi resilience.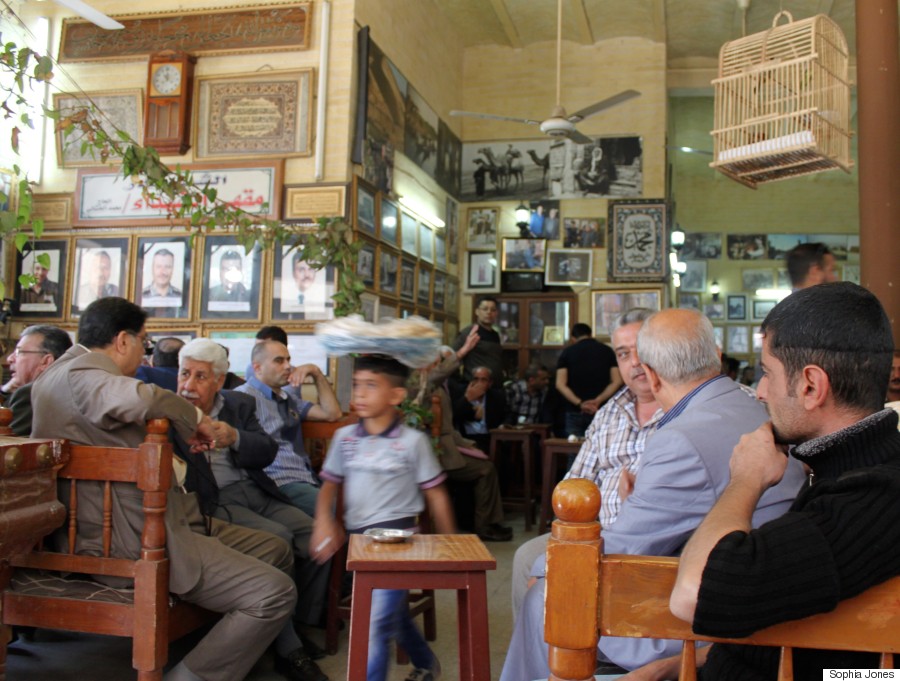 Iraqi intellectuals, poets, writers, and lovers of conversation spend Friday afternoon at Shahbander Cafe on Baghdad's Mutannabi Street on March 27.
"I've lost the things dearest to me," he explains, his sadness outmatched only by the sound of laughter from a nearby group of elderly gentlemen lost in conversation. "I am not afraid anymore."
One would never know from looking at it that the cafe was nearly destroyed eight years ago by a car bomb, much like the Sadr City bombing that ripped through Nasr's phone shop last week, or the twin attacks in a Baghdad suburb today that reportedly killed at least 11.
Five portraits of men hang on the cafe's wall — four of al-Khashali's sons and one of a grandson who died in the 2007 bombing — as if watching over those inside.
"All the people on earth will die," al-Khashali said, calmly. "Why would we be afraid of death?"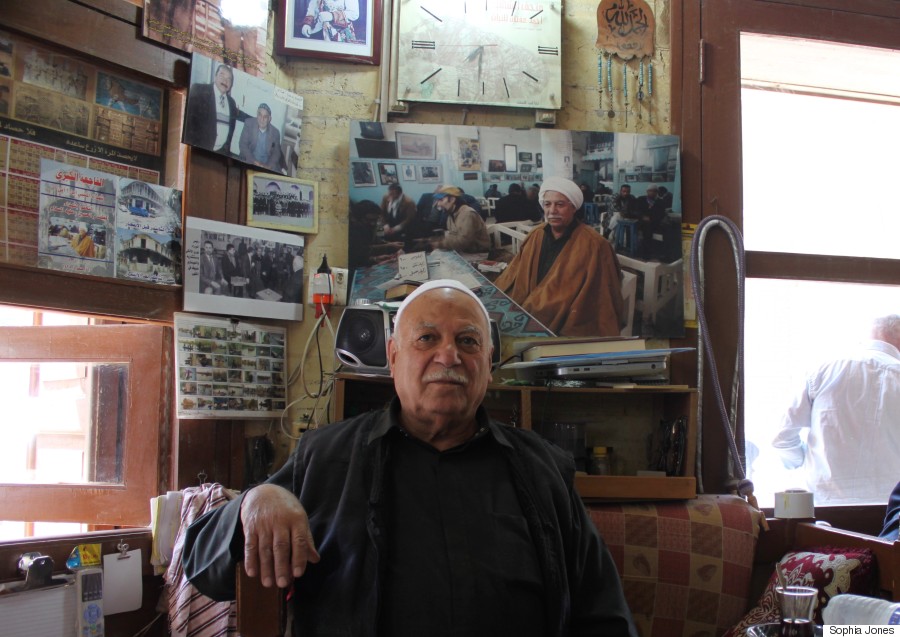 The owner of Baghdad's famous Shahbander Cafe sits at the front desk on March 27.
An Iraqi journalist contributed reporting from Baghdad.