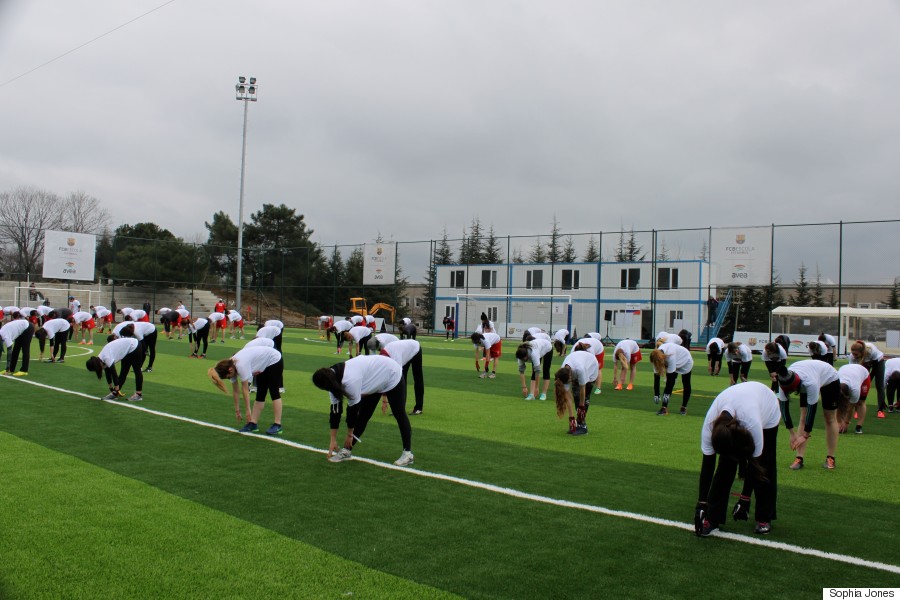 Dozens of young Turkish flag football players stretch on a field at Istanbul Technical University on March 1.
ISTANBUL — At first glance, the scene of boisterous young athletes stretching on a university field this Sunday would have seemed ordinary in soccer-obsessed Turkey. But it wasn't soccer balls they were holding. Instead, the hundred or so young athletes, roughly half of them women, were warming up to play flag football alongside a dozen NFL players.
As part of a 10-day outreach program headed by American Football Without Barriers, the NFL players — including Seattle Seahawks running back Marshawn Lynch, Carolina Panthers running back DeAngelo Williams, and Cleveland Browns tight end Gary Barnidge — are training hundreds of Turkish men, women and children in American football.
But what made Sunday's event even more remarkable was its female component — the forty-nine young women challenging Turkey's conservative social and religious norms to be able to play sports just like the boys.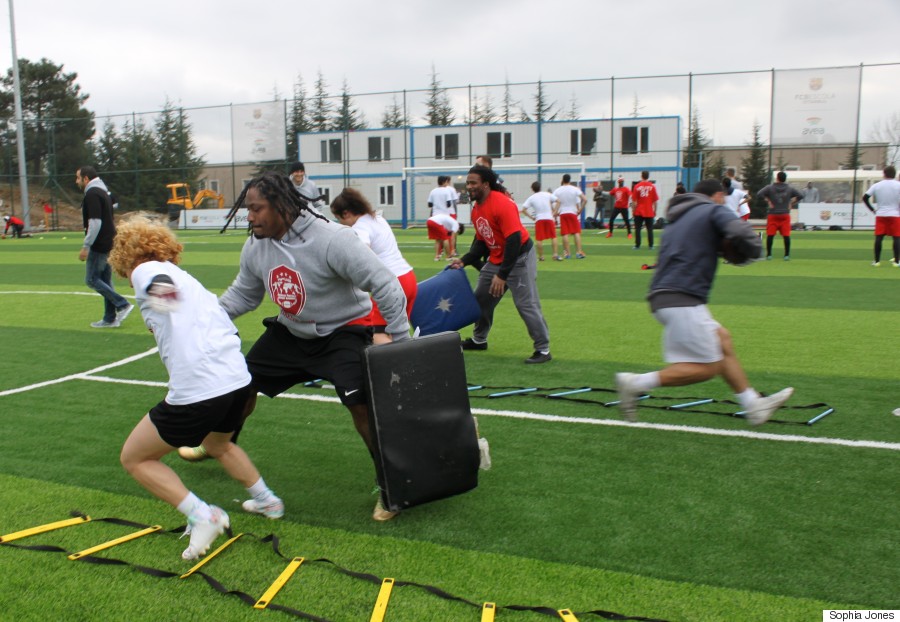 Seattle Seahawks running back Marshawn Lynch and Carolina Panthers running back DeAngelo Williams lead drills on a field at Istanbul Technical University.
"It's not about only football," said 20-year-old Yagmur Sahin, a quarterback on her recreational flag football team. "Generally in Turkey, women don't do sports. It's still developing — slowly, very slowly. People see it as a boy's duty to do sports, especially these kind of sports."
Women's rights activists have long been pushing for equality and greater legal protection for women in Turkey, where gender-based violence is rife and women are often expected to stay at home and raise children instead of participate in the workforce. In November, Turkey's president Recep Tayyip Erdogan said gender equality was "against nature."
The women who trained on Sunday say they want to challenge the status quo, despite men often trying to prevent them from playing sports.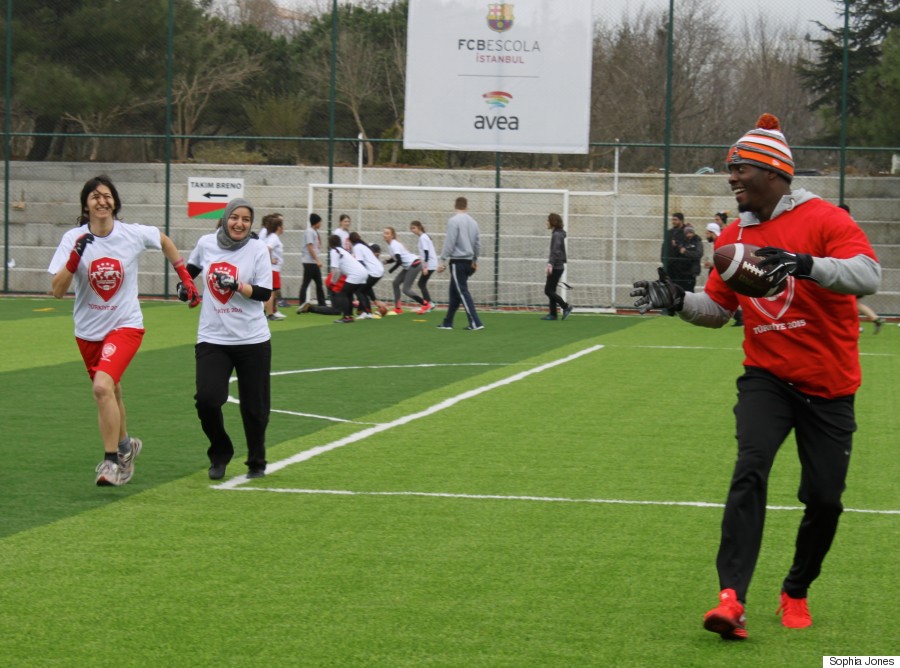 Turkish women run drills with the Cleveland Browns defensive end and special teamer Johnson Bademosi.
As the athletes stretched on a field at Istanbul Technical University in neat rows — girls on one side and boys on the other — Snoop Dogg blasted from speakers on the sideline. Girls in shorts and fluorescent leggings, some with colorful highlights in their hair and one wearing a traditional headscarf often worn by Turkish Muslim women, closely followed directions shouted by the NFL players.
"Back in the States, women play flag football, but they have the same opportunities as the guys do," said DeAngelo Williams, running back for the Carolina Panthers, who now serves on the board of AFWB. "But out here, they don't."
The organization was co-founded by Cleveland Browns tight end Gary Barnidge and New York Jets offensive tackle Breno Giacomini in 2011, along with their college roommate at the time, Ahmed Awadallah. So far, they've hosted football clinics in China, Brazil and now Turkey, where soccer is gospel and American football has only recently caught on.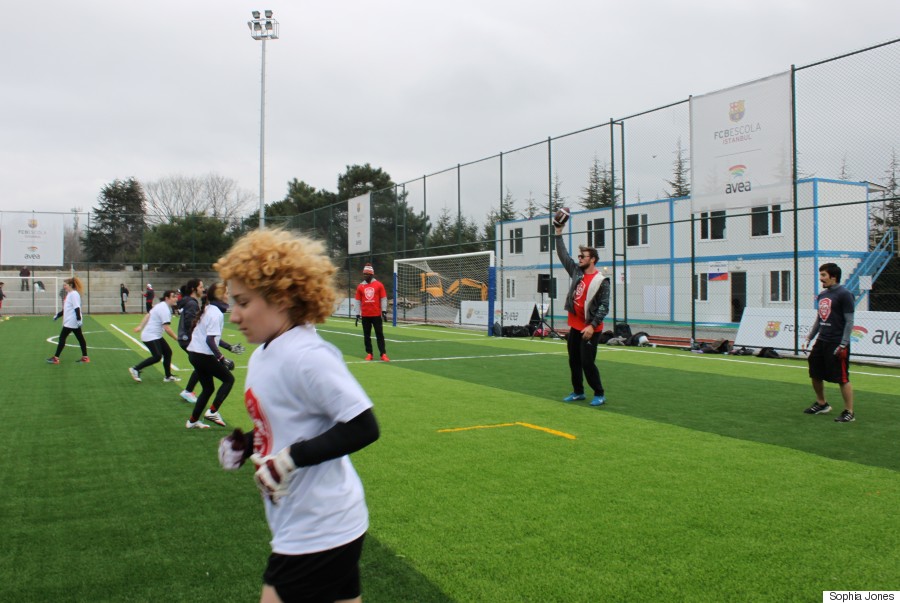 A young Turkish woman runs during a drill with her teammates.
Williams says his experience so far in Turkey, especially training young women, has been profound.
"It's special coming in and working with them and just seeing the boys' looks on their faces because it's obvious that they don't watch [the girls] when they practice," he said with a laugh. "To see them, they're like, 'Oh man! She has footwork! She can play!'"
"And then, before you know it, the guys and the girls are talking football. And that's special."
Twenty-one-year-old Elif Sepetci, a defensive lineman on her flag football team, says she wants to come to the United States just to watch the Super Bowl, if she ever gets the chance.
"This is really amazing, learning from them," she said, after several hours of practice. "I'm really happy today."
Next year, there will be a flag football league formed, Sepetci says, and she has every intention to keep playing.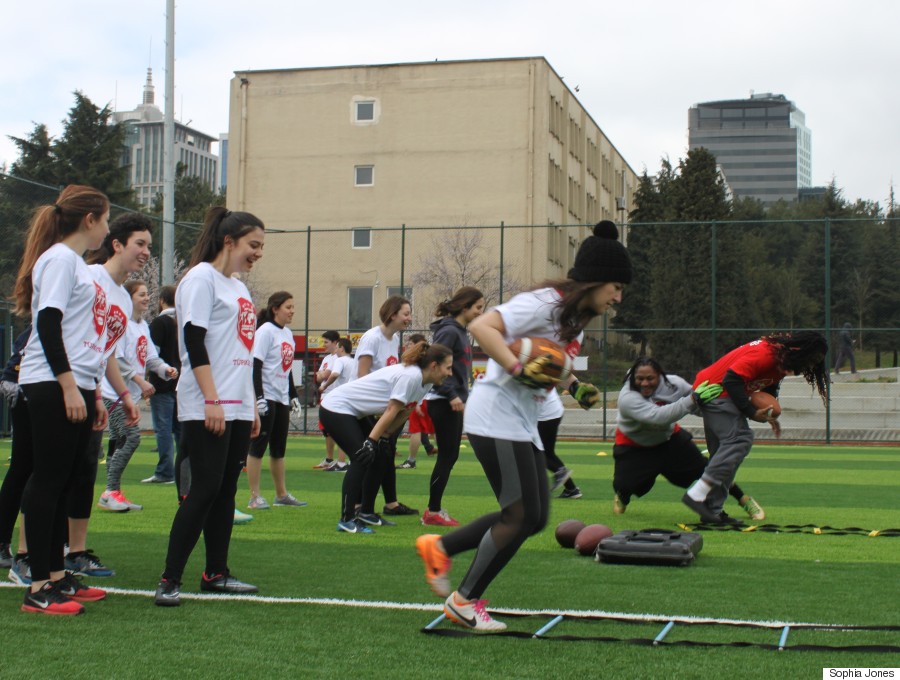 Seattle Seahawks running back Marshawn Lynch tries to tackle Carolina Panthers running back DeAngelo Williams during a drill.
While it was out of the ordinary for Turkish men and women to train alongside one another on Sunday, 17-year-old Baha Cevit said it seemed natural to him.
"We are both equals," he said, surrounded by a group of his male friends.
As the afternoon came to a close, there was one final set of drills — boys versus girls. The dozens of players sprinted one by one, crawling on all fours, and catching footballs until it came down to a final few.
The young women on the other side of the field erupted into cheers as their last player bounded toward them, finishing before the last young man — a small but memorable win.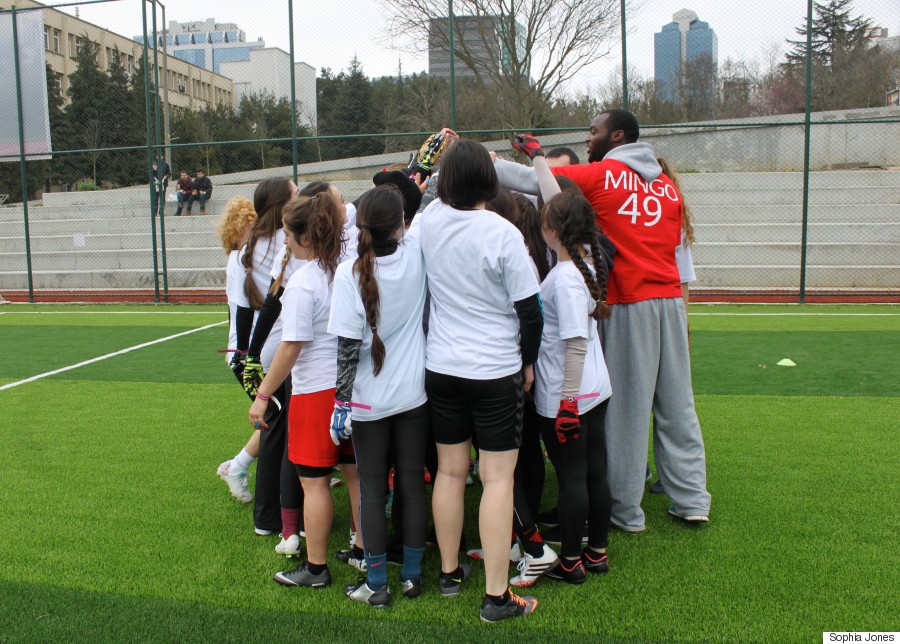 Cleveland Browns linebacker Barkevious Mingo leads a huddle with a group of female Turkish flag football players.