LESBOS, Greece — Crammed in a rubber dinghy with dozens of other Syrians, Mohamed steered away from the Turkish shoreline toward the idyllic Greek island of Lesbos just on the horizon.
The island's ancient castle sat on a hilltop before them, seemingly beckoning the lawyer and father of three to a paradise he had seen only in his dreams.
But out of nowhere came a nightmare — a speedboat with four masked men charging toward them as they bobbed in international waters. Clad in all black and armed with guns and whips, the men bellowed at terrified passengers to stop the motor, Mohamed recalled.
"They shot at the boat with three bullets," Mohamed later recounted as he stood in a crowded parking lot in the beach town of Molyvos hours after arriving, against all odds, at the island. Hundreds of refugees sat around him, exhausted and caked in sea salt and sweat, as tourists slowed their pace to stare. 
"They hit us with six-meter-long sticks," he said, a few men sitting with him nodding in agreement. "They circled around us trying to flip our boat." 
Once migrants and refugees climb aboard the rubber dinghies in Turkey, they face a myriad of threats: leaky, overloaded vessels that frequently sink; faulty motors; and often poor weather conditions — blazing hot days and chilly nights on the water in near total darkness.
Now, as testimony suggests, they face yet another threat: powerful gunmen at sea, otherwise called "commandos" or "pirates" by those who are unlucky enough to cross their path. The gunmen's identity is shrouded in mystery — and it doesn't seem like they'll be stopped anytime soon.
So far this year, 125,000 migrants and refugees like Mohamed have arrived in Greece — a 750 percent increase from the same period last year, according to the United Nations' refugee agency. The country, already struggling and strapped for cash, has been overwhelmed by people desperate for food, water, shelter and speedy processing of paperwork that will allow them to travel on to Athens and beyond.  
While rights groups and aid organizations have slammed the Greek government for failing to address the basic needs of those who arrive, Greek locals as well as foreign volunteers and tourists have stepped up to donate time, money and basic goods to help out.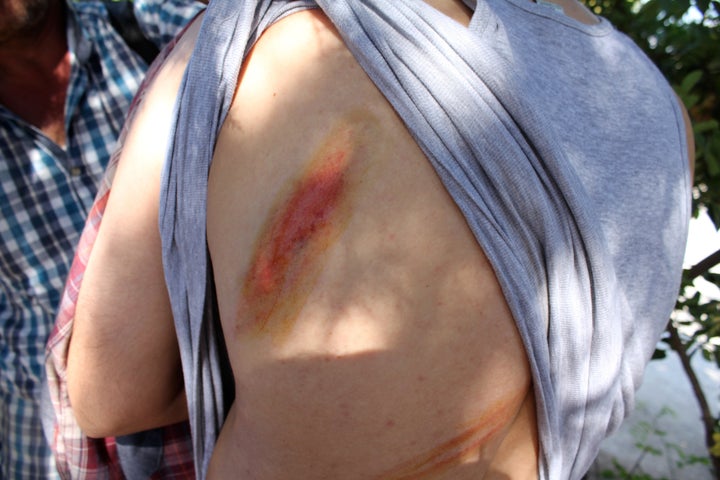 Standing in the shade, Mohamed lifts his shirt, revealing bloody marks on his back. His wounds are still fresh, evidence of the men he says whipped him when he disobeyed their orders.
Tasked by his smuggler in Turkey to steer the small boat, Mohamed had refused to follow the gunmen's orders, determined to make it to Lesbos so his group could continue on to Europe and claim asylum in places like Germany, Sweden and the Netherlands. 
According to Mohamed, the gunmen spoke only English, and at least one had distinctly blue eyes — the same account described by numerous refugees who have made the journey over the past two weeks. While he said the boat had a Greek flag on it, others insist the vessel that stopped and attacked them on other occasions had a German flag. In other cases, there reportedly was no marking at all.
Abdel Hadee, a 20-year-old student from Aleppo who made it safely to Greek shores on Mohamed's boat, said he had also been attacked a week earlier by the same men, while traveling on a different boat that hadn't made it to Lesbos, and robbed of 3,000 euros.
The gunmen forced passengers onto a larger vessel, separated the men from the women and children, and then stripped the men, according to Abdel Hadee. They took everything. 
Other accounts mention men being stripped to their underpants, their passports and cell phones chucked into the turquoise Aegean waters, and bags with their sparse belongings ripped out of their hands. 
Most passengers onboard these dinghies are carrying thousands, if not tens of thousands, of dollars in cash to pay for the entire trip to Europe. Many Syrians have lost most of their money due to the war and cannot easily open bank accounts because of banking restrictions. They carry what they can on their bodies — an easy target.
While shocking, the crimes described by migrants and refugees upon landing on the shores of Molyvos are nearly impossible to stop legally, according to experts.
"As a general rule, it's true to say that no country has much power to do anything much in relation to what happens in international waters," Martin Davies, director of Tulane University's Maritime Law Center in New Orleans, told The WorldPost by email. "The key exception is piracy, which is regarded as being a crime of universal jurisdiction, which means that any country, anywhere, may take action against it."
But he continued, "By the sound of things, these anti-immigrant vigilantes are not pirates. So if these people are not pirates, there are very few bases upon which either Greece or Turkey could take action against them in international waters."
Davies said the relevant coast guards might be able to intervene only if passengers onboard the dinghies were Greek or Turkish citizens (which they are not); if the assailants posed a security threat to either country; or if those committing the crimes were Turks or Greeks, which would be difficult to prove in advance.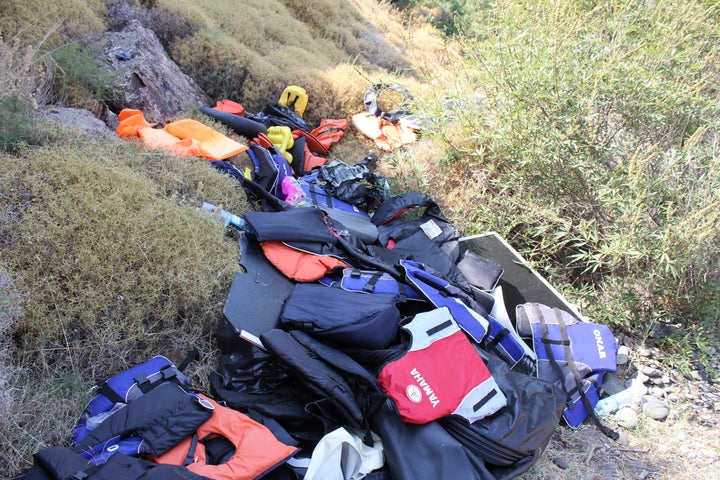 Hassan Akkad, 27, a former English teacher from Damascus who made the journey from Turkey to Lesbos on July 12, accused the Greek coast guard of working alongside the gunmen, or at least turning a blind eye to them.
"The Greek coast guard came when the masked men called [them]," he said, explaining that many people had ended up in the water. "The coast guard took us out of the water, put us on a big ship and took us to the port of Mytilene."
Hassan said that the men were "terrifying" and that one wore a skeleton mask as they aggressively tried to push the refugees back to Turkish waters. He claims the masked men were also onboard the vessel that transported all 150 of them to the port.
Once onboard the larger vessel with both the coast guard and the armed gunmen, according to Hassan, one of the masked men walked through the rows of passengers, slapping and insulting them.
"They personally dropped us off in Mytilene," he said of the masked men. "This ship was parked in [the port] — we saw it later. I'm sure it is affiliated with Greece."
The Greek coast guard has rescued thousands of migrants and refugees at sea, some of whom cannot swim, transporting them safely back to Greek territory. 
Relevant members of the Greek Hellenic Coast Guard could not be immediately reached for comment. The Turkish Coast Guard referred The WorldPost to the Turkish Armed Forces, which said it would take at least 15 days to receive permission through Turkey's foreign ministry in order to get an official comment on the reports. 
A local volunteer aiding refugees in Molyvos, who asked to remain anonymous because she feared her comments could create problems with the local government, said she has received distress calls from refugees mid-trip.
"They said, 'We're being attacked by police,'" she recalled, describing how the assailants reportedly stole the engines, forcing people to swim alongside the dinghy. "But we know it's not the police."
While many Syrians subtly suggest or directly accuse the Greek coast guard or police force of working with these armed men, one Syrian family that recently made the journey said the Greek coast guard intervened when the gunmen attacked a dinghy, saving all passengers. The coast guard allegedly disregarded a piece of paper authoritatively waved in front of them by the masked gunmen.
According to Glen Forbes, who runs the website OCEANUSLive — documenting maritime security incidents and providing the maritime community with safety resources — Greece's coast guard recently reported that it arrested three hooded Greek locals for "facilitating the illegal entry of migrants."
Forbes said that according the coast guard, the locals robbed migrants of various items as well as stealing the motors, leaving them to drift helplessly in the Aegean.
"The three arrested Greeks were known to be using uniforms and even hoods to disguise their venture as official," he explained, "something of which the migrants would be unaware."
Many of the migrants who arrive on Lesbos have escaped police states and places of conflict such as Syria, Iraq, Afghanistan and Pakistan — countries where violence committed by security officials and police officers is commonplace. 
Forbes also said that the port authority investigation allegedly uncovered a warehouse where outboard motors, weapons and ammunition, trailers, rubber boats' fuel tanks, and even items of migrant clothing were stored.
The WorldPost witnessed one man on a deflated, already used dinghy come ashore near Molyvos, detach the motor on the dinghy and take it with him. One volunteer nearby who has recently seen similar incidents on the island said the man was likely to sell it.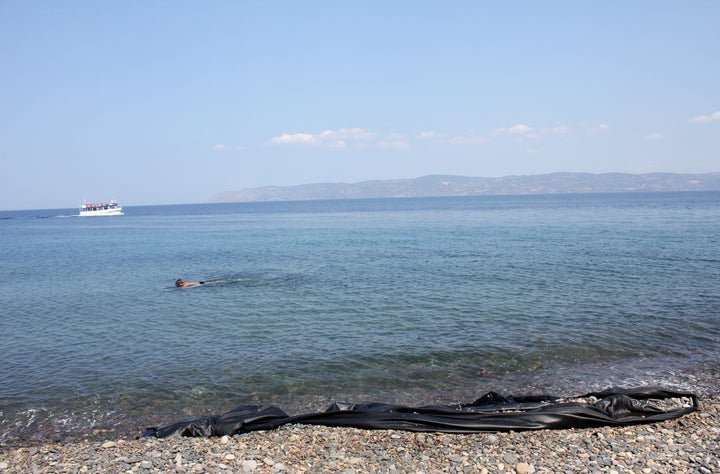 While reports of these gunmen have surfaced for months, they have become increasingly more common and violent in recent weeks. On social media, where migrants and refugees exchange tips about their experiences, stories of these "commandos" are sparking debate over their identity and what they're after.
"Sometimes I hear stories about commandos — that their goal is to steal," said Yamen, a 28-year-old lawyer from Idlib. "And sometimes I hear stories where their goal is to drown people."
He and his sister changed their planned route from Turkey to Lesbos after a young couple in the group before them said they had all been robbed of their possessions by masked gunmen — $25,000 in total, along with their passports. 
"Now, the young man's wife is working in a cafeteria in Izmir because they have no more money," he said, referring to a Turkish city where many people start their journey to be smuggled to Europe.
But attacks like this aren't just happening near Lesbos. Refugees who tried to make the journey from Turkey to Samos, a Greek island roughly 170 miles south of Lesbos, told The WorldPost that they were also attacked by armed men.
Abu Omar, a 27-year-old former business management student from Damascus, said a large vessel stopped his group around 2 a.m. on Aug. 5. According to him, the large vessel lowered a small boat with four people. Those people ripped out the dinghy's engine and threw it in the water, and then tied a rope around the dinghy to pull it toward Turkish waters.
The migrants pleaded with their attackers, Abu Omar said. Despite numerous phone calls to the Greek coast guard with their exact coordinates, nobody came to help.
"We told [the gunmen], 'We are Syrian and we are running away from war. Help us,'" recalled Abu Omar, who hopes to receive treatment in Germany for a sniper shot to his femur bone. "But they would just insult us."
"It broke me. I wanted the sea to open up and swallow me."
Hiba Dlewati reported from Lesbos. Hazal Arda contributed reporting from Istanbul.