ISTANBUL — Twenty years ago, Deva Ozenen didn't know if she'd ever find a way out of prostitution.
The young transgender woman couldn't find a job, like many members of the LGBT community here who face daily discrimination and threats of violence. Sex work was the only way she could keep a roof over her head and food on the table.
"There wasn't any option: hunger or prostitution," she recalls, speaking to The WorldPost over Skype from her coastal city of Izmir.
Now, at 37, she's making history by running for a seat in parliament. On June 7, for the first time ever, Turkey will have a transgender candidate on the ballot — in an election largely seen as a test of President Recep Tayyip Erdogan's power.
Ozenen knows her odds of winning are slim in conservative Turkey, where Erdogan has recently made fiery speeches with a Quran in his hand, denouncing his opponents. But the fact that she's in the fight means everything.
"If I'm elected, I will be the voice of the oppressed," she said, defiantly. "There's a long way to go. I just began the fight."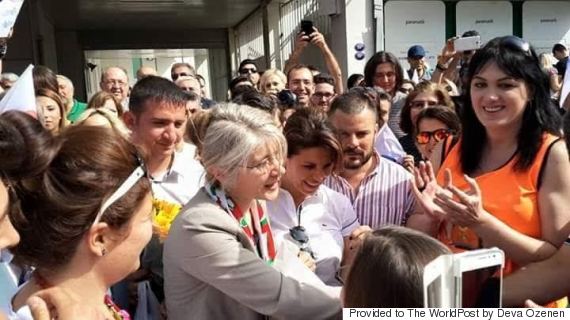 She considers herself a survivor. She has survived angry mobs, abusive cops and clients who would pay for sex at night and throw rocks at her by day. Ozenen still faces attacks on the street, even while campaigning. Recently, an elderly woman attacked Ozenen when she heard the candidate's deep voice.
But the hopeful activist and could-be parliamentarian looks to the future with hope.
"If I can enter parliament, if I win the election, then I will have the protection of the law," she explained. "Then I will talk more bravely."
Ozenen is running for the secular and recently formed Anatolia Party, founded just six months ago by a female politician named Emine Ülker Tarhan.
As both a transgender candidate and a political newbie, Ozenen knows she has a long, hard road ahead of her.
Her main goal is to push for real legislation that protects LGBT people from discrimination and outright violence. Turkey's constitution currently does not even mention LGBT people.
Even when transgender men and women seek medical help or assistance from authorities, they are often mocked or turned away, Ozenen said, speaking from experience.
Employment is rare once men and women begin to transition, turning many in the community to work as prostitutes or "entertainers."
"I had a lot of dreams when I was young," she said. "But I hit the walls of reality when I grew up."
"We cannot find a respectable job in Turkey," she continued. "It's impossible. When you go for an interview, you're rejected at the first moment."
This is Ozenen's battle. She wants to put a face to her community's struggle.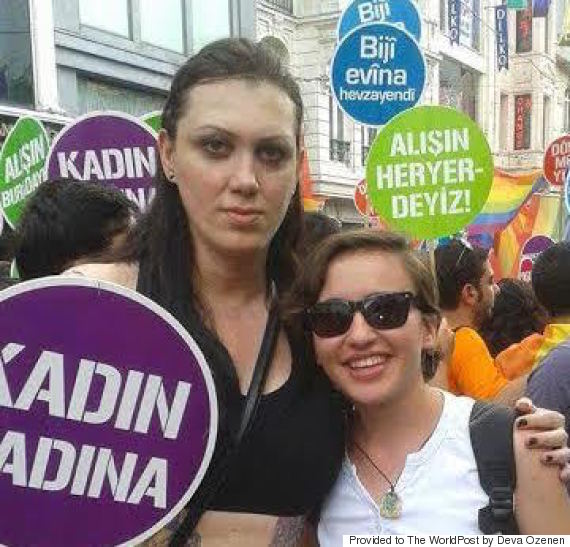 Members of Turkey's LGBT community — as well as secular people, minority groups and women — have slammed the current government for being increasingly discriminatory and closed-minded.
Just this week at a political rally, Erdogan referred to gay people as "representatives of sedition," Hurriyet Daily News reports. According to the president, homosexuality has no place in Turkey's culture.
Ozenen considers herself lucky. Her family has always supported her, despite growing up in a culture that preached fear and shame. They've known and accepted her as female since she was 5 years old, she said.
That's not the norm in Turkey, where honor killings are far from a thing of the past and transgender people are routinely killed because of their gender identity.
Ozenen hopes to represent the entire LGBT community in this election. But she's not the only one with her hat in the ring. Activist Baris Sulu, Turkey's first openly gay candidate to run for parliament, will be on the Peoples' Democratic Party (HDP) ticket.
This election, his pro-Kurdish party has strived to broaden its voter base by catering to not only Kurds, both liberal and conservative, but also to leftists and minorities. If HDP wins enough seats in parliament, it could stop Erdogan from changing the constitution to grant himself sweeping powers.
While all eyes are on HDP this election, Sulu has his own uphill battle to fight.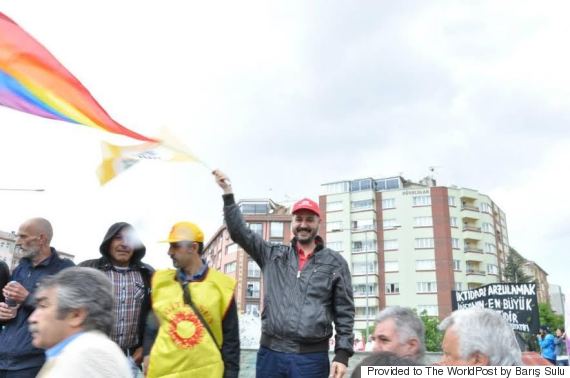 Barış Sulu holding a gay pride flag.
"A couple of my friends participated the local elections," he said. "It gave me hope and I declared my candidacy with the support of my family and partner."
Burus had already made headlines, well before announcing his candidacy, when he tried — and failed — to apply for a marriage license with his partner, a gay transgender man still recognized as a women by the Turkish state.
In addition to fighting for LGBT education, health, employment and civil rights, Sulu says his "first goal is recognition, the legal way of saying that 'we are here.'"
"After that," he added, "hate crime laws and regulations."
Sulu says he has hope. "Being able to be in the politics openly and able to speak up freely is a huge development," he explained. "That's why we can say it is getting better."
For Ozenen, it's a matter of life and death. She has seen too many friends hurt and killed to turn back now.
"In some countries, they're fighting for the right to marry," she said. "We don't even have the right to live yet."
"This is a war for freedom."
Burak Sayin contributed reporting from Istanbul.