LICE, Turkey — Rezan Zugurli is soft-spoken and unassuming, but she radiates charisma. You would never peg her as a fighter.
But a fighter she is. Born into a family of prominent Kurdish activists, Zugurli grew up in southeastern Turkey in the midst of an armed struggle for autonomy and political rights by the Kurds, a minority group making up one-fifth of the country's population. The fight has claimed more than 40,000 lives since its start 30 years ago.
At 22, Zugurli followed in her parents' footsteps by protesting in solidarity with Kurdish political prisoners. The act landed her in jail for 13 months for what she says was a false charge of stone throwing. And last month, Zugurli ran in local elections to be mayor of the Lice district, just two years after she was released and a year into a fragile ceasefire between the Kurds and Turkey's government. At 25, she is now the youngest mayor in the country's history.
Zugurli, part of the pro-Kurdish Peace and Democracy Party, splits her post with her male running mate. A party rule mandates that all top positions must be shared by men and women in an effort to increase female political participation. She sees her new role as more important than ever, leading not only as a Kurd but as a woman in a male-dominated political landscape.
In many of Lice's public spaces, there are practically no women. Businesses are mainly run by men and the coffee shops are full of men smoking cigarettes over lunchtime conversations. Most of the women are at home with their families and children. Zugurli, an ardent feminist, hopes her position as mayor will help elevate the status of women in her district, and in the rest of Kurdish Turkey.
"Women are active in politics, but in the home, they are always second," she says, sitting at her big wooden desk in the municipal building in Lice (pronounced lee-jeh). "There is no equality between men and women."
Zugurli finds a great sense of solidarity with the other female politicians in Turkey, especially women like Berivan Elif Kilic, a mayor nearby who was forced by her mother to get married at just 15 and suffered frequent beatings from her husband. At 28, Kilic got a divorce and began a career in politics. Now, five years later, she's mayor of the farming town Kocakoy. And then there's Gultan Kisanak, mayor of the unofficial Kurdish capital, Diyarbakir, who is among a small group of women serving as the first female mayors of metropolitan municipalities.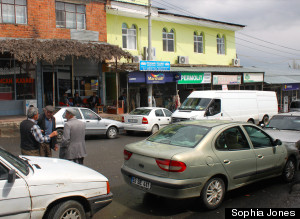 A street down the road from the municipal building where Mayor Zugurli works in Lice, Turkey.
While some male residents of Lice say they're worried about women serving in important leadership roles, it is Zugurli's age that seems to give them more pause for concern.
"She is very young," says Mahmut, a 27-year-old shopkeeper in Lice who, like many locals, declined to give his last name out of fear of being condemned by other residents or facing retaliation from the Turkish government. "I don't know how she will fix things here. But I voted for her — her family struggled for the Kurds."
But several doors down, a group of men standing outside of a shop say they have faith in their newly elected leader.
"She is young but she is full of life experience," insists Mehmet, 40, who also declined to give his last name. "She will be successful."
Zugurli admits that she's still learning to maneuver the political scene. She spends her days on everything from endless meetings in Lice and the greater southeast region to working on new community projects, like an initiative to establish a niche market where impoverished women can sell their crops.
After a full day's work, she drives an hour to Diyarbakir to attend night classes on radio and television broadcasting. While she is devoted to her job as mayor, Zugurli says her studies are crucial. If there's one thing life has shown her thus far, she says, it's that she doesn't know what will come next.
"I'm a student and a mayor at the same time," she says, her cheerful laughter masking any exhaustion.
Zugurli's family name, synonymous with the Kurdish struggle among many Kurds in the area, has gained her much support. But it also means she has a lot to live up to, especially in the Lice district, where the Kurdistan Workers' Party (PKK), the militant group that has led the fighting against the government, was founded. The U.S. deems the PKK a terrorist organization, but some critics question its blacklisting.
"Lice has a special place in Kurdistan," she says with pride. "It's known for its resistance."
Zugurli says that in the 1990s, at the height of the bloody Kurdish-Turkish conflict, the local cigarette factory in Lice became an army base and the hospital turned into a police base. Even now, when driving into Lice, heavily armed Turkish forces man checkpoints, stopping and searching cars that drive past.
For the young mayor, her role as a Kurd is just as important as her role as a woman. Zugurli says she first dreamed of going into politics when she was in prison. She spent eight months of her sentence in Diyarbakir Prison, infamous for widespread torture in the '80s and '90s.
"At least when you get arrested now, compared to the '90s, they don't torture you," Zugurli says.
Shoved in a jail cell that at times had about 45 other women, she says she met scores of young, disenchanted Kurds, some in their teens. According to Zugurli, many of them were charged with stone throwing just like her.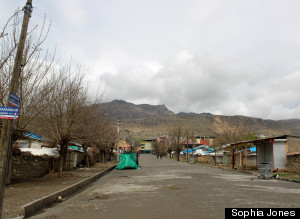 A road on the outskirts of Lice, Turkey.
With a ceasefire established in March of last year and calls for the PKK to withdraw to neighboring Iraq, violence in the area has largely subsided. But many Kurds like Zugurli still lack faith in the Turkish government's promise to move forward with a peace plan. They say time is running out until fighting will resume again. PKK fighters stopped pulling out of Turkey in September, demanding the government take more concrete steps to form a peace plan.
While Zugurli knows the fate of the plan is largely out of her hands, she hopes she can bring a fresh approach to helping her people at a local level.
"In Kurdistan, we talk about politics every moment," she says, the rain pitter-pattering on the windows behind her. "We are the 'others' in Turkey. I am a voice for the Kurdish people. I am here to represent them."
Zugurli attributes most of her success to her endlessly supportive family, and to the people of Lice for taking a chance on her. But one thing's for certain, she says with a smile: "Politics are my destiny."