It was a rare and beautiful instance of pure, unadulterated goodwill in the relationship between the United States and China: For the past few weeks, police departments in China and the U.S. traded get-well wishes for two cancer-stricken police officers in San Leandro, California, and China's southwestern Sichuan province.
Police officers and family members used social media to send dozens of pictures of themselves holding up encouraging signs for two officers with cancer, San Leandro Police Captain Edward Tracey and Chinese traffic officer Zhao Xiaoli. Though the officers both recently succumbed to their illnesses, they were able to see the heart-warming messages of support from across the Pacific.
China Daily reports that the exchanges began when the San Leandro Police Department's page on Weibo, a Chinese micro-blogging platform, received a message about Zhao's struggle with cancer. The post also discussed her commitment to helping disaster victims and serving her community. The department then began soliciting get-well messages from its officers and passed them along to Zhao, 33, via Weibo.
The SLPD launched its Weibo account last year as a way of reaching out to the city's growing Chinese population.
"Although we may serve our communities in different countries, we all do it for the same reasons -– to protect and serve our public, making our communities safer for everyone," Lt. Robert McManus, press information officer for the SLPD, told China Daily. "Although she served in China, she stood for the same principles that all law enforcement does. We honor her for her service. May she rest in peace."
According to China Daily, photographs of officers holding get-well signs in English and Chinese started pouring in from police departments across California, as well as in New York, Texas and Massachusetts.
When Chinese police officers learned that an SLPD officer was also fighting cancer, they promptly returned the gesture by sending photos to Tracey. One of them came from Zhao's widow, a fellow police officer (pictured on the left below), who snapped a photo of himself and a colleague holding up a sign reading "We're rooting for you!"
Zhao's parents also sent along a message of encouragement that the SLPD posted on its Weibo account.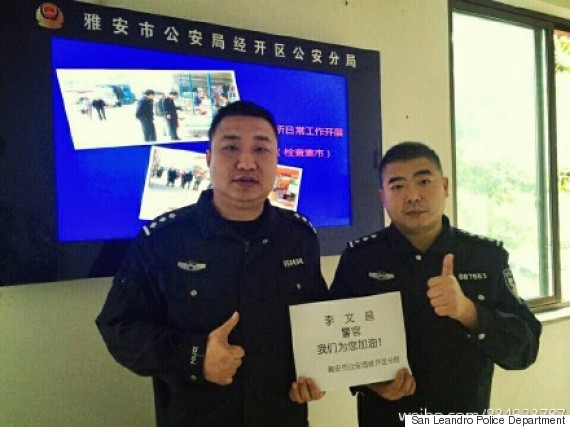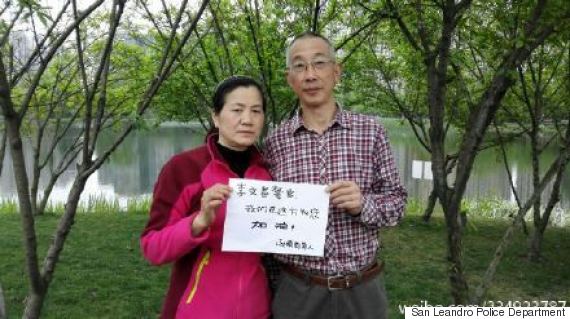 Tracey, 45, passed away earlier this week. According to the department's obituary, he was born in Hong Kong and immigrated to the United States at an early age, eventually becoming a citizen and rising through the ranks of Bay Area police departments.
"It doesn't matter where a police officer is from, they all have the same responsibility for protecting the people. We hope you rest in peace in heaven," one Chinese Weibo user said after Tracey's death was announced on SLPD's Weibo page.
While the police department's Weibo account was initially created to facilitate local community outreach, the bonds it has built between police officers and families across the world show that community can be created anywhere that people are willing to truly forge connections with one another.