HONG KONG — In what locals are describing using the Chinese phrase "people mountain, people sea," tens of thousands of protesters flooded the streets of Hong Kong on Tuesday night to call for greater democratic rights in the semi-autonomous territory of China.
The student-led protest movement has escalated in recent days. As local police largely withdrew from the main centers of protest, crowds swelled to their highest levels on Tuesday night. In the Admiralty neighborhood, where the local government has its headquarters, crowds were packed so tightly that organizers held up signs asking new arrivals to move on to other areas of the city.

(Photo: Matt Sheehan/The WorldPost)
Protesters are demanding China allow the territory to vote for candidates who have not been pre-screened by the Chinese government, in what would be the city's first direct elections, to be held in 2017.
Beijing has said the protests are illegal, and earlier on Tuesday Hong Kong's Chief Executive Leung Chun-ying refused to meet with protesters to discuss their demands.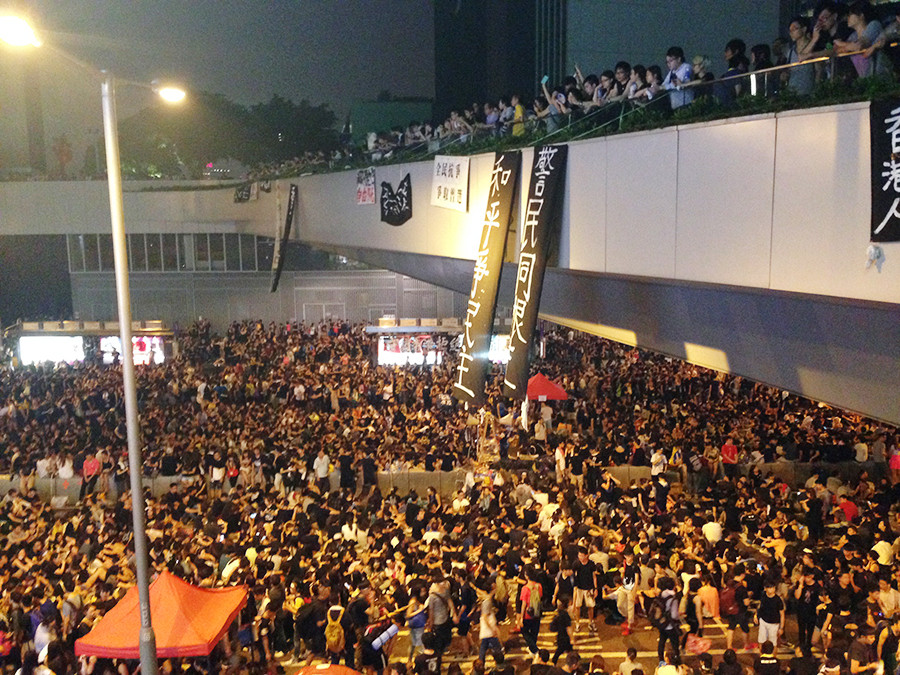 (Photo: Matt Sheehan/The WorldPost)
Despite the incredible mass of people, confrontations with police were minimal on Tuesday night. Volunteers passed out water, food and goggles. It was a far cry from Sunday's tense atmosphere, when umbrella-wielding protestors faced off against police firing rounds of tear gas.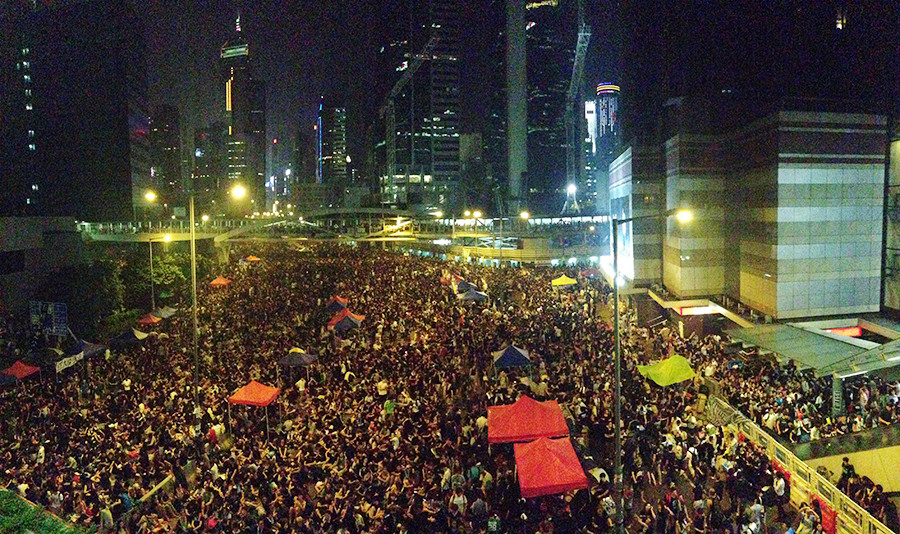 (Photo: Matt Sheehan/The WorldPost)
In one near-incident on Tuesday, police motorcycles roared up to a makeshift barricade and began ripping it apart. Students rushed to defend their position, but quickly realized an ambulance was waiting on the other side and moved to help the police take down the blockade. Within minutes, the police and ambulance were passing through to the whistles and cheers of protesters.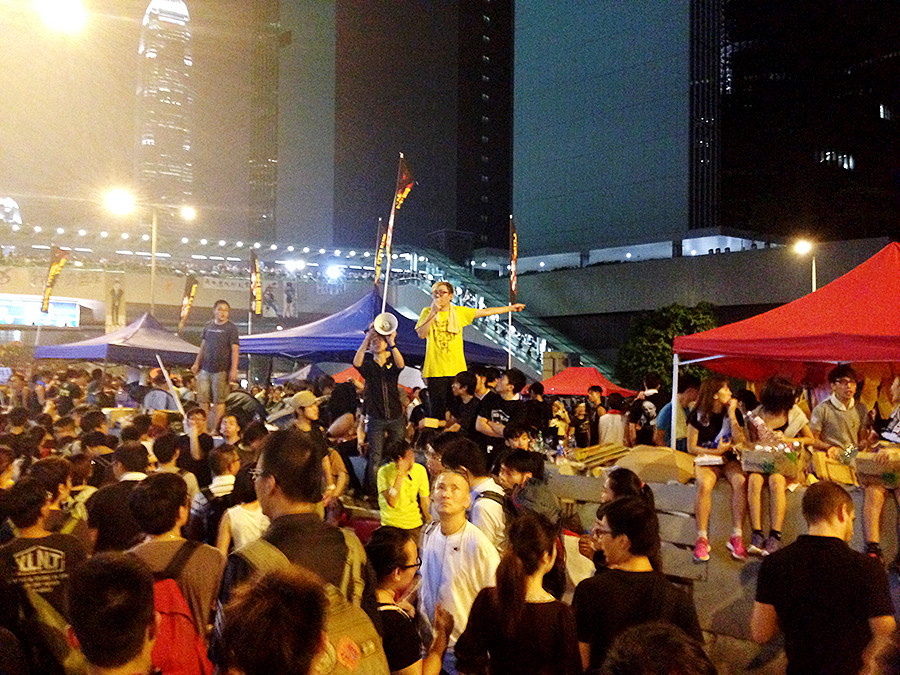 (Photo: Matt Sheehan/The WorldPost)
The pro-democracy protesters have also brought an enterprising spirit to addressing more practical matters. Faced with a chronic bathroom shortage, activists set up two tents, each equipped with nothing but a black trash bag and some toilet paper.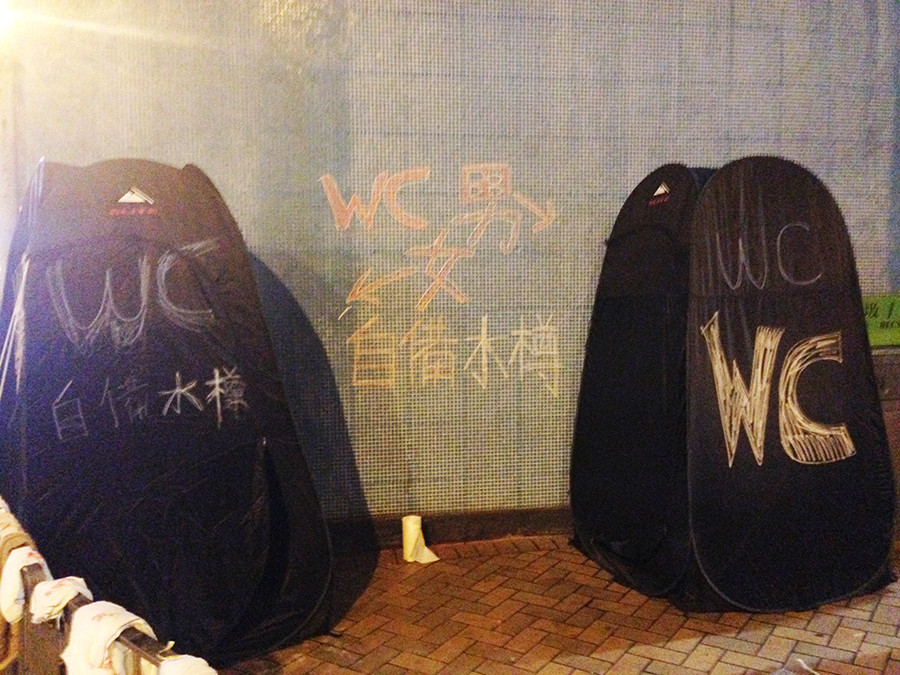 (Photo: Matt Sheehan/The WorldPost)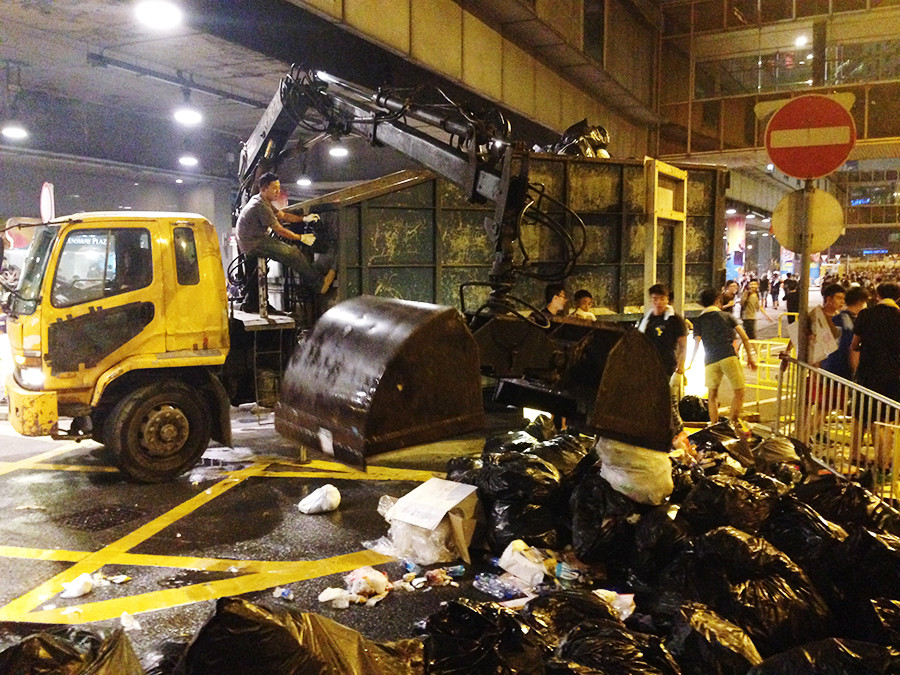 (Photo: Matt Sheehan/The WorldPost)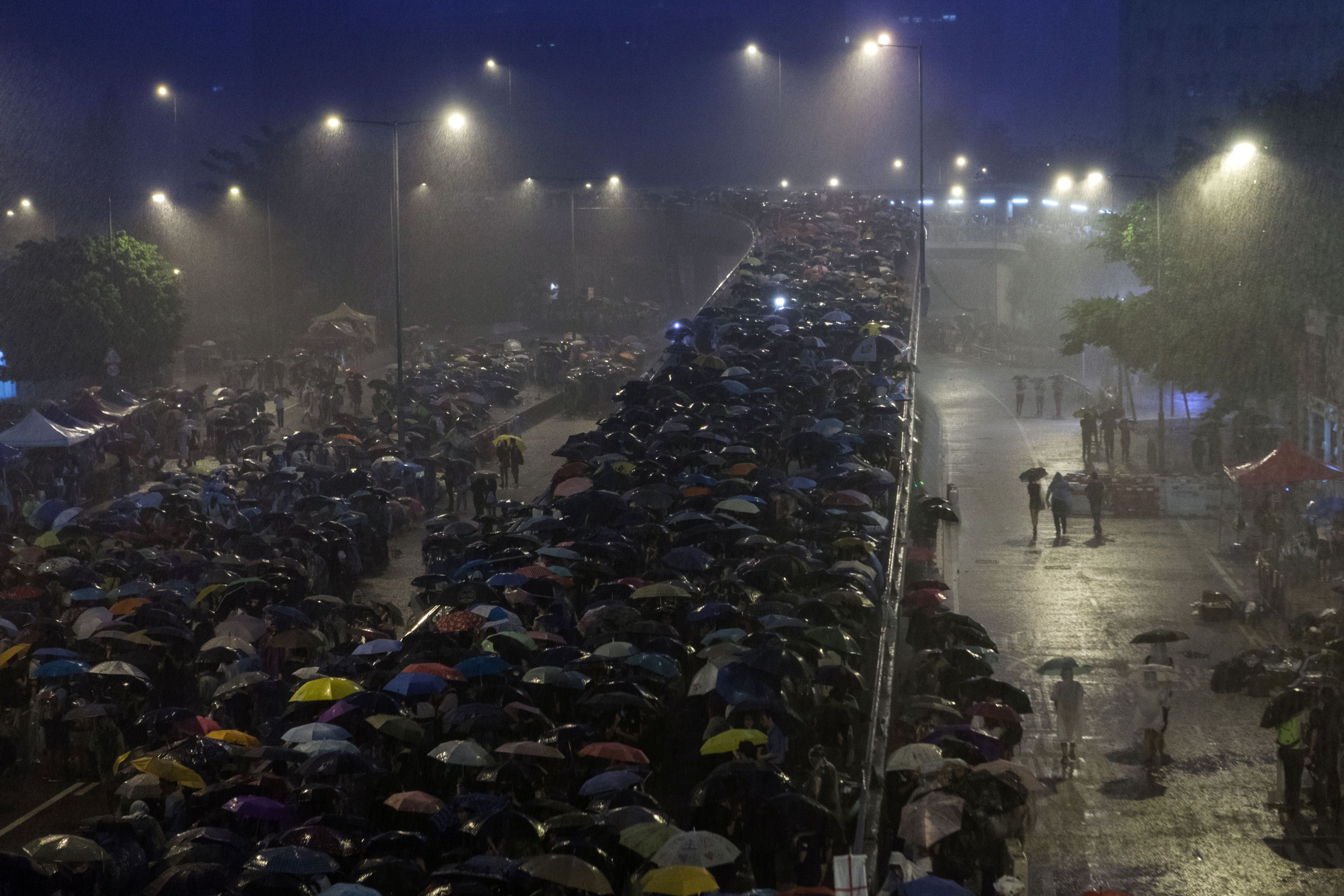 Pro-democracy protesters use umbrellas to shield themselves from heavy rain in Hong Kong on Sept. 30, 2014. (ANTHONY WALLACE/AFP/Getty Images)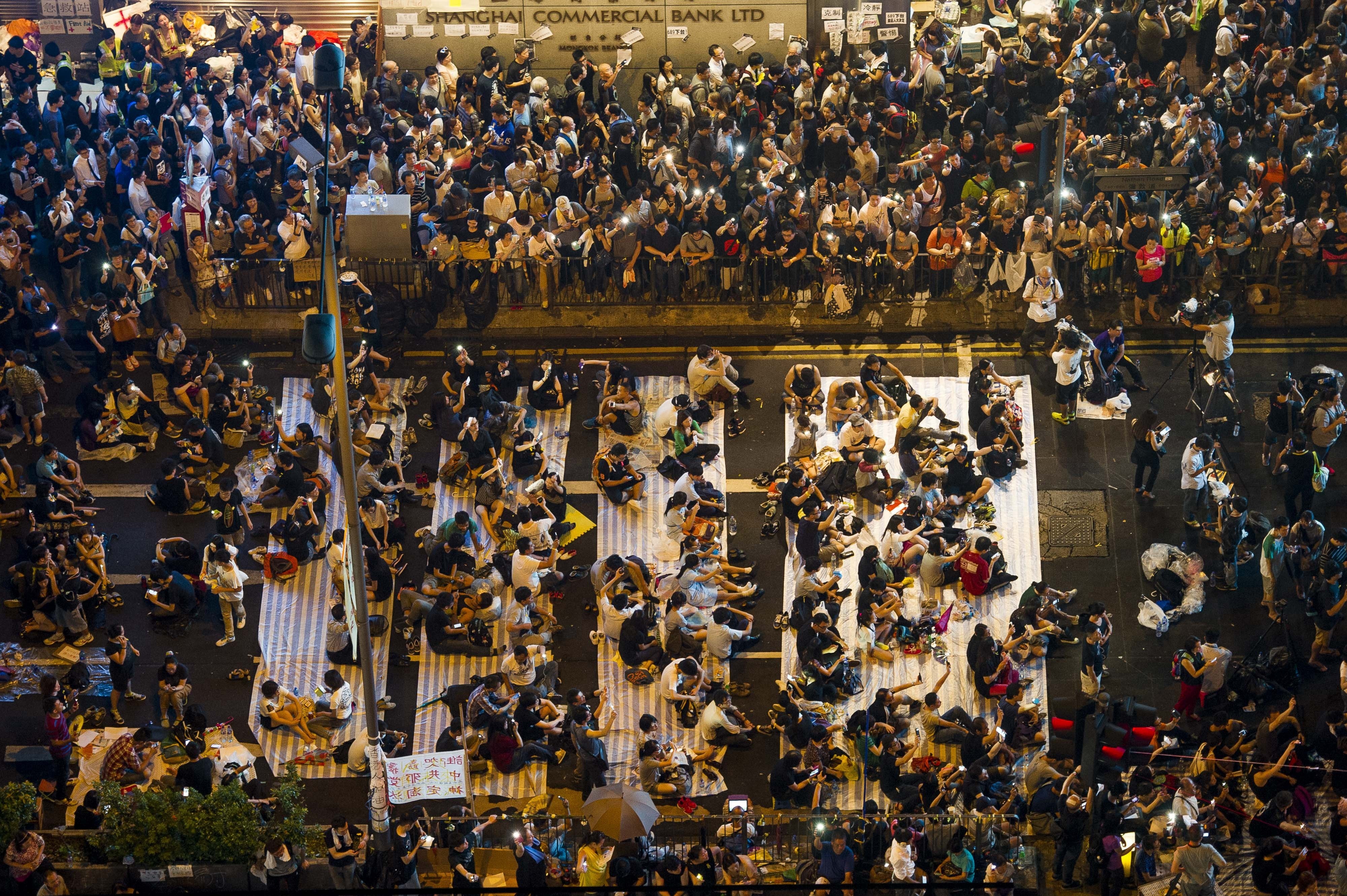 People gather at Mongkok district during demonstrations in Hong Kong on Sept. 30, 2014. (XAUME OLLEROS/AFP/Getty Images)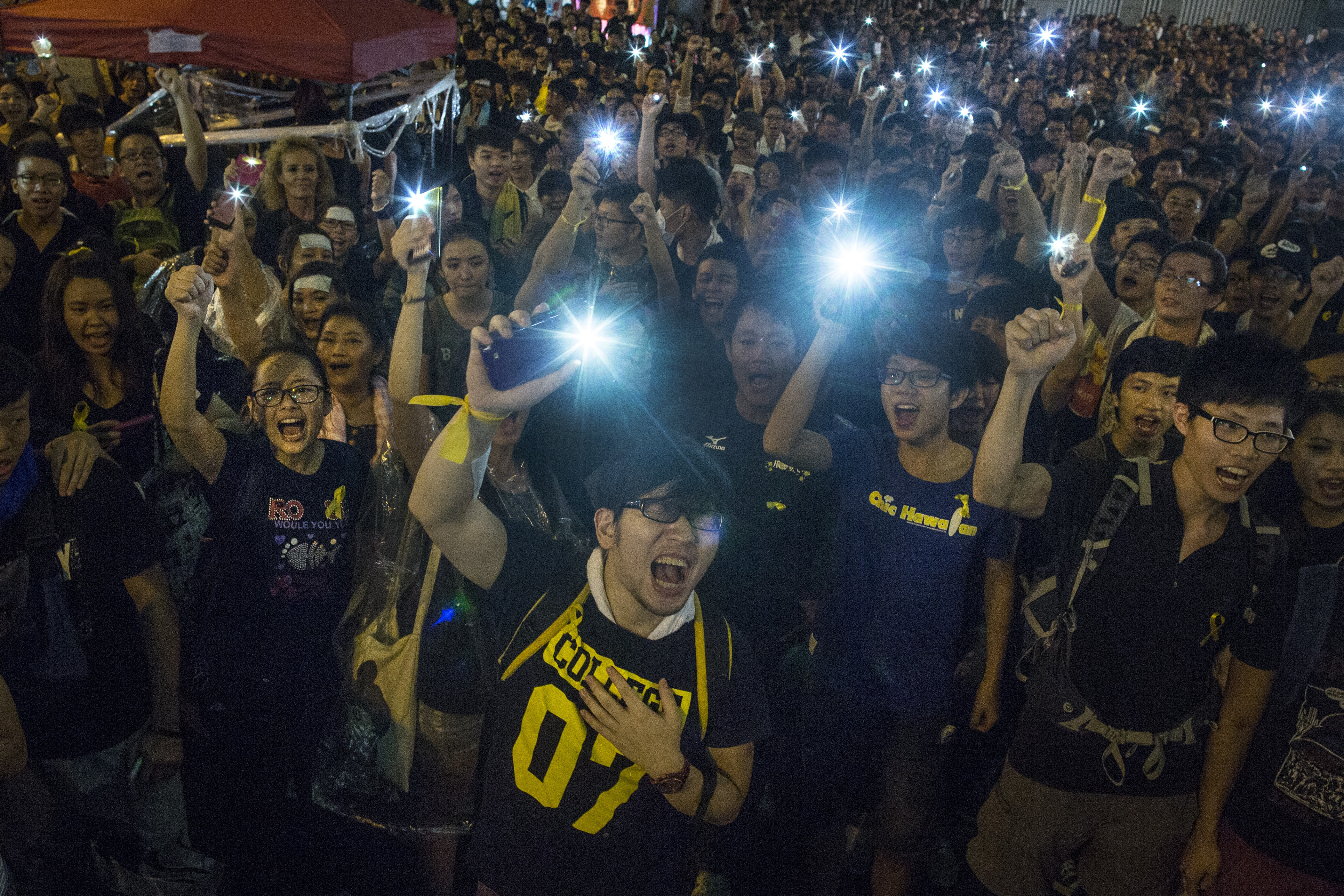 Student protesters shine lights as they chant pro-democracy slogans on the streets on Sept. 30, 2014 in Hong Kong. (Paula Bronstein/Getty Images)