ISTANBUL — Russian President Vladimir Putin accused Turkey on Tuesday of directly supporting the so-called Islamic State after Turkish forces shot down one of Russia's fighter jets near Syria's border.
"Our military men are fighting terrorism, sacrificing their own lives, but today's loss is  a stab in the back by the accomplices of terrorism," Putin said of Turkey, alleging that Ankara directly finances terrorism through illicit oil sales.
A Russian marine was killed during a search-and-rescue mission for the pilots of the downed jet, Russia's Defense Ministry said in a briefing Tuesday. One of the helicopters being used to carry out the mission was fired on and had to make an emergency landing.
The Syrian Observatory for Human Rights reported that Syrian rebel fighters brought down the Russian helicopter with a missile.
The Defense Ministry also announced that Russia is severing all military contracts with Turkey.
Russia maintains that its fighter jet stayed within Syrian airspace and did not endanger Turkish sovereignty, but Turkey has given a starkly different account of the incident. 
"In line with the military rules of engagement, the Turkish authorities repeatedly warned an unidentified aircraft that they were 15 km or less away from the border," a Turkish government official told The WorldPost.
The official said that the aircraft failed to heed its warning and was downed as a result after flying over Turkey. 
"This isn't an action against any specific country: Our F-16s took necessary steps to defend Turkey's sovereign territory," the official added, re-asserting Turkey's role in the U.S.-led coalition fighting ISIS.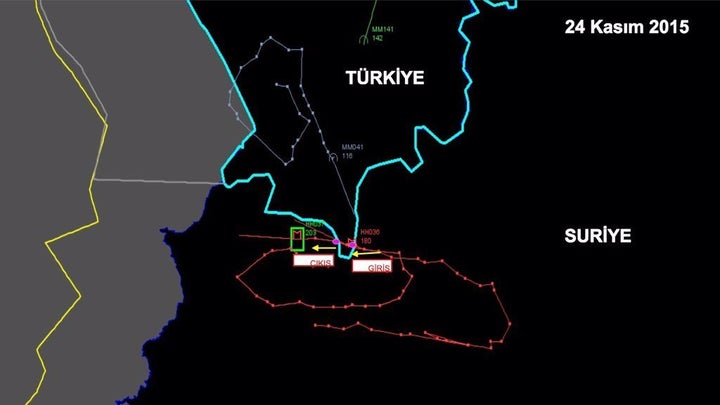 Putin has threatened that Turkey's downing of his fighter jet will have "serious consequences" on Russia-Turkey relations, but how exactly remains to be seen.
Aaron Stein, Turkey expert and non-resident fellow at the Atlantic Council's Rafik Hariri Center for the Middle East, said Ankara is dependent on Moscow for natural gas and is looking to deepen its energy cooperation with Russian entities.
"I think much of the fighting will take place in Syria," he said.
While Turkey and Russia have been close partners in natural resources, the two nations butt heads on Syria policy; Russia backs Syria's dictator Bashar Assad and Turkey demands his ouster. 
It's far from the first time that Ankara has been accused of turning a blind eye to or even supporting extremists in Syria, a country in which its shared border has been deemed a "jihadi highway" for ISIS recruits. Turkey vehemently denies any connections to the hardline militant group. 
Meanwhile, Russian airstrikes aiding Syria's supposed war on "terrorism" have largely targeted moderate Syrian rebels and civilians, not ISIS. 
The Russian-Turkish military dispute comes at an increasingly complicated and deadly time in the nearly five-year-long Syrian civil war, in which over 250,000 Syrians have died and millions more displaced. 
The whereabouts and condition of both Russian pilots remains uncertain, with multiple accounts circulating online. A graphic video posted by a Syrian rebel group appears to show one of the pilots lying bloodied on the ground. Local Turkmen fighters in the Turkmen Mountain region in Latakia, Syria claim to have shot dead both pilots. The WorldPost could not independently verify these claims. 
Turkey has expressed concern for the Turkmen, a Sunni Muslim minority community that opposed Assad, who are targeted by Russian and Syrian regime airstrikes in Syria. 
Turkey summoned Russia's ambassador, Andrei Karlov, last week after demanding an end to Russian military operations close to the Turkey-Syria border. On Tuesday, Turkey reportedly summoned U.N. Security Council representatives to discuss the day's worrying developments. 
NATO allies were set to meet in Brussels Tuesday evening, at the request of Turkey, to discuss the heated situation. 
Meanwhile, Putin has slammed Turkey and its involvement with NATO on the issue, saying: "Do they want NATO to serve the interests of ISIS?"
This story has been updated with information about the Russian Defense Ministry briefing on Tuesday, including details about the Russian helicopter that was shot down during a search-and-rescue mission.