While the American people may be divided over Donald Trump's presidency, most Russians at home and in the U.S. support Trump. Russia quite uniformly celebrated the new U.S. president's inauguration on a grand scale, and though the excitement was slightly toned down this past week ― with more moderate hopes and embraces of Trump's first steps as head of state in light of the upcoming Trump-Putin phone call and rumors of an easing of sanctions ― there is still a sense that Trump is on the right side.
As I watched the inauguration in New York, I followed reactions both here and back home in Russia. In assessments of Kremlin circles, I found expectations high for the new president because Russia's establishment and state-owned channels are very hopeful that Trump will lift the sanctions and improve relations with Moscow. The Russian-American diaspora, however, was more subdued. Most of the Russian-Americans I spoke to tended to support Trump but less so because of his stance on Russia or how proposed policy would alter U.S.-Russia relations. Like many American citizens, they cared about his domestic agenda. If anything, most Russian-Americans in my sample seemed to dislike Putin, except for those working in Russian government related jobs.
As each group awaits Trump's next move, whether it be on Russian sanctions or on terrorism, here are a few perspectives from Russians at home and in America on the new U.S. president.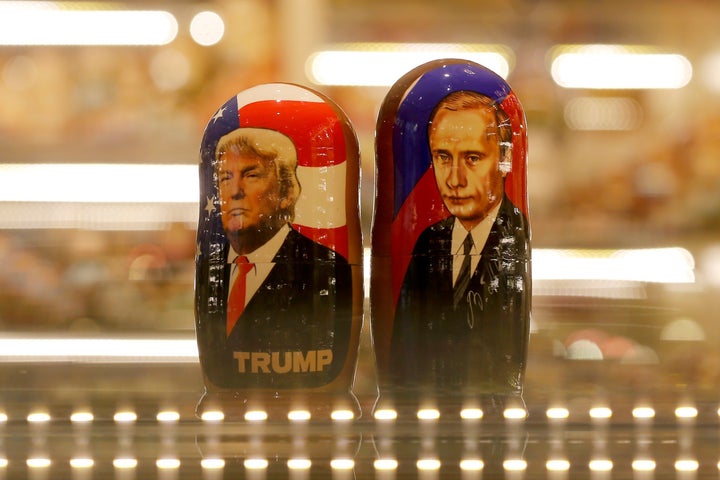 Pro-Kremlin Circles in Russia
"Finally Russia has a politician who is more popular than Vladimir Putin! It's 45th U.S. President Donald Trump…" wrote Alexander Shmelev, a known blogger and former editor-in-chief of the pro-Kremlin online publication Vzglyad, on his Facebook the day after Trump's inauguration.
And he indeed had reasons for such a comment. While the Kremlin held relatively high expectations about Obama's first term back in 2008 as well, the nationwide celebration that took place this time was unprecedented in scale.
'Finally Russia has a politician who is more popular than Vladimir Putin!'Alexander Shmelev
To honor Trump's triumph at the polls, multiple Russian cities crafted special election and inauguration products, many of which made the rounds in Russian news outlet reports and in tweets. In the Chelyabinsk region, according to TASS, a special limited edition of a commemorative coin dedicated to Trump (and in some cases reportedly misspelling America with a Russian transliteration of "Amerika") was printed. A company from the city of Tula launched a limited batch of refined sugar with the image of Trump against the background of the American flag, and reportedly sent several of them to the U.S. Ambassador John Tefft in Moscow. Novgorod city factory created a special lace handkerchief. And a Moscow artist created a "chupa-Trump" ― a lollipop in the shape of the head of Trump "with taste of barberry." There was also a burger (reportedly served without Mexican sauce),  cell phone decorations and discounts pegged to Trump's victory.
#РИА_ВидеоЧупа-Трамп со вкусом барбариса: московский художник создал леденец к инаугурации 45-го президента США pic.twitter.com/vV9sPbSiMa

— РИА Новости (@rianru) January 20, 2017
Inauguration Day ceremonies were broadcast by several Russian TV channels. A special all-night party for Russia's political establishment was held in the very center of Moscow by two notorious pro-Kremlin activists, Konstantin Rykov and Maria Katasonova, with some people wearing "V for Vendetta" masks. Rykov, who served as a Putin's United Russia Party affiliated MP and is described as a "Kremlin web propagandist," also posted on his Facebook: "See you in the evening. Washington will be ours." While Rykov is known for his provocative posts on social networks, it is interesting to see pro-Kremlin commentators pointing out their links to Trump. The party was supported and broadcasted by pro-Kremlin Tsargrad TV, a channel founded and financed by Orthodox oligarch Konstantin Malofeev (known as a key figure linking pro-Russia rebels in east Ukraine with the Moscow political establishment during the Russian-Ukrainian conflict).
The evening also featured a set of portraits of Putin, Trump and Marine Le Pen, the leader of the far-right French Front National. Le Pen's presence at the party in the form of a portrait may suggest that the Kremlin expects to see her as the next president of France in this year's elections. According to Russian independent journalist Ilya Varlamov, when asked by journalists attending the event about their expectations from Trump's presidency, participants named  lifting sanctions, increasing Russian-U.S. collaboration in Syria and a new era of improvement in Russian-American relations.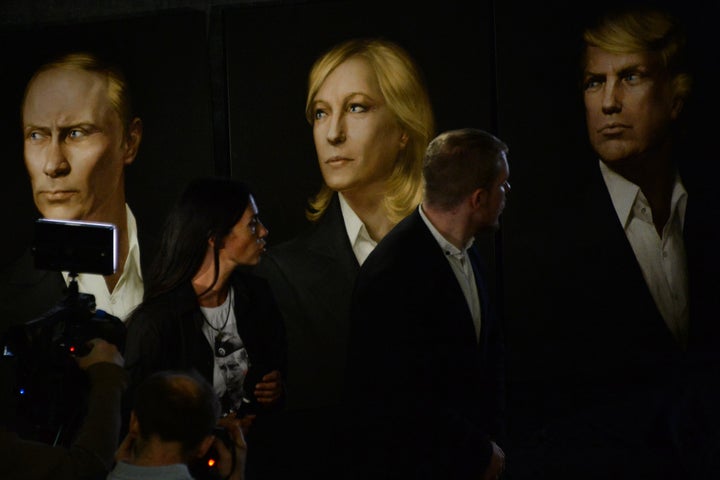 Sergey Markov, a pro-Kremlin political analyst who attended the party, told me he went because the U.S. embassy in Moscow did not organize any celebration in honor of the new president, which he usually attends on such occasions. (I confirmed with ex-Ambassador to Russia Michael McFaul that at least one such celebration took place for Obama's inauguration in 2009). Markov continued: "I interpreted the lack of celebration of the inauguration of the new president as a sabotage by the State Department. It may indicate that the U.S. establishment is hostile to Trump and plans to impeach him in one or two years."
So high is the current fascination with Trump in Russia, that by some reports of the event attendees, when the U.S. anthem started playing during the live broadcasting of Trump's inauguration, all of the participants uniformly stood up. (Markov, however, did not confirm that such uniform standing up actually took place.) Other pro-Kremlin activists and journalists didn't shy away from the celebration either, strongly endorsing Trump and his inauguration speech on social media:
Alexey Pushkov, Federation Council Commission on Information Policy:
Аfter Mr.Trump inauguration his meeting with President Putin will be the most important event in world politics.A defining moment in history

— Алексей Пушков (@Alexey_Pushkov) January 20, 2017
Vladimir Soloviev, one of Russian TV's key propagandists:
("A powerful speech. Well done, Trump.")
Сильнейшая речь. Трамп молодец.

— Vladimir Soloviev (@VRSoloviev) January 20, 2017
Margarita Simonyan, a Russian journalist, editor of the Kremlin-funded RT:
(In general, congratulations!)
В общем, конгретьюлейшнз!

— Маргарита Симоньян (@M_Simonyan) January 20, 2017
 Moscow city councilman Ernest Makarenko:  
 ("Done! Trump is the President! The U.S. is ours!")
Все!Трамп – президент!США наши! pic.twitter.com/aMsQ1AJWv6

— Эрнест Макаренко (@ErnestMakarenko) January 20, 2017
Alexander Dugin, Russian pro-Kremlin political scientist known for his fascist views whose influence rose during the Russian-Ukrainian conflict:
("Trump's inaugural speech is fantastically beautiful. I could not believe my ears. It's kind of an American thing. This is a historic moment. A full stop at the end of the liberal world…")
2/ Dugin can't contain love for Trump's inaugural "I couldn't believe my ears..this is the end of the liberal order" https://t.co/zDkNokgaRt pic.twitter.com/EoQdhLZ3UO

— Andrew S. Weiss (@andrewsweiss) January 23, 2017
The pro-Kremlin TV channel Rossiya 24 reportedly even launched a countdown to Trump's inauguration. And Russia's chief propagandist Dmitry Kiselev in his weekend show also embraced Trump and hinted at possible Trump-Russia links. "When President Trump thanks all people of the world in his inaugural address, Putin probably responds to him: 'My pleasure,'" said Kiselev in his opening line. In Kiselev's view, Trump should be thankful to Russia since no other country supported or "rooted" for his candidacy so strongly in this presidential race. Plus, Kiselev concluded, Putin most definitely expected all "this idiocy in the U.S.-Russia relationship to end." In his usual tradition of racist comments, Kiselev also compared the two first ladies, saying: "Michelle, standing in her short-sleeved dress next to Melania, looked as if she were Melania's housekeeper, who had just taken off her white apron and was present there for no known reason."
Broadcasts in favor of Trump from state-owned Russian TV channels began well before the inauguration, but this pattern continued as the country watched him be sworn in.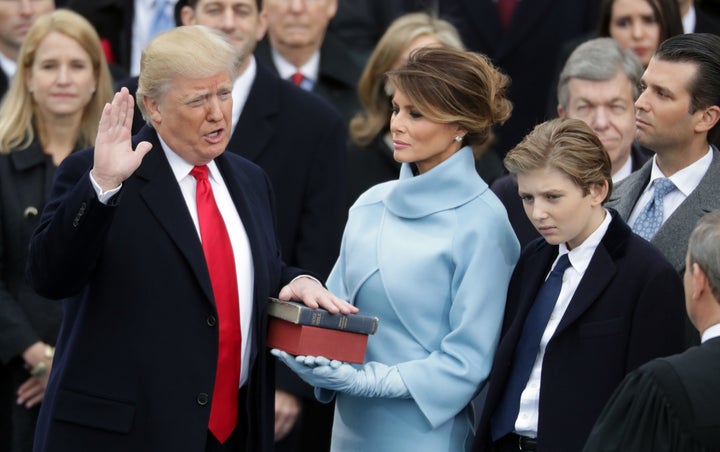 Non-Government-Affiliated Russians
Most regular Russians who do not work for the state or state-owned media maintain a good opinion of Trump as well. In a poll released in October by a network of pollsters conducted in 45 countries representing nearly three-fourths of the world's population, Russia was the only country to prefer Trump to Hillary Clinton. According to a recent poll, over 70 percent of the Russian general population "expect good things from Donald Trump's presidency."
There is a slight divide among the Russian liberals and conservatives in their attitudes towards Trump. A smaller number of Russians have a less favorable opinion of the new American president, namely the Russian liberal opposition, mostly due to the fact that Trump's policy is unpredictable and they don't yet know what he truly represents. By contrast, ordinary Russian nationalists who continuously endorsed Trump throughout the electoral cycle remain optimistic. Russian conservative publicist Yegor Kholmogorov (also known for advocating punching women in the face) wrote on Facebook:
'Well, it was certainly a triumph.'Yegor Kholmogorov
 "Well, it was certainly a triumph. At the inauguration Trump made an outrageously Trumpist speech. There was really a feeling that this is not a billionaire, but a trade union leader … who beat the strikebreakers all of his life and spoke to protesters … One hundred percent of nationalism. One hundred percent of populism. One hundred percent of industrial socialism and progressivism. As if 100 years of debauchery did not exist."
When I spoke to my friends in Russia on social networks, they most often suggested to "wait and see." Most of them are moderately optimistic about Trump's ability to rebuild the relationship with Russia.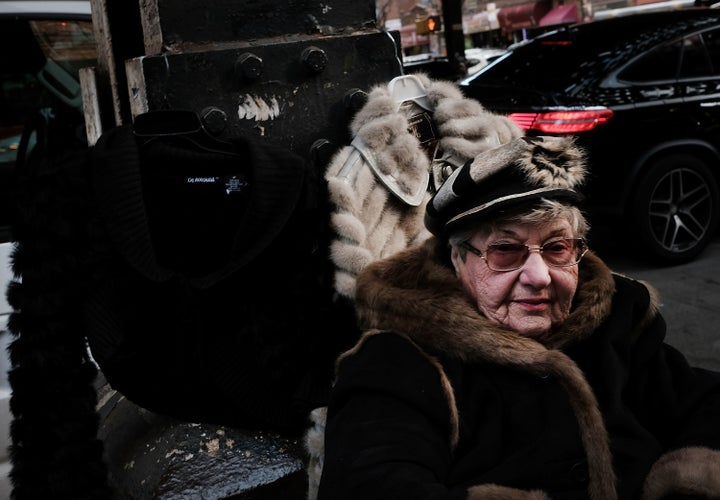 Russian-American Diaspora in the U.S.
In addition to friends in Russia, I also spoke with a dozen of Russian-Americans, approximately equally divided among Democrats and Republicans, to get a sense of their attitude toward the new U.S. president. My sample was biased towards younger people from big cities, which usually means people with more liberal views, but the results are still quite telling. Overall, I found that the "Trumpomania" that spread inside Russia does not seem to have resonated with the Russian-American diaspora, at least not at the same level. According to the 12 people I spoke to, there were no accounts of special Trump-related celebrations taking place in the Russian-American diaspora. The political divide here is more representative of the broader American population, with younger people living in big cities leaning towards Democrats. Yet the support for the GOP is still higher: a study of the Russian-speaking diaspora in the United States conducted in October 2016 found that 53.3 percent of intended voters planned to vote Trump, while 24.4 percent supported Clinton and the remaining were undecided. This divide reflects a stronger Republican-leaning among Russian-Americans, likely due to their historical aversion to socialism with which they tend to associate the Democratic camp.
Even so, the Democratic-leaning Russian-Americans I spoke to were wary of Trump.
Kolin Zein, a 40-year old musician from New York City, said:
I do not support Trump, mainly due to his rhetoric, which is too reminiscent of Putin's. Among my acquaintances of Russian-speaking New Yorkers, opinions are divided: about one-third of my friends fiercely supported Donald Trump, one-third were strongly against him, the rest, like myself, are waiting for his real actions, not slogans.
'I do not support Trump, mainly due to his rhetoric, which is too reminiscent of Putin's.'Kolin Zein
Nadia Taiga, a 45-year-old entrepreneur and art consultant from Chicago, told me:
This is a dangerous time bomb. Trump's vocabulary, phraseology, tone and behavior do not allow for optimistic forecasts. His election gave people a subconscious permission to follow his example ― where you can no longer respect others, [and instead] be rude, lie and so on. Hence, one can expect increase in crime, violence and confrontation in the society.
Among the people I surveyed, the Republicans who supported Trump largely voted along party lines.
Alex Dmitriev, a 42-year-old IT manager from Chicago, estimated that the Russian-speaking community where he lives supported Trump for the most part, including 90 percent of older people and 60 percent of the middle-aged population. According to him, the main reason for this is because the community is of a predominantly Russian-Jewish origin and was hoping that Trump would improve U.S. relations with Israel. Dmitriev himself said he was more concerned about Trump's populist and dividing rhetoric, which he said he perceives as very dangerous. Yet older people in his family supported Trump, he said, reproducing the divide that split many other U.S. families.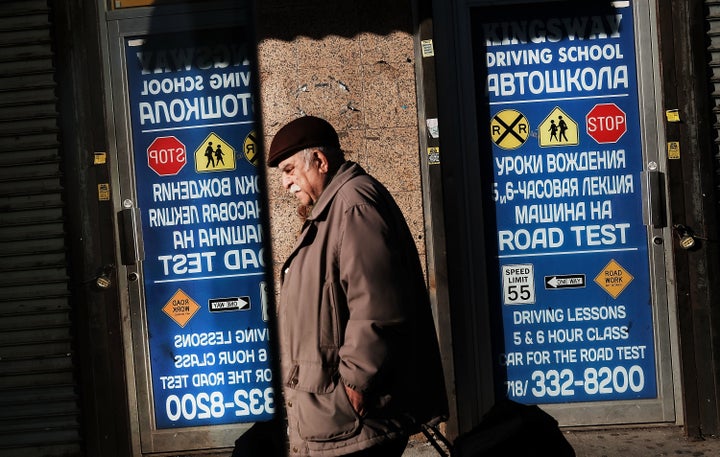 Sima Berezanskaya, a Russian-American actress, journalist and TV presenter in her 60s who is very popular at the Russian-American station Davidzon Radio, said that she supports Trump because she no longer recognizes the United States as the country she previously believed it to be. She points out the generational divide where younger Russian-Americans tend to vote for Democrats, but the older generation uniformly prefers Trump. In her own circles, the majority of Russian-Americans supported Trump. She said that the U.S. with its political correctness is transforming into a socialist country, where a working white minority increasingly has to support the non-working majority of the population. Trump, in her opinion, is the man who knows the value of money and will be able to spend it productively while also shifting the balance in favor of the working population.
Sima Berezanskaya said political correctness is transforming the U.S. into a socialist country, but Trump knows the value of money and will be able to spend it productively while also shifting the balance in favor of the working population.
Sergei, a 36-year-old financial engineer in Chicago, named two main reasons he supported Trump. The first one is his belief in Trump's ability to challenge the politically correct narrative of the mainstream media that he said often underreport the reality in favor of a more objective coverage. Second, he said he thinks Trump will be able to decrease inequality without increasing state redistribution of resources and feeding the non-productive population groups.
Alexander, a taxi driver from Brighton Beach, N.Y. in his early 60s, said he mostly voted for Trump to vote against Hillary Clinton. He is concerned with the Democratic foreign policy, which he said fueled Islamic extremism and contributed to the refugee crisis in Europe. He said he misses the early 1990s when the middle class still could afford a decent apartment, even in one of Trump's own buildings.
Stanislav, a 49-year-old IT support engineer who lives in Staten Island, said he expects Trump to reduce bureaucracy and taxes, to repeal Obamacare and return industrial jobs in America back to the country. Stanislav does not support Putin, but he also said he believes that Trump finding compromises with Russia at this point is a more viable strategy.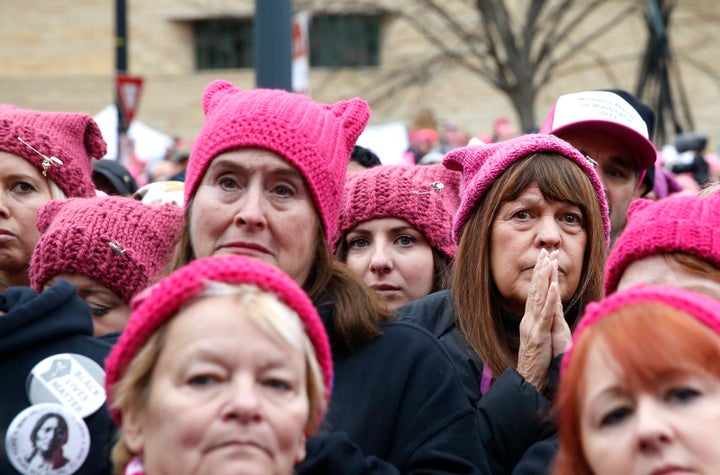 The partisan divide between Russian-Americans manifests itself in very different perceptions of last weekend's Women's March. The liberal Russians strongly embraced it. 
Nadia Taiga said:
I did not go to the march. Yet many of my Russian friends in New York City, Washington, Los Angeles and Chicago attended the marches. All my friends that were there said they were thrilled being a part of such a powerful and inspiring event.
'All my friends that were there said they were thrilled being a part of such a powerful and inspiring event.'Nadia Taiga
By contrast, Trump's supporters (both men and women) from the Russian diaspora uniformly referred to the "ugly" nature of the protest, referencing pictures of genital-like costumes worn by some of the participants and Madonna's speech, which they felt was inappropriate. For more culturally conservative Americans, it may be harder to accept such loose morals. For example, Stanislav said: "Have you seen those pictures of women dressed like genitals? I am an old school man, and I feel disgusted."
Most Russian-American Trump supporters I spoke to also did not support Putin and rejected claims about Trump-Russia links as possible fake stories spread by the "lying liberal media" and the "Democratic establishment."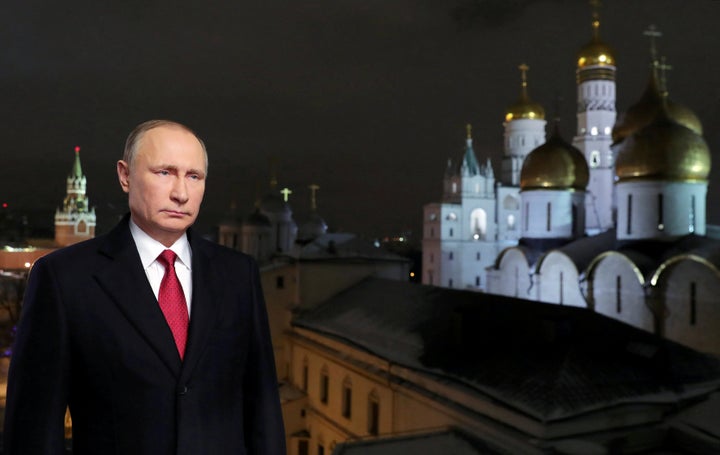 For example, Sergei said:
I do not support Putin because he suppresses the normal political life in Russia. But I do not trust the information that allegedly Trump was assisted by the Russian hackers. I did not see persuasive evidence of intelligence service about the hackers, and I do not trust simple words. Rather, I think it is an attempt to damage Trump by the Democrats and the political establishment for their goals. Plus hacking the Democrats and showing all their dirty laundry is not really breaking the election, just a petty prank maybe illegal yet quite moral. Therefore, the whole story about hackers is like a story about Obama's birth certificate ― a cover operation and yanking your chain.
Similarly, many Russian-Americans from Brooklyn's  Brighton Beach neighborhood, known for its large Russian-speaking community, I surveyed said they support Trump and the GOP, but do not like Putin.
'I do not support Putin because he suppresses the normal political life in Russia. But I do not trust the information that allegedly Trump was assisted by the Russian hackers.'Sergei
The only two people I spoke to who were supportive of Vladimir Putin's policies and hoping that Russia-U.S. relationship will improve in the near future, were both employed in the international organizations with connections to the Russian state.
Aleksandra Efimova, a 39-year-old Russia-American, who is a vice president of the Midwest region of the U.S.-Russia Chamber of Commerce and a chairman at Moscow Committee of Chicago Sister Cities International, described Obama's eight years as disastrous with regards to relationship with Russia. She said she expects Trump to find common ground with Putin on solutions to terrorism and to promote U.S.-Russian collaboration on trade, culture and science.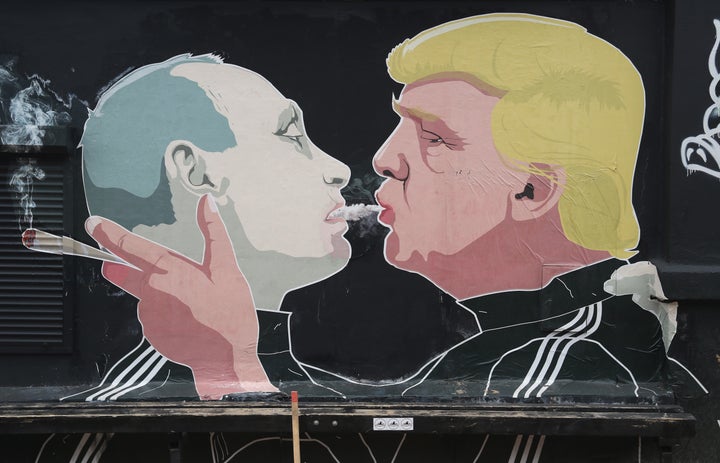 Elena Branson, a Russian-American who is a president of the Russia Center New York (which organizes events in the Russian Consulate in New York) called the allegations of Russia backing Trump during the election a campaign to discredit Russia and Trump, yet indicated she was hoping for U.S.-Russia relations to improve under the new president.
While the expectations for Trump's first steps differ among Russians within and outside the United States, so far the majority seem to be keeping their hopes high. The actions taken in these first 100 days will show how justified those expectations are.