Beijing — Pollution in this city has been the subject of complaint, satire and even international diplomatic disputes. Accusations have been traded, scientific studies completed and red alerts issued.
But for one thousand and eighty-four days running, 55-year-old Zou Yi has made a simple, silent statement with just the click of a cell phone camera. Using a scratched-up old Samsung, Zou has taken an identical photo of the skyline from his living room window. On clear days, gorgeous blue skies frame a nearby skyscraper. On heavily polluted days, the building vanishes into a gray haze.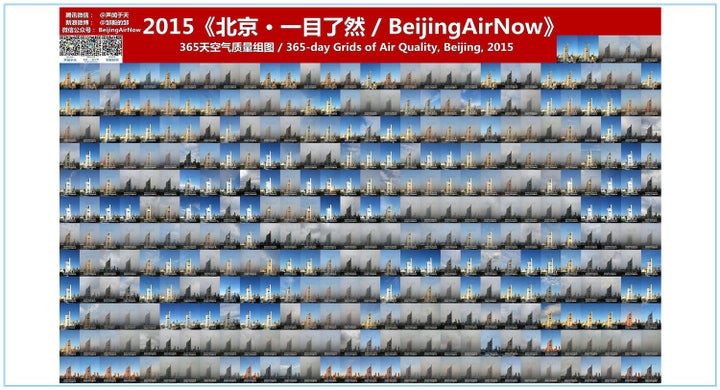 Zou publishes the results on social media for millions to see, creating a visual time capsule of a city struggling with one of today's deadliest environmental problems.
"This shows my feelings toward pollution over the last three years," Zou says while unfurling a 9-foot-long poster of three years of photos.
"At first it was more of a way of complaining. Now I don't think I need to say anything. I'm looking to see if the government is working on it, if society is paying attention and participating, and if our air is really getting better."
That yearning for participation grew out of the despair Zou felt while looking out his window at the famous "airpocalypse" of January 2013. That month of putrid pollution proved to be a turning point not just for Zou, but for the entire country's consciousness of air pollution.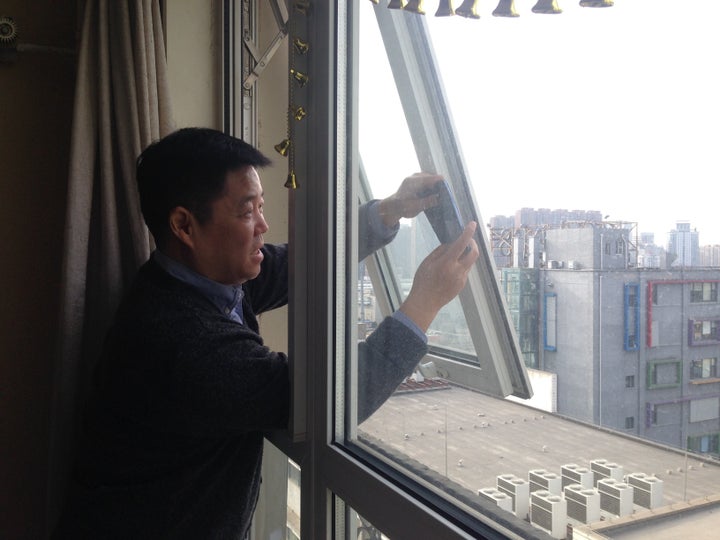 In the span of just three years, air pollution has moved from a taboo topic to the center of a national dialogue spurred forward by celebrities, diplomats and ordinary people like Zou. It was just a few years ago that Chinese state media referred to suffocating smog as "heavy fog," and American athletes who wore face masks during the 2008 Beijing Olympics were criticized for insulting China's dignity.
That same year, the United States Embassy in Beijing began publishing real-time air quality readings for PM2.5 particles, the most deadly type of pollution, on Twitter. That earned a sharp rebuke from the Chinese government, which lambasted the data as an "inaccurate" and "unlawful" interference in China's domestic affairs. Despite that criticism, the Chinese government soon began publishing it's own PM2.5 readings, data that often painted a rosier picture of pollution levels than the U.S. Embassy readings.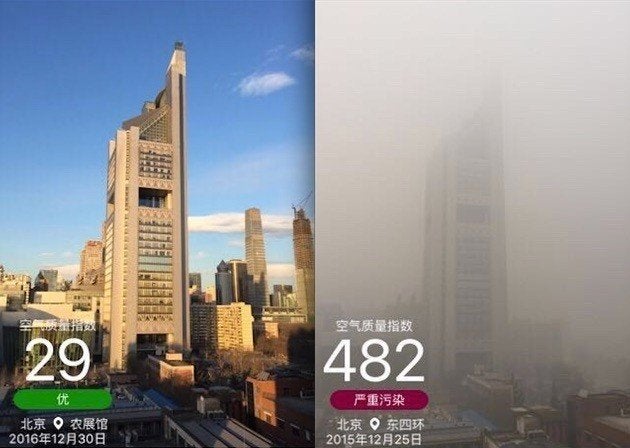 "I saw the U.S. Embassy giving data, and China giving data. Sometimes these data points would be fighting and creating controversy," Zou told The WorldPost. "I didn't want to speak; I just wanted to give you a photograph."
Zou titled his project yi mu liao ran — roughly "to see is to know" — and has given it the English name BeijingAirNow. What began as a personal photographic diary slowly grew into a social media phenomenon, with over 24 million views on Twitter-esque site Sina Weibo. His social media feeds are now bombarded by people cheering him on and sending their own daily photo journals. He holds occasional seminars to release new collages, sometimes having his building manager take the photos when he must travel for work.
Diplomats now invite Zou to conferences, and researchers at China's prestigious Tsinghua University are analyzing his photos in combination with satellite imagery of the city. This year Zou hopes to take the project further by developing software that can discern air pollution levels anywhere on the basis of photos.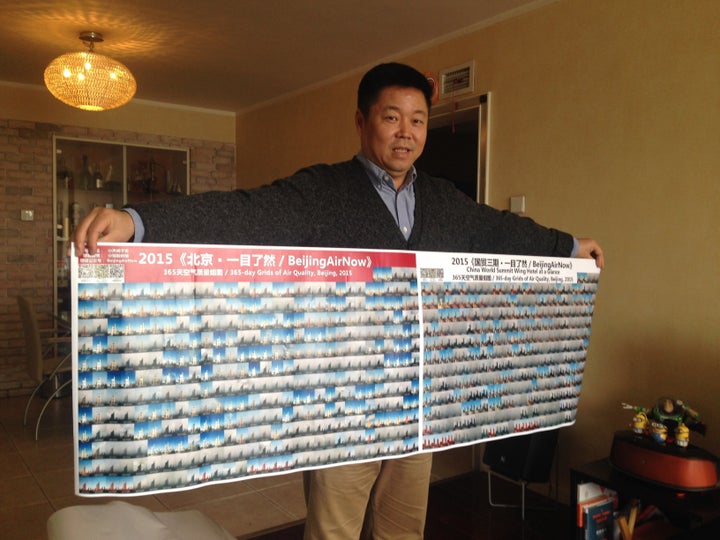 Public participation has grown in tandem with government efforts to both understand and combat air pollution. China has set up over a thousand monitoring stations around the country, and government PM2.5 data in Beijing has largely converged with readings from the U.S. Embassy. Last spring, China's minister of environmental protection endorsed a hyper-viral documentary on pollution that gained hundreds of millions of views before being censored. Chinese Premier Li Keqiang has pledged a "war on pollution" that includes tougher enforcement and a slate of new environmental regulations.
Those efforts have yielded promising results, but the challenges are daunting. A Greenpeace analysis of government data showed a roughly 15 percent drop in air pollution levels across the country in 2015. The group chalks those improvements up to a decline in coal use as heavy industry slumps, as well as stricter enforcement by environmental watchdogs.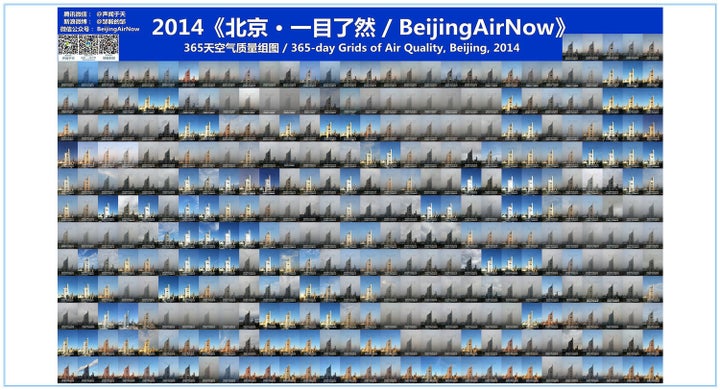 But despite those huge gains, air in much of northern China remains extremely unhealthy. A Chinese air quality expert recently predicted a 25-year time frame for solving Beijing's pollution crisis.
"It's too long," Zou lamented. "If it's five or 10 years, OK, I'm mentally prepared. But in 25 years I might not be here."
Zou still laments when gray skies smudge out the skyscraper across the road, but he laces his social media posts with what he calls "positive energy" — a call for every Chinese person to make their own contribution to understanding pollution and cleaning up the skies.
"My goal now is to see if I can do anything to shrink that [25-year] time frame," he said.