ISTANBUL — A large explosion reportedly caused by an improvised pipe bomb near a major Istanbul metro station left several injured early Tuesday evening, a loyal mayor said.
CCTV footage said to be from the scene shows what looks like fireworks, with sparks flying over rush hour traffic near the Bayrampasa metro stop. The stop is close to a large mall and popular stores like IKEA.
Media reports conflicted in the hours after the blast, with some outlets initially blaming the incident on a mechanical issue. However, Bayrampasa district mayor Atilla Aydiner told A Haber television that a bomb had been placed on the highway overpass close to the station.
At least five people were injured, according to Aydiner.
Apart from the mayor, Turkish officials have yet to comment on the cause of the blast. An investigation of the incident is ongoing.
"It feels like it's the beginning of something," Harika Sekmen, a 25-year-old sociology student, said after learning about the blast. She expressed concern that there could be more bombs to come.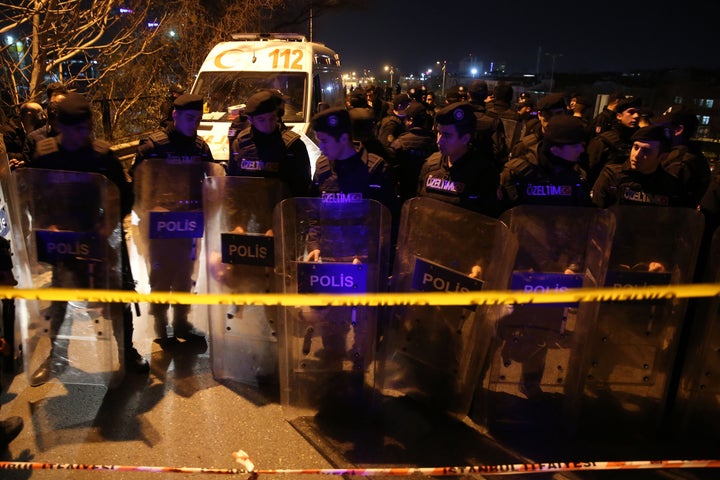 Turkey has been on edge in recent months following a string of deadly bombings and attacks.
The country suffered its bloodiest terrorist attack ever in October, when two suicide bombers detonated explosives during an anti-war rally attended by mainly Kurds, leftists and unionists, killing over a hundred people. 
The government blamed the so-called Islamic State, which Turkey has been battling as part of a U.S.-led coalition, for the attacks. But some Turks say their government has blood on its hands.
In June, twin bombs exploded at a pro-Kurdish Peoples' Democratic Party rally in the southeastern city of Diyarbakir, killing several people. The following month, a suspected Islamic State suicide bomber killed over 30 people, many of them young Kurds, at a cultural center near the Turkey-Syria border.
Fighting between the banned Kurdistan Workers' Party, or PKK, and Turkish forces has increased since the summer. Turkey is currently bombing the group on its own soil, as well as in Iraq.
The PKK, which the U.S. has designated as a terrorist organization, has been battling Ankara for over thirty years in the name of greater Kurdish freedoms.
The banned ultra-leftist group known as DHKP-C, also a U.S.-designated terrorist group, has been known to target police and security personnel as well, particularly in Istanbul.
While few details have emerged about Tuesday's explosion, several media outlets reported that a police van drove over the overpass before the blast, prompting speculation that the police officers were the targets of the bomb.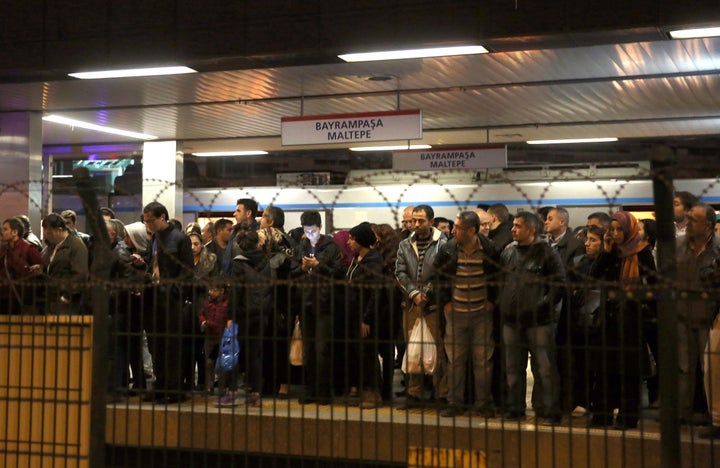 Yenal Yelboga, a 30-year-old Turkish man who works as a receptionist in Istanbul, said that while he has no idea who or what caused the blast, he fears the message is crystal clear: Be afraid.
"I think the real reason is to create a fearful atmosphere and keep people in their houses, scared and suppressed," he said. "But, I am not afraid. We are used to it. It seems we will not really raise our voices until the blasts are at our doorsteps."
Just an hour after the incident, a Syrian refugee in her twenties who recently fled to Turkey from battle-scarred Syria walked towards Istanbul's main Taksim metro stop, unfazed by the reported explosion.
She shrugged at any potential danger, saying, "After all we've been through, we're not afraid of anything."
Hazal Arda contributed reporting from Istanbul.