The models stood on the streets of Shanghai, dressed in ripped clothing with dirt smudged across their faces, carrying beggar's sticks and asking for food. They held signs protesting the Shanghai Auto Show's new ban on scantily clad models, a ban that the protesters said denied them a job.
Images from the highly photogenic protest on Monday garnered Chinese and international media coverage, but the reports missed one key fact: The women's signs and social media postings were also acting as promotional materials for "Thin Kung Fu," a weight-loss powder that promises to replace breakfast and dinner while helping people lose up to 15 pounds a month.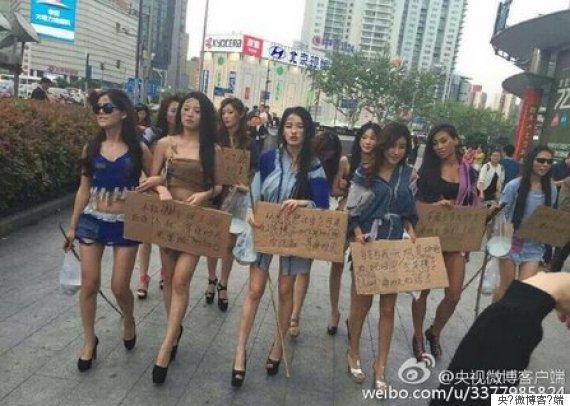 Pictures circulating on the Internet in China show the women holding signs containing variations on: "I can't be a car model!!! All that thin kung fu I practiced was for nothing!!!" As the participants spread pictures from the event on their social media accounts, they defended their actions as "performance theater" designed to draw attention to the plight of models. They then directed fans to the micro-blog account and website of Thin Kung Fu.
Representatives of Thin Kung Fu reached by phone said the event was a "public service activity," but declined to comment on whether the company organized the model protest. Questions sent to the social media accounts of the protesters also went unanswered.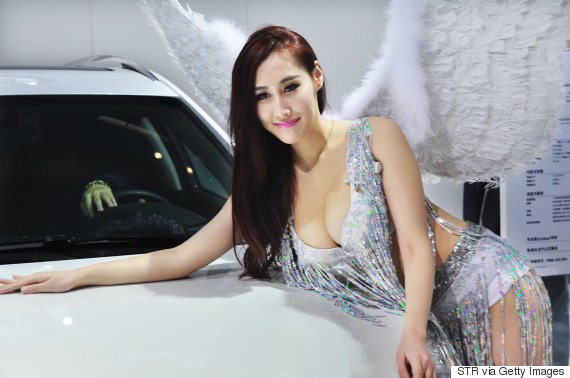 A model at the 2014 Ningbo International Auto Expo.
Car companies in China have come under fire for using scantily-clad models to draw crowds at annual car shows. Event organizers have lamented that vulgar stunts such as nearly nude women dancing with snakes distract visitors from the cars the women are allegedly there to promote. This year, the Shanghai Auto Show banned models from serving as eye-candy at the event, a restriction that companies appear to be skirting by recruiting exceedingly attractive sales representatives and candy distributors.
Images of the protest drew widespread condemnation on Chinese social media, with microbloggers berating the women for relying on their bodies to earn a living. On Wednesday some of the participants took to their microblogs to defend their actions and their profession.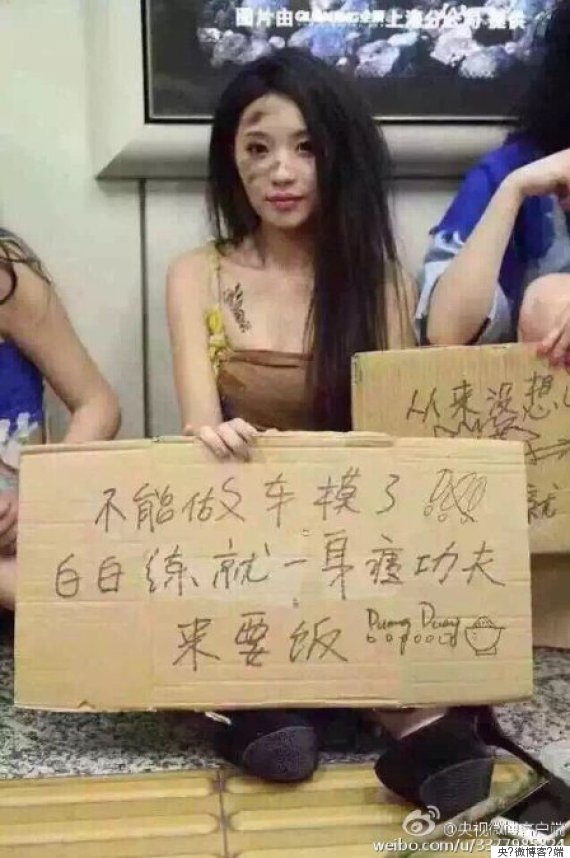 One model, who identified herself as a master of "thin kung fu" and an organizer of the event, pleaded for understanding of the challenges a model faces.
"This road has hardships and joys, sacrifice and reward,"she wrote on her microblog account. "In the end we hope that people from all walks of life can understand and support us."
Another model who said on her account that she participated in the protest framed the event as a means to spread positivity.
"We use performance art to express the dignity and the spirit of models, to spread the positive energy of love," she wrote. "Every industry has it's own hardships. #BeggarCarModels gives the people an objective perspective."
She finished the post with a link to the microblog account of Thin Kung Fu.