ISTANBUL — Spider-Man smokes hookah, rides the subway and does laundry with a cigarette hanging out of his mouth — at least he does in Egypt, according to photographer Hossam Atef.
The superhero has taken to Cairo's streets in a new project meant to show the daily lives and struggles of Egyptians. Spearheaded by Atef and his friend, Atef Saad, who wears the costume, the photo series has captured the hearts of people in Egypt and abroad.
"The message of the project is that the people of Egypt are superheroes," Hossam Atef told The WorldPost. "We are doing the thing no one can handle — even Spider-Man."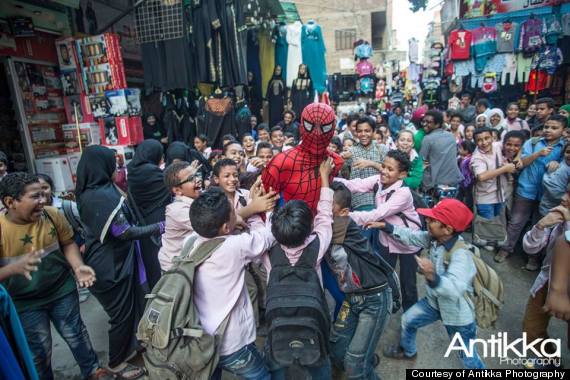 Egyptian children greet "Spider-Man" in Cairo.
Nearing four years after Egypt's revolution, the country is grappling with staggering levels poverty and unemployment, terrorist attacks and harshly imposed laws restricting protests and freedom of speech.
In Atef's photos, Spider-Man is a beloved superhero, but also an Egyptian man who leads a relatively normal life in the overcrowded, congested and often chaotic city of Cairo. When Saad puts on his Spider-Man suit and walks through the streets of Cairo, children flock in amazement.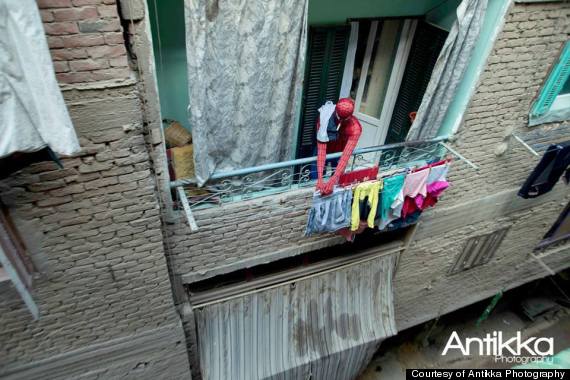 "Spider-Man" does laundry in Cairo while smoking a cigarette.
"They were surprised," Atef said. "[They] ran over to him and hugged him so tight."
Atef, who heads Antikka Photography, was also the man behind the photograph of the "Camel selfie" that went viral in October.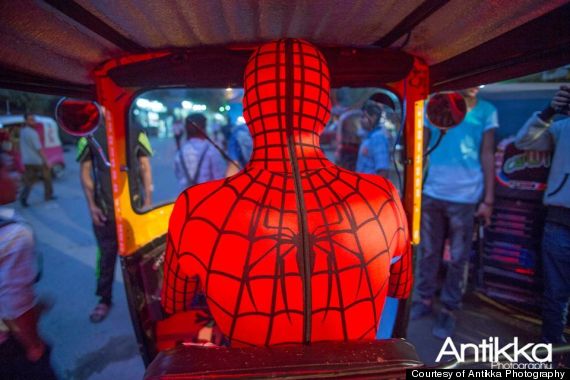 "Spider-Man" drives a tok-tok, a small, windowless vehicle common in Egypt, down a Cairo street.
The key to taking successful photo essays is capturing "how spontaneous and natural the images are, and how it contradicts reality," the young photographer told the Egyptian media site Cairo Scene in a recent interview about his work.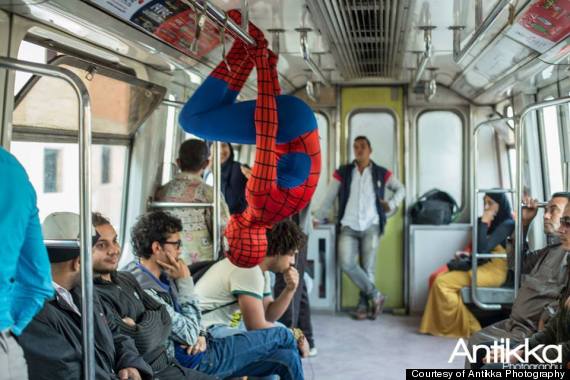 "Spider-Man" rides Cairo's subway upside down.
Atef says his crew members occasionally had to disguise themselves earlier this month when taking photos because they didn't have official permission to take photographs in public.
"We were sneaking around while doing it," he said. Journalists and photographers are often required apply for difficult-to-obtain permits when working in Egypt, and have faced intimidation and imprisonment during Egypt's security crackdown. Atef said police stopped and questioned him and Saad, demanding their identification.
"Even if a superhero came to Egypt, he wouldn't be able to solve all of its problems," Saad told Daily News Egypt. "People need to believe there's a superhero that can save them."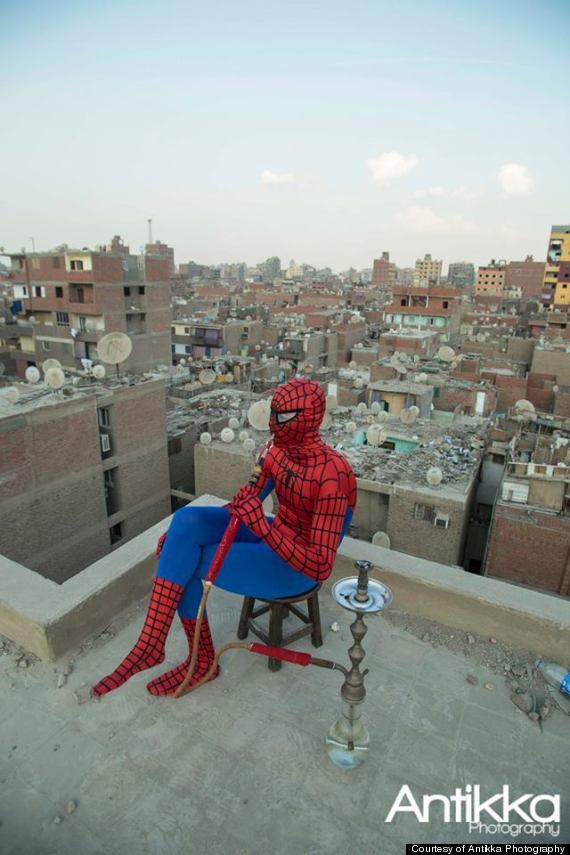 "Spider-Man" smokes hookah on a Cairo roof.