ISTANBUL — Violence in Syria has drastically dropped in the six days since a U.S. and Russian-brokered "cessation of hostilities" began on Feb. 27. Some Syrians, however, fear the worst is yet to come.
These Syrians deeply distrust the world powers negotiating Syria's fate from afar. The ceasefire, they say, is nothing but a shameful joke that will only benefit President Bashar Assad, the strongman they rose up against in 2011 who still clings to power. 
"All the world, for five years, watched the bloodbath," said Motaz, an activist living in Eastern Ghouta, a rebel-held area in the Damascus countryside.
"If they were honest, they would have helped us from the beginning," Motaz, who dropped out of dentistry school to document the pro-democracy protests that erupted in Syria in 2011, added. "Now, the ceasefire is for whom? They broker a ceasefire to help the regime continue killing us. Now, we can't fight the regime, but Assad and Russia and United States will bomb us."
Just a few miles away, in the government stronghold of Damascus, Syrians have been openly criticizing the ceasefire, according to Hazem, who recently graduated with a degree in architecture.
"America is all about PR at the moment, as it has lost most of its credibility over the past five years," he told The WorldPost in a Whatsapp message. "The Obama administration is trying to achieve a first step for a solution, but they're doing it really wrong."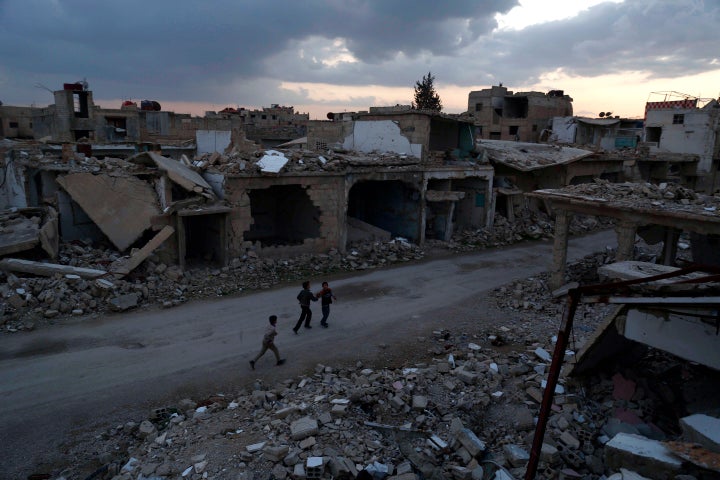 As many as 470,000 Syrians have lost their lives due to war, according to the Syrian Center for Policy Research. More than half of the country's population has been displaced. Five years after Syrians took to the streets demanding freedom, only to be violently put down by government forces, the country has become a bloody staging ground for foreign powers and non-state groups vying for influence.
Six days after the ceasefire took effect, levels of violence have plummeted, despite both sides of the conflict alleging breaches by their adversaries. U.S. officials have said the ceasefire has so far played out better than expected.
But critics of the deal have slammed the lack of monitoring mechanisms meant to track and respond to possible violations.
U.S. State Department employees tasked with manning a Syria ceasefire monitoring hotline could not speak Arabic well, Syria Direct reported. One official allegedly mistook the name of a Syrian village for "Harb Bebsi" which translates to "Pepsi war".
Planned Syria peace talks in Geneva have been delayed until March 9, Staffan de Mistur, the United Nations special envoy for Syria, announced on Tuesday. Such talks remain purely "hypothetical" unless the Syrian government and its allies abide by the conditions of a U.N. Security Council resolution passed in mid-December, a representative of Syria's exiled political opposition told the Saudi news channel Arabiya al-Hadath.
That resolution requires all parties to stop attacks on the civilian population and protected sites like hospitals — which Russia has routinely been targeting — as well as allowing unimpeded humanitarian access to besieged and hard-to-reach areas.
In places like Aleppo, Syria's largest second city, residents have reportedly been stockpiling medicine and other supplies in case of a crippling government siege.
Ahmad, a Syrian aid worker in Aleppo, told The WorldPost that while civilians have welcomed the relative halt in fighting, he sees it as merely a "temporary fix" from the Russian bombardment and crudely-made barrel bombs routinely dropped by Syrian government forces.
Mahmoud, a resident of Douma, a rebel-held city northeast of Damascus, said he has mixed feelings about the ceasefire. The break in violence brings with it a seemingly long-lost feeling: security.
The former civil engineering student described daily life there as a "living hell" up until just a few days ago. Douma was pounded by airstrikes in the hours leading up to the ceasefire on Friday, according to activists, just like many days before it.
But even with the break from the bloodshed, he's far from optimistic. He worries the ceasefire will play out in the regime's favor and that world powers, eager for an end to the war, won't push for Assad to go.
"In my opinion, they have a plan," he said, explaining his distrust for the United States and Syria's staunch ally, Russia. "They have things going on under the table."