HONG KONG — Free speech, free live music and free reign of the streets. Ever since Hong Kong's "Umbrella Movement" took over large swaths of the city center, young Hong Kongers have constructed in the occupied campgrounds their own lively street culture, rooted in community and artistic expression.
Hong Kong's protests are political in purpose but social in practice. Soapbox speakers abound, but during the weekends the main protest grounds in the Admiralty District resemble an exceedingly well-organized music festival. Local bands play to the crowds, volunteers offer origami classes, and organizers project documentaries about the U.S. civil rights movement of the 1960s onto large screens.
Below are pictures taken at the Admiralty occupation site over recent days. The occupied area has begun to shrink as police dismantle outlying barricades, but the core remains intact as Hong Kong students' experiment in unstructured democracy continues to evolve.
(All photos: Matt Sheehan/WorldPost)
The Music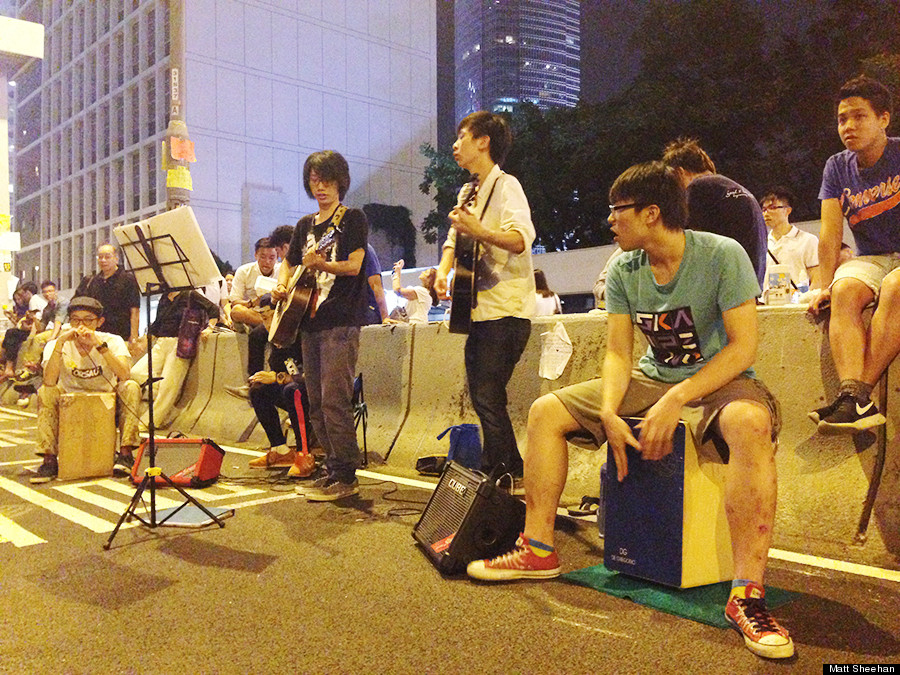 On Saturday night a local acoustic band played to a small crowd on Harcourt Road.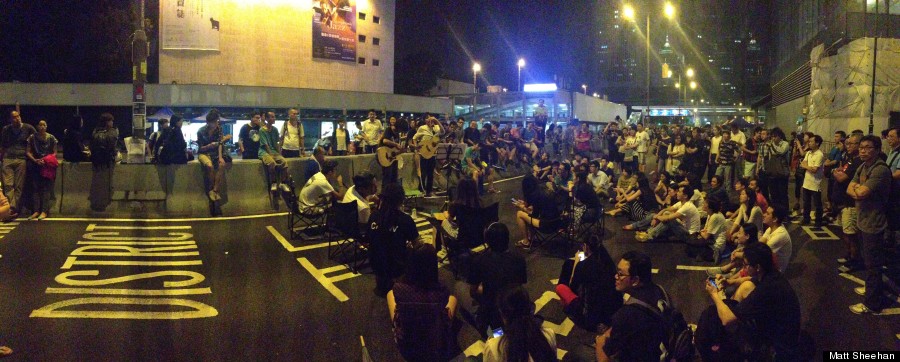 The band opened with a sing-a-long of the Hong Kong protest anthem "Under a Vast Sky" ("海闊天空") by Beyond.The Tunnels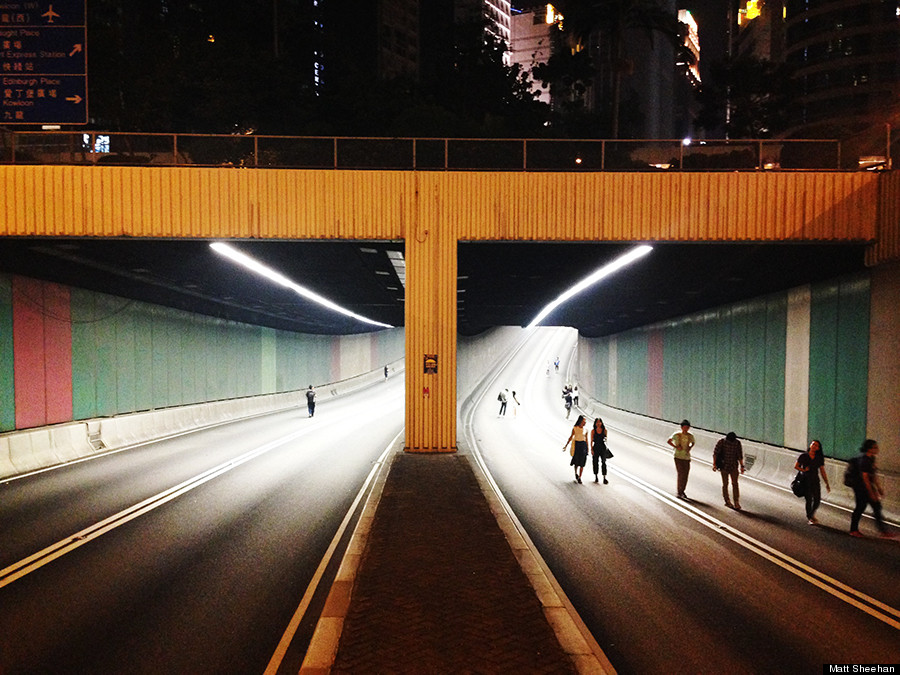 For the past two weeks, these tunnels in central Hong Kong have been opened up to human traffic. On Tuesday morning Hong Kong police cleared nearby barricades to reopen the tunnels to cars.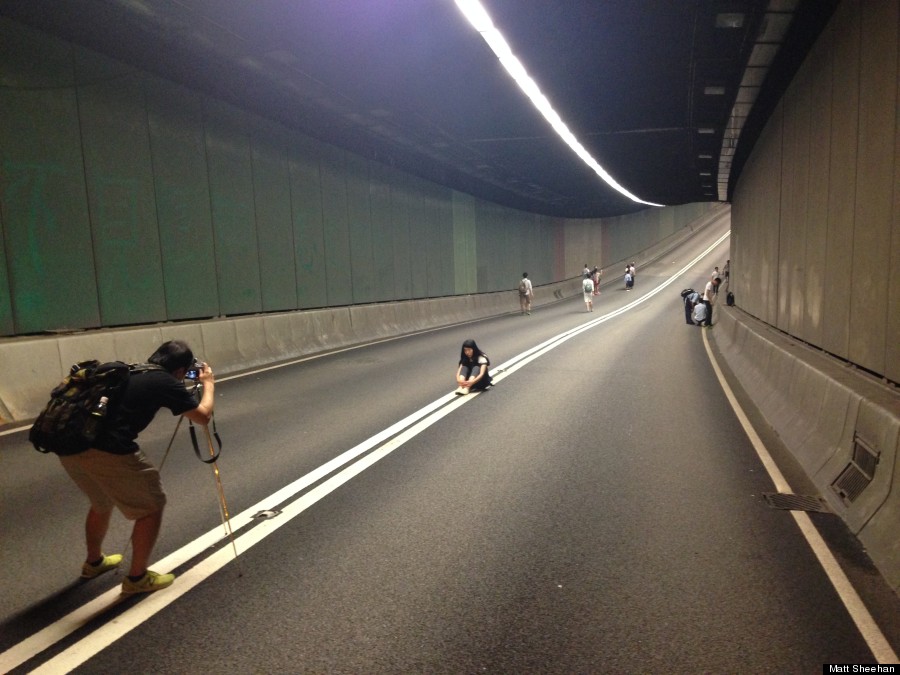 Hong Kongers gathered in the abandoned tunnels to ride scooters, chalk graffiti and take photos.The Painter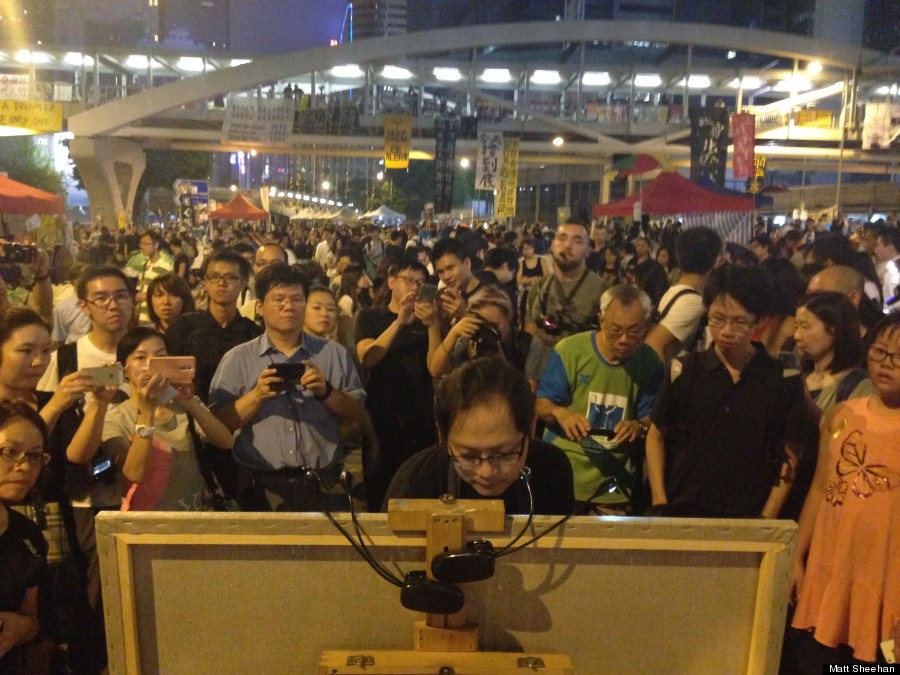 Cell phone selfies are de rigueur at the protest site, but this painter draws crowds with his patient approach to documenting the demonstrations.The Power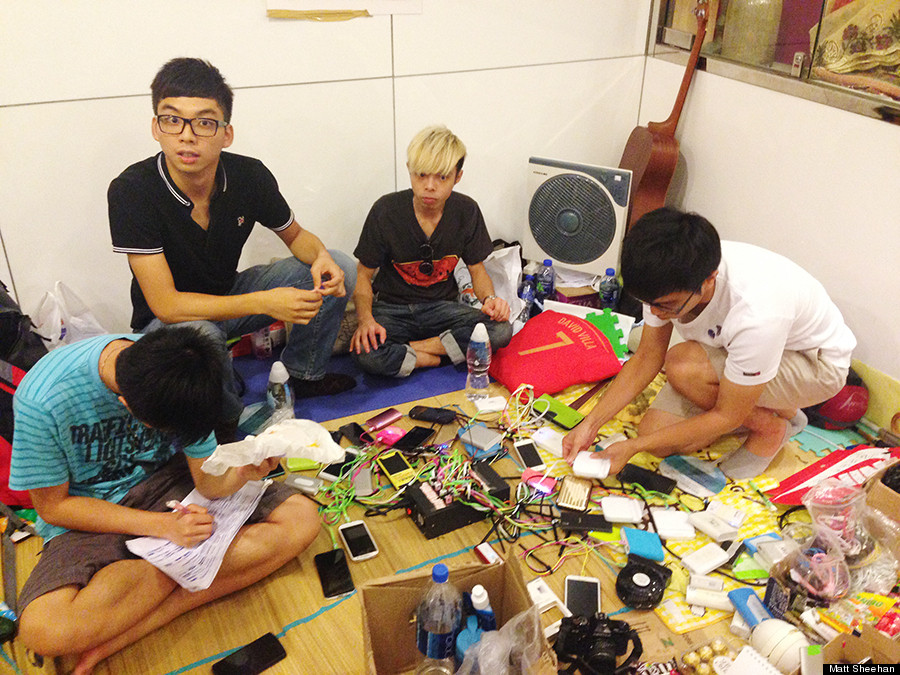 Students pooled their money to buy a battery that can simultaneously charge more than 30 devices. Volunteers have operated the station and guarded the phones for almost two weeks.The Study Center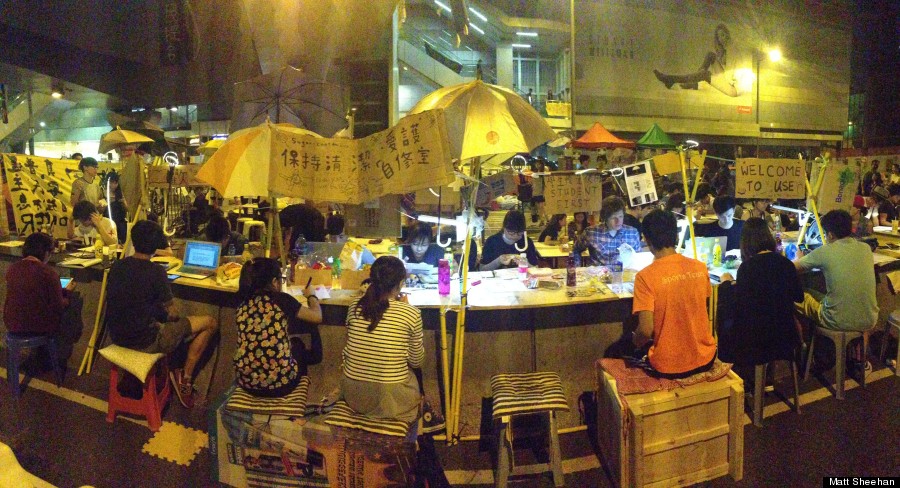 The Admiralty occupation site now includes a study station where students can work quietly at desks and receive help with homework.The Bridge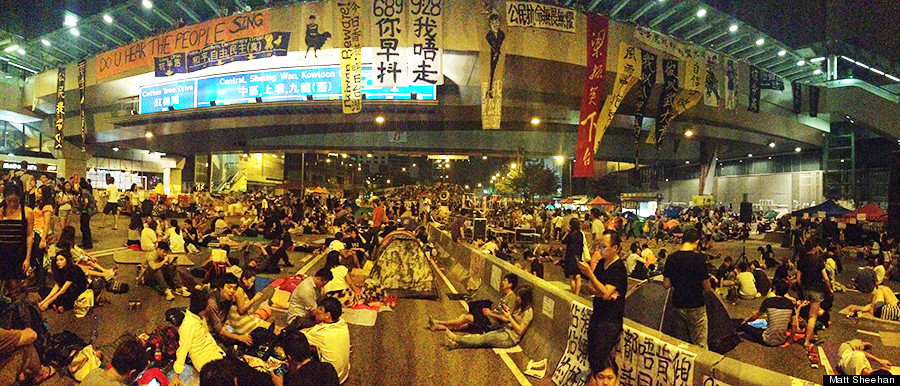 The area underneath this skybridge has been the epicenter of several mega-rallies that demonstrators have held in response to police use of tear gas and attacks from anti-occupy groups. On other nights the space has been used to screen documentaries about global protest movements.The Portrait Artist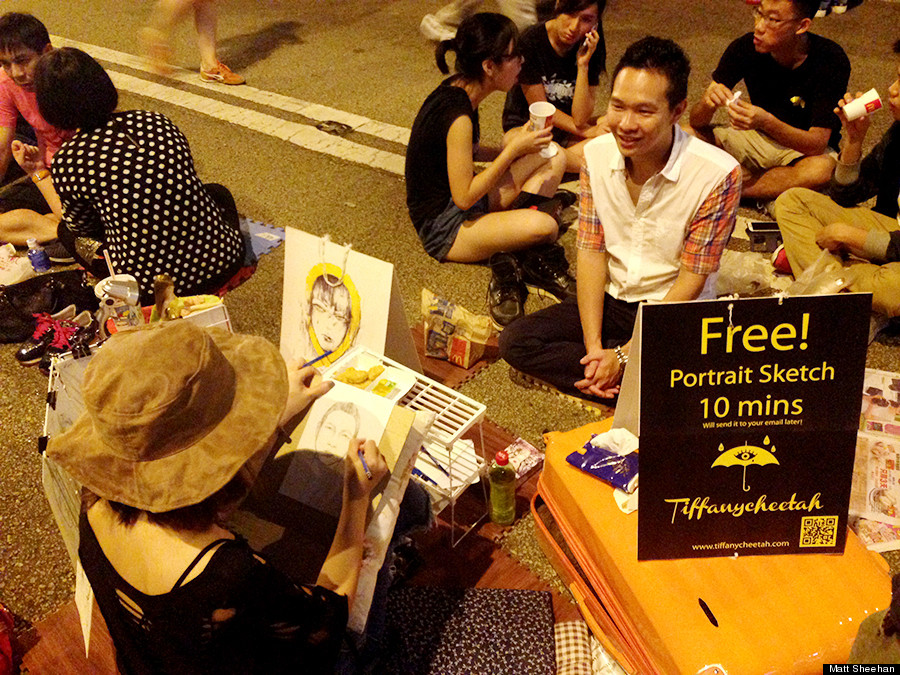 Local artist Tiffany Cheetah has been offering up free hand-drawn portraits of protesters as her contribution to the Umbrella Movement.The Umbrella Man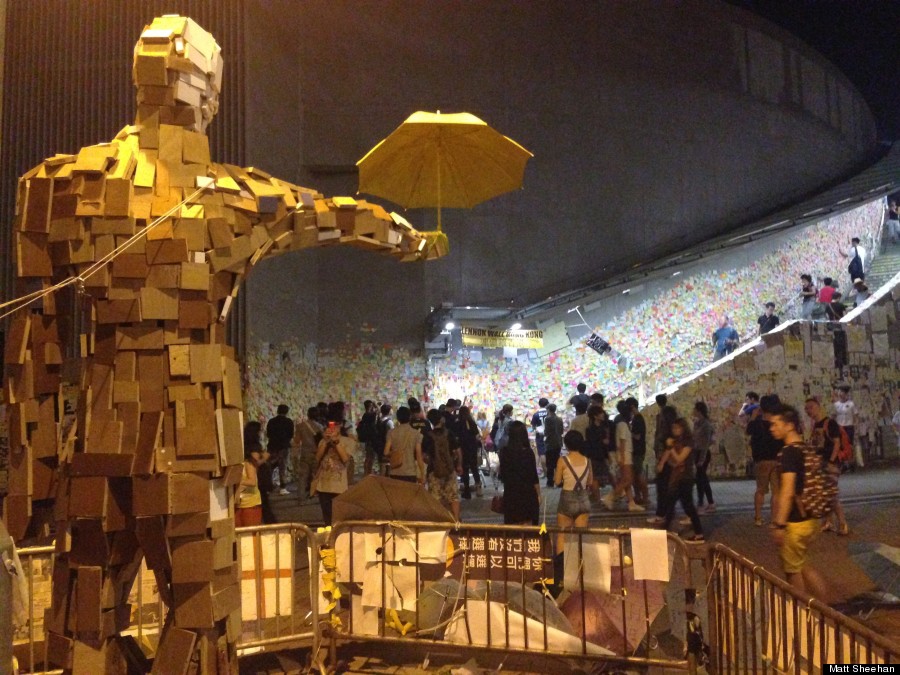 Created by a local artist known as Milk, the Umbrella Man statue sets the gold standard for protest artistry. The piece now stands facing the Lennon Wall, a vast collection of illustrated notes written by pro-democracy demonstrators.