HAFIZABAD, Pakistan — "If you put a drop of piss in a gallon of milk, the whole thing gets ruined. That is what she has done — destroyed everything."
Those were the words spoken by a father in a desperate attempt to justify pulling the trigger on his teenage daughter, Saba Qaiser. In a small town in the province of Punjab in Pakistan, in the dead of night, Saba's father and her uncle lured her into a car, drove her to a riverbank and then shot her twice before stuffing her body in a sack and dumping it in the river. Her only crime was marrying the man she loved without her family's permission.
A few hours before this horrific incident, Saba had run away with her fiancé and married him in court. As punishment for her defiance, her family deemed it fit to end her life — this, in their minds, was the only way to restore their family's honor. Much to their surprise and despair, Saba miraculously survived the two bullets directed at her and lived to tell her tale.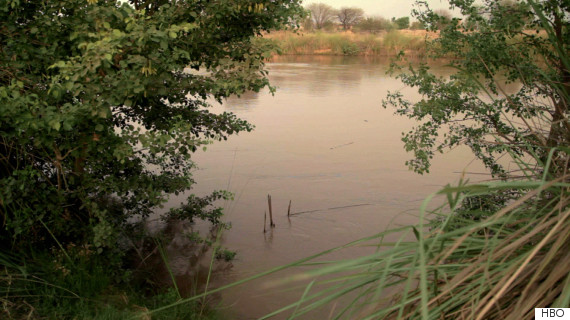 Saba was shot twice and thrown into a river in the city of Hafizabad in the province of Punjab. (HBO)
Saba's father and uncle were arrested by police officers shortly after. From behind bars, her father shouted, "For respect and honor, I am willing to spend my whole life in jail. I will stay here — for honor and for respect."
But that was never to be the case. The existing Pakistani law allows perpetrators of honor killings to walk free by seeking forgiveness and paying blood money — a longstanding practice in the country. Pressured by the village elders, Saba eventually decided to forgive her attackers in an effort to bring peace back to the neighborhood and release the sole breadwinners of her large family from prison.
THE CURSE OF HONOR
In the name of preserving family "honor," women around the world are shot, burned, strangled or stoned to death in shocking numbers. According to the United Nations, over 5,000 honor killing cases are reported annually worldwide, though this is thought to be a gross underestimation.
In 2014, the Human Rights Commission of Pakistan reported that 923 women and 82 minor girls were killed in the name of "honor" in Pakistan — a 15 percent rise from the previous year. But these are just reported figures. Many honor killings are never reported because of the "shame" they would bring upon the family. No cases are registered, no bodies are found and no investigations take place.
'That is what she has done — destroyed everything.'
Men are also subject to honor killings but women remain the prime victims. The executions are almost always carried out by family members — fathers, husbands, brothers and even mothers — who believe the woman has brought shame and dishonor to them.
The practice is widespread across various religions and cultures. Although it is more common in Pakistan, honor killings have occurred in many countries including India, Bangladesh, Brazil, Egypt, Israel, Italy, Jordan, Morocco, Sweden, Turkey, Uganda, Canada, the U.K. and the U.S.
WOMEN AS PROPERTY
In the southern province of Sindh, honor killing is referred to as karo-kari, and among Pashtun communities in Khyber Pakhtunkhwa and Balochistan, the practice is known as tur. In both cases, the names translate to "black" — referring to the moral corruption of the person accused of bringing shame to the family.
Honor killings are deeply rooted in patriarchal and conservative traditions derived from ancient tribal customs whereby the honor of the family or the community is measured by the morality, chastity and obedience of its women.
In some parts of Pakistan, women are seen as the property of men. This thinking, coupled with the notion that women embody family honor, makes men the "protectors" or the "preservers" of that honor. Any perceived "immoral" act often leads to deadly consequences: even a mere suspicion or a false accusation of pre-marital sex or interaction with a strange man can mean death for some women.
A mother and a father doused their 15-year-old daughter with acid solely for looking at a boy on a motorcycle.
Questions like "what will people think" and "what will people say" become the driving force behind these murders. In 2012, a mother and a father doused their 15-year-old daughter with acid solely for looking at a boy on a motorcycle. In another harrowing case, five women and three men were killed in the remote region of Kohistan after a cellphone video of them singing and clapping surfaced and caused "shame" to their families.
Almost everyday, you read about a woman who has been killed for "falling in love" or "running away from home" or "seeking a divorce," and in most cases, the only thing to blame is a man's insecurity.
These attacks continue partly because of structural inequalities that make it difficult for women to access the judicial system. If someone is able to file an honor killing complaint, it often gets caught in a heavy backlog of similar cases. Even if the case is heard, the conviction rate of perpetrators is numbingly low.
BLOOD MONEY
The prevalence of honor killings also stems partly from troubling misinterpretations of Pakistani law. In the late 1970s, Pakistan implemented Sharia law, which introduced the Islamic concept of forgiveness and retribution. According to this law, victims of an attempted murder can choose to forgive the perpetrator in return for monetary compensation. If the victim is killed, the family of the victim has the right to forgive the perpetrator.
Under the current law, like murder, honor killings are also seen as a crime against the individual and not the state. Hence the victim or her family (if the victim is dead) can choose to forgive and settle matters out of court on payment of compensation. This allows convicted murderers to go scot-free, taking the writ away from the government and placing it in the hands of the family and community. This shift of power is especially worrying in honor killing cases as the victims' families are usually the perpetrators themselves. So if a father kills his daughter, his wife can forgive him, and when a brother kills his sister, his parents can forgive him.
Even a mere suspicion or a false accusation of pre-marital sex or interaction with a strange man can mean death for some women.
In 2004, Pakistan's then-President Pervez Musharraf enacted the Criminal Law (Amendment) Bill, which not only called for stricter punishment in honor killing cases but also added the death penalty as a maximum sentence. A month before, the highest court in Pakistan empowered women to marry of their own free will without the approval of their parents or legal guardian. While the acknowledgment of honor killing and free will for women by the Pakistani legislation was monumental and much awaited, it failed to address the loopholes created by the Sharia law of forgiveness.
In 2014, former Pakistan People's Party Senator Sughra Imam introduced an Anti-Honor Killings Bill, which lobbied for more effective protection of honor killing victims by making the crime a non-compoundable offense and hence, "unforgivable." The bill passed through Pakistan's Senate but lapsed in the Parliament, which is why it was never passed into law.
PUBLIC OUTRAGE
That same year, the brutal murder of one woman in broad daylight outside the High Court in Lahore highlighted, once again, the apparent scale of the problem and outraged liberal-thinking people across Pakistan to question the government's blasé attitude towards eradicating this heinous crime from society.
A pregnant Farzana Parveen was stoned to death by dozens of her family members, including her father and brother, because she dared to marry against their wishes. What made Farzana's death unique was that it took place outside the gates of one of Pakistan's most respected state institutions while the police stood by and watched as her family beat her to death with bricks.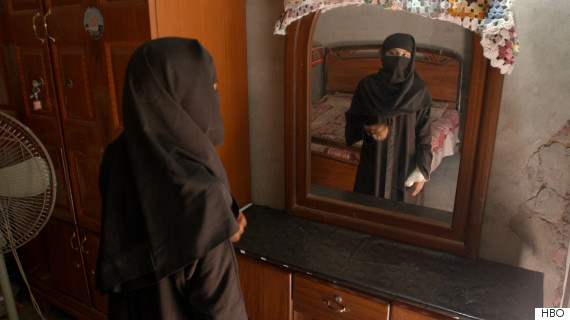 Saba, in her early days of recovery, gets ready at her in-laws' home before appearing in court in Gujranwala, Punjab. (HBO)
The public outcry and global attention that the horrific case received resulted in immediate investigations leading to the arrest and incarceration of most of the perpetrators — a welcome move in a country that has rarely seen justice for the hundreds of men and women who are killed in the name of honor each year.
After her death, some of the country's top Muslim clerics announced that the practice — which actually pre-dates the onset of Islam — has no place in religion, declaring it inhuman and vicious. This added an important element in the existing debate and construction of honor killings as a Muslim issue, encouraging citizens, politicians and lawmakers to look at the practice not only as a cultural construct but also as a punishable offense.
STRICT MINDSET
From its origin to its execution, honor killing is entirely community-sanctioned. Rigid tribal customs dictate what is acceptable. Patriarchy places the burden of upholding honor on the shoulders of women, and communities consequently sway them into obedience and conformity. Simultaneously, families are granted reputation and status according to how well everyone is keeping up with these assigned roles.
This is something Saba and her family are all too familiar with. After he attempted murder, Saba's father boasted of a newfound respect and worth in his community. "Everyone says I am more respected. They say I am an honorable man. They say what I did was right," he said. "I have other daughters. Since this incident, each daughter has received proposals because I am called an honorable man."
'They say I am an honorable man. They say what I did was right.'
It has now been over a year and a half since the horrific incident, and her father is out of jail. He says he has "forgiven" Saba for her error but his words evoke a chilling realization: family honor is everything. To him, whatever he did to restore that honor was right, and the only one here who was supposed to, and has, learned a lesson is Saba. His release sets a precedent for others in the region that those who kill women will be allowed to walk proud and free.
Our film "A Girl in the River: The Price of Forgiveness," which just won an Oscar for best documentary short on Sunday, has helped trigger a national discourse on the issue of honor killing in Pakistan. The film was screened at the house of Pakistani Prime Minister Nawaz Sharif in Islamabad, after which he asked his team to redraft laws on honor killings to help ensure that perpetrators are punished and victims are protected. The proposed amendments to Pakistan's penal code are expected to be presented to Parliament by mid-March.