Peng Ming was one of the only dissidents in China serving a life sentence. The founder of a democracy and environmental advocacy group, he was found guilty in 2005 of "organizing and leading a terrorist organization." Before that, in a hastily written letter, Peng warned his family that he might soon meet with an "accident."
"You can be sure that it was made to look like an accident," he wrote, "that it was a set up."
Peng died in prison last November while watching television, according to Radio Free Asia. Fearing he had indeed met with a suspicious "accident," as his letter warned, his family demanded an independent autopsy, to no avail. Instead, the authorities removed his brain and heart and wrote, simply, "died suddenly" on the report.
Peng is just one of the people who fell afoul of China's notoriously harsh justice system in 2016 and who died under suspicious circumstances. He is listed, along with many others, in a database maintained by the U.S. Congressional-Executive Commission on China.
The database is a unique and remarkable record of a mysterious and secretive authoritarian government and of the people who challenge it. The Communist Party of China maintains that there are no political prisoners in the country at all. The CECC, on the other hand, defines a political prisoner as a person "detained for exercising his or her human rights under international law." The Chinese Embassy in Washington did not respond to requests for comment.
Among the people in the database is Ilham Tohti, an economist who was sentenced to life in 2014 for promoting violence and separatism in the restive western region of Xinjiang. There's Liu Xiaobo, a professor and winner of the Nobel Peace Prize, and his wife Liu Xia, a poet who's been under house arrest since her husband was jailed. There's also Gedhun Choekyi Nyima, the missing Panchen Lama, chosen by the current Dalai Lama to be the second-highest-ranking lama in the Gelug school of Tibetan Buddhism. And there are the dozens of human rights lawyers arrested during a crackdown in 2015.
Plus thousands upon thousands of others. Their names and "crimes" are listed one after another. They are the imprisoned and the missing, the tortured and the executed. They are Tibetans, Uighurs, Kazakhs, Han Chinese. They are businessmen, environmentalists, priests, journalists. Men, women and children too. Eight thousand seven hundred and sixty-five in all.
Here they all are. Every square is a prisoner. Hover the cursor (or click on mobile) to see who each one is.
The CECC was established after China was accepted into the World Trade Organization in 2001, and it provides research on justice and political prisoners to members of Congress and other officials traveling to China. It set up the Political Prisoner Database in 2004 as a tool to monitor and advocate for progress on human rights and the rule of law in China. A CECC spokesperson declined to comment for this story.
The PPD is the largest public record of political prisoners in China. It tracks the identities, whereabouts and fates of political prisoners detained since 1981. One thousand four hundred and thirty-eight political prisoners are currently jailed. In its 2016 annual report, the CECC noted that there are "considerably more" political prisoners in China than there are in the database.
Many of these prisoners are unknown outside of the human rights community, and even the PPD has scant details beyond a name and, sometimes, an occupation. Its records are sparse before 1989, the year of the Tiananmen protests. It is often impossible, the Commission's reports note, to get official information from the Chinese government. Details come from news reports, human rights organizations like Dui Hua and from research by CECC staff. Many people in the database were detained but have since been released. Some are under house arrest. Others were sentenced to death and executed. Some, especially in Tibet, met a brutal end at the hands of prison guards.
Anyone with access to the internet can search the PPD for prisoners' information ― ethnicity, age, occupation, reason for arrest. Many of those detained were arrested for multiple reasons ― for simplicity's sake, only the first reason is shown in the visualization above. The website doesn't track visitors or store personal information unless a user volunteers it. Between July 2015 and July 2016, the database received nearly 150,000 requests for prisoner information. Most years, the bulk of these come from the U.S. Between July 2014 and July 2015, China was the top source of requests for the first and only time.
I'm going to torment you until you go insane. You're going to be a cripple.Prison guard allegedly to jailed human rights lawyer Xie Yang
Last year was a relatively safe year for China's democracy activists, environmentalists and human rights campaigners, according to the database's records. Two hundred and sixty people were detained in 2016, compared to 448 in 2015. The worst years were 1989, the year of the Tiananmen protests, and 2008, when Charter 08 ― the manifesto calling for human rights and democracy in China ― was published.
Despite the relatively low number of detentions last year, the CECC, as well as activists in China and abroad, worry Chinese President Xi Jinping is consolidating power, eliminating rival ideologies and waging a crackdown on dissent. In its 2016 annual report, the CECC said moderate progress on human rights was "overshadowed by the apparent distrust and sometimes hostility with which the Chinese government continues to view its citizens." Before that, in March, for the first time in its history, the U.N. Human Rights Council released a statement that specifically targeted China, expressing concern about, among other things, "the increasing number of individuals whose confession[s] have been aired on state media prior to any indictment or judicial process."
Meanwhile, many people who were targeted in previous years remain in detention. In mid-2015, hundreds of human rights lawyers were rounded up in a sweeping crackdown. Several remain missing. One, Xie Yang, told his lawyers that he was shackled to a chair in a secret prison, beaten and interrogated for hours. "I'm going to torment you until you go insane," a guard reportedly told him. "You're going to be a cripple." In January, the European Union issued a rare statement expressing concern about Yang and several other detained human rights lawyers: "If verified, this mistreatment would amount to torture."
Another of the lawyers rounded up in 2015, a 25-year-old legal assistant named Zhao Wei ― whose alleged crime was "picking quarrels and causing trouble" ― was supposedly released last July, a year after being detained. She gave a strange interview to the South China Morning Post, a Hong Kong newspaper now owned by Jack Ma, the founder of Alibaba, that struck many activists in China and abroad as a set-up. Neither her husband nor her lawyer had seen her after her supposed release and were blindsided by the interview with the SCMP. Her husband traveled to her parents' home in central China, looking for her. The house was empty.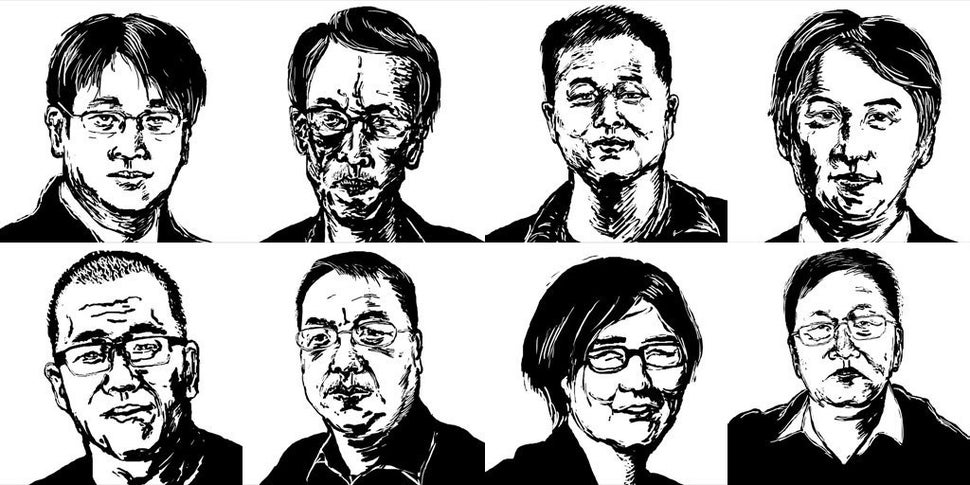 Even foreigners are being targeted. An American businesswoman named Sandy Phan-Gillis has been detained since March 2015 on charges of espionage. In January last year, the Swedish activist Peter Dahlin became the first foreigner to be arrested for "endangering state security." He was released after 23 days and now sometimes sleeps with a "big-ass knife" under his pillow. "These facilities are built to break you," he said of China's prisons.
Like Peng Ming, Lei Yang, a 29-year-old environmentalist with a master's degree from one of China's best universities, also died in custody under suspicious circumstances last year. He was detained by police at a foot massage parlor in May; later that night, he was sent to the hospital after a heart attack, the authorities said, where he was pronounced dead. Family members told reporters he had bruises, but the police said he tried to escape and that's where the injuries came from. An autopsy determined he choked to death on his own vomit. He had just had a daughter.
Brutal treatment by Chinese police and in Chinese prisons is not unusual, even in 2016. The dissident Xie Changfa was sentenced to 13 years in 2009 for trying to convene a group of activists and writing articles advocating for democracy. He is now around 63 years old and reportedly forced into manual labor for 10 hours a day. In February last year, according to Human Rights in China, he was severely beaten by a senior prison official for reading books.
Xie Changfa is at the upper end of the age spectrum in the PPD. Others are quite young, and most of these are Tibetan: of the 307 political prisoners known to be aged 18 or younger at the time of their arrest, 298 are Tibetan. One, Sherab Ngawang, was 12 when she was arrested in 1992 for participating in a protest. She was severely beaten with electric batons and a plastic tube filled with sand, according to a 1996 Human Rights Watch report. "They beat her until she was so covered with bruises that you could hardly recognize her," a source told HRW. In 1994, aged 14, she succumbed to injuries sustained under detention and died at a prison hospital in Lhasa.
And then there's the youngest of all, Gedhun Choekyi Nyima, the Panchen Lama. He was six when the authorities came for him. He was arrested three days after being selected by the Dalai Lama to be the Panchen Lama, in May 1995, and hasn't been seen in public since. Beijing anointed its own Panchen Lama instead. In 2007, around his 18th birthday, the authorities released a statement that said he "is a perfectly ordinary Tibetan boy, in an excellent state of health, leading a normal, happy life and receiving a good education and cultural upbringing … The allegation that he disappeared together with his parents and that his whereabouts remain unknown is simply not true."
They beat her until she was so covered with bruises that you could hardly recognize her.1996 Human Rights Watch report
This year, things might get worse for Chinese activists. As of Jan. 1, nongovernmental organizations are subject to a draconian law that gives police vast surveillance powers and control over their activities. Police can enter NGOs' offices, seize documents, cancel events, detain employees and examine bank accounts. Dozens of police and demolition workers didn't even wait for the law to go into effect before they destroyed the heating system at the Beijing headquarters of an NGO that helps migrant workers. That was on Dec. 29. The electricity had already been cut months earlier.
The men, women and children who are currently detained include herders and farmers, teachers and students, singers and artists, monks, factory workers and a lone tour guide. Their crimes, which can carry sentences of multiple years and sometimes decades, include inane infractions like "gathering crowds to disturb social order" or "causing disharmony." In the case of the tour guide, a Tibetan named Lobsang Tenzin, it was 10 years for "misleading" local people.