ISTANBUL ― Thousands of Turkish men, women and children filled Istanbul's iconic Taksim Square early Sunday evening, putting polarized politics behind them to rally in solidarity in the wake of the bloody July 15 coup attempt.
Turks, mainly from the secular opposition Republican People's Party (CHP), flocked to the city's central square. Supporters of the ruling religiously conservative Justice and Development Party (AKP) and others joined as well.
"Political ideologies don't mean anything today," said 28-year-old Yagiz as he stood in a crimson sea of fluttering Turkish flags and banners portraying Kemal Ataturk, the founder of modern Turkey. "We are here for our nation."
The interpreter and member of CHP's youth branch wiped sweat from his brow in the brutal July heat.
At least 246 people died in the July 15 coup attempt and its aftermath and thousands more were left injured.
While many people who filled Taksim on Sunday were not supporters of President Recep Tayyip Erdogan, whom critics increasingly call authoritarian, there has been widespread condemnation of the coup to overthrow his democratically elected government. Turkish political parties across the spectrum have united against the coup plot.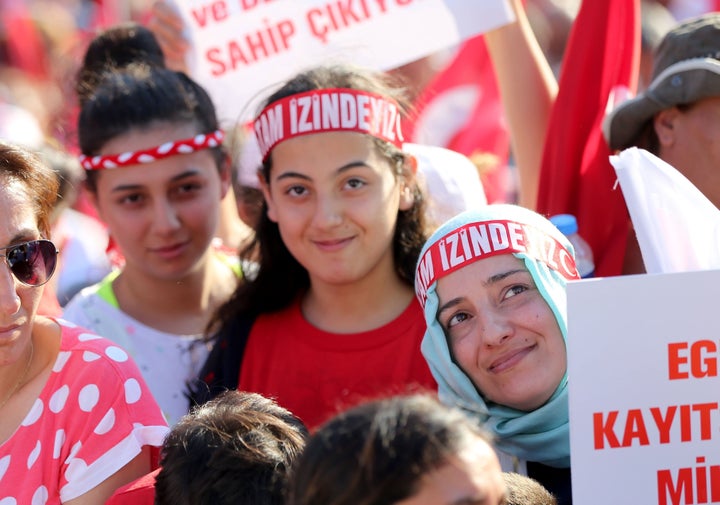 Yagiz was one of many Turks who heeded Erdogan's call to take to the streets on the night of July 15 when forces within the Turkish military attempted to take hold of the country. 
"It was like an apocalypse," he recalled.
Video footage from July 15 and 16 shows rebel-flown F16 fighter airplanes launching strikes on parliament, heavily armed soldiers shooting into crowds of protesters and tanks crushing people who stepped in front of them.
Turkey's government has credited loyal police, military and civilians for the coup's failure.
"Politics do not matter when there is a threat to Turkey's sovereignty," said Ibrahim Okur, a 23-year-old student who says he's a supporter of AKP. "Turkey has been through several coups and no one wants Turkey to go through such a thing again."
"[There's] one thing we have in common today," he continued. "We are citizens of Turkey."
The Turkish government says a Pennsylvania-based cleric named Fethullah Gulen who leads an international following is behind the attempted power grab. Gulen, a onetime ally of Erdogan turned his bitter enemy, is considered to be a terrorist leader by the Turkish state. Erdogan has, for years, claimed that Gulen attempted to infiltrate and dismantle the government.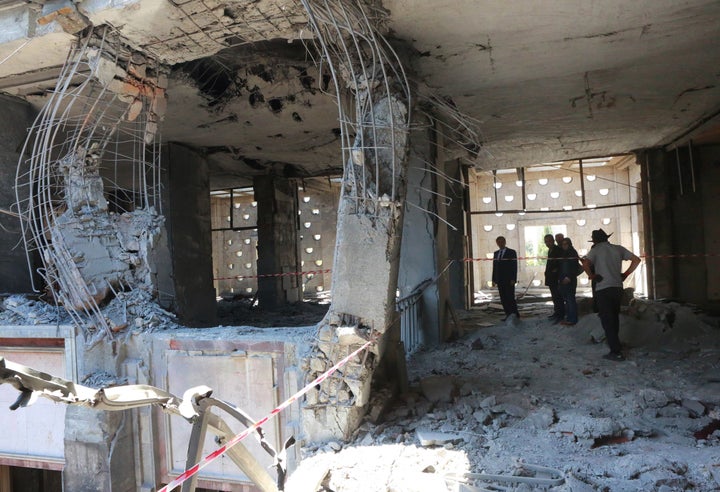 Turkey has demanded Gulen's extradition, though U.S. officials say they have to receive sufficient evidence and follow a formal legal process.
Some Turks believe that the U.S. government was behind the coup attempt, in which Erdogan says he was nearly assassinated. President Barack Obama slammed the conspiracy theory as "completely false, unequivocally false."
Mere hours after the coup failed, Turkey began rooting out accused collaborators and Turkish leaders vowed to purge the country of coup plotters. So far, over 60,000 educators, lawyers, judges, police, soldiers and government workers have been detained, arrested, suspended or investigated. 
Erdogan has also ordered the closure of thousands of private schools, unions, charities, universities and medical institutions.
Turkey announced a state of emergency on Thursday, one that is set to last at least three months, and said it would derogate ― that is, deviate ― from the European Convention on Human Rights.
Deputy Prime Minister Numan Kurtulmuş has said "fundamental rights and freedoms and normal daily life" will not be harmed by the move, but some Turks say they fear they will be wrongfully accused and get swept up in the purge.
Amnesty International said on Sunday that detainees are being beaten, tortured and raped in detention centers.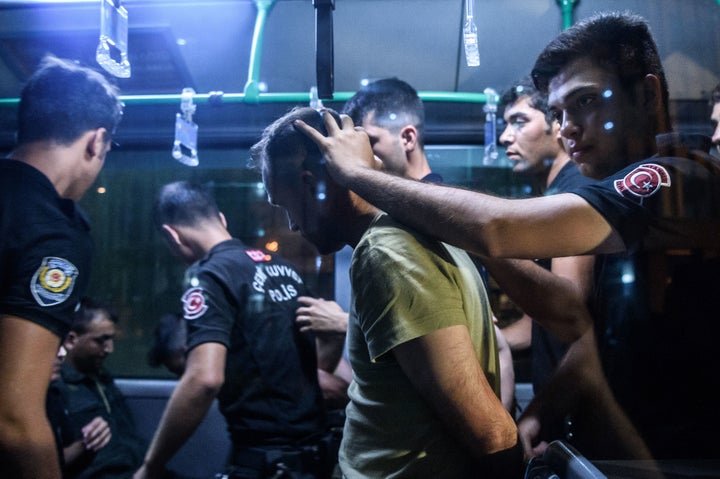 "It is absolutely imperative that the Turkish authorities halt these abhorrent practices and allow international monitors to visit all these detainees in the places they are being held," said John Dalhuisen, the organization's Europe director.
Despite the show of solidarity on Sunday, there was still an undertone of concern among many in Taksim over Turkey's leadership and its future.
"Democracy is a lifestyle, it's not just voting," said CHP leader Kemal Kılıçdaroğlu, who addressed the crowd from a stage and slammed the attempted power grab. "Democracy is respecting other people and respecting other identities."
"Coup plotters and dictators are blocking the media," Kılıçdaroğlu added.
Pro-coup forces raided television stations last Friday night in an attempt to silence media outlets and the government has repeatedly cracked down on journalists critical of the Turkish state.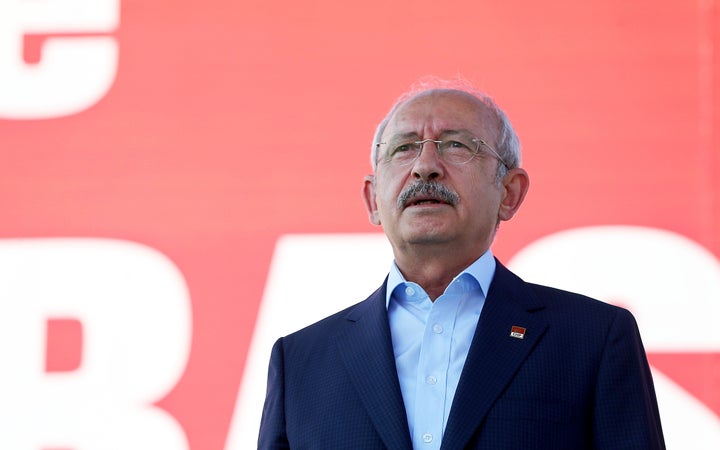 AKP has ruled Turkey since 2002. Erdogan first served as the country's prime minister for 11 years before winning the presidential seat in 2014. While the prime minister historically holds the most power, there is no doubt that Erdogan is now Turkey's most powerful leader.
"We are living in a dictatorship and I'm pretty sure everyone here is aware of that," said Aysegul, a 22-year-old college student in Istanbul who came out to protest the coup attempt, which she said would have "taken all our freedoms from the people."
Both her parents, who flanked their daughter in the teeming crowd in Taksim, had taken part in the anti-government Gezi Park protests in 2013.
Three years ago, they were dodging tear gas and rubber bullets fired by police. Since then, protests have been largely banned in Istanbul, with police sometimes violently breaking up marches and demonstrations with water cannons and batons.
But on Sunday evening, they stood shoulder to shoulder with thousands of other Turks, defending Turkey's democratic process ― even though it has kept in power a government they can't stand.
"People have been on the streets for days," said Aysegul's 58-year-old mother. "I wanted to say, 'I'm here, too.' I wanted to make our voice heard."
Asena Bosnak contributed reporting from Istanbul.