AMMAN, Jordan — Thousands of Jordanians gathered at central Amman's Grand Husseini Mosque at noon on Friday, praying for peace and denouncing the Islamic State's extremist interpretation of Islam.
"This doesn't represent our religion to torture people like this," the imam boomed, his voice carrying across rows and rows of people whose heads were bowed in prayer. "These people claim they are working in the name of Islam. But they do not represent us."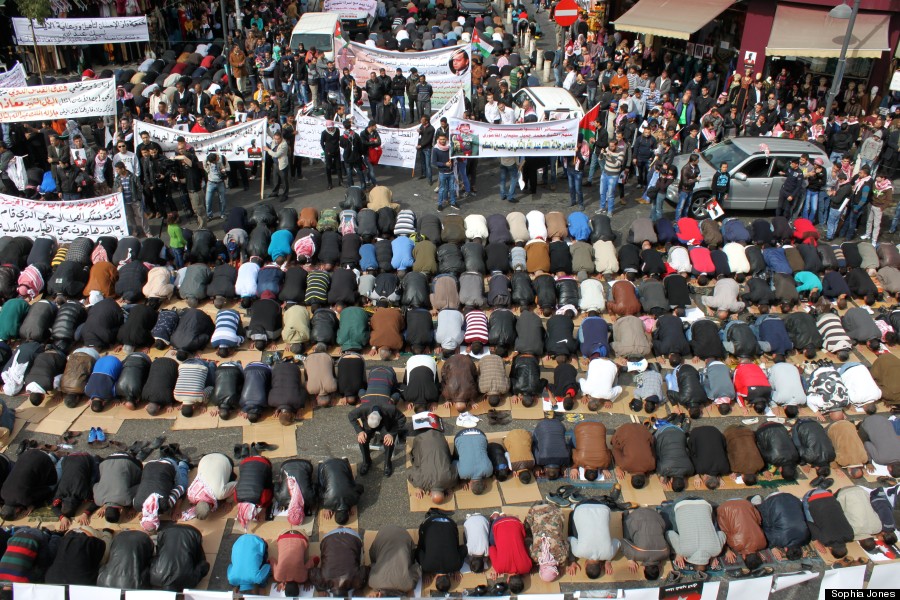 Thousands of Jordanian Muslims pray for peace at Amman's central Grand Husseini Mosque in condemnation of the Islamic State.
Everywhere in sight, men, women and children held posters and banners commemorating Lt. Muath al-Kaseasbeh, the young Jordanian pilot who was burned alive by the Islamic State, the extremist group also known as ISIS.
Islamic State militants captured al-Kaseasbeh in December after his F-16 crashed during a bombing mission over Syria. Many Jordanians say his violent murder is an attack on Islam as well as on Jordan, which is one of the key Arab partners in the U.S.-led coalition targeting ISIS from the air.
An ISIS propaganda video circulated on Tuesday that showed young al-Kaseasbeh slowly and painfully burning to death. At the end of the video, the names and personal information of dozens of other Jordanian fighter pilots involved in the anti-ISIS air campaign were listed with a bounty on their heads. The militants promised huge amounts of money to anyone who would kill the pilots, raising concern among Jordanians about potential future attacks.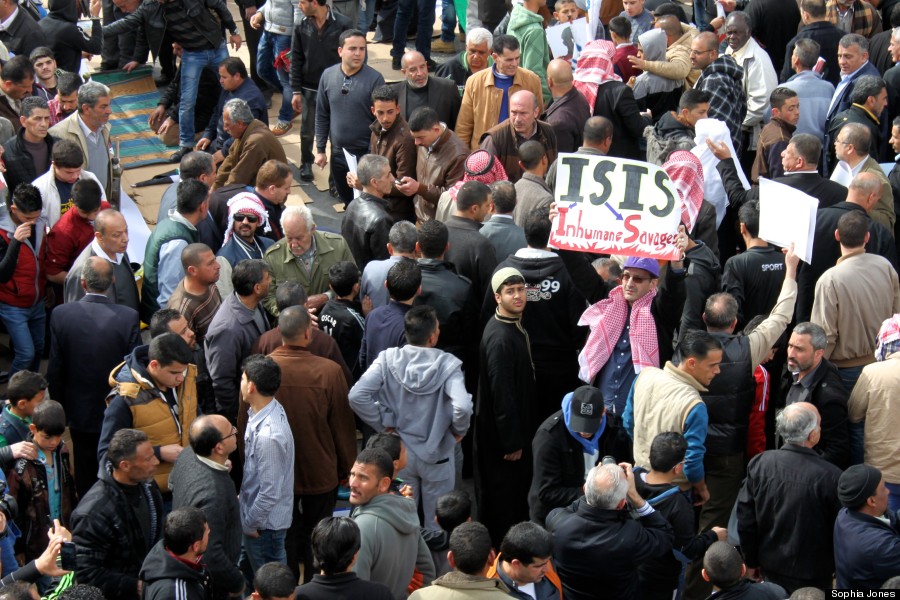 A man holds a poster during a protest in downtown Amman that reads, "ISIS inhumane savages."
On Friday afternoon, Christians and Muslims of all backgrounds marched through downtown Amman, waving Jordanian flags and chanting against ISIS. Even Jordan's Queen Rania attended, holding a poster of the fallen fighter pilot turned national hero.
"We are here against terrorism," 20-year-old Mahmoud al-Khatib said as he stood on the roof of a building overlooking thousands of protesters, taking in the view. "We are here to support Jordan."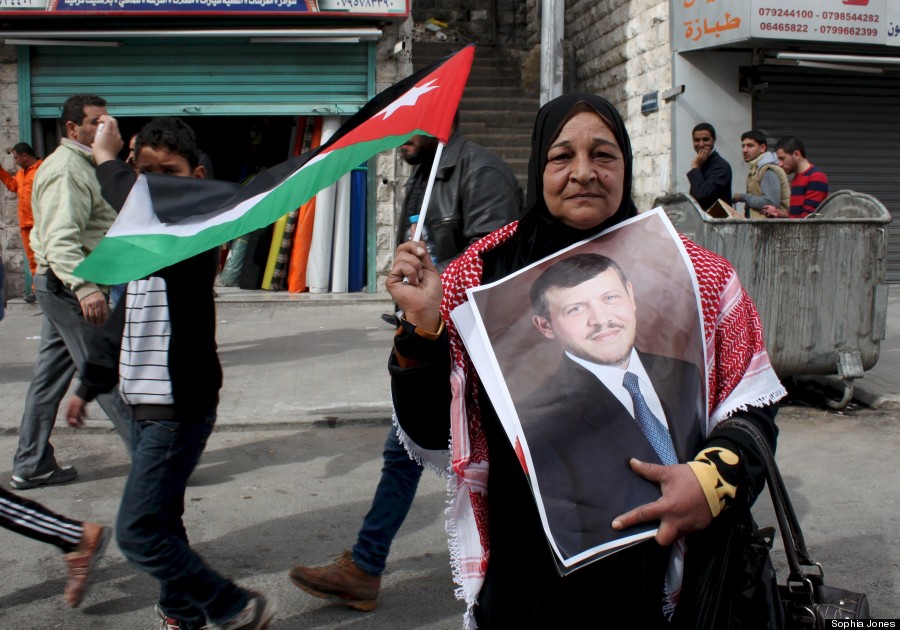 A protester holds a Jordanian flag and a picture of King Abdullah II during a mass anti-ISIS protest in Amman.
A wave of nationalism and unity has swept over the Hashemite Kingdom in support of King Abdullah II, who has vowed to wage "relentless" war on the jihadi group that has claimed large swaths of territory in Iraq and Syria.
Friday marks the last day of a three-day mourning ceremony in which friends, family and strangers alike came to honor al-Kaseasbeh in his hometown of Karak. The King and many prominent government officials paid their respects to the family, calling him the country's martyr.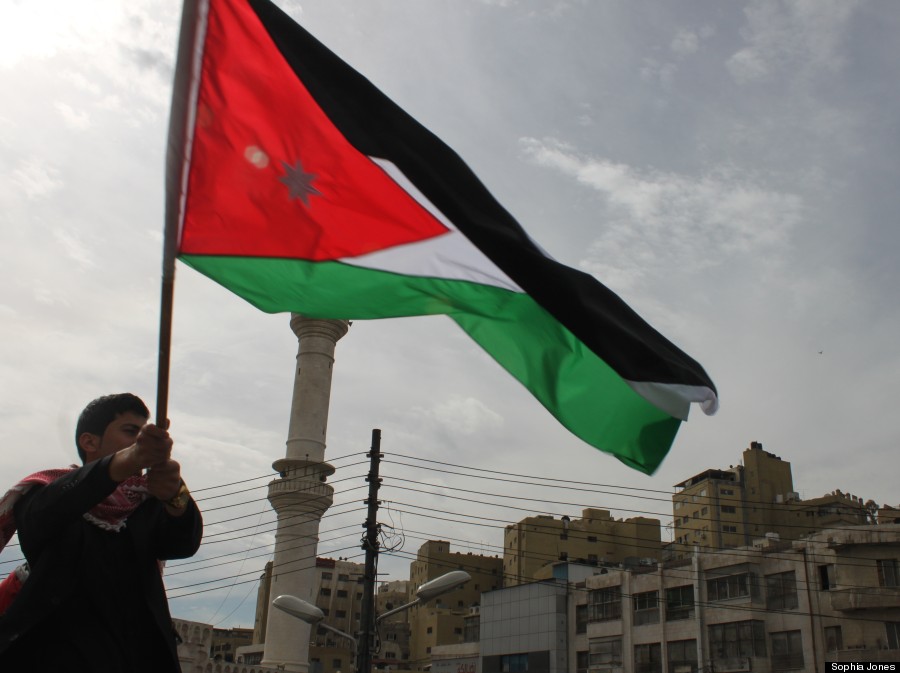 A young boy waves Jordan's flag on top of a building overlooking crowds praying at Amman's Grand Husseini Mosque.
Another protester who attended Friday's march, a middle-aged Muslim woman wearing a black hijab, introduced herself as Umm Mohammed. She told The WorldPost she was there to support al-Kaseasbeh's family. Tying a banner around her forehead that said "Muath, martyr of truth," Mohammed insisted that the Islamic State's so-called Islam did not resemble the moderate Islam she follows.
"They are terrorists," she said angrily. "They only kill!"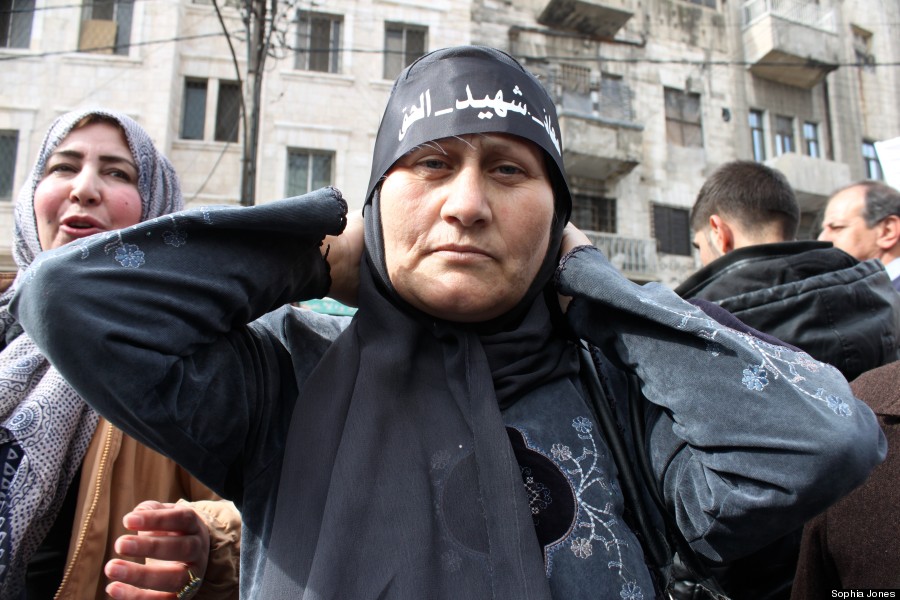 A Jordanian woman who introduced herself as Umm Mohammed holds a black ribbon to her forehead that says, in Arabic, "Muath, the martyr of truth."
Jordan has responded firmly to the terrorist group's actions. Before the sun rose on Wednesday, Jordan's government executed two Iraqi prisoners with ties to al-Qaeda. The prisoners were Ziad al-Karbouli and Sajida al-Rishawi, the would-be suicide bomber whose release the Islamic State had previously demanded in exchange for al-Kaseasbeh. It is now believed that the young pilot was dead weeks before the militants brought up the idea of a prisoner exchange.
On Thursday, Jordanian fighter pilots struck ISIS positions, in an effort to show that Jordan would not back down. State television showed images of fighter jets emblazoned with the message, "Daesh, you are the enemy of Islam," using the the widely used derogatory nickname "Daesh" in reference to ISIS.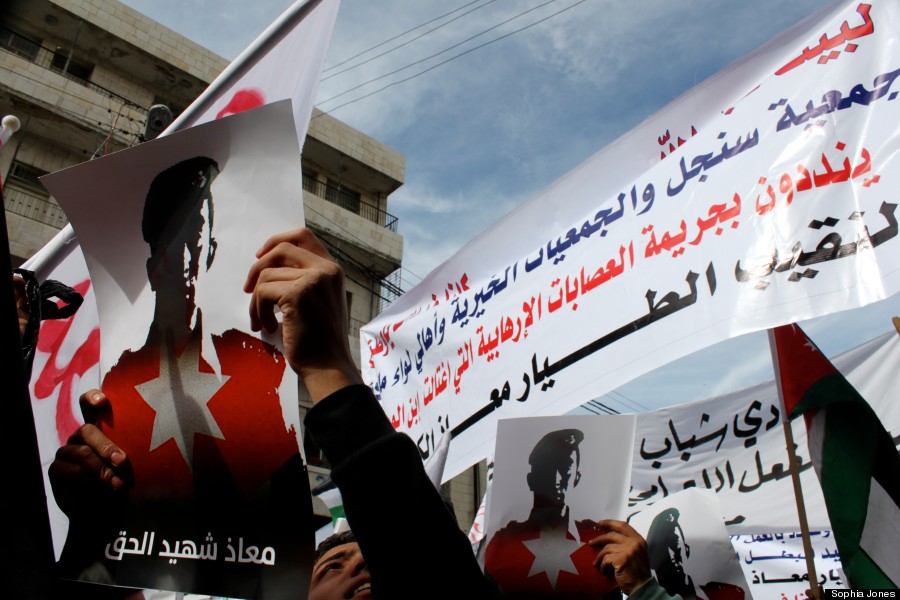 Jordanians hold up posters showing the face of Muath al-Kaseasbeh, as well as pro-government and anti-ISIS banners, during a protest in downtown Amman.
While many Jordanians vehemently oppose ISIS and everything it represents, there is an undercurrent of opposition among some who hate the extremist group but also question Jordan's role in the U.S.-led coalition fighting ISIS. Jordan also faces the grim reality that some of its own citizens either support or have joined a militant group the state is desperately trying to wipe out.
But one 60-year-old Jordanian man told The WorldPost that while he had supported aspects of the extremist group's "religious" ideology mere days ago, the video of ISIS brutally executing a fellow Muslim Jordanian showed him the group's true colors. Now, he has nothing but disdain for the militants.
For the most part, Jordan has come together, united under one battle cry than can be heard in crowded cafes and seen plastered on signs in parking lots: "Kulna Muath." We are all Muath.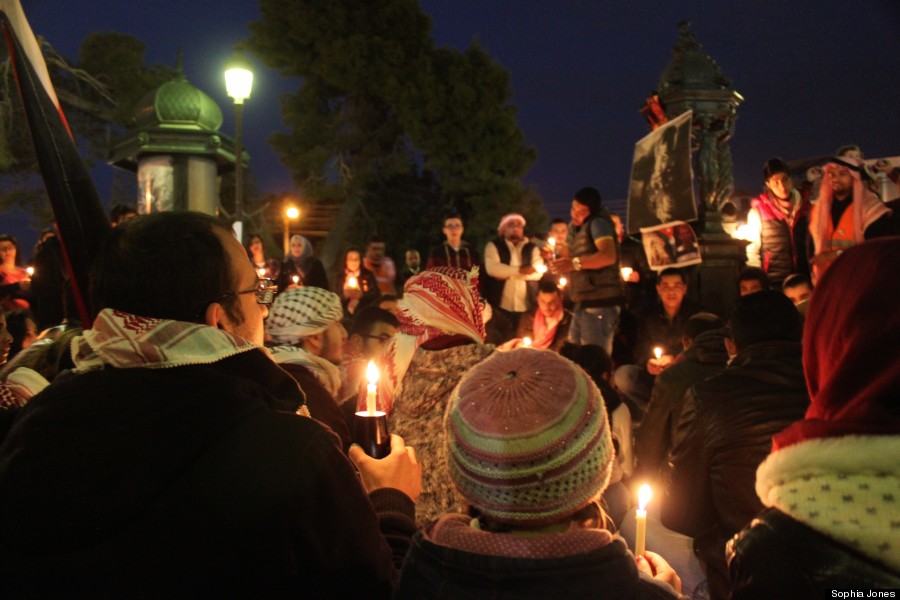 Jordanians lit candles in memory of Muath al-Kaseasbeh at a night vigil in Amman on Friday.
Ibraheem Shaheen contributed reporting from Amman.