ISTANBUL ― At least 7,500 people have been detained since the bloody coup attempt in Turkey, as President Recep Tayyip Erdogan vows to "clean all state institutions of the virus" of Fethullah Gulen supporters.
In the wake of Friday's failed overthrow, Erdogan has carried out an enormous purge of Turkey's state institutions. The country's Interior Ministry has fired close to 9,000 people thus far, among them 30 governors, state-run media reported Monday.
Turkey has blamed Gulen, a Turkish cleric living in self-exile on a Pennsylvania compound and Erdogan's arch-rival, of orchestrating the botched coup. Gulen, who has a global following, denies any involvement and has instead accused the government of possibly staging the coup.
Thousands of Turks filled Istanbul's iconic Taksim square Saturday night in support of Erdogan, who says he survived an assassination attempt Friday night. Turkish leaders have called on the people to continue rallying in support of the government.
The number of people who died in clashes during the attempted coup has risen to at least 290, according to Turkey's foreign ministry, with more than 1,400 injured. 
Some people were reportedly injured or killed by helicopters firing at them from the sky, others when renegade forces fired at civilians and barreled through crowds in tanks. Coup plotters detonated bombs, destroying parts of the parliament complex in Ankara. And at one point early Saturday night, a Turkish fighter jet shot down a helicopter that had been hijacked by apparent coup plotters and was firing at will. 
Though the violence that broke out immediately after the coup attempt has largely simmered down, there were still clashes reported on Sunday.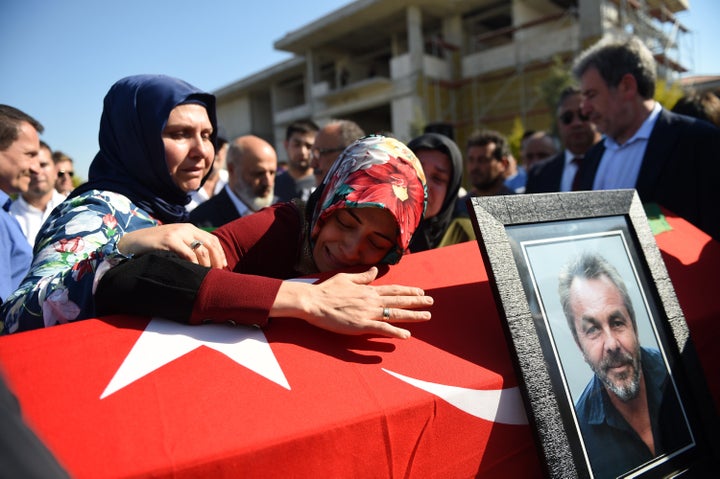 At Istanbul's Sabiha Gokcen Airport, security forces fought with suspected pro-coup forces who resisted arrest and threatened to open fire, a senior Turkish official said, later adding that Turkish law enforcement successfully detained 11 "members of the coup faction" without exchanging fire.
"The cleansing is continuing," Justice Minister Bekir Bozdag said Sunday, adding that the number of people detained ― which so far includes suspected pro-coup judicial officials, civil servants and military personnel ― could go up past 6,000.
At least 2,389 soldiers and 29 generals have been taken into custody. Turkey has also detained several thousand judges accused of supporting the plot to overthrow the government.
Erdogan insisted Sunday that Turkey was not after "revenge." But some people, especially critics of the president and the Turkish state, fear the crackdown will inevitably include vocal opponents of all stripes.
Erdogan remains a wildly popular leader among large parts of the population, though critics and human rights organizations note his rule has become increasingly authoritarian.
Since assuming the presidency in August of 2014, Erdogan has pushed to rewrite the constitution to enable an executive presidency. While he is undoubtedly the most powerful leader in Turkey in practice, his role as president is technically more of a ceremonial position.
The failed coup could also lead to further strife in a country already struggling with alarmingly regular terror attacks, polarizing politics and a decades-long conflict with Kurdish separatists. Over 2.7 million Syrian refugees currently live in Turkey as war rages just over the border.
While many Turks ― including government critics and even opposition parties ―opposed the failed coup, there is a very real fear that Erdogan could capitalize on the ensuing nationalism to consolidate his grip on power.
"We want the rule of law to work properly in Turkey," French Foreign Minister Jean-Marc Ayrault told France 3 television. "This is not a blank check for Mr. Erdogan."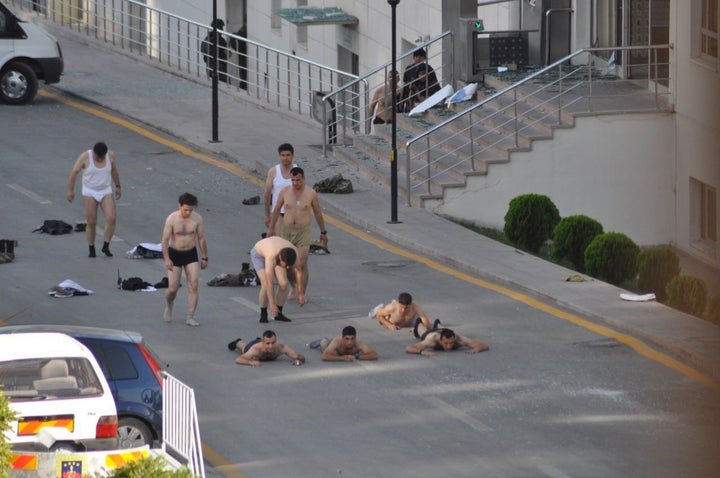 Some Turks are now voicing concern over human rights violations, after unverified photographs on social media appeared to show some detainees stripped down to their underpants and huddled together. One photograph shared by a Turkish official appeared to show men wearing nothing but underpants, some of whom were lying on the concrete, surrendering at the gendarmerie headquarters in Ankara on Sunday.
Other Turks have called for coup collaborators to be put to death. The Twitter hashtag #idamistiyorum, meaning "I want the death penalty," went viral over the weekend. Prime Minister Binali Yildirim has signaled that Turkey may "consider legal changes" to the current ban on the death sentence, considering the gravity of the situation.
Turkish police have called on citizens to report people who "support terrorism" or who spread "criminal information" online, the state-run Anadolu Agency reported Sunday. Turkey considers the Gulen movement to be a terrorist organization.
While Erdogan has made fiery statements calling on the United States to hand over Gulen, Secretary of State John Kerry said Sunday that Turkey had not yet filed a formal request for extradition.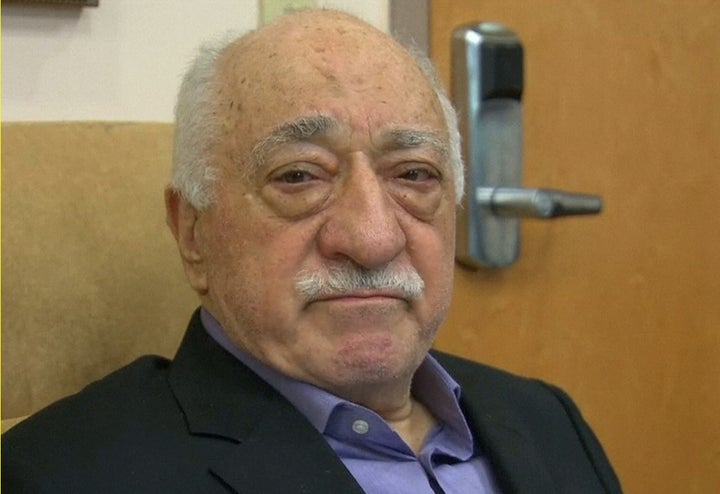 "The United States is not harboring anybody, we're not preventing anything from happening," he said on CNN's "State of the Union" broadcast. "We think it's irresponsible to have accusations of American involvement when we're simply waiting for their request."
As Turkey's roundup of suspected coup plotters continued into Sunday, Erdogan's top military aide, Colonel Ali Yazıcı, was one of many taken into custody. High-profile arrests also included Gen. Bekir Ercan Van, commander of the Incirlik Air Base, which was used by U.S. forces and the U.S.-led coalition to launch airstrikes against the so-called Islamic State across the border in Syria.
Turkey, a NATO member, temporarily closed the airspace above Incirlik following the coup attempt after reports emerged that suspected coup plotters had tried to use the base to refuel hijacked aircraft.
Base operations resumed Sunday, said Pentagon Press Secretary Peter Cook. "After close coordination with our Turkish allies, they have reopened their airspace to military aircraft," he said.
Flights in and out of Turkey's international airports, however, are still heavily impacted by Friday's tumult.
The U.S. Federal Aviation Agency has banned all U.S. airlines from flying into Turkey. All airlines, regardless of country of registry, are barred from flying from Turkey into the U.S., even via a third country, the U.S. Embassy in Ankara said Saturday.
Meanwhile, the U.S. Department of State has warned of "increased threats" of terrorism in Turkey.
"In light of the July 15 coup attempt and its aftermath, we suggest U.S. citizens reconsider travel to Turkey at this time," the July 16 travel warning read.