ISTANBUL — A suicide bomb detonated in the heart of Istanbul's tourist district of Sultanahmet on Tuesday morning, apparently singling out foreigners eager to soak up the city's rich history.
It seems to be no coincidence that tourists were targeted, and that all of the 10 people killed so far were foreigners. Most days, scores of travelers walk through Sultanahmet's central square, admiring the thousands-year-old Egyptian Obelisk of Theodosius and the Blue Mosque in the distance, its six minarets reaching towards the sky. Now, that square is a crime scene.
All ten killed and many of the wounded were German, according to officials. German Foreign Minister Frank-Walter Steinmeier slammed the bombing as a "barbaric, cowardly act of terror" in a statement. 
The German government has warned its citizens traveling to Turkey to stay away from crowded areas that attract tourists — a blow to a city that prides itself on historic gems like the Hagia Sophia, a roughly 1500-year-old church-turned-mosque that is now a museum.
Turkey's tourism sector, which raked in $34 billion in 2014, according to official numbers, is reeling after the deadly blast. After months of violence, including a twin bombing in October in the capital that killed 102 people and bloody attacks near the Turkey-Syria border, the industry was already in a downward spiral.
"The attack will kill tourism here," said Cigdem Girgic, 45, who has been a tour guide for 20 years and says her clients had been canceling or reconsidering their trips to Turkey even before today's attack.
"If you're planning to visit somewhere and a bomb goes off, you don't go," she said. She predicts a dangerous dry spell for tourism. "I'm planning to move into another field."
While no one has claimed responsibility for the attack, Turkish authorities say the attacker was a foreign member of the Islamic State group. Turkey is a key member in the fight against ISIS — its Incirlik Air Base in the country's south is a crucial launchpad for U.S.-led coalition strikes against ISIS in neighboring Syria. 
Turkish President Recep Tayyip Erdogan said Tuesday that the attacker hailed from Syria. While later media reports named him as Nabil Fadli, born in Saudi Arabia, a Turkish government official told The WorldPost that Turkey's Ministry of the Interior could not yet confirm nor deny those reports. Turkey has received a staggering 2.5 million Syrian refugees seeking refuge from their country's brutal war.
Turkey is also embroiled in an increasingly bloody battle with Kurdish militants aligned with the Kurdistan Workers' Party, or PKK, which has fought the state for over four decades in the name of greater Kurdish freedom. A PKK offshoot claimed responsibility for a mortar attack at Istanbul's Sabiha Gokcen International Airport in late December. Extremist leftist groups have also been known to stage deadly attacks. 
Turkish authorities imposed a broadcast ban on Tuesday, which limited journalists — especially Turkish media — in their coverage of the attacks due to what the government deemed a threat to national security.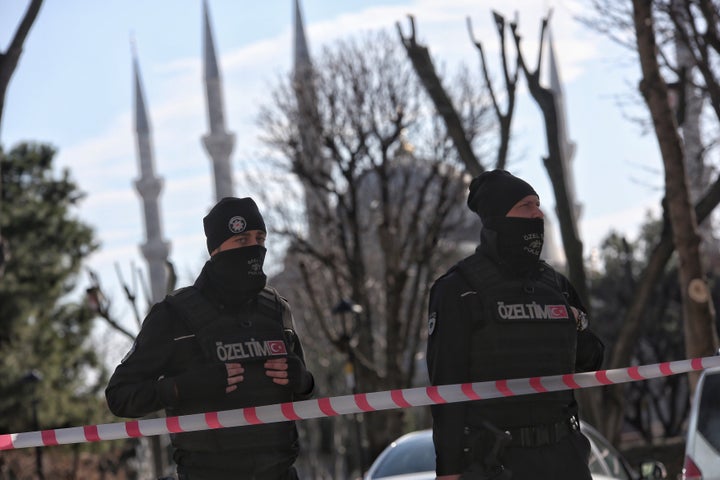 In Istanbul's central Taksim Square, hotels are already reportedly losing customers.
A hotel worker — who asked to remain anonymous because of the broadcast ban — said there had been three room cancellations in the first few hours after the attack. 
When would-be customers called the hotel to ask whether it was still safe to travel to Istanbul, the employee tried to convince them to come, but wasn't really sure about the security situation.
"I'm scared," the employee said. "I'm afraid of taking the metro. I'm afraid of walking in crowds. I'm afraid of working near Taksim."
Just outside, passersby briskly walked across the windy square. There were few Western foreigners in sight. Tourists steered clear of Sultanahmet, where security forces cordoned off the blast site.  
Fear has also taken hold in Cappadocia, a region of central Turkey famous for its dawn balloon rides over fairy-tale like terrain. One hotel worker at the Cappadocia Cave Suites told The WorldPost some guests were worried their safety was at risk and had canceled future travel plans in Turkey. 
It remains to be seen how devastating Tuesday's attack will be for Turkey and its already struggling economy. 
"This year was terrible," said a shopkeeper who only provided his first name, Yilmaz, due to a fear of repercussions. "We already didn't have business [before the attack]," he said from his empty shop in the backstreets of Cukurcuma, a neighborhood in Istanbul known for its antique stores. 
Tourists, who come to buy silk scarves and painted pottery, are his main customers. Without them, the business cannot thrive.
"Who knows what will happen tomorrow," he said.
Correction: A previous version of this article included information from Peru's foreign ministry that a Peruvian was among the victims of Tuesday's bombing. The ministry has since reported that no Peruvians were killed.
Read more on the Istanbul bombing: 
– Why Turkey Bans News About Terror Bombings– Turkey Is Being Torn Apart By ISIS Bombings And Kurdish Clashes– Kaya Genc: Istanbul Has Always Been A City Of Fires And Earthquakes. Today, It Was A City Of Terror – Ömer Taşpınar: Turkey Cannot Effectively Fight ISIS Unless It Makes Peace With The Kurds