ISTANBUL — As world leaders convened in Brussels on Monday for a landmark European Union-Turkey summit focused on the migrant crisis, journalists in Turkey slammed the EU for "turning a blind eye" to the country's attempts to suppress its free press.
Late Friday, Turkish authorities raided the country's leading newspaper, Zaman, turning what had been a media outlet critical of the government into a virtual state mouthpiece overnight. Clashes ensued, with police tear-gassing demonstrators gathered outside Zaman's office to protest censorship and express solidarity with the newspaper staff.
Just three days later, Turkish Prime Minister Ahmet Davutoglu shook hands with EU heads of state during a tense round of talks addressing the high volume of migrants and refugees using Turkey as a transit point to Europe. There seemed to be only whispers of Friday's flagrant disregard for press freedom.
The EU has reportedly promised Turkey $6 billion — double what it pledged to give the country this winter — to support the more than 2.7 million Syrian refugees currently living in the country. While hundreds of thousands of refugees have made the long and dangerous journey to Europe, much of the burden in the last five years has been placed on Turkey to support the seemingly endless flow of men, women and children fleeing war. 
As part of the deal, the EU expects Turkey to further crack down on smugglers and allow NATO ships to return refugees and migrants to Turkish shores. In addition to funds, Ankara has demanded accelerated EU membership talks and placed priority on visa-free travel for Turkish citizens.
There is no freedom of expression left in Turkey."
Several EU leaders reportedly spoke frankly with Davutoglu about recent worrying events regarding press freedom in Turkey.
"It's too little too late," one reporter at Today's Zaman, a sister newspaper of Zaman that was also seized on Friday, said of the EU's limited condemnation of Turkey's track record on press freedom. "The EU is really turning a blind eye to Western values that Turkey should be fulfilling if they want to continue talks with the EU."
"There is no freedom of expression left in Turkey," said the journalist, who spoke to The WorldPost on the condition of anonymity and fears retaliation from the Turkish government after having had articles cut from the Sunday edition of the newspaper.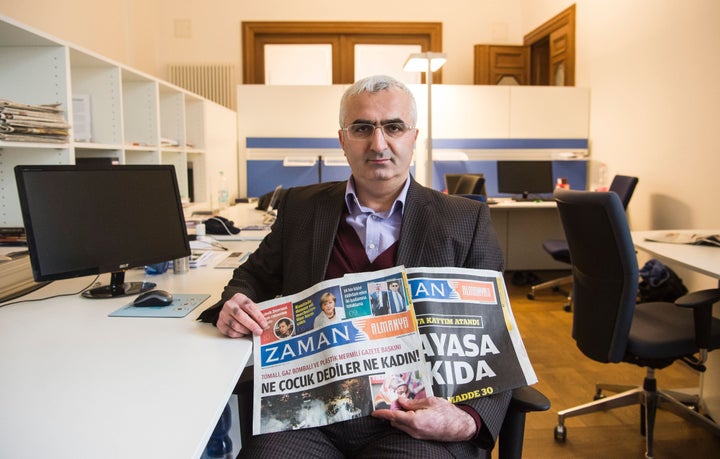 An EU spokesperson on Saturday stressed that Turkey, as an EU candidate country, "needs to respect and promote high democratic standards and practices, including freedom of the media." And on Monday, French President Francois Hollande insisted that EU states' cooperation with Turkey did not translate to blind acceptance.
"The press must be free everywhere, including in Turkey," he said.
But so far, as Turkey has moved deeper into talks with the EU, there seems to be no letting up on state crackdowns on dissidents and critics.
"The EU is aware that the only way of coping with the refugee problem is not to make Turkey angry and comply with its priorities," said Gulten Ustuntag, an employee of Today's Zaman. None of the articles she has written since Friday have been approved by the Istanbul court-appointed newspaper trustees, she said.
Staffers at the paper say they are waiting to be fired, in hopes that they can at least receive severance pay.
Zaman has ties to Fethullah Gülen, a former ally-turned-arch nemesis of Turkish President Recep Tayyip Erdoğan, a controversial and powerful figure who served as prime minister for over a decade before voters elected him as president in August 2014. 
Erdogan accuses the cleric, who now lives in self-imposed exile in Pennsylvania, of attempting to undermine and overthrow the Turkish government.
After the brutal take over of Zaman media group, the new admin unplugged the servers in an effort to destroy the existing systems.

— Sevgi Akarçeşme (@sevgistanbul) March 7, 2016
While the war in Syria has decimated its neighbor, Turkey has remained relatively stable and a refuge for people fleeing slaughter. But recently, Ankara has had to come to terms with its own domestic dangers, from renewed clashes with Kurdish militants known for their often-violent fight for greater freedoms to suicide bombers from the self-described Islamic State detonating on Turkish soil.
At a roundtable discussion with foreign press at Ankara's presidential palace at Feb. 26, spokesman Ibrahim Kalin said it was "not easy to strike a perfect balance" between national security and freedom of press. He defended Turkey's track record, saying "fact and fiction get mixed up all the time" in journalism.
A spokesman for the Turkish government did not immediately respond to a request for comment regarding Friday's seizure of Zaman.
"Ankara has been using the refugee issue as a card against European leaders in order to silence them about the violations in Turkey," Zaman's managing editor Celil Sagir told The WorldPost by phone from his office, where there has been a heavy police presence since Friday.
Journalists at Zaman and Today's Zaman watched the meeting in Brussels from afar, unsure of their own fates and furious over the seeming lack of outcry. Some worry they will end up in court or prison if they continue to speak out.
"Where will we go and work?" Sagir said, alluding to fact that there are barely any independent media outlets able to challenge the Turkish government. "I don't see a light at the end of the tunnel."