ISTANBUL — At a coffeehouse here in the low-income neighborhood of Fikirtepe, a group of men with greying beards and wrinkled faces sit around a table playing the Turkish tile-based game Okey. The lifelong friends have been coming here every day for nearly three decades.
But soon, they say, this tradition will end. Every building for roughly 60 blocks in the area is set to be demolished as part of a massive government-led urban development project. The quaint but rundown homes, now occupied by laborers, merchants and taxi drivers, will soon become high-end apartment complexes catering to Istanbul's elite.
"It will be the end of our group," said one of the men, a retired merchant who introduced himself only as Cemal, fearing repercussions from the government if his last name was published. "All this will be gone."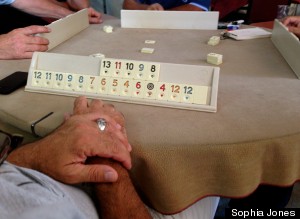 Turkish men play the tile-based game Okey at a coffeehouse in Fikirtepe.
Since Turkey's Prime Minister Recep Tayyip Erdogan and his Islamist-leaning Justice and Development Party rose to power in 2003, he has garnered much of his support through huge development projects that have transformed Istanbul into a cosmopolitan city. The leader is now pouring more than $100 billion into projects that include another massive bridge linking Europe to Asia, a canal that's being called the "second Bosphorus," and the destruction of a slew of neighborhoods like Fikirtepe. It's all part of Erdogan's plan to create a "new Turkey" by 2023, the republic's 100th anniversary.
Many in Turkey have rallied around Erdogan's construction plans, saying he's the driving force behind a strong, developed nation. But in this neighborhood, many people who have signed away their homes to be destroyed describe Erdogan as an increasingly authoritarian and power-hungry leader. As the country prepares for a presidential election this weekend that Erdogan is expected to win in a landslide, they say they have no intention of voting for him.
"We just love him," a man sitting at Cemal's table jests, his sarcasm setting off chuckles around him. When asked who would vote for Erdogan, only one man at the table sheepishly raised his hand.
Most of the men in the coffeehouse, like the majority of Fikirtepe residents, have signed contracts giving up their homes, relying on promises from contracting companies that they'll get ownership of some of the lavish apartments set to be built. Cemal hopes it's not a false promise — he'd like to have something to pass on to his children, he says. And he doesn't have any other option.
"If you resist, the government intervenes and sends you an eviction order," he says, picking up a white tile from the game. "Then the price they offer for your home is very low."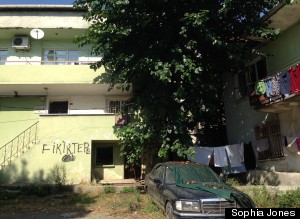 A home in Istanbul's Fikirtepe neighborhood that will be demolished and replaced with luxury housing.
Cemal and his friends fear that their neighborhood's character will disappear and that they won't be able to afford the new luxury lifestyle. They expect they will eventually be forced out.
Just down the road from the cafe, Konuk, a man who has lived in Fikirtepe for 49 years, sits on a street corner with an old friend. While Konuk backs the development plan in hopes it will bring his family some much-needed cash, he too worries he will ultimately be displaced.
"There used to be forests over there," he says, pointing to a now-vacant area while palming black prayer beads. He fondly recalls a greener city when he was a boy. "I don't want to see the changing habitat of Istanbul. I'm against cutting down trees for luxury villas."
"The 'great project' is not for me," Konuk adds, referring to Erdogan's big development plans. "It's just money for the big fish."
Like the outspoken men at the coffee shop, Konuk says a main turning point for him was the demonstration in Gezi Park last summer, when thousands of Turks protested the building of a mall in the city's coveted green space. Erdogan labeled the demonstrators "terrorists" and instructed security forces to forcefully break them up. The protest ultimately became a stand against an increasingly autocratic leader with polarizing views.
"I will vote, but for the opposition," Konuk says.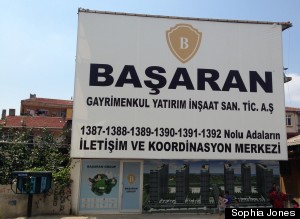 Vacant homes and shops in the Fikirtepe neighborhood are now plastered with billboards and posters of construction companies.
But despite a rising resistance to Erdogan, especially amid a corruption scandal that forced four cabinet members to resign, he maintains huge support among the country's voters, largely due to a growing economy. Since he has hit his term limit as prime minister, Erdogan is using the election as a way to remain at the helm of Turkish politics. If he wins, he has plans to vastly increase the powers of the president, which is currently more of a figurehead role. "Erdogan is an advantage in Turkey," says Ismael Guckiran, the deputy president of a Fikirtepe association that acts as an intermediary between the government and local politicians. "And there isn't a stronger candidate. I'm supportive of his development plans."
Guckiran insists that the mass demolitions in his neighborhood will be a good thing, although he says he doesn't have much of a choice in the matter.
A few minute's walk from Guckiran's office, Arzu, a mother of two, washes rugs on the cracked pavement in front of her dilapidated home. "I'm voting for Erdogan," she says without missing a beat. "He built hospitals and roads, tunnels and transportation."
Arzu admits she has fears that the grandiose project promising to "beautify" her neighborhood will only make life harder. She signed a contract three years ago to give up her home, but nothing has happened yet. In the meantime, drug dealers and desperate Syrian refugees have moved into her neighbors' now-vacant homes, she says.
But putting her worries aside, Arzu says that Erdogan is the only leader who should rule Turkey.
"I don't find the authoritarian stuff important," she says. "Development is more important."
Burak Sayn contributed reporting from Istanbul.