ISTANBUL — It was 2 a.m. Wednesday, mere hours after the triple suicide bombing at Istanbul Ataturk Airport, when Hayati Kayan heard reports of taxi drivers overcharging tourists desperate to get away from the carnage.
That's when the young hotel owner decided he'd had enough. It was time to act.
"I was so sad," an exhausted Kayan told The WorldPost from his hotel's lobby as he tried to process the attack that has left at least 41 people dead and 239 injured. "I thought, 'We must help them.'"
Kayan had an idea: He would offer a free, safe place to rest to any traveler coming from Ataturk Airport.
"We are willing to help stranded passengers!" he tweeted. "They can stay at our hotel for free of charge."
Strangers, eager to help, began calling. And soon enough, 16 weary passengers would take refuge at his yellow-shuttered, blue-doored Suite Begonia.
Kayan is just one of many Turks who have stepped up in the wake of the attack to help the injured and stranded. While the bombers sought to instill terror and hatred, many people here in Istanbul say they strive to do the exact opposite.
We are willing to help stranded passengers!They can stay at our hotel for free of charge. Contact: https://t.co/zh2ZcjzwJi #istanbul

— Suite Begonia (@BegoniaIstanbul) June 29, 2016
"It was people who attacked people," Erturk Erkek, a 28-year-old actor said by phone. "So people need to help people, too."
He spent all night coordinating online efforts to help find accommodation and transportation options for travelers evacuated from the airport. A handful of his friends and strangers headed to Istanbul's iconic Taksim Square after they heard at least 150 travelers were stranded there after being dropped off by buses from the airport.
Between Erkek and his band of middle-of-the-night volunteers, some of whom acted as translators, he says they helped find places for everyone to sleep. Like other Turks, he even offered his own place to strangers in hopes that the safety of his home could bring solace to their nightmare of a night.
Turkish Prime Minister Binali Yildirim said Tuesday that initial findings suggest the so-called Islamic State carried out the attack, in which three suicide bombers targeted the international arrivals terminal at the normally bustling airport. But there has yet to be a formal claim of responsibility.
At least 23 Turkish citizens and 13 foreign nationals from Saudi Arabia, Iraq, Tunisia, Uzbekistan, China, Iraq, Ukraine and Jordan were killed in the highly coordinated airport attack, according to a Turkish official.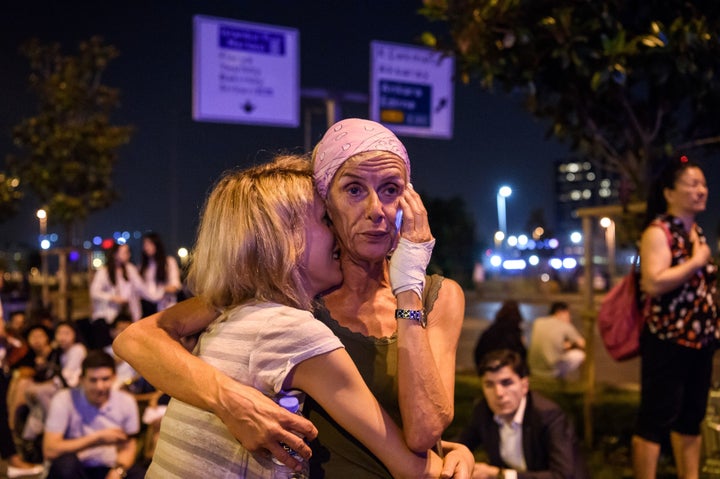 ISIS's hard-line fighters have been blamed for previous terrorist attacks targeting civilians and tourists in Turkey. The country, bordering war-torn Syria, was already reeling from a handful of gruesome attacks blamed on ISIS and Turkish militant groups this past year that have left the once-thriving tourism industry hanging on by a thread.
Tuesday's attack has only compounded worries that such shocking levels of violence are fast becoming the norm in Turkey.
Following the massacre, the Turkish Red Crescent posted locations to donate blood in Istanbul on social media, a list that has now been shared thousands of times. Soon after came a message for those hurt in the blasts: You are not alone.
Seemingly endless lines of people queued up at blood donation centers across the city well into the morning, according to several employees working at different centers.
"We took blood from 400 people, but more kept coming," said Ayse, an employee at one blood center on Istanbul's European side, who asked not to give her last name because she was not authorized to speak to press.
Ayse and her fellow staffers kept the center open until nearly 6 a.m. — some 11 hours after their usual closing time.
"We didn't want to turn anyone back," she said. "Seeing that many people … it shows me that humanity isn't lost."
Ayse Adanali contributed reporting from Istanbul.
CORRECTION: An earlier version of this article misspelled the name of the actor who helped organize lodging for travelers. His name is Erturk Erkek, not Etkurk Erken.