BEIJING — Ding Xuanyu and Ding Xuancheng were born just a few minutes apart and are separated by one Chinese character in their names. The twin brothers grew up going to the same schools with the same teachers and the same group of friends.
It wasn't until high school that their life paths diverged: Xuancheng (English name: Frank) decided to apply to college in America, while Xuanyu (English name: Richard) would stay in China and face the country's notorious college entrance exam.
Those choices will put the Pacific Ocean between them come this fall, but in the past three years they have already reshaped their lives. The divergent demands of U.S. and Chinese college applications have been molding their habits and stretching their brains in ways that reflect both the twins' personalities and the different educational systems of the world's two superpowers.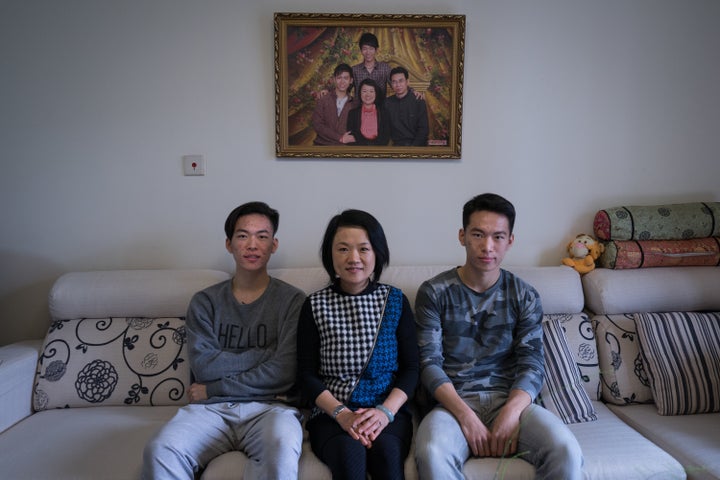 Frank has spent the last year composing personal essays about his youth, taking the SAT in his second language and studying fashion at New York University summer school. During that same period, Richard has been logging 15-hour days drilling math, chemistry, physics, English and Chinese, the core subjects tested in the college entrance exam this June.
They're both artistically inclined, but the lighter touch of U.S. college applications has given Frank more time to pursue interests like dance, fashion and sketching. The divide even seems reflected in their haircuts: Richard sports a straightforward crop, while Frank's hipster undercut has him frequently sweeping long bangs out of his eyes.
Curious and engaged with the world around them, the twins have found different outlets for their ambitions. Frank, who speaks fluent if imperfect English, is a cultural mash-up, referencing eighth-century Chinese poetry and 21st-century New York fashion in the same sentence.
"What's most interesting to me is combining and comparing the clothing styles between the old time and now," Frank told The WorldPost. "Not just the old times of China but also European countries. Those combinations may be something that people never even thought about."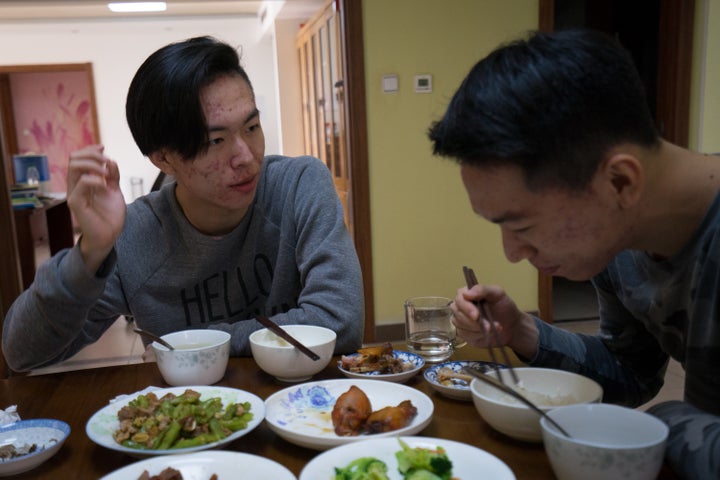 Richard has had the same international exposure as his brother, but he feels a sense of obligation to the country and culture he grew up in. 
"If everyone just goes to America, China will never truly develop," he said. "If China wants to grow into its own country — not just a second America — Chinese people need to feel more responsibility for their nation."
Part of that responsibility means looking to China's unique intellectual traditions and drawing on them to propel China forward.
"Lots of people in my generation love entertainment and international things. They're going toward a kind of uniformity, where everything is the same across countries," he said. "China has its own unique things, like Confucius and Taoist thinking. It's just that they haven't been fully expressed."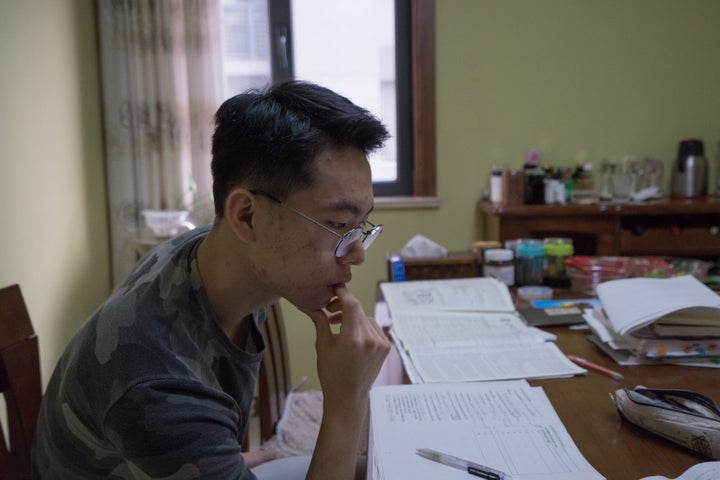 Those big-picture aspirations have shaped the twins' choices of colleges. But first, they've got to get in.
Chinese college admissions are determined solely by a grueling two-day test known as the gaokao (pronounced "gow-cow"). The test is sometimes compared to the SAT, but in reality there is no comparison. Gaokao is an all-consuming black hole at the end of high school, the culmination of over a decade of intellectual cramming that makes American high schools look like daycare centers.
Chinese parents — many of whom grew up in desperate poverty — often see their child's gaokao performance as the one chance to vault the family into the middle class (and, incidentally, secure a comfortable old age for the parents). As a result, high school seniors often study more than 12 hours a day, six to seven days a week. Some schools have even hooked students up to IV drips during cram sessions and installed suicide nets at dorms.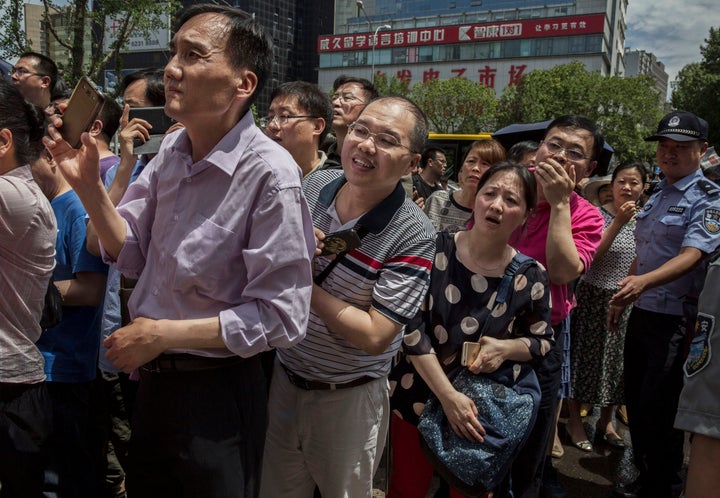 For decades, any Chinese teenager with ambitions beyond a factory job had to go through the gauntlet that is gaokao. Not anymore.
A small but rapidly growing percentage of Chinese students are opting to do their bachelor's degree abroad, with the bulk of them arriving on U.S. campuses. Facing dwindling endowments during the 2008 financial crisis, American universities threw open their doors to a wave of international students, many of whom pay full tuition. 
That shift was well-timed to the rise of a new class of affluent Chinese that sees an American diploma as a sound investment and a status symbol. Even with access to U.S. education largely limited to the country's upper crust, the number of Chinese students in the U.S. has seen double-digit growth for years. For the 2014-2015 school year, the total number of Chinese students in the U.S. was a record-breaking 304,040. That was more than double the number from India, the second-highest country.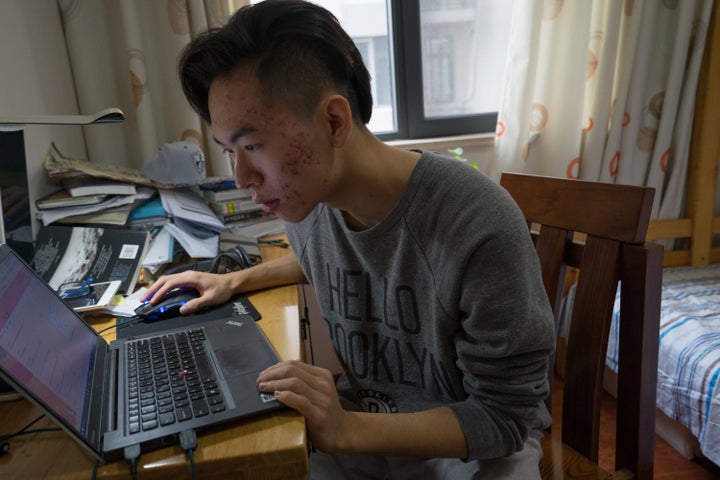 For many of those students, fear of gaokao can be as strong a factor as the pull of American education. Richard grimaces slightly when listing his weekly test-prep schedule: on weekdays he'll be in class, taking practice tests or studying from 8 a.m. to 11:25 p.m., with an hour each for lunch and dinner. He takes Friday evening off, but often logs another eight hours of studying on both Saturday and Sunday. 
By Chinese standards, Richard's school is relatively liberal. Consistently ranked as one of the best in the country, it requires students do physical education and focuses more on teaching content than how to beat the test. Still, the head-to-head competition on scores suits Richard well.
"If I see I haven't done a good job on something or I didn't do well in a competition, it doesn't matter if I like this thing or not, I still want to climb that ladder," Richard said. "[Frank] is not like that. … He's optimistic. I can't really just enjoy things the way he can."
As draining as gaokao preparation is, it has the virtue of simplicity: a single test score; a single standard for admissions. Frank dodged the gaokao bullet, but he soon found that what American applications lack in intensity they make up for in complexity: AP classes, SAT tests, SAT subject tests, TOEFL tests, extracurricular activities, personal statements and letters of recommendation.
The last three items are completely foreign to Chinese education, leaving many students and parents baffled as to where to begin.
"I thought maybe in a good personal statement you'll just show off your strong will to the guy reading this," Frank said. "Like you'll just say 'I focused on studying math for four years.'"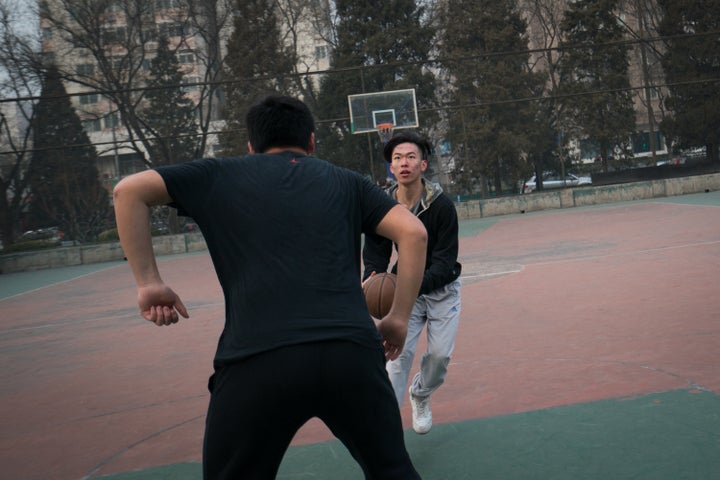 Luckily for Frank, an admissions consultant intervened. The surge in Chinese applications to U.S. universities has spawned a new industry designed to help Chinese students get in. Employing young Americans living in China, these "educational consulting" companies charge from $5,000 to $45,000 for services ranging from legitimate admissions guidance and test prep to falsifying extracurricular activities and ghostwriting essays.
Frank's counselors were in the legitimate camp, teasing different essay topics out of his own experiences and helping him proofread the final product. He wrote about memories of fishing in his home village and the inspiration he felt while reading Joyce Carol Oates.
Those applications went out to 10 schools, including NYU, the University of Illinois at Urbana-Champaign and the University of Washington. If he's accepted, tuition alone could cost around $45,000 per year. At the top Chinese universities Richard is applying to, annual tuition averages around $750.
Frank and Richard's mother, Wendy Wang, is largely willing to pay the premium for U.S. education because of her own experience abroad. In 2013, Wang took leave from her job as an executive at a state-owned bank to be a visiting scholar at Stanford, where the intellectual and entrepreneurial energy represented a "complete change" for her.
"What most impressed me was the openness of the school," Wang said. "Everyone has enough space and freedom to do everything: in their lifestyle, their studies, almost every field."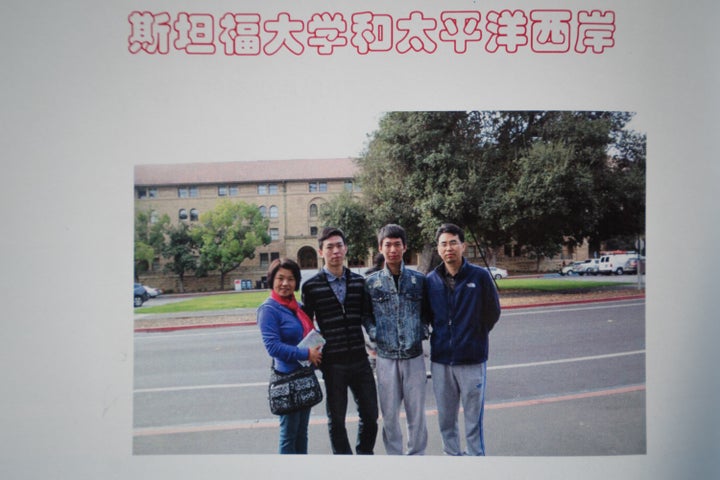 That contrasted sharply with the culture of Chinese schools and companies, where a deference to authority still dominates.
"[Chinese companies] still have a lot of rules, especially the thinking rules," Wang explained. "You have to think 'What does the boss think? If I make this decision how will other people think of that?'"
Despite supporting Frank's decision to head abroad, she gets nervous at the prospect of him living an ocean and a dozen time zones away.
"The only thing I can look at is the credit card, just see how much money he's spending," Wang lamented. "I can't know if he's going to class, doing his homework, how his grades are."
Given Richard's test scores, he could well land a spot just up the road at the prestigious Peking or Tsinghua Universities. But lately Beijing's suffocating smog has him considering applying to schools in Hong Kong as well (Hong Kong universities often combine gaokao scores and an English interview).
Watching her two sons taking on different applications, Wang reserves judgment on which system is better, but she feels gaokao has an edge in terms of simplicity and transparency. 
"You know what five or six subjects they're testing, so in your junior and senior years you review and you're ok. It's simple," Wang said. "Even if your parents don't give you any support, just putting the kid in the hands of the teacher is enough."
With all his applications turned in, Frank said he's a little nervous about the uncertainty of a making a life for himself at a new school in a new country.
"But," he said, "that's exactly the same thing that I'm interested in and excited for."