DOHUK, Iraq ― The thick black binder in front of Bahzad Farhan Murad is filled with images of children. 
In it, a 12-year-old girl in Raqqa makes a sexual gesture near her genitals. The men selling her want $15,000. A 13-year-old is sprawled out for the camera, stripped of her pants. A doe-eyed toddler boy stares blankly, wearing black eyeliner. And a 17-year-old named Zeina is for sale for $10,000 cash.
The self-described Islamic State, also known as ISIS, is using these pictures to sell kids for rape.
Murad is an activist and investigator who works to free Yazidis from the militant group, which considers members of this ancient religious minority to be heretics.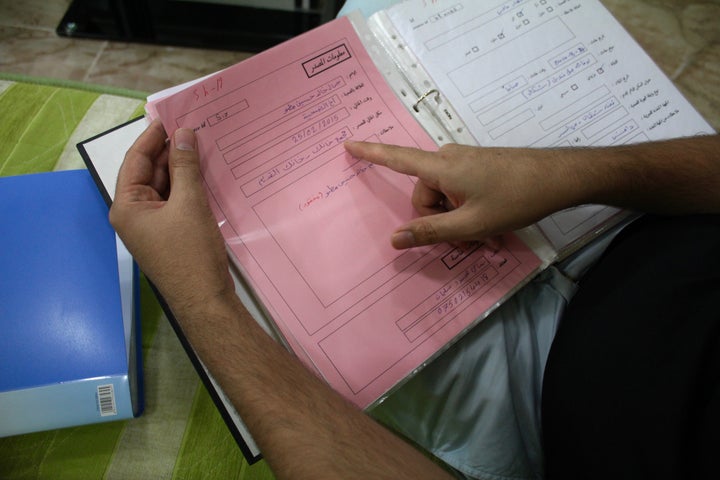 In August 2014, ISIS killed thousands of Yazidis after seizing control of Mount Sinjar, an area where Yazidis have lived for centuries. Many were dumped into shallow mass graves, and the hardliners kidnapped thousands more. Amal Clooney is representing Yazidi survivor Nadia Murad, 23, in an attempt to convince the International Criminal Court to prosecute ISIS leaders for war crimes. 
Early on Monday morning, U.S.-backed Iraqi forces launched their biggest battle yet against ISIS in and around Mosul, with the help of 19 coalition countries. But there are an estimated 3,000 to 4,500 ISIS fighters still in Mosul, and coalition forces can't guarantee Yazidi hostages' safety ― despite efforts by activists like Murad. 
The United Nations warns that this operation could displace up to 1 million people and leave civilians vulnerable to being used as human shields or gassed, becoming "one of the largest man-made disasters" in years. 
"What will happen to my sister?" asks 26-year-old Warida, who lives in this northern Iraqi city in a camp for displaced Yazidis with her four children and other family members.
"We are so worried," she says.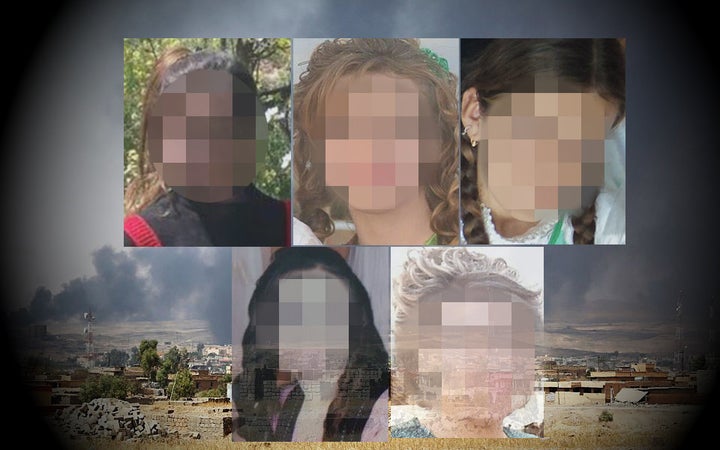 All five of Warida's sisters are being held by ISIS, along with her husband and dozens of other family members. Warida says her 16-year-old sister, Ghalia, is being held as an ISIS sex slave in Mosul, less than 50 miles from here. Warida is determined to track down and save her little sisters, even if it seems like an impossible task.
Asked what she'd tell Ghalia if she could speak with her, Warida cries out, "We want you to be with us!"  
"We're happy that she's still in Iraq," says her brother, Nashwan. "When the operation starts, maybe we can see her."
Nobody else in the room looks hopeful. There are too many stories, told by survivors and family members still in contact with captives, of ISIS using Yazidis and other civilians as human shields.
Warida knows firsthand what fate could befall them. She survived enslavement and escaped. ISIS fighters repeatedly kicked her in the head, but she was not raped. She was pregnant with her husband's child for much of her detention, and the baby girl was born in an ISIS prison in Raqqa.
The militants burned her pre-teen daughter with hot iron and likely would have raped her if Warida hadn't covered her in filth and black powder, she says. They forced her two young sons into child soldier training. One now takes antipsychotic medication as a result of the trauma.
Warida takes out her phone and pulls up a graphic photograph of an 11-year-old girl, Shifa, who she says was raped to death in the summer of 2015.
"They raped her in front of us," she said, her voice unwavering. "I cannot forget it. It's forever in my memory."
Warida relives this anguish often. She can hear it in her 9-year-old sister Amal's voice when she sends sobbing voice memos from captivity.
"Khoula is not here, Dunya is not here," Amal says, sobbing, speaking of her sisters and friends. "I miss Ashwaq and Weyam.""Nashwan, I miss you a lot," she cries. "If I can't hear your voice or see your pictures, I will die."Alifa, if you know how much I miss you," she says in a recent voice memo addressed to her mother. "Alifa, if I can't see you or see your pictures and hear your voice, know that I will die."
Amal sends WhatsApp messages whenever she can, under the watchful eyes of an ISIS captor who makes sure she doesn't reveal too much.
The messages offer some comfort for her family. At least they know she's alive. But they are also tormented, knowing they're unable to save her.
And then there's Warida's other sister, 14-year-old Dunya, who has already given birth to the child of an ISIS fighter, her rapist. In one photo sent to Nashwan, the girl is cloaked head-to-toe in black fabric.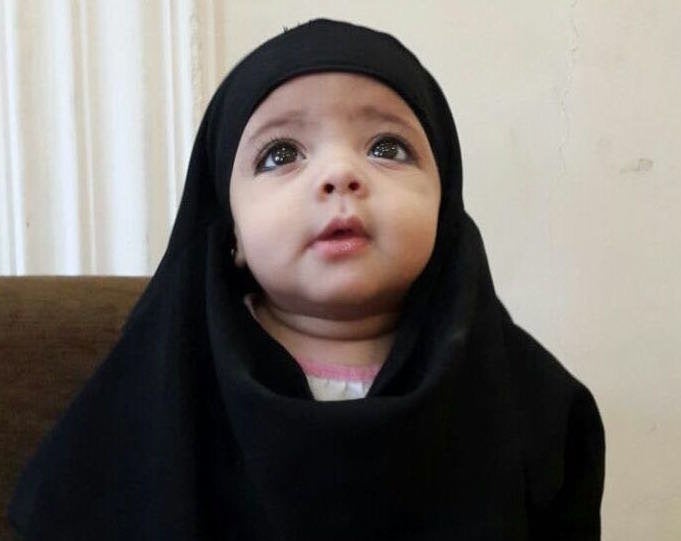 ISIS is still holding 3,735 Yazidi men, women and children, according to Khairi Bozani, director-general for Yazidi issues at the Kurdistan Regional Government's Ministry of Endowment and Religious Affairs. It's harder to determine how many are in Mosul, but Murad and Yazidis in Dohuk estimate there could be hundreds.
Although thousands of Yazidis have escaped or been rescued over the past two years, rescue efforts have grown increasingly difficult. Warida and her four children only managed to escape because the Kurdistan Regional Government provided $35,000, funneled through a broker, to line the pockets of the ISIS fighter who held them captive, Warida's family says.
Time and money are running out. And even if Warida's family had the money, they explain, ISIS often won't sell back younger girls deemed sexually enticing, or boys they can force to fight.
Apart from buying off ISIS, families have few options to save loved ones. They can only hope they'll find a way to escape, that someone under ISIS rule can help smuggle them out or that security forces will rescue them.
In recent operations, in which security forces pushed out the militants from Iraqi towns and cities, only a handful of Yazidi women and girls managed to escape, officials say. The militants likely dragged off the majority of their captives in retreat, pulling them deeper into ISIS territory.
"We have information on where Yazidis in ISIS-held areas are, but when [those areas] are liberated, they're not there," explained Bozani, the Yazidi government official. "We even had the coordinates of houses where they were being held."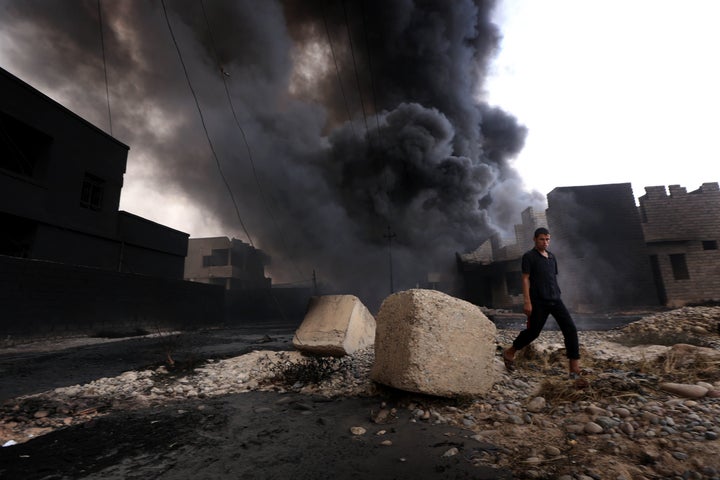 ISIS has already moved some Yazidi prisoners in Mosul across the border to neighboring Syria, according to Murad, who recently spoke with a family of one kidnapped girl.
This could mean the extremist group is transferring prisoners to places like Raqqa. One mid-ranking ISIS commander told The Wall Street Journal that the group was sending their "human resources" to Syria and might employ "hit-and-run" tactics: in other words, use tactics like suicide bombers or booby traps, and then flee to Syria.
Deep inside ISIS territory, rescue missions by local and U.S. troops are incredibly dangerous and often near-impossible. 
Of the three U.S. troops who have died over the past year in Iraq, one of them ― Master Sgt. John Wheeler ― reportedly died rescuing ISIS prisoners who were set to be executed the next morning. It was his 14th deployment. Kurdish Peshmerga fighters were also wounded in the mission.
The WorldPost has learned of at least one recent successful rescue from Mosul itself. In mid-September, a Sunni Arab resident of Mosul smuggled a 20-year-old Yazidi woman out of the heavily guarded city after the ISIS fighter holding her hostage died in combat.
She was left in the Mosul resident's care, and he contacted her brother, Ahmed. (Ahmed has asked The WorldPost not publish his sister's name or other details that could further endanger their 10 family members who are still in ISIS captivity.)
Together, Ahmed, the man from Mosul, Iraqi Kurdish security forces, the Kurdish Peshmerga and the U.S.-led coalition devised an escape plan.
First, the Mosul man managed to secure permission from ISIS to visit family elsewhere during the Eid al-Adha holiday. Then, when he and his family fled Mosul, they took Ahmed's sister with them and even managed to pick up another sister, who was being held in Tel Afar, on the way.
They left at night, taking back roads to avoid IEDs. Coalition aircraft flew overhead to protect them, according to Ahmed. When the car broke down, the group of nine trudged for hours towards waiting Kurdish Peshmerga forces in pitch-black darkness.
"They couldn't believe it," Ahmed recalled, thanking God for his sisters' safe passage.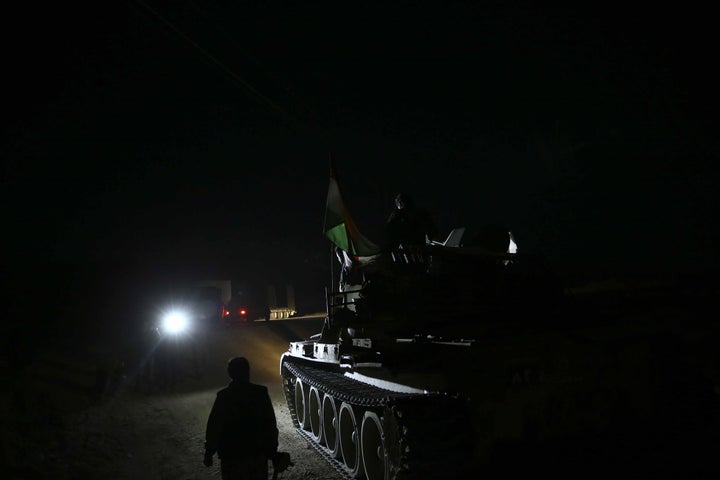 The U.S. military could not comment on that specific incident, but U.S. Army Col. Brett Sylvia, the commanding officer at coalition base called Camp Swift, said U.S. troops have assisted in similar rescue efforts.
This year, Sylvia said, U.S. forces from the 1st Squadron, 75th Cavalry Regiment in northern Iraq aided a group of 50 or so civilians fleeing ISIS-controlled territory.
Walking through the darkness, where ISIS had planted land mines to deter attacks and rescue attempts, they couldn't find the way and feared they wouldn't make it. But U.S. forces used flares to guide them toward waiting Iraqi security forces.
"We told them to walk toward the illumination rounds," Sylvia recalled. "They walked right into friendly [Iraqi forces'] lines. There are any number of those stories."
But many Yazidis say the U.S.-led coalition and the Iraqi government in Baghdad and in Erbil, the capital of Iraqi Kurdistan, are not doing enough to help prisoners held by ISIS. They worry that their loved ones will perish along with the militants who have terrorized them. Or that they'll simply disappear across the border, too far to rescue.
"I'm angry," Murad said, photographs strewn around him. "I don't think that there is any humanity left. It seems like nobody cares."
But that doesn't deter him. He says he will continue documenting atrocities against his own people by gathering information on victims, monitoring smuggling networks and working with local security forces and government officials. Perhaps he can save one more life.
So far, he says, he has helped save 11.
Kamiran Sadoun contributed reporting from Dohuk, Iraq. Some names have been changed to protect the identities of Yazidis still held by ISIS.