TAZA, Iraq ― Four-year-old Fatima was playing outside when the rockets started falling. It was far from the first time her town had endured a barrage of terror from the self-described Islamic State, which was then holed up one town over.
But that day, March 8, would bring a different kind of terror.
Fatima's mother, Zeynep, sprinted toward the front door when she heard the familiar sound of rocket fire. "Fatima! Fatima!" she screamed, searching for her daughter.
And there she was, her little girl, standing in front of a rocket filled with mustard agent. Fatima would die one day later along with two other children, their small bodies and organs failing due to toxic chemical exposure. Zeynep survived, but the chemicals disfigured her arms, chest and neck.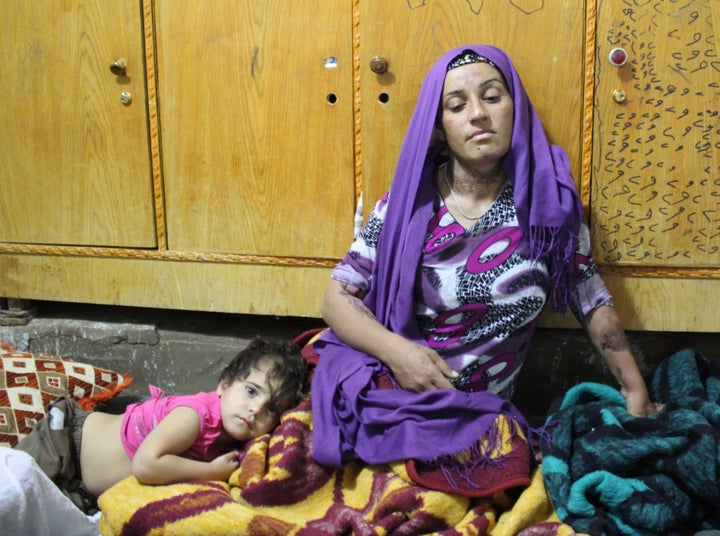 As U.S.-backed Iraqi and Kurdish forces move toward Mosul, Iraq, in a massive operation launched Monday, there's growing concern that the Islamic State, also known as ISIS, will use chemical weapons to defend its last major stronghold in Iraq's second-largest city.
"We believe they will use more chemical operations as the Mosul operation starts," said Brig. Gen. Hajar Ismail, director of coordination and relations at the Kurdistan Regional Government's Ministry of Peshmerga, in an interview this month. "We believe Daesh is weaker than in the past, so they need to defend themselves with mine, IEDs and chemical weapons," he added, using another term for the Islamic State.
Kurdish Peshmerga forces and Syrian civilians have also come under fire from ISIS's chemical weapons. The militant group has used chemicals over 15 times against Peshmerga forces, according to Ismail. The WorldPost could not independently confirm that number, though a handful of those attacks were covered in local and international press.
Ismail says the Peshmerga have between 12,000 and 15,000 gas masks ― not nearly enough for every fighter. The WorldPost only saw a handful of gas masks near the frontlines on Monday, day one of the Mosul operation.
ISIS shell fragments are now regularly being tested for chemical agents, one U.S. official told Reuters.
ICYMI: This photo of the week shows a @NZDefenceForce Coalition member teaching #Iraq-I soldiers how to properly wear a gas mask Oct. 9,2016 pic.twitter.com/s8MwqZESML

— Inherent Resolve (@CJTFOIR) October 19, 2016
U.S.-led coalition airstrikes have targeted ISIS's chemical weapons sites throughout the year. Last month, in the lead-up to the Mosul offensive, a dozen U.S. warplanes bombed an Iraqi factory that officials say ISIS had converted into a chemical weapons plant.
Since militants fired two shells at U.S. and Iraqi forces at Qayyarah Airfield West on Sept. 20, ISIS's chemical weapons have drawn more attention. When the first laboratory test of the shells came back positive for mustard agent, panic ensued ― and some news outlets dubbed it the first chemical weapons attack against U.S. troops since World War I.
But later, definitive tests concluded that it was not mustard agent, according to military sources. U.S. forces nevertheless say they're on high alert, and are prepared for potential chemical weapons attacks as the Mosul offensive escalates.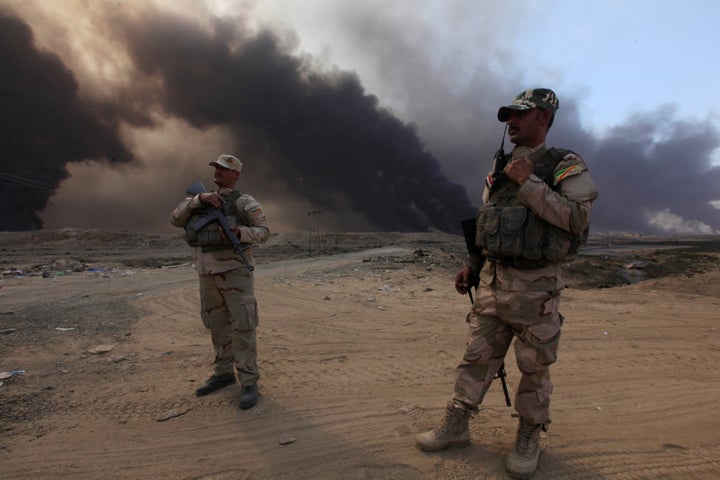 The push to take back Mosul from ISIS militants is the biggest military operation against the group since it seized large parts of Syria and Iraq in 2014. Tens of thousands of Iraqi government forces, Kurdish fighters, Sunni tribesmen, Shiite militias and other groups are working in concert to drive ISIS out of the last remaining major city it holds in Iraq.
Kurdish and Iraqi forces have met with heavy resistance as ISIS deploys numerous suicide bombers and litters villages with IEDs to slow their advance. The prospect of ISIS using chemical weapons adds another dangerous dimension to the battle, and shows how far the militant group is willing to go to maintain its grip on the city.
But although ISIS chemical attacks have killed civilians in Syria and Iraq, experts say the group may not be capable of killing a large number of people using chemical weapons. Many victims of ISIS chemical attacks are children and infants, who are less able to cope with the toxicity.
The psychological impact is one of the main reasons to use chemical weapons: Even if they only kill a few, they will terrify large numbers.Gregory Koblentz, Biodefense Graduate Program at George Mason University
On Wednesday, U.S. officials also downplayed ISIS's ability to produce chemical weapons. So far, the militant group has used sulfur mustard in its attacks, which is an agent banned under international conventions. Sulfur mustard causes skin to blister and can burn the respiratory tract if it's inhaled ― which can be fatal. But experts also point out that its effects are local, and ISIS would need hundreds to thousands of shells for a large-scale attack.  
Still, the group may find the use of chemical weapons valuable for other reasons ― for slowing down military operations against its fighters and as a means of psychological warfare, for example.
"Chemical weapons represent what is called a dreaded risk ― a risk that people instinctively react to with a high degree of fear and panic because it is invisible, insidious, and indiscriminate," said Gregory Koblentz, associate professor and director of the Biodefense Graduate Program at George Mason University.
"The psychological impact is one of the main reasons to use chemical weapons: Even if they only kill a few, they will terrify large numbers."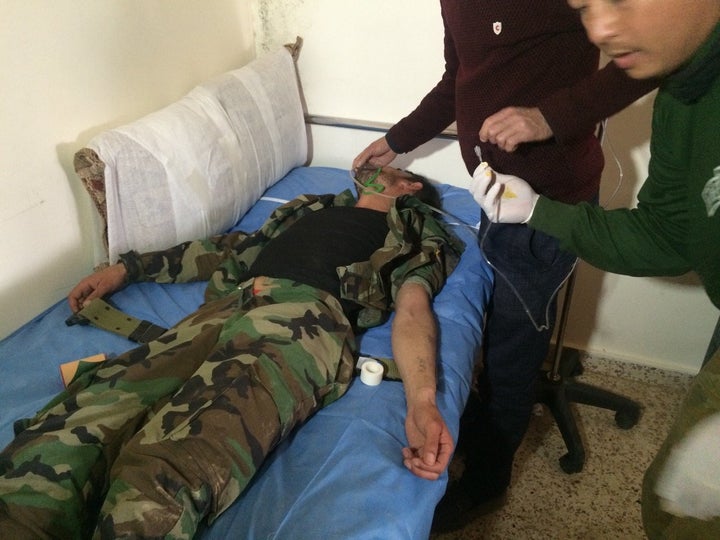 The threat of ISIS chemical weapons carries additional weight for Kurds, who were the victims of one of the most notorious gas attacks in history in 1988. As many as 5,000 Kurdish civilians died when Iraqi dictator Saddam Hussein dropped bombs containing sarin and mustard agent on the Iraqi town of Halabja.
Despite Iraq's history with deadly chemical weapons, many Iraqis do not know how to respond in the event of an attack, says Dr. Majed Mohammed, a virology and molecular cell biologist at Duhok University.
"Iraq is always unstable," he laments. "Everyone has weapons. It's important to learn about chemical weapons and how how to detect and protect, especially those who live on the border with [ISIS-controlled areas]."
Mohammed and his wife, Dr. Mauida Hasoon, an aquatic virology researcher, are trying to promote awareness and eventually, set up a chemical and biological weapons research program in Iraq. But, like many researchers and academics in the cash-strapped country, they lack the necessary funding.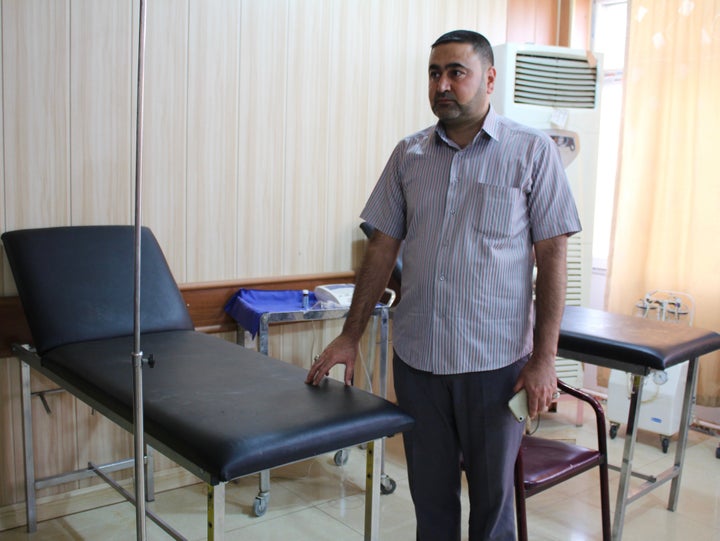 After the attack on their town, some Taza residents waited hours before seeking help, as their symptoms slowly worsened. Nurses from Taza's eight-bed clinic say women are now giving birth to babies with birth defects. Many people who came in direct contact with the chemical agent still suffer from non-life-threatening symptoms like skin ailments. But worst of all, they say, is the psychological toll the chemical weapons had on the town.
"When I itch, I think about it, said Mohammed Khalil Askar, a 37-year-old local fireman suffering from skin rashes since the attack. "I can't sleep."
He says neighbors and friends are obsessing over maladies, blaming everything on the attack.
"They'll pay a ton of money to get tests done to make sure it's not because of the chemical weapons," he said. "It's haunting them." 
Zaynep weeps when she speaks of Fatima's death, saying her family is "broken." She was pregnant during the attack, and her day-old baby boy now sleeps peacefully next to her. So far, she says, he's healthy.
But she's consumed with guilt. She stood helplessly by as her daughter slowly died at the hospital.
"I'm thinking about it everyday," she said, tears rolling down her cheeks. "I cannot forget my daughter."
Sophia Jones and Kamiran Sadoun reported from Taza. Nick Robins-Early reported from New York.