BEIJING — These are not the Chinese athletes you've seen on TV, those scarily synchronized divers or the gymnasts plucked from preschools for their bone structure. The Ultimate Frisbee players running and diving all over these fields are too scrappy, too goofy and having way too much fun.
Ultimate Frisbee (often called just Ultimate as "Frisbee" is a trademarked brand) is growing in China, and 17 teams gathered here in Beijing for the national championship in late May.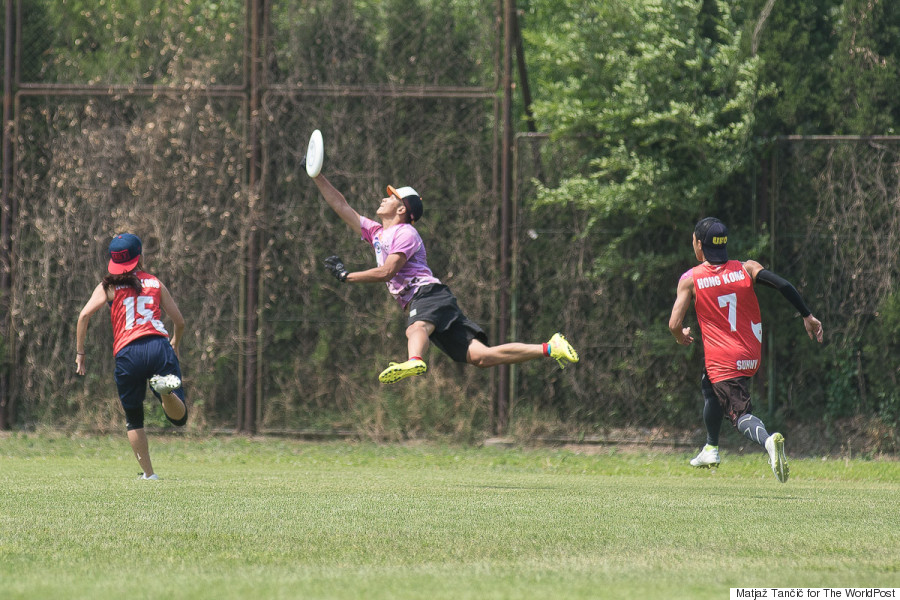 Ivan Xu makes a diving grab in the semifinals of the 2015 China Ultimate championships.
The sport's hippie-go-lucky slice of American culture has also migrated to China, and tournaments offer some grassroots cultural diplomacy. Many Chinese players have their first meaningful interactions with foreigners on the field — and at the after party. It's an intoxicating gulp of fresh air for young people coming out of the stultifying Chinese education system.
The game resembles a mix of soccer and American football — you score points by catching the flying disc in the end zone — but without the tackling or stoppages in play. Competitions in China are self-officiated, with players resolving foul calls on the field.
The weekend Ultimate tournaments are 48-hour marathons of sweat, beer and social bonding. The co-ed teams cram onto overnight trains and converge on the host city. Games last all day Saturday, culminating in a dinner banquet and costume party. Sunday sees more games, a finals match-up and an awards ceremony.
The May contest served to crown the Chinese champion of Ultimate for 2015. Teams came from 13 provinces. Squads include graduates of local sports colleges, Chinese returning from university in the U.S., and Uyghur players from Xinjiang province. Many teams also feature foreigners, although the weekend's rules limited the number of non-Chinese players on the field at any time. A team of graduates from the Tianjin University of Sport was a consistent favorite, but they faced a veteran Hong Kong squad as well as last year's champion, Wuhan C.U.G.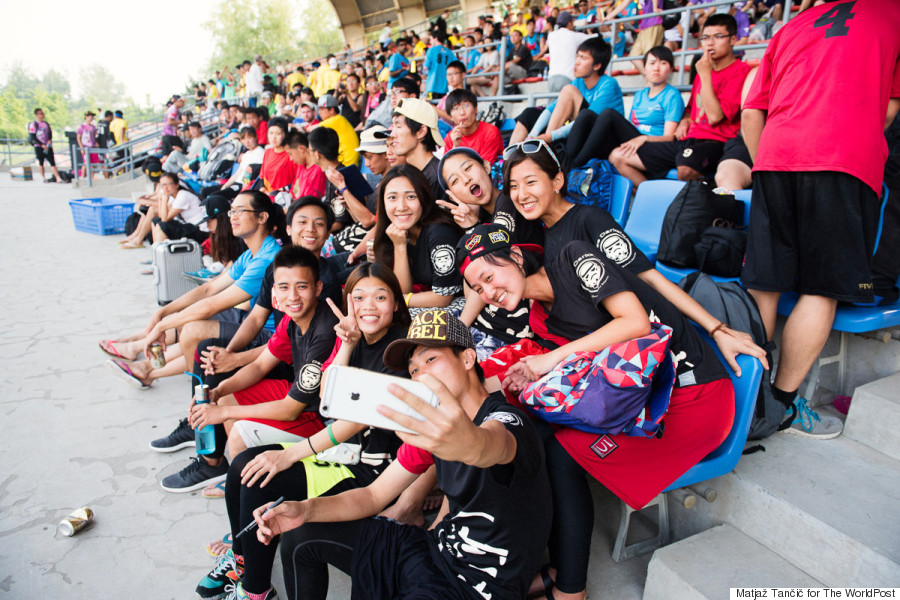 Players take a selfie during the finals.
Tournaments like this give the players a taste of what's often lacking in the lives of Chinese youth — sports, dumb decisions and a chance to get weird.
If you're a Chinese teenager with ambitions beyond a factory job, your high school life revolves around one event: the country's college entrance exam, or gaokao (pronounced "gow-cow"). The test is sometimes likened to the SAT, but in reality there is no comparison. The gaokao is an all-consuming black hole at the end of high school.
The two-day test is given once a year, and a person's score is the sole criterion for most college admissions. High school seniors often study more than 12 hours a day, six to seven days a week. Some schools have hooked students up to IV drips during cram sessions and installed so-called suicide nets at dorms.
In the minds of many Chinese parents, the gaokao determines a child's future. Succeed and you go to a top university, securing a place among China's rising middle class (as well as a comfortable retirement for your parents). Fail and you'll be working construction or other jobs serving the new elite.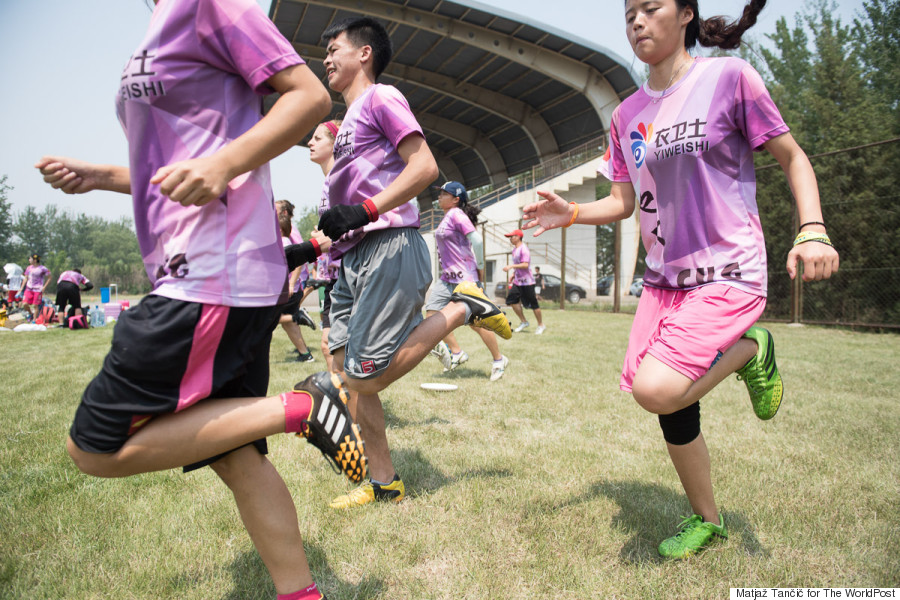 Wuhan C.U.G. warms up for a semifinals match against Hong Kong. Chinese Ultimate is almost always played co-ed.
But that obsession with job security and status no longer sits well with 29-year-old Ivan Xu.
"F—k the job," said Xu. "Just be good at what you love, become the best possible at it, and then you'll be fine with the jobs and income."
Words like that strike terror in the hearts of conservative Chinese parents. They might even have shocked Xu himself a decade ago. That was before he fell in love with Ultimate, founded the first team at his school, became one of the best players in the country, and started a bike journey around the world.
Growing up in a small city in central China, Xu was a short, shy kid. He stood just 4'10" when he started high school, and he was bullied for his size and poor grades. His parents run a dumpling restaurant. Xu threw himself into test prep for the last years of high school.
"I just studied, only studied," Xu told The WorldPost. "I come from kind of a hard background — my parents are not rich. If I don't study well, they don't have any means to support me. … I don't have another choice."
Xu's cousins working in the factories of southern China serve as a constant reminder of the way life's path can be changed by a test score. For him, the hard work paid off. At the end of his senior year, Xu tested into a top-ranked university in the provincial capital of Wuhan.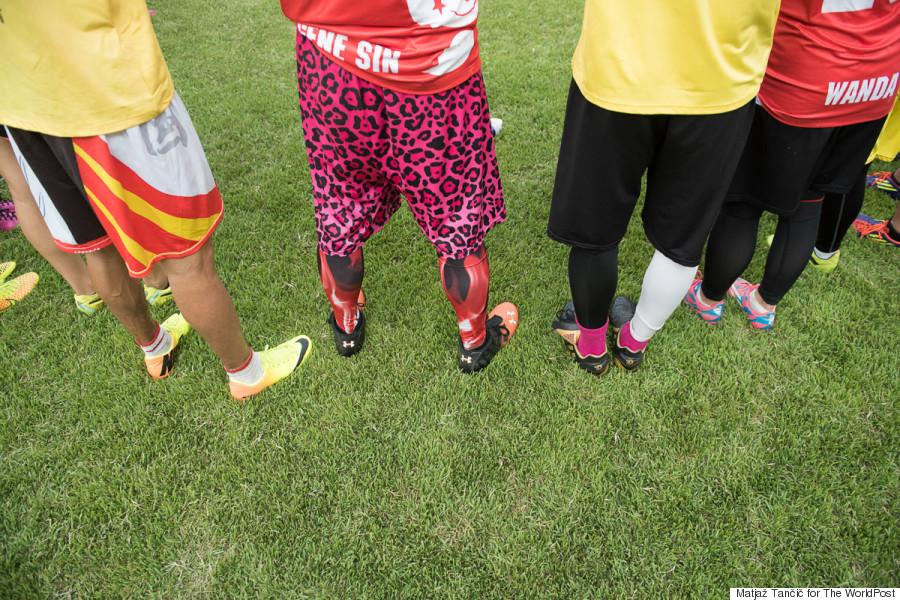 Chinese college life is much less pressure-packed than high school. But after years of intensive test prep, many students lack hobbies or the habits of socializing. They end up sleepwalking through a bachelor's degree on a diet of instant noodles and computer games. If they're lucky, something — a romance, a sport, a trip abroad — shakes them out of their post-gaokao stupor.
Xu first encountered Ultimate in 2006 during his junior year of college. An English teacher from the U.S. schooled him in the basics, and at the end of the year the pair traveled to a tournament in Shanghai. For Xu, the weekend's antics were eye-opening.
"It was crazy and something I hadn't seen before," Xu said. "These people seemed happy."
Xu returned to the China University of Geosciences his senior year on a mission to spread the gospel of Ultimate. He started by converting a room of freshmen across the hall and anyone else whom he could grab ("I made all my friends play"). Together they founded a team: Wuhan C.U.G.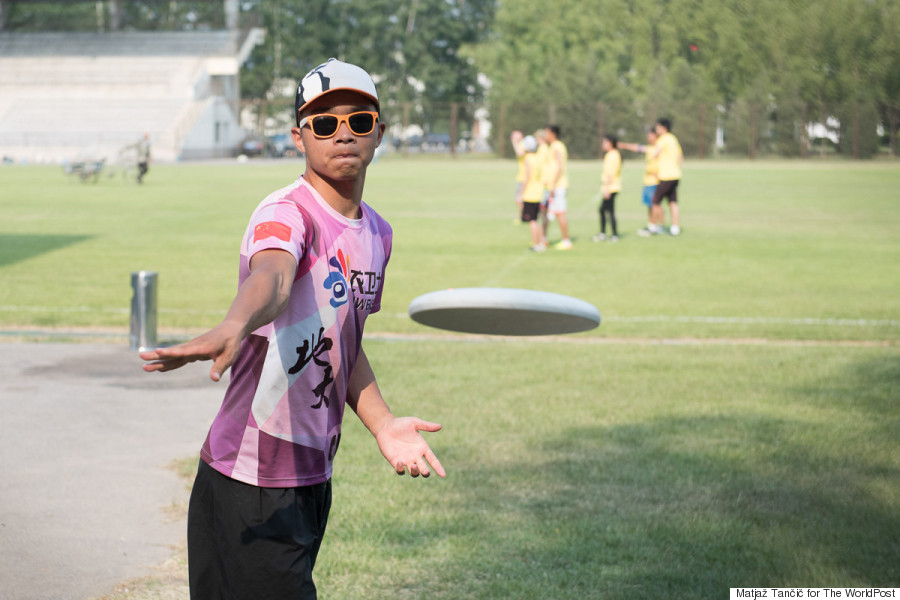 Ivan Xu is on a mission to cross the world on foot and bike, promoting Ultimate along the way.
After graduating, Xu moved to southwest China, where he started a local pick-up game and worked a series of jobs. But his mind was never at the office.
"All I thought about was Frisbee so my boss didn't like me," said Xu.
He spent almost all of his earnings traveling to tournaments around the country. Chinese people associate suntanned skin with manual laborers and farmers, one reason why young men and women play so few outdoor sports. When Xu returned to his hometown with a tan, he'd make sure to come in at night so as not to lose face for his parents.
His travels eventually went international, taking him to tournaments in the Philippines and then Prague. A chance meeting with a Russian model at the Prague airport inspired Xu to study Russian. In Belarus for three years, he developed a working grasp of Russian and got the idea for his next project: biking and walking across every continent, promoting Ultimate along the way.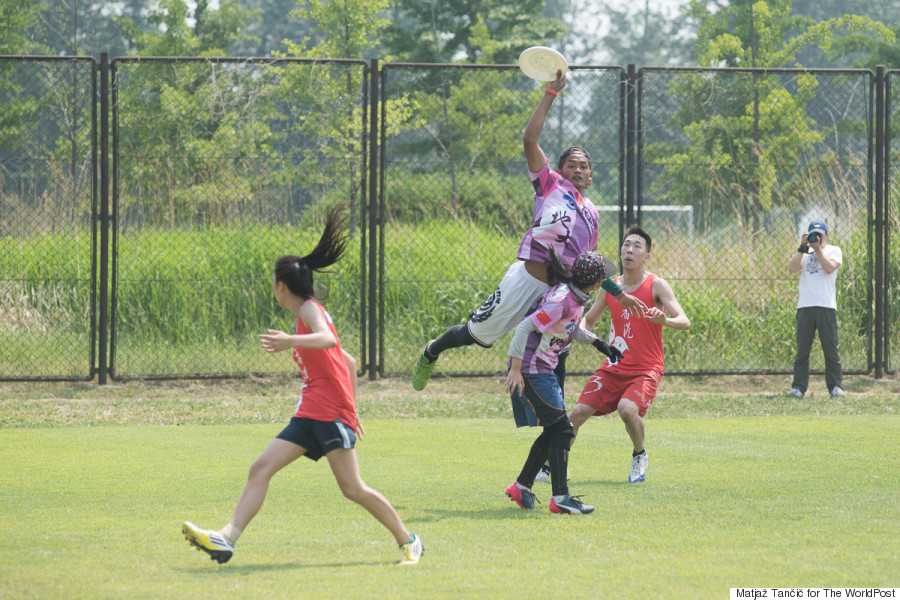 Last year Xu traveled around 14 European countries by bike and won a Latvian Ultimate championship along the way. Those exploits earned him a corporate sponsorship that is funding his current 1,000-mile journey across China. Along the way he puts on clinics and speaks at universities, hoping to shake students out of their obsession with job security. A U.S. trip is planned for this fall, followed by South America and India.
But on this May weekend, the goal is to repeat Wuhan C.U.G.'s championship run from last year. Xu has supplemented a core of C.U.G. alums with players from around China and a Cambodian all-star he met there on a trip to donate Ultimate discs. (This author also played with C.U.G. during the tournament.)
Saturday went as planned for the squad: C.U.G. won all four games, including a nail-biter against a Beijing team. After each game, the two teams cheered for each other and huddled together for a pep talk.
"Today we're opponents, but next time we might be teammates. Let's go, Chinese Ultimate!"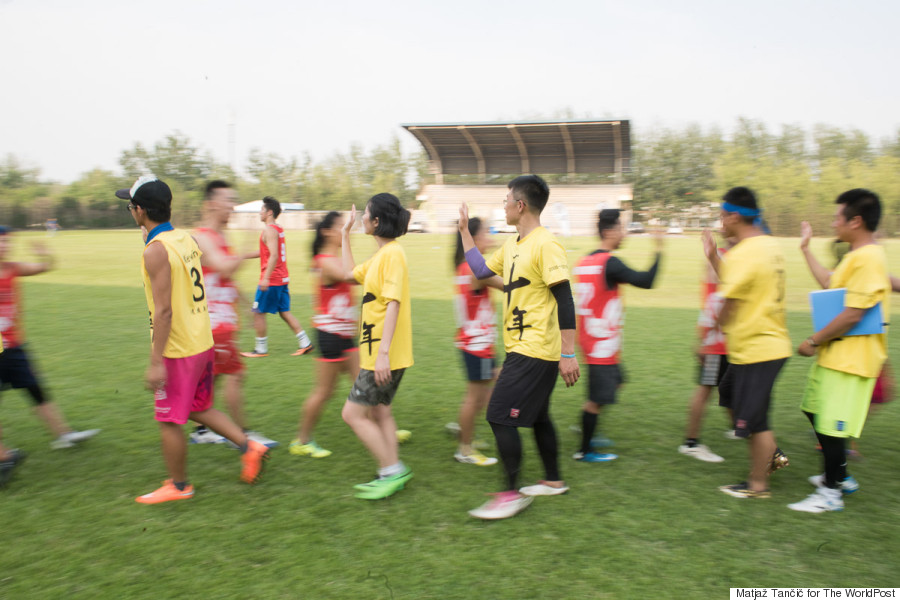 Sunday morning saw players trudging to the fields while nursing sore legs and hangovers from Saturday night chug-offs. As the championship bracket took shape, players on eliminated teams climbed into the bleachers to heckle their friends.
In the semifinals, C.U.G. faced the veteran Hong Kong team. Xu started the game off with fireworks, diving and snagging a long throw as it faded over his shoulder. But that grab proved to be the peak for C.U.G. An ankle injury sidelined Xu for part of the game, and the rest of the squad struggled to break through Hong Kong's suffocating zone defense. Hong Kong won the game, earning a match-up against the Tianjin University of Sport grads in the finals.
With the grandstands filling up with players-turned-fans, organizers handed out the beer. The Tianjin team plays a fast-and-loose style ripe for highlight reels. Their athleticism proved too much for Hong Kong's defense, and Tianjin took home the title.
As the victorious athletes drank out of the trophy cup, other players hugged it out and promised they'd see each other at the next tournament. The sun hit the tree line, and everyone loaded onto the tournament bus and then the trains and planes carrying them home.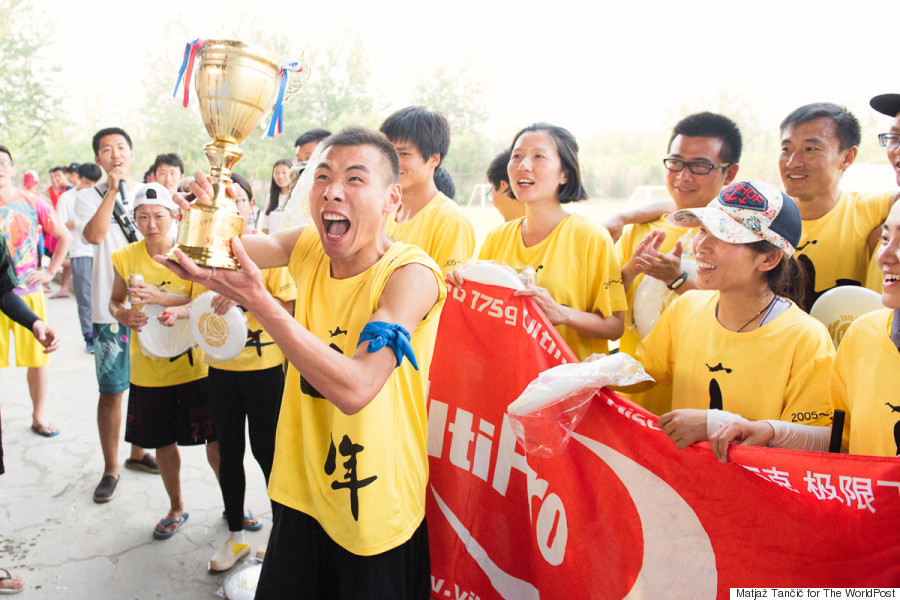 Liang Zhuang of the Tianjin team, called "10 Years," celebrates the team's championship win.