SHENZHEN, China — Hong Kong's pro-democracy demonstrators have captured the imagination of people around the world with their disciplined displays of determination and hope in the face of tear gas and gang violence. But in the neighboring Chinese city of Shenzhen, on the mainland, attitudes toward the protests range from ignorance that they're even occurring to bafflement at why Hong Kongers would endanger the material comforts that undemocratic politics has granted them.
"I don't want it to succeed, and it won't succeed," said Fan Guixin, an unemployed laborer and trash collector in Shenzhen. "What do people want? They want to live in a bigger house and have a higher quality of life … What does it matter to me who the emperor is?"
Fan came to Shenzhen 21 years ago from his native Jiangxi province, and he makes his living doing odd jobs and collecting recyclable cardboard. At 48, he has the muscular body of a man 25 years his junior, which he credits to a lifetime of hard labor. He says depending on luck, he can earn the equivalent of anywhere from $10 to $50 a day, which he said is considerably more than he has made in years past. Sitting amongst fellow recyclers at a trash collection site, Fan dismissed the protesters' demands as remote from his daily life in Shenzhen.
"I want what you want: drink a beer and have a hamburger, eat a couple of sausages," Fan said. "Ordinary people don't get involved in politics."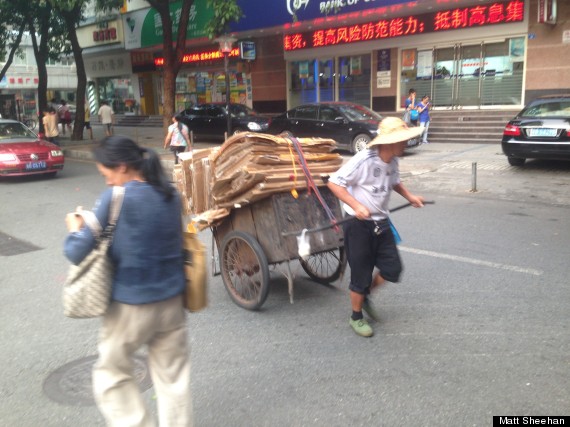 Income levels in mainland China remain just one-fifth of those in Hong Kong, and many Shenzhen residents dismiss politics as distant from their daily grind.
Mainland China is a fertile breeding ground for political apathy, in part because the country's one-party system effectively bars outside participation and in part because real-world economic pressures put a squeeze on more abstract desires. According to the World Bank, average income in China remains around $7,000 — roughly equivalent to where Hong Kong was 30 years ago.
But even China's modest income levels represent tremendous gains over years past, and few Chinese are eager to risk disrupting that economic trend with political turmoil. Decades of rising income levels have helped to establish a burgeoning middle class and shifted attention toward consumerism's creature comforts.
So while democracy protesters in Hong Kong turned up at the local National Day ceremony to protest Beijing's control over aspects of local elections, residents of Shenzhen celebrated the birth of the communist state by swarming local shopping malls in pursuit of holiday deals. Hong Kong remains a top tourist destination during the celebrations, with mainland shoppers taking advantage of lower import taxes to pick up everything from iPhones to infant milk powder. Many shoppers interviewed hadn't heard anything about the protests, and many of those who did know about them derided the protesters as idle dreamers.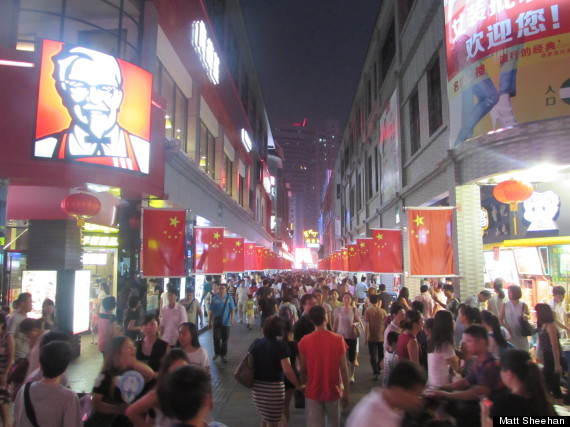 Shenzhen residents celebrate the birthday of the People's Republic by hitting up one of the city's main shopping centers.
Chen Yujun, a 24-year-old recent graduate from central Hubei province, dismissed the ongoing protests while shopping at a Hong Kong Apple Store.
"I watch TV here, and I'm thinking, 'What's wrong with these people? What are they thinking?'" said Chen. His parents run several corner stores in his hometown, and he lamented the effect of such economic disruptions on local businesses.
"All I have to say is that those kids are too naïve. It's so easy to get them all riled up," Chen continued. "They don't need to raise a family, but I'm worried about how these businesses are going to do in the future."
Hong Kongers themselves remain starkly divided on the protests, with many of the fractures following generational divides: Demonstrators are overwhelmingly young, while many of the older Hong Kong residents who lived through the city's economic transformation oppose the occupation of city streets.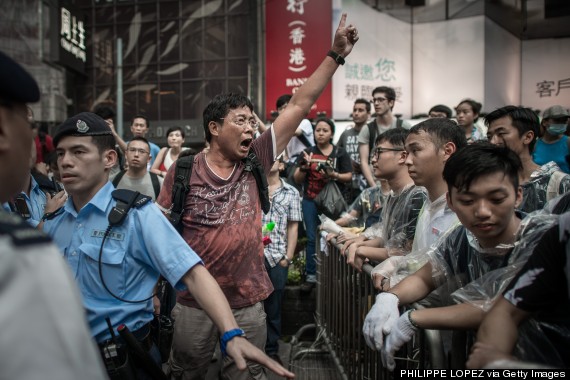 Many older Hong Kongers oppose the protests as an intrusion into their daily lives and disruption of the local economy.
But even young people in Shenzhen tend to look on the demonstrations with skepticism. In mainland China, the only socially acceptable form of political participation is to join the Chinese Communist Party, which many young Chinese do because it makes for a strong bullet point on a resume.
To Chinese youth who came of age in an era of breakneck economic growth orchestrated by the one-party system, serious opposition to the government is seen as a dead-end, both socially and professionally. And in the context of hyper-competitive job and marriage markets, political concerns remain almost entirely absent from the daily lives of most young people.
Asked about the activities of Hong Kong's young activists, many Shenzhen residents summed up their take with a Chinese idiom: "They've got full stomachs and nothing much to do."
That dismissive rhetoric stems from both the economic gaps among neighboring cities and an information divide. Whereas Hong Kongers have been bombarded with footage of idealistic students braving tear gas and pepper spray, the Chinese government has heavily censored any images of the events, and mainland media has limited coverage to editorials condemning the "chaos" in Hong Kong.
Sirius Lee, a student demonstrator in Hong Kong, says the differences in media exposure have even manifested in his own family.
"I've got mainland relatives, and they all call my mom saying that we students are being manipulated by foreign governments," said Lee. "I'm not hurt by it. I think they don't get enough information to make a good judgment about the issue. It's quite a pity."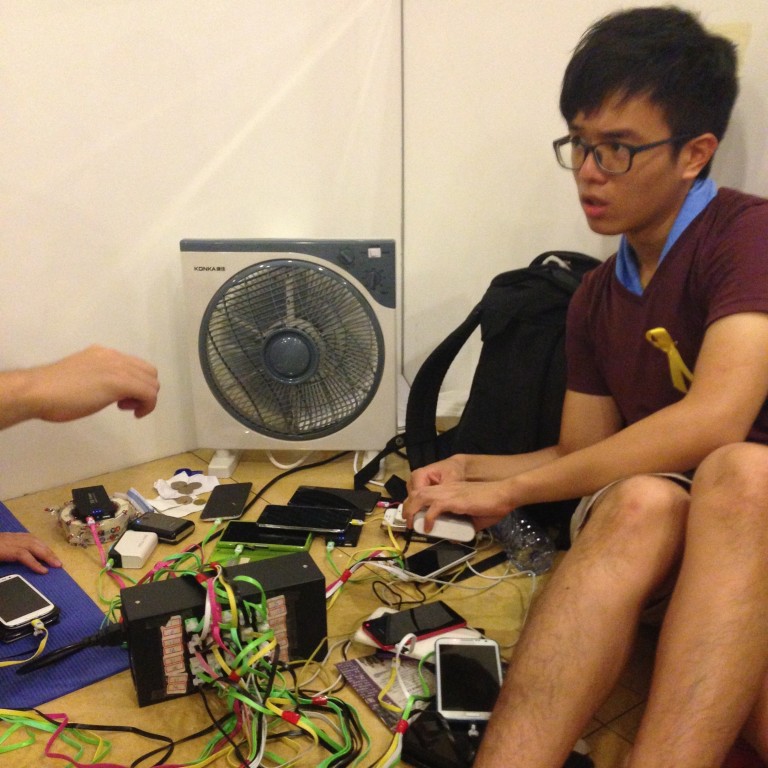 Hong Kong student Sirius Lee operates a cell phone charging station at one protest site. He and his friends pooled their money to buy the equipment from Alibaba's e-commerce site, Taobao.
Information barriers remain formidable, but with immense tourist traffic between Shenzhen and Hong Kong, more unfiltered images are making it to the mainland.
Wang Jianchu studies IT at a university in Shenzhen, and he and several friends were eating at a McDonald's near the border with Hong Kong when they first learned of the student protests after seeing pictures of the crowds on their cell phones. Wang was most impressed by the way Hong Kong youth had taken the initiative in organizing events.
"When we are in high school, other than sleeping you're pretty much always in class or doing homework," Wang lamented. "These kids are out organizing major protests, but when we're 15, all we can do is watch TV or stare at our computers."
Jill Mao contributed reporting from Hong Kong.
CORRECTION: An earlier version of this story said that Hong Kongers have been granted material comforts from "authoritarian politics." Hong Kong's politics are better described as "undemocratic."