HONG KONG — Tensions in Hong Kong erupted into violent conflict on Friday as residents attempted to forcibly dislodge pro-democracy demonstrators from the streets that they have held all week. On Friday evening, the Hong Kong Federation of Students, one of the main organizers of the protests, postponed a planned dialogue with city officials, arguing that police had failed to protect students from violence.
Marvest Chan, 24, was among the students sent running from streets he had occupied in the Mong Kok neighborhood. Demonstrators report that around 2 p.m. several hundred people opposed to the pro-democracy group descended on their encampment, destroying tents, pelting them with full water bottles and threatening the students.
"When I was hit by the bottle, the police didn't stop them or even give them a warning," Chan said. The men opposing the demonstrations "were telling the girls that if they stay here they should be prepared to be sexually harassed," he said.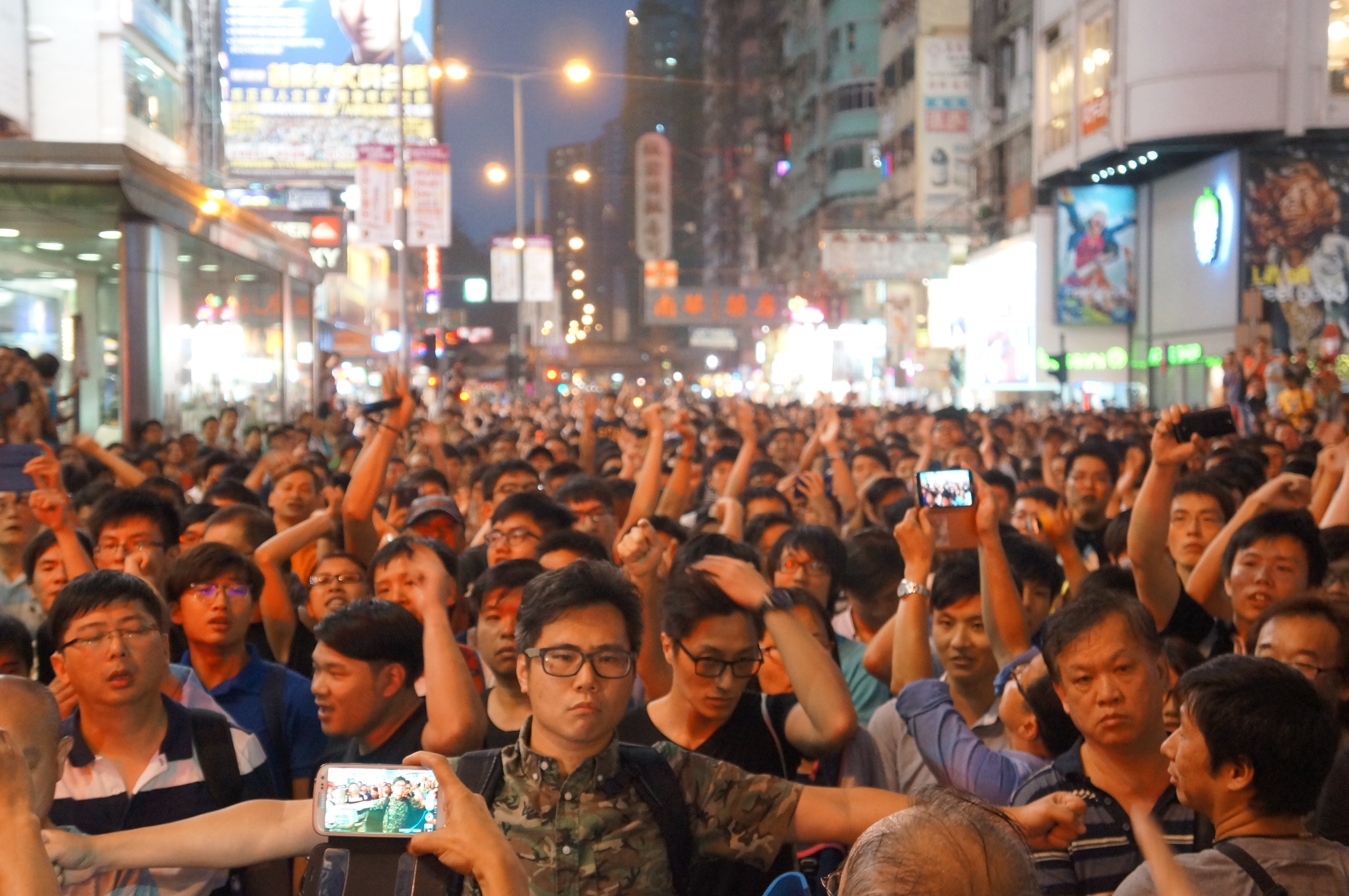 Occupy demonstrators hold their line in Mong Kok during a face-off with anti-occupy forces that had earlier driven them from the area. (Matt Sheehan)
Student-led demonstrations are demanding an end to mainland China's role in approving candidates in local Hong Kong elections, with tens of thousands of dedicated participants peacefully occupying roads and sleeping on concrete throughout several main swaths of the city.
But today at a main shopping drag in occupied Causeway Bay, verbal arguments turned physical, with one man using the handle of an umbrella to strike another man's face, sullying the very symbol of peaceful resistance that demonstrators have adopted. With similar scenes unfolding at several locations in the city, demonstrators blamed the violence on paid instigators who they claim were sent to disrupt the largely peaceful protests. Students have pledged to avoid violence in confrontations.
As night fell on Friday, massive crowds on both sides faced off in the Mong Kok neighborhood, with police struggling to maintain order near the divide between the two camps. Student demonstrators jeered their opponents, chanting "You're off work!" in reference to rumors that anti-occupy individuals were being paid for their presence.
But sentiments against the pro-democracy demonstrators also appeared to emerge organically among some city residents who have found their lives interrupted by young students demanding electoral reforms.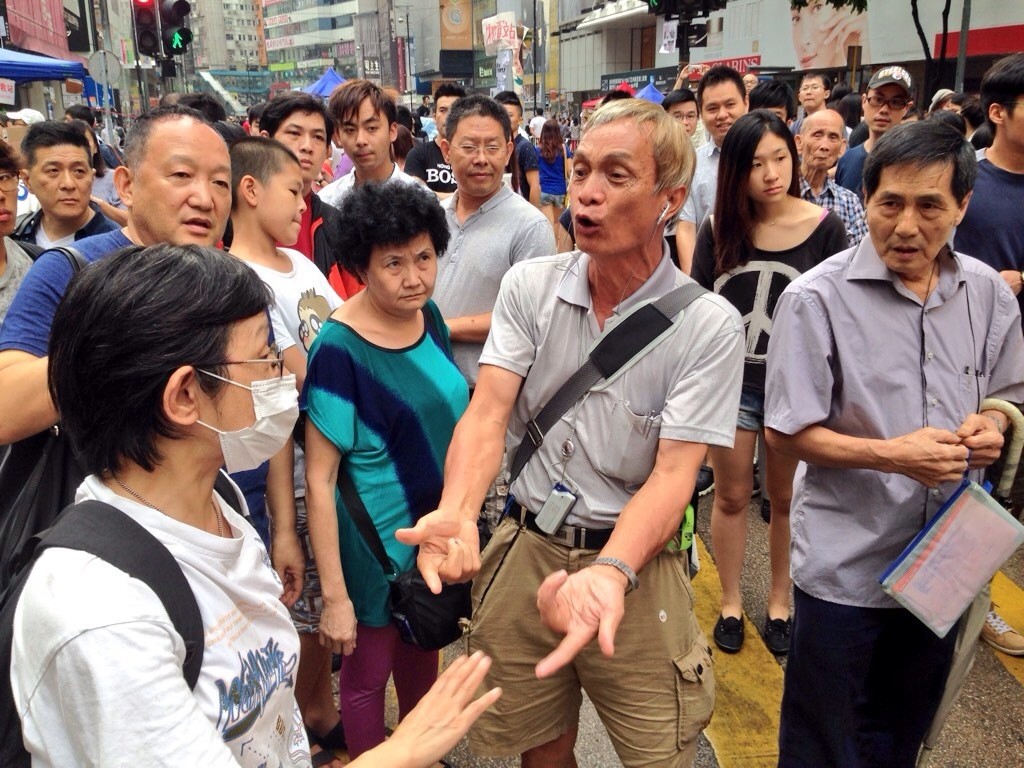 Hong Kong residents engaged in fierce debates over the occupy protests that have brought sections of the city to a standstill in pursuit of democratic electoral reforms. (Matt Sheehan)
Chan Chiu, a resident of the North Point neighborhood who says his family has lived in Hong Kong for 200 years, told The WorldPost that the demonstrations were putting a heavy strain on his mother. On Wednesday, Chan needed to bring her to the hospital for a check-up, but with trams and buses stopped and traffic blocked, they had to take the subway with multiple transfers.
"She's 86 years old and she walks slowly," Chan lamented. "They have their ideals but we have our lives. They shouldn't interrupt our lives with their ideals."
But many locals stood by the young demonstrators who have largely maintained strict discipline and non-violent tactics throughout the week.
"There should be people speaking out because those students are the most precious," said Joey Chan, a 40-year-old Hong Kong resident. "If nobody speaks out what's the difference between Hong Kong and the mainland? If you accept everything they give you then Hong Kong and the mainland are just the same."
Protests have centered on the demand that Hong Kong residents be allowed to choose their own candidates for 2017 city elections. Hong Kong was returned to China from British colonial occupation in 1997 under a plan known as "one country, two systems," which allows Hong Kong to keep its protections on individual freedom while working toward the goal of universal suffrage. This summer, Beijing ruled that all candidates for the elections must be supported by a committee, which demonstrators claim will essentially rule out participation by pro-democratic candidates.
City officials had agreed to meet with the Hong Kong Federation of Students, but with that dialogue postponed in response to the day's violence, the road ahead for Hong Kong's historic protests remains murky.
Jill Mao contributed reporting.
This story has been updated to note that the meeting between the Hong Kong Federation of Students and the government appears to have been postponed, instead of canceled as earlier reports indicated.