The 2015 film "Behemoth" opens with a mining explosion and closes with a ghost city. The 84 minutes in between are a wordless exploration of what connects the two — the environmental tragedy that has mirrored China's economic miracle. Shot over several years in the Chinese provinces of Inner Mongolia and Shaanxi, "Behemoth" bears witness to grasslands swallowed by mines, lungs caked with coal dust and skies shrouded in smog.
The movie is the latest attempt by the acclaimed filmmaker Zhao Liang to walk the line between art house cinema and didactic documentary, between the visually lush and the politically potent.
"All artists will express things about society in their work, but the most important is still the work of art itself," Zhao told The WorldPost. "I'm not that kind of news-focused artist. I prefer to use the language of art to create something."
"Behemoth" contains no dialogue. The only semblance of narrative derives from subtitled lines from the "Divine Comedy," the 14th-century Italian poem considered one of the great works of Western literature. The poem depicts its author, Dante Alighieri, being guided through hell, purgatory and heaven by the Roman poet Virgil and Dante's beloved Beatrice.
Zhao read the "Divine Comedy" while shooting "Behemoth," and decided to incorporate the poem into his otherwise wordless film, tweaking the language where necessary. Instead of hell, purgatory and heaven, Zhao's camera plunges through pitch-black mines, hellfire iron furnaces and a gleaming ghost city. Where Dante followed a Roman poet, the movie's point of view follows a nameless miner, face smeared with coal dust, as he goes about his workaday life. There is also a naked man whose face we never see, though we follow his gaze as he regards strip mines, skyscrapers and other features of the new China.
Balancing cinematic artistry and social impact is something Zhao has been doing for two decades. He first rose to international prominence for gritty documentaries that examined the dark underbelly of the Chinese state: police abuse of suspects and the plight of ordinary citizens who appeal local grievances to the central government, only to be beaten and arrested.
Those films garnered praise abroad, but never received theatrical release in China because of their politically sensitive content. Zhao's work finally saw domestic acceptance — and some controversy with fellow artists — when he worked with the government's Ministry of Health for a film on discrimination against people with HIV and AIDS.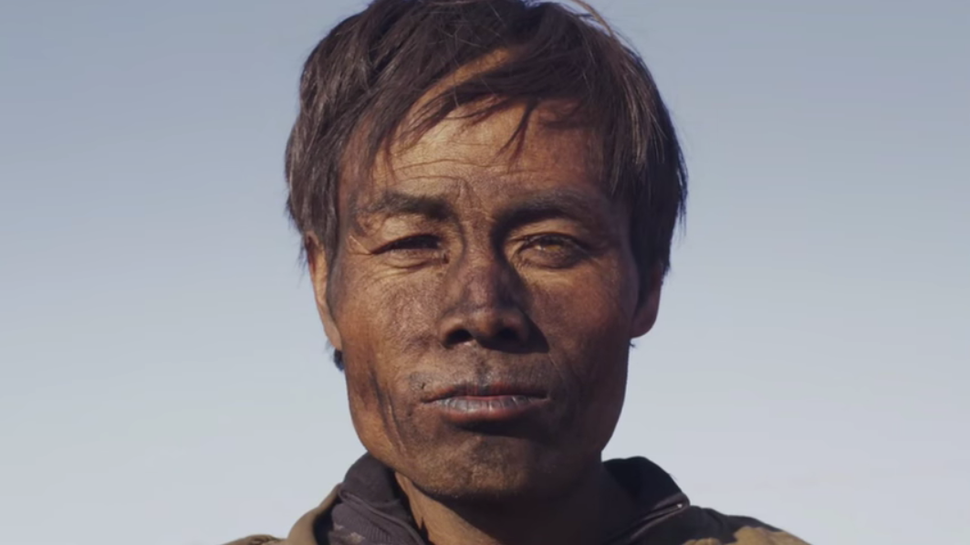 In filming "Behemoth," Zhao once again worked outside the government approval system. After over a year driving around China in search of subject matter, Zhao settled on the mining industry in China's northern province of Inner Mongolia. Knowing that if he truthfully described his project he wouldn't get access to the mines or approval from censors, he was forced to use half-truths and outright lies in explaining what he was doing. At times he'd pretend he was a painter shooting material he could later work off of. Other times, he purported to be a director from state-owned TV sent to make an uplifting documentary about China's working class.
Despite the socially charged bent of Zhao's material, he chose to take on environmental devastation through visual expression alone. He described the film's non-narrative structure, and its use of the "Divine Comedy," as an attempt to break out of traditional documentary tropes. That move toward a more stylized approach was also driven by a frustration with the limited reach of independent documentaries in China.
Zhao says that after making the film, he attempted to gain approval for "Behemoth" to be released in China, but his efforts were blocked. The film will instead be screened at various film festivals (it has already appeared at several, beginning with the Venice International Film Festival in September), as well as on some television broadcasts in Europe.
"When you put [an independent film] out there, what are the odds that it can actually change society? I've shot several films, but think about it — what effect have they had?" Zhao said. "It's a disappointment, a real disappointment. So I've gone back to just expressing myself. That's the stuff I like."
While the "Divine Comedy" provides a scaffolding for Zhao's story, the real power of "Behemoth" lies in its patient visuals. In one scene, the dust from passing coal trucks repeatedly obscures a frame that once held a white village home.
"I had always wanted to film this kind of shot: The dust rises and falls, rises and falls," Zhao told The WorldPost. "I think this kind of cycle is a really beautiful thing, just like breathing."
In the final act, Zhao takes viewers to Ordos, a city of pristine new buildings that has sprung up from the Inner Mongolian desert in recent years. Built on the back of a local coal boom, Ordos stands largely empty today, a ghost city without a soul in sight. In Zhao's telling, Ordos is a false paradise — a cardboard heaven for which Chinese people have sacrificed their land and their bodies.
Walking down Ordos' empty streets, the camera follows a man carrying a mirror on his back. Zhao has taken over an hour to conjure righteous indignation against "the monster" embodied by these mines, but here he turns that back on the audience, whose own consumer desires drive the industrial beast. 
"This isn't a dream," he said. "This is us. We are that monster and its minions."