Credits
Nathan Gardels is the editor-in-chief of Noema Magazine.
In March 1946, Winston Churchill famously declared that an "iron curtain" had descended across the European continent, casting a decades-long chill between East and West known as the Cold War. A new chill is in the air once again as China and Russia seek to draw a new "digital curtain" across the world in a joint effort to thwart the Western web from penetrating their cultural space.
If the arrival in Moscow last week of China's Internet czar, Lu Wei, to advise his Russian counterpart on how to erect a "firewall" against the West is any indication, a new "Cominternet" for the 21st century seems to be in the works — analogous to the so-called "Communist International," or "Comintern," which linked communist parties around the world from Moscow to Beijing during the Stalin era.
Writing from Moscow, Andrei Soldatov sees the Russia-China cybersecurity forum that convened last week as marking a shift in Vladimir Putin's censorship strategy from "intimidation" to "technology" that fortifies net sovereignty against Western-dominated Internet companies and content. "Splinternet" author Scott Malcomson explains how Russia and China are cooperating to dismantle America's dominance of the Internet.
As these infographics surprisingly show, the U.S. is actually spending less on security aid to its Asian allies than before President Obama announced his "pivot to Asia" in 2010. See here how the Chinese military is using a slick, rap-style music video to attract new recruits. Looking at the lives of the growing community of immigrants in China, Eric Olander and Cobus van Staden explore what it is like to be black in China.
History is also being revisited in Turkey where the secular foundations of the republic established by Kemal Mustafa Ataturk in 1923 are once again open to question. Some leading legislators of the ruling Islamist party of President Recep Tayyip Erdogan want to enshrine Turkey as a religious instead of secular state in the new constitution under consideration. Writing from Istanbul, novelist Kaya Genc describes how "secularism" means so many things to so many people in Turkey precisely because it allowed a robust civil society to flourish. Fréderike Geerdink scores what she says has all along been "non-secular secularism" in Turkey that favors conservative Islamic values. WorldPost Middle East Correspondent Sophia Jones reports from Istanbul on how the resignation this week of Prime Minister Ahmet Davutoglu figures in the battle over a new constitution that would most likely invest ultimate authority in the presidential office under Erdogan. Next door in Iran, Negar Mortazavi explains how the moderate allies of President Hassan Rouhani have taken the upper hand from hard-liners in the most recent parliamentary elections.
As World Reporter Nick Robins-Early writes, global public opinion is reeling at the realization that an unabashed demagogue like Donald Trump could become not only the nominee of one of America's two main political parties, but also perhaps even win the presidency. To mark its fifth anniversary in the midst of America's craziest electoral season in memory, the Berggruen Institute this week honored Gov. Jerry Brown for his intelligent governance of California. "By imposing restraint on water use, greenhouse gas emissions and the budget," I said at the event in Los Angeles in my capacity as a co-founder of the institute, "Governor Brown has done the hardest — but most essential — thing in democratic political life: He has looked beyond the short-term horizon of immediate constituency pressures and the next election cycle to make tough decisions for the long-term good of the state." The governor was presented (see photo at the end of roundup) with a model of the no-frills blue Plymouth that was the official car of his first term and came to symbolize his trademark frugality.
Contrasting populist American politics with competent meritocratic governance in Singapore, Mark Chou argues that, "The best political leaders and the most stable political systems aren't necessarily produced through 'one person, one vote.'" Writing from Manila, Richard Javad Heydarian says the Philippines has reached a crossroads in next week's elections: a return to the cycle of "strongman" rule over a feudal economy, or the true advance and maturation of democratic institutions. It is the angry and impatient electorate that will decide. Diego Iraheta, editor-in-chief of HuffPost Brazil, details from Sao Paulo the latest twist — the removal of a powerful legislator from office — in the corruption and impeachment scandal that has engulfed the South American nation.
Writing from Mexico City, poet and ecologist Homero Aridjis exposes the newest threat to the monarch butterfly refuge in Central Mexico — a planned mining operation looking for copper, zinc, lead, silver and gold. Also on Mexico, the International Crisis Group's Mary Speck evaluates President Enrique Peña Nieto's pledge to address the "incredulity and distrust" that has arisen over the investigation into the 43 missing students.
After a series of tragic attacks from all sides in the Syrian civil war, Joanne Liu of Médecins Sans Frontières appeals to the United Nations to protect hospitals in the war zone. European parliamentarian and former Belgian Prime Minister Guy Verhofstadt is appalled at the inaction over Syria and the resulting refugee crisis. "Never before has a continent with so much invested in the stability of its surrounding regions, been so reluctant to project its power and defend its interests," he writes.
In this photoblog, we look at the deepening crisis of the Rohingya Muslim minority as Myanmar advances toward democracy. We also profile a photographer who is making it his mission to document faces around the world. Finally, our Singularity series this week envisions a time when satellites will be manufactured in space instead of boosted from the Earth.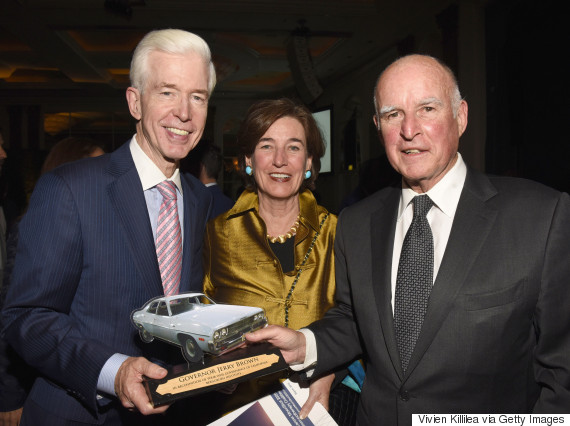 Former Gov. Gray Davis and Gov. Jerry Brown attend the Berggruen Institute 5 Year Anniversary Celebration on May 3, 2016 in Los Angeles. (Vivien Killilea/Getty Images for Berggruen Institute)
WHO WE ARE

EDITORS: Nathan Gardels, Co-Founder and Executive Advisor to the Berggruen Institute, is the Editor-in-Chief of The WorldPost. Kathleen Miles is the Executive Editor of The WorldPost. Farah Mohamed is the Managing Editor of The WorldPost. Alex Gardels and Peter Mellgard are the Associate Editors of The WorldPost. Katie Nelson is the National Editor at the Huffington Post, overseeing The WorldPost and HuffPost's editorial coverage. Eline Gordts is HuffPost's Senior World Editor. Charlotte Alfred and Nick Robins-Early are World Reporters. Rowaida Abdelaziz is Social Media Editor.

CORRESPONDENTS: Sophia Jones in Istanbul

EDITORIAL BOARD: Nicolas Berggruen, Nathan Gardels, Arianna Huffington, Eric Schmidt (Google Inc.), Pierre Omidyar (First Look Media) Juan Luis Cebrian (El Pais/PRISA), Walter Isaacson (Aspen Institute/TIME-CNN), John Elkann (Corriere della Sera, La Stampa), Wadah Khanfar (Al Jazeera), Dileep Padgaonkar (Times of India) and Yoichi Funabashi (Asahi Shimbun).

VICE PRESIDENT OF OPERATIONS: Dawn Nakagawa.

CONTRIBUTING EDITORS: Moises Naim (former editor of Foreign Policy), Nayan Chanda (Yale/Global; Far Eastern Economic Review) and Katherine Keating (One-On-One). Sergio Munoz Bata and Parag Khanna are Contributing Editors-At-Large.

The Asia Society and its ChinaFile, edited by Orville Schell, is our primary partner on Asia coverage. Eric X. Li and the Chunqiu Institute/Fudan University in Shanghai and Guancha.cn also provide first person voices from China. We also draw on the content of China Digital Times. Seung-yoon Lee is The WorldPost link in South Korea.

Jared Cohen of Google Ideas provides regular commentary from young thinkers, leaders and activists around the globe. Bruce Mau provides regular columns from MassiveChangeNetwork.com on the "whole mind" way of thinking. Patrick Soon-Shiong is Contributing Editor for Health and Medicine.

ADVISORY COUNCIL: Members of the Berggruen Institute's 21st Century Council and Council for the Future of Europe serve as the Advisory Council — as well as regular contributors — to the site. These include, Jacques Attali, Shaukat Aziz, Gordon Brown, Fernando Henrique Cardoso, Juan Luis Cebrian, Jack Dorsey, Mohamed El-Erian, Francis Fukuyama, Felipe Gonzalez, John Gray, Reid Hoffman, Fred Hu, Mo Ibrahim, Alexei Kudrin, Pascal Lamy, Kishore Mahbubani, Alain Minc, Dambisa Moyo, Laura Tyson, Elon Musk, Pierre Omidyar, Raghuram Rajan, Nouriel Roubini, Nicolas Sarkozy, Eric Schmidt, Gerhard Schroeder, Peter Schwartz, Amartya Sen, Jeff Skoll, Michael Spence, Joe Stiglitz, Larry Summers, Wu Jianmin, George Yeo, Fareed Zakaria, Ernesto Zedillo, Ahmed Zewail, and Zheng Bijian.

From the Europe group, these include: Marek Belka, Tony Blair, Jacques Delors, Niall Ferguson, Anthony Giddens, Otmar Issing, Mario Monti, Robert Mundell, Peter Sutherland and Guy Verhofstadt.
MISSION STATEMENT
The WorldPost is a global media bridge that seeks to connect the world and connect the dots. Gathering together top editors and first person contributors from all corners of the planet, we aspire to be the one publication where the whole world meets.
We not only deliver breaking news from the best sources with original reportage on the ground and user-generated content; we bring the best minds and most authoritative as well as fresh and new voices together to make sense of events from a global perspective looking around, not a national perspective looking out.