Credits
Nathan Gardels is the editor-in-chief of Noema Magazine.
"Present at the Creation" was the title Dean Acheson, the famed American secretary of state from 1949-1953, gave to his memoir, which recounts the vision and construction of the post-World War II institutions of global order such as the International Monetary Fund, the World Bank, the trade-opening precursor to the World Trade Organization, and NATO that followed on the heels of the United Nations. In that same era, French diplomat Robert Schuman, considered "the father of Europe," planted the seeds of European integration that have grown for the last several decades into a club of 28 countries with a population of 500 million. Both efforts, aimed at extinguishing the nationalism and protectionism seen as the root cause of world war, fostered the era of globalization now coming to an end. Brexit, like the Trump campaign in the U.S. and the rise of the anti-European Union right on the European continent, marks an historic turn of the tide. Today, we are present at the unraveling of those grand institutions that have outlived their capacity to deliver inclusively and lost the allegiance of their publics.
"Brexit is another demonstration," Craig Calhoun, director of the London School of Economics, writes, "that the big global institutions built in the wake of World War II are no longer able to maintain global order." Popular anger targeted distant and seemingly unaccountable cosmopolitan elites in charge of those institutions for failing to address pressing concerns over immigration and economic dislocation that are part and parcel of interdependence. "Brexit is a rejection of 'Cool Britannia,' the 1990s branding of a cosmopolitan, creative and united Britain as a part of a happy vision of globalization," Calhoun cuttingly quips.
The global order now waning has been the springboard for China's dramatic rise in recent decades. Writing from Beijing, He Yafei worries now that Brexit is only "the first wave of deglobalization" that will "rebalance in the domestic and EU-wide political landscape in favor of those anti-globalization and anti-EU forces." He might add the U.S. as well where Donald Trump this week lashed out at China and trade deals as the cause of America's woes.
The great historical question is what comes next — a return to nationalism or a leap forward toward responsive new institutions with the capacity and competence to forge a deeper, more inclusive integration that can actually solve the problems at hand? Perpetual suspension in the purgatory between these historic options only fuels highly polarized discontent.
Former German Foreign Minister Joschka Fischer puts his finger squarely on the key contradiction behind chaos in Europe: for all the populist anger against "Brussels," the reality is that nation-states still run the show — not least his own country whose insistence on protracted austerity policies in financially troubled southern Europe has destabilized politics there. "The EU institutions are blamed for all kinds of problems: globalization, immigration, welfare cuts and Thatcherism, youth unemployment, lack of democracy, and much more," he writes from Berlin. "In fact, by preventing the EU from addressing these issues, the national governments — helpless to tackle them effectively on their own — have made these problems worse." Also writing from Germany, Green activist Sven Giegold emphasizes Fischer's point. "Like the amputations practiced in medieval medicine," he says, "Brexit is not a cure. In the face of global challenges, European nation-states cannot secure self-determination and stability on their own. Cooperation with the European Union would make nation-states less vulnerable."
Writing from the dispassionate distance of New Delhi, Dhruva Jaishankar views Brexit as "the first major casualty of digital democracy." "Social media, rather than creating connections with people who possess differing points of view and ideologies," he observes, "tends to reinforce prejudice." Rather than being a force for consensus, the widespread use of social media during the Brexit debate spread misinformation and myths, feeding "polarization and gridlock." Writing from Paris, philosopher Bernard-Henri Lévy, too, sees Brexit as a victory "not of democracy[,] but of demagogy."
This week's horrific suicide attack at Atatürk Airport in Istanbul is yet another indication of how post-World War II institutions have outlived their purpose in the face of new realities. NATO, the defense alliance rooted in the Cold War that ties together Turkey with European states that have also recently been subject to terrorism, is a complete mismatch with the security challenges confronting these countries today. Writing from Istanbul, Behlül Özkan sees the main target of the so-called Islamic State as Turkey's secular democracy because it is the opposite of its idea of a caliphate. Turkish novelist Kaya Genc relates the enveloping mood after the series of recent attacks. "Istanbul as a bridge of cultures belonged to the noughties: the 2010s is the decade of ruptures."
WorldPost Middle East Correspondent Sophia Jones reports personal stories from on the ground in Istanbul about how local residents are reaching out to help the victims and follows the investigation by authorities into Islamic State suspects from post-Soviet states. Dean Obeidallah is upset that the American media does not give the same attention to terror attacks in Muslim-majority places like Istanbul as it does to similar attacks in Paris or Brussels.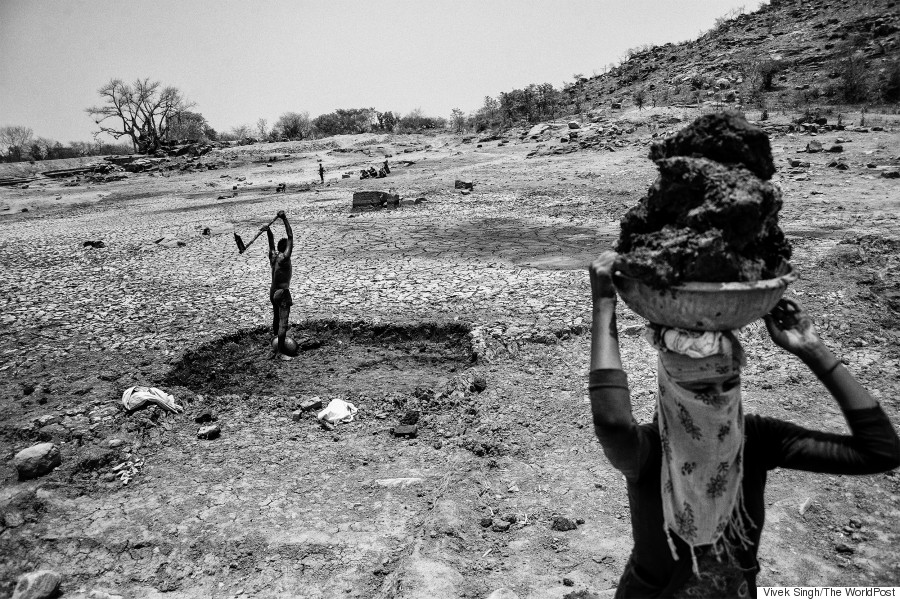 Digging for water in India's devastating drought. © Vivek Singh
While headlines from London and Istanbul grip the global attention, a drought in India affecting a staggering 330 million barely registers. Reporting exclusively for The WorldPost from Bundelkhand, a vast rural landscape in north-central India, photojournalist Vivek Singh chronicles the life and death struggle for drops of water in striking black and white images that convey the desperation leading to farmer suicide and mass migration in the country. "As the crisis deepens," Singh says, "the country that celebrated the 1960s agricultural revolution and a resulting boom in production of food grains is now seeing its farmers dying in debt and despair."
In our continuing series on Africa and China presented by Eric Olander and Cobus van Staden, a Nigerian living in Guangzhou asks, "why are Chinese people so racist towards black people?" The two also look at how Chinese ivory smugglers in Namibia are affecting that southern African nation's efforts to curb the illegal trade.
In a thoughtful riposte to a recent interview with "Sapiens" author Yuval Harari in The WorldPost, neuroscientist Antonio Damasio explains why we creative humans can't accept an algorithmic account of human life based only in intellectual processes. "The history of human cultures," he writes, "is in good part a narrative of our resistance to native algorithms by means of inventions not predicted by those algorithms." No algorithm could have designed the cultivated beauty of these Japanese gardens and landscapes captured by the sensitive aesthetic of photographer Hidenobu Suzuki. Finally, our Singularity series this week profiles a robot that can wash your dishes.
WHO WE ARE

EDITORS: Nathan Gardels, Co-Founder and Executive Advisor to the Berggruen Institute, is the Editor-in-Chief of The WorldPost. Kathleen Miles is the Executive Editor of The WorldPost. Farah Mohamed is the Managing Editor of The WorldPost. Alex Gardels and Peter Mellgard are the Associate Editors of The WorldPost. Suzanne Gaber is the Editorial Assistant of The WorldPost. Katie Nelson is the National Editor at the Huffington Post, overseeing The WorldPost and HuffPost's editorial coverage. Charlotte Alfred and Nick Robins-Early are World Reporters. Rowaida Abdelaziz is Social Media Editor.

CORRESPONDENTS: Sophia Jones in Istanbul

EDITORIAL BOARD: Nicolas Berggruen, Nathan Gardels, Arianna Huffington, Eric Schmidt (Google Inc.), Pierre Omidyar (First Look Media) Juan Luis Cebrian (El Pais/PRISA), Walter Isaacson (Aspen Institute/TIME-CNN), John Elkann (Corriere della Sera, La Stampa), Wadah Khanfar (Al Jazeera), Dileep Padgaonkar (Times of India) and Yoichi Funabashi (Asahi Shimbun).

VICE PRESIDENT OF OPERATIONS: Dawn Nakagawa.

CONTRIBUTING EDITORS: Moises Naim (former editor of Foreign Policy), Nayan Chanda (Yale/Global; Far Eastern Economic Review) and Katherine Keating (One-On-One). Sergio Munoz Bata and Parag Khanna are Contributing Editors-At-Large.

The Asia Society and its ChinaFile, edited by Orville Schell, is our primary partner on Asia coverage. Eric X. Li and the Chunqiu Institute/Fudan University in Shanghai and Guancha.cn also provide first person voices from China. We also draw on the content of China Digital Times. Seung-yoon Lee is The WorldPost link in South Korea.

Jared Cohen of Google Ideas provides regular commentary from young thinkers, leaders and activists around the globe. Bruce Mau provides regular columns from MassiveChangeNetwork.com on the "whole mind" way of thinking. Patrick Soon-Shiong is Contributing Editor for Health and Medicine.

ADVISORY COUNCIL: Members of the Berggruen Institute's 21st Century Council and Council for the Future of Europe serve as the Advisory Council — as well as regular contributors — to the site. These include, Jacques Attali, Shaukat Aziz, Gordon Brown, Fernando Henrique Cardoso, Juan Luis Cebrian, Jack Dorsey, Mohamed El-Erian, Francis Fukuyama, Felipe Gonzalez, John Gray, Reid Hoffman, Fred Hu, Mo Ibrahim, Alexei Kudrin, Pascal Lamy, Kishore Mahbubani, Alain Minc, Dambisa Moyo, Laura Tyson, Elon Musk, Pierre Omidyar, Raghuram Rajan, Nouriel Roubini, Nicolas Sarkozy, Eric Schmidt, Gerhard Schroeder, Peter Schwartz, Amartya Sen, Jeff Skoll, Michael Spence, Joe Stiglitz, Larry Summers, Wu Jianmin, George Yeo, Fareed Zakaria, Ernesto Zedillo, Ahmed Zewail, and Zheng Bijian.

From the Europe group, these include: Marek Belka, Tony Blair, Jacques Delors, Niall Ferguson, Anthony Giddens, Otmar Issing, Mario Monti, Robert Mundell, Peter Sutherland and Guy Verhofstadt.
MISSION STATEMENT
The WorldPost is a global media bridge that seeks to connect the world and connect the dots. Gathering together top editors and first person contributors from all corners of the planet, we aspire to be the one publication where the whole world meets.
We not only deliver breaking news from the best sources with original reportage on the ground and user-generated content; we bring the best minds and most authoritative as well as fresh and new voices together to make sense of events from a global perspective looking around, not a national perspective looking out.