Credits
Nathan Gardels is the editor-in-chief of Noema Magazine.
The escalating and largely unforeseen risks of the digital age are challenging its utopian promise of a harmonious world connected through shared information. This week, ransomware attackers shut down computer systems in Ukraine and then spread globally ― their disruptive cyberweapons suspected of having originated with America's National Security Agency. The European Union's top antitrust regulator this week also slapped a record fine on Google, claiming that the search engine algorithm for its shopping service unfairly disadvantages competitors. And multiple investigations into and reports of Russia's digital influence meddling in the United States presidential election are ongoing. 
The e-savvy former president of Estonia, Toomas Hendrik Ilves, worries that the integrity of democracy itself is threatened by the proliferating onslaught of hacks and the spread of fake news on social media, including by automated social media bots. Unless the big tech platforms tackle these concerns head-on and effectively, says Ilves, governments will be forced to intervene. "We could legislate social media as monopolies or utilities in need of regulation ― just as we did a century ago with railroads, power companies and water companies," he writes. "It is clear, however, that for Facebook or Twitter merely to say 'we are just a platform' will not sway governments and parliaments that fear further disruption, either by foreign governments or one's own homegrown political players."
Ari Ratner wonders if analog democracies are up to the task. "The old order is ineffective at managing the networked age and its challenges," he writes. For Ratner, governments should exploit "all the tools and capabilities of the 21st century" in order "to restore credibility and integrity to the democratic process [and] rebuild vibrancy and truth into the public square."
Natalia Viana describes what happens when truth standards in the public discourse are eroded by polarization, often exacerbated by social media. "It is impossible to find an impartial voice in Venezuela," she writes from Caracas, where questions about an incident with a helicopter this week further inflamed the ongoing crisis there. She cites one local data analyst as saying: "In Venezuela there is scarcity of milk, coffee, rice, but the scarcest [thing] is the truth. And, even more, objectivity. … When you are at the climax of polarization the truth is seen as a betrayal."
Is Macron Europe's Gorbachev?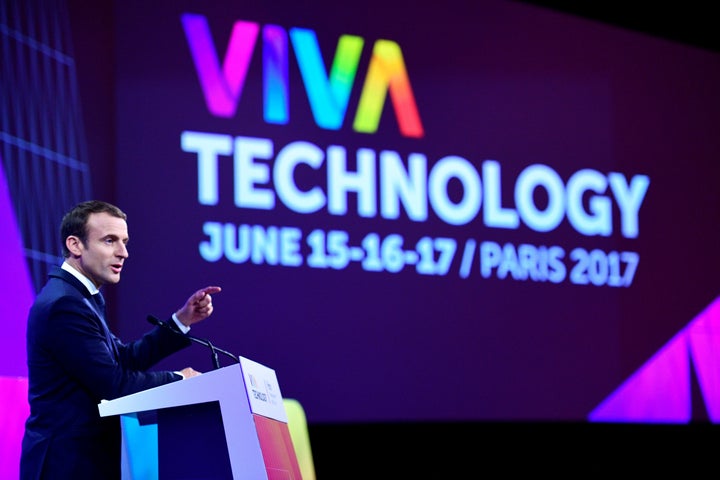 The other main topic we cover in The WorldPost this week is the emergence of a new guiding star on Europe's horizon, French President Emmanuel Macron. Nicolas Berggruen and I argue in a short essay that France's "startup president" is breathing new life "into the stagnating cause of European unity" by seeking to open his country's rigid economy while pushing for greater integration with the rest of Europe ― especially Germany. "The 39-year-old's chief aim," we write, "is to remove the roadblocks to dynamism that have left Europe behind the curve of innovation. His success in reforming France and bringing Europe closer together may be the best chance for the West to preserve its civilizational presence as America retreats from the world and China rises."
Dominique Moïsi, too, sees hope in Europe's shifting mood signaled by Macron's initiatives. "A new triangle of geopolitical emotion has emerged in Europe: Great Britain has ceased feeling superior to France, and France has stopped feeling inferior to Germany," he writes from Paris. "The question is whether this sentimental transformation will ultimately reorder the balance of power in Europe, and possibly the world." The problem, he continues, "contrary to what many critics have claimed, has not been 'too much Germany.' It has been 'too little France.' A 'French moment' can therefore mean a 'European moment,' if it means reconstituting an effective Franco-German alliance." For Macron, "more France" in the short term means the limited federation of a common budget and finance ministry for the eurozone, leading to deeper political unification down the road.
Not so fast, says Yanis Varoufakis, the former Greek finance minister. "The logical answer" to Europe's protracted crisis, he writes from Athens, "is either to dismantle the euro or to provide it with the federal state it needs." But because the cost of dismantling the euro is too high to even consider, he says, "wishful thinking" for a middle way out has been projected onto the new French president. "If Macron's people imagine a federation-lite as an entering wedge for full-blown political integration," Varoufakis warns out of bitter experience, German Chancellor Angela Merkel and German Finance Minister Wolfgang Schäuble "will politely but firmly reject the French overtures."
Though highly unlikely, he goes on, if "Germany gives federation-lite the go-ahead, any change to the functioning of the eurozone would, undoubtedly, devour large portions of the reformers' political capital. If it does not produce economic and social results that improve, rather than annul, the chances of a proper federation, as I suspect it will not, a political backlash could ensue, ending any prospect of a more substantial federation in the future. In that case, the euro's dismantling will become inevitable, will cost more and will leave Europe in even greater shambles."
To Nils Gilman, the incoming vice president for programs at the Berggruen Institute, this logic of unfolding events suggests an apt analogy: By pressing for fundamental changes along the very fault lines that have made European integration so dysfunctional and unpopular, Macron could well instigate the breakup of the European Union the way Gorbachev's perestroika precipitated the collapse of the Soviet Union.
Other highlights in The WorldPost this week:
WHO WE ARE  

 

EDITORS: Nathan Gardels, Co-Founder and Executive Advisor to the Berggruen Institute, is the Editor-in-Chief of The WorldPost. Kathleen Miles is the Executive Editor of The WorldPost. Farah Mohamed is the Managing Editor of The WorldPost. Alex Gardels and Peter Mellgard are the Associate Editors of The WorldPost. Suzanne Gaber is the Editorial Assistant of The WorldPost. Rosa O'Hara is the Social Editor of The WorldPost. Katie Nelson is News Director at HuffPost, overseeing The WorldPost and HuffPost's news coverage. Nick Robins-Early and Jesselyn Cook are World Reporters.

EDITORIAL BOARD: Nicolas Berggruen, Nathan Gardels, Arianna Huffington, Eric Schmidt (Google Inc.), Pierre Omidyar (First Look Media), Juan Luis Cebrian (El Pais/PRISA), Walter Isaacson (Aspen Institute/TIME-CNN), John Elkann (Corriere della Sera, La Stampa), Wadah Khanfar (Al Jazeera) and Yoichi Funabashi (Asahi Shimbun).

VICE PRESIDENT OF OPERATIONS: Dawn Nakagawa.

CONTRIBUTING EDITORS: Moises Naim (former editor of Foreign Policy), Nayan Chanda (Yale/Global; Far Eastern Economic Review) and Katherine Keating (One-On-One). Sergio Munoz Bata and Parag Khanna are Contributing Editors-At-Large.

The Asia Society and its ChinaFile, edited by Orville Schell, is our primary partner on Asia coverage. Eric X. Li and the Chunqiu Institute/Fudan University in Shanghai and Guancha.cn also provide first person voices from China. We also draw on the content of China Digital Times. Seung-yoon Lee is The WorldPost link in South Korea.

Jared Cohen of Google Ideas provides regular commentary from young thinkers, leaders and activists around the globe. Bruce Mau provides regular columns from MassiveChangeNetwork.com on the "whole mind" way of thinking. Patrick Soon-Shiong is Contributing Editor for Health and Medicine.

ADVISORY COUNCIL: Members of the Berggruen Institute's 21st Century Council and Council for the Future of Europe serve as theAdvisory Council — as well as regular contributors — to the site. These include, Jacques Attali, Shaukat Aziz, Gordon Brown, Fernando Henrique Cardoso, Juan Luis Cebrian, Jack Dorsey, Mohamed El-Erian, Francis Fukuyama, Felipe Gonzalez, John Gray, Reid Hoffman, Fred Hu, Mo Ibrahim, Alexei Kudrin, Pascal Lamy, Kishore Mahbubani, Alain Minc, Dambisa Moyo, Laura Tyson, Elon Musk, Pierre Omidyar, Raghuram Rajan, Nouriel Roubini, Nicolas Sarkozy, Eric Schmidt, Gerhard Schroeder, Peter Schwartz, Amartya Sen, Jeff Skoll, Michael Spence, Joe Stiglitz, Larry Summers, Wu Jianmin, George Yeo, Fareed Zakaria, Ernesto Zedillo, Ahmed Zewail and Zheng Bijian.

From the Europe group, these include: Marek Belka, Tony Blair, Jacques Delors, Niall Ferguson, Anthony Giddens, Otmar Issing, Mario Monti, Robert Mundell, Peter Sutherland and Guy Verhofstadt.
MISSION STATEMENT
The WorldPost is a global media bridge that seeks to connect the world and connect the dots. Gathering together top editors and first person contributors from all corners of the planet, we aspire to be the one publication where the whole world meets.
We not only deliver breaking news from the best sources with original reportage on the ground and user-generated content; we bring the best minds and most authoritative as well as fresh and new voices together to make sense of events from a global perspective looking around, not a national perspective looking out.