Credits
Nathan Gardels is the editor-in-chief of Noema Magazine.
The modern Olympics have become a global platform through which countries project their image to the rest of the world. They have become a prism that refracts geopolitical and geocultural realities and aspirations.
The most expensive Olympics ever, the 2014 Winter Games in Sochi, showcased Russia's revival as a strong state under the guidance of President Vladimir Putin after the humiliation of losing the Cold War. As Tokyo's new governor Yuriko Koike wrote last week in The WorldPost, she intends to use the 2020 games there to rebrand Japan as the leading edge of Asian modernization.
The 2016 Summer Olympics that kicked off last weekend in Rio de Janeiro, Brazil reflect the very rich culture of a weak state with a global outlook. The opening ceremonies highlighted the planetary theme of climate change mixed in with Brazil's trademark samba and a catwalk by its iconic model, Gisele Bundchen. Even as the country celebrated its first gold medal triumph of this year's games — by a 25-year-old woman athlete from one of Rio's most notorious favelas — the Brazilian Senate moved to indict the elected president, Dilma Rousseff, and proceed with an impeachment trial.
Amplifying the climate change theme, the mayor of Rio, Eduardo Paes, joins with the mayor of Paris, Anne Hidalgo, to make the case that leaders of the world's megacities have the "capacity as local leaders to influence the course of the planet."
As a global platform, the rest of the world also projects its issues onto the games. South and North Korean gymnasts, Ron Dicker reports, unleashed a viral peace meme by taking a selfie together. Dean Obeidallah writes about a top fencing competitor who is also an American Muslim. "Ibtihaj Muhammad," he says, "is more than simply an Olympic athlete. With each lunge and parry, Muhammad is cutting through stereotypes and misconceptions about Muslims."
Willa Frej notes that "photos from the Egypt-Germany women's beach volleyball game in Rio de Janeiro on Sunday paint a picture of two drastically different cultures ― one team wearing two-piece swimsuits and another revealing very little ― but attest to the way sports bring people together and promote acceptance."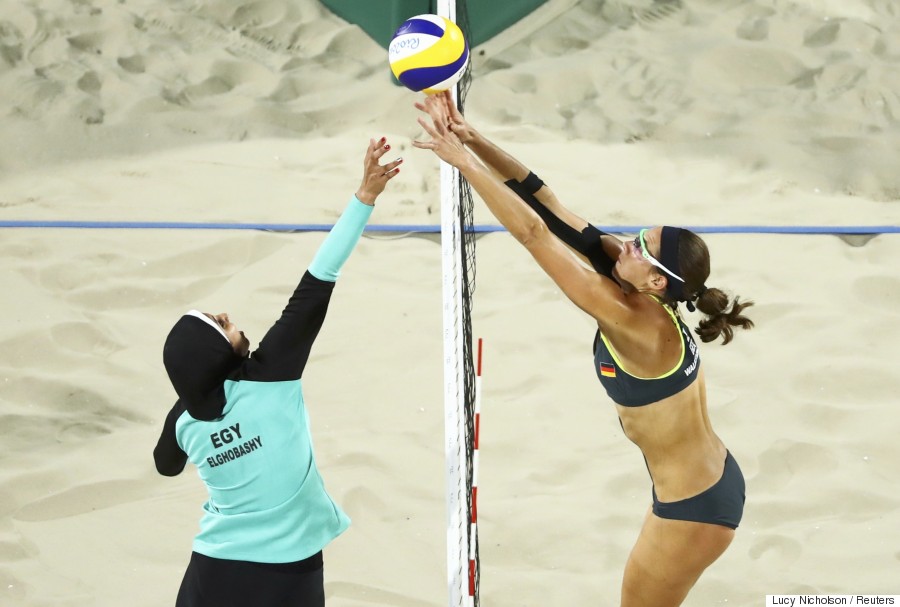 Doaa Elghobashy (EGY) of Egypt and Kira Walkenhorst (GER) of Germany compete. (REUTERS/Lucy Nicholson)
She also reports on the unusual participation this year of a team made up of refugees — "Team Refugees" and notes that, thanks to FilmAid, the Olympic games are being broadcast live in one of the world's largest refugee camps in Kakuma, Kenya, where some 200,000 people have fled, most from the violence in South Sudan.
This 360-degree video takes you to Rio without leaving home.
Behind all the hoopla, though, there are some disturbing realities. This photo essay shows the stark contrast of life in Rio outside the Olympics. "Circus Maximus" author Andrew Zimbalist worries that the substantial financial losses Brazil will suffer from hosting the Olympics will only worsen the country's dire fiscal crisis and dysfunctional public services. Looking back at the example of the Athens games 12 years ago, Joshua Ostroff similarly warns that taking on billions of dollars in debt will mean economic pain for Brazil and other future host nations in the years after the Olympics are over. He proposes rotating permanent sites as an alternative.
Elsewhere in Latin America, the Venezuelan crisis is on the brink of social explosion. Javier Corrales examines the latest discontent as lines to obtain staples grow longer and food riots erupt daily. "Polls reveal that even former supporters of the ruling party are intensely irritated with [President Nicolás] Maduro and blame him for their hunger," he writes. "Most want a recall referendum to remove the president. Food lines are both a symbol of the government's ineptitude and also the biggest trigger of political discontent."
Writing from Perth, Australia, Helen Clark reports on the controversy over yet another case of hacking. This time it is Vietnam suspecting Chinese hackers of breaking into airport flight information screens and posting "distorted information" about the claims of Vietnam and the Philippines in the South China Sea. Richard Javad Heydarian hopes former Philippine President Fidel Ramos, who has been appointed as a special envoy to China by the current president, Rodrigo Duterte, can untangle the complex dispute between the two countries in the South China Sea.
Yavuz Baydar, a co-founder of the independent media platform Punto24, scores pundits in Turkey as downplaying the "drift to autocracy" in the wake of the recent coup attempt and instead focusing their hostility on criticism of Turkish President Recep Tayyip Erdoğan in the Western media. Eric Olander and Cobus van Staden report that Gambian migrants are giving up on the dream sold to them by migrant brokers that they would find work and good pay in China. Now they are doing whatever they can to return home. Tom Cohen ponders what Plato might think of Facebook. "To live and think well is based upon self-discipline, consideration and cooperation," he writes. "None of these tenets are antithetical to social media, only unutilized. … People rarely come to new understandings based upon arguments read and shared over social media. They choose their micro-culture, their feed and they gorge intemperately from it."
Lest all the bad news suggest the world is going to hell in a handbasket, Harvard psychologist Steven Pinker argues in an interview that things have gotten a lot better over recent centuries. "A shift in the summum bonum, or the highest good, towards loose humanism, where life is better than death, education better than ignorance, health better than sickness," he says, "is what I believe we are seeing currently."
Finally, our Singularity series this week looks at love and artificial intelligence. "As thinking machines become more integrated into our lives," Raya Bidshahri writes, "we must expect a transformation in how we define what it means to be conscious; what it means to live and to die; and ultimately, what it means to love a non-human being."
WHO WE ARE

EDITORS: Nathan Gardels, Co-Founder and Executive Advisor to the Berggruen Institute, is the Editor-in-Chief of The WorldPost. Kathleen Miles is the Executive Editor of The WorldPost. Farah Mohamed is the Managing Editor of The WorldPost. Alex Gardels and Peter Mellgard are the Associate Editors of The WorldPost. Suzanne Gaber is the Editorial Assistant of The WorldPost. Katie Nelson is News Director at The Huffington Post, overseeing The WorldPost and HuffPost's news coverage. Nick Robins-Early is a World Reporter. Rowaida Abdelaziz is World Social Media Editor.

CORRESPONDENTS: Sophia Jones in Istanbul.

EDITORIAL BOARD: Nicolas Berggruen, Nathan Gardels, Arianna Huffington, Eric Schmidt (Google Inc.), Pierre Omidyar (First Look Media), Juan Luis Cebrian (El Pais/PRISA), Walter Isaacson (Aspen Institute/TIME-CNN), John Elkann (Corriere della Sera, La Stampa), Wadah Khanfar (Al Jazeera), Dileep Padgaonkar (Times of India) and Yoichi Funabashi (Asahi Shimbun).

VICE PRESIDENT OF OPERATIONS: Dawn Nakagawa.

CONTRIBUTING EDITORS: Moises Naim (former editor of Foreign Policy), Nayan Chanda (Yale/Global; Far Eastern Economic Review) and Katherine Keating (One-On-One). Sergio Munoz Bata and Parag Khanna are Contributing Editors-At-Large.

The Asia Society and its ChinaFile, edited by Orville Schell, is our primary partner on Asia coverage. Eric X. Li and the Chunqiu Institute/Fudan University in Shanghai and Guancha.cn also provide first person voices from China. We also draw on the content of China Digital Times. Seung-yoon Lee is The WorldPost link in South Korea.

Jared Cohen of Google Ideas provides regular commentary from young thinkers, leaders and activists around the globe. Bruce Mau provides regular columns from MassiveChangeNetwork.com on the "whole mind" way of thinking. Patrick Soon-Shiong is Contributing Editor for Health and Medicine.

ADVISORY COUNCIL: Members of the Berggruen Institute's 21st Century Council and Council for the Future of Europe serve as the Advisory Council — as well as regular contributors — to the site. These include, Jacques Attali, Shaukat Aziz, Gordon Brown, Fernando Henrique Cardoso, Juan Luis Cebrian, Jack Dorsey, Mohamed El-Erian, Francis Fukuyama, Felipe Gonzalez, John Gray, Reid Hoffman, Fred Hu, Mo Ibrahim, Alexei Kudrin, Pascal Lamy, Kishore Mahbubani, Alain Minc, Dambisa Moyo, Laura Tyson, Elon Musk, Pierre Omidyar, Raghuram Rajan, Nouriel Roubini, Nicolas Sarkozy, Eric Schmidt, Gerhard Schroeder, Peter Schwartz, Amartya Sen, Jeff Skoll, Michael Spence, Joe Stiglitz, Larry Summers, Wu Jianmin, George Yeo, Fareed Zakaria, Ernesto Zedillo, Ahmed Zewail and Zheng Bijian.

From the Europe group, these include: Marek Belka, Tony Blair, Jacques Delors, Niall Ferguson, Anthony Giddens, Otmar Issing, Mario Monti, Robert Mundell, Peter Sutherland and Guy Verhofstadt.
MISSION STATEMENT
The WorldPost is a global media bridge that seeks to connect the world and connect the dots. Gathering together top editors and first person contributors from all corners of the planet, we aspire to be the one publication where the whole world meets.
We not only deliver breaking news from the best sources with original reportage on the ground and user-generated content; we bring the best minds and most authoritative as well as fresh and new voices together to make sense of events from a global perspective looking around, not a national perspective looking out.