Credits
Nathan Gardels is the editor-in-chief of Noema Magazine.
When politics divides instead of unites, walls off instead of embraces, what, or who, can bind fractured societies? Spiritual authority and the arts step into the breach when political leaders fail.
Pope Francis has become, in effect, the planet's pastor and reconciler-in-chief, washing the feet of the poor and incarcerated, taking in refugees at the Vatican, meeting with Muslim clerics, venerating China's long civilizational heritage and declaring that climate change and inequality are moral issues. Above all, his humility challenges the example of power through the power of example, exhibiting a reverence for human dignity in all its diversity. 
The cellist Yo-Yo Ma is the pope's spiritual cousin in this cause, sounding the healing chord of fellowship instead of enmity. More than a musician, he, too, is a guiding spirit who rises to the challenge of a world unraveling. His Silk Road Project, started in 1998, brings "the music of strangers" — also the title of his just-released documentary — together to show the common humanity of diverse traditions from around the globe.
The film is about art for life's sake, as Yo-Yo Ma likes to say. It doesn't shy away from political turmoil — the Syrian civil war and refugee camps, the Iranian Revolution, China's Cultural Revolution — that turns the lives of musicians, like everyone else, upside down, but shows how the human spirit perseveres in the face of tribulation. As one of the musicians says in "The Music of Strangers," the Silk Road Ensemble reveals the possibility of a profound correspondence behind differences — and where there is possibility, there is hope.
There could be no more urgent message today than this. And no one puts it better than Yo-Yo Ma himself. "To be able to put oneself in another's shoes without prejudgment is an essential skill," he once told The WorldPost. "Empathy comes when you understand something deeply through arts and literature and can thus make unexpected connections. These parallels bring you closer to things that would otherwise seem far away. Empathy is the ultimate quality that acknowledges our identity as members of one human family." 
The historic rupture of the Brexit vote this week, in which the "leave" camp closely defeated the "remain" camp, typifies the split societies we see today across Europe as well as in the U.S. and elsewhere. WorldPost Fellow Jesselyn Cook outlines how immigration and the fear of losing control of borders is a core concern of British voters, a reminder that empathy is just a starting point that is only a meaningful value when matched with a realistic capacity to integrate newcomers. World Reporter Charlotte Alfred outlines what's next for the U.K. after Brexit.
Writing from Paris, Geoffroy Clavel describes how the French National Front sees the Brexit vote as proof that the European Union will, and should, "disintegrate." And, indeed, as Anne Sinclair also writes from Paris, the Brexit is likely only the first in a series of defections from the European Union. Writing from Germany, Konstantin Kuhle argues that the EU must immediately take steps to reassure voters on the continent, including moving toward direct election of the EU Commission president. Howard Fineman worries that the Brexit vote presages the victory of Trump populism in the United States. In a losing appeal to voters ahead of the referendum, Richard Branson, the Virgin entrepreneur who is in many ways the face of a globally-oriented Britain, warned that jobs and investment opportunities that depend on the link with Europe would be at risk if the U.K. left the EU.
Turning to another instance of political paralysis in another divided country, Guillermo Rodriguez reflects on the situation in Spain ahead of elections Sunday. "Spanish people are drained," he writes from Madrid. "It feels like Spain is the main character in the movie Groundhog Day: Everything starts fresh with each new round of elections."
Writing from Beirut, former MI6 agent Alastair Crooke sees all the hopeful agreements of recent months among Russia, the U.S. and Iran unwinding, particularly with respect to the Syrian cease-fire, which he now sees as having "failed." In a special series launched this week on female journalists in Afghanistan — "Sahar Speaks" — we profile 12 women and the challenges they've faced in that country's male-dominated culture. Writing from Bisada, Uttar Pradesh in India, Betwa Sharma chronicles the breakdown of decades of conviviality between Hindus and Muslims after a villager was lynched for allegedly slaughtering a cow.
Writing from Cape Town, South Africa, gay imam Muhsin Hendricks says that, after the Orlando massacre, it is time for Muslims to reassess their stance on sexual orientation: "The orthodox belief that homosexuality is a sin — based on the story of Sodom and Gomorrah — is what leads to the nuances of homophobia around the massacre in Orlando."
Writing from Vladivostok, Artyom Lukin and Rens Lee argue that Russia can play a key role alongside the U.S. and China in helping curb North Korea's nuclear program. A ruling is due soon from a tribunal under the aegis of the U.N. Convention on the Law of the Sea on a territorial dispute over islands between the Philippines and China. China's high profile ambassador to the United Kingdom, Liu Xiaoming, argues the court has no proper jurisdiction, the issue should be resolved bilaterally and that China has no intention of "ruling the waves." Writing from Manila, Richard Javad Heydarian calls the case before the tribunal the "trial of the century." "What is at stake here," he says, "is no less than protecting global commons under the auspices of international law. The alternative is the tragedy of great power politics and the rule of the jungle in high seas."
Tensions also mounted further in the South China Sea this week when the U.S. sent two aircraft carriers to patrol the zone between China and the Philippines. Just when it is most needed, the region has lost one of its leading voices for restraint and reconciliation. Wu Jianmin, among China's most prominent senior diplomats and a partner in the Berggruen Institute's "Understanding China" dialogues, was killed this week in a car accident near Wuhan, sparking a debate over the direction of China's foreign policy.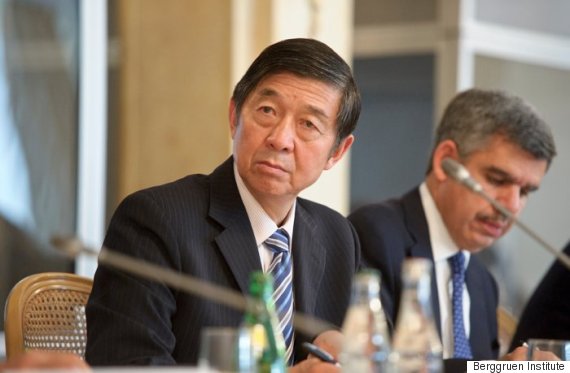 Wu Jianmin (left) with Mohamed el-Erian (right) at the Berggruen Institute's 21st Century Council meeting in Paris, October, 2011. (Berggruen Institute)
"Recently, nationalism and populism have been expanding around the world, becoming a global phenomenon," Wu said in a speech on June 6. "….Nationalism has two connotations. First, love for your own country, which is not wrong. Second, exclusion of others and pushing the blame for your country's problems onto other countries. I am good, others are bad. This is problematic. … Nationalism and populism are also very dangerous in China. Nationalism often flies under the banner of 'patriotism,' which is innocent. Populism can dress up as 'appealing on behalf of the people.' But both are very deceptive. We need to see that the essence of populism goes against reform, and the essence of nationalism goes against opening up."
Eric Olander and Cobus van Staden ask whether China's heavy investment in South Sudan is "naked imperialism in pursuit of the country's vast oil reserves or a genuine effort to bring peace to help end a brutal conflict." This amazing video was taken by a drone flying around inside a Byzantine-era church in France. These dazzling photos display the diversity of Mexico's indigenous cultures.
Writing from Tambopata, Peru, Next Gen Scientist's Aaron Pomerantz discovers a remarkable collaboration between ants and butterflies in bamboo stalks in the remote Amazon jungle. In a separate video post, he also explains something we've all wondered about: how do butterflies create color in their wings? Finally, our Singularity series this week explores how understanding human learning can make artificial intelligence smarter.
WHO WE ARE

EDITORS: Nathan Gardels, Co-Founder and Executive Advisor to the Berggruen Institute, is the Editor-in-Chief of The WorldPost. Kathleen Miles is the Executive Editor of The WorldPost. Farah Mohamed is the Managing Editor of The WorldPost. Alex Gardels and Peter Mellgard are the Associate Editors of The WorldPost. Katie Nelson is the National Editor at the Huffington Post, overseeing The WorldPost and HuffPost's editorial coverage. Charlotte Alfred and Nick Robins-Early are World Reporters. Rowaida Abdelaziz is Social Media Editor.

CORRESPONDENTS: Sophia Jones in Istanbul

EDITORIAL BOARD: Nicolas Berggruen, Nathan Gardels, Arianna Huffington, Eric Schmidt (Google Inc.), Pierre Omidyar (First Look Media) Juan Luis Cebrian (El Pais/PRISA), Walter Isaacson (Aspen Institute/TIME-CNN), John Elkann (Corriere della Sera, La Stampa), Wadah Khanfar (Al Jazeera), Dileep Padgaonkar (Times of India) and Yoichi Funabashi (Asahi Shimbun).

VICE PRESIDENT OF OPERATIONS: Dawn Nakagawa.

CONTRIBUTING EDITORS: Moises Naim (former editor of Foreign Policy), Nayan Chanda (Yale/Global; Far Eastern Economic Review) and Katherine Keating (One-On-One). Sergio Munoz Bata and Parag Khanna are Contributing Editors-At-Large.

The Asia Society and its ChinaFile, edited by Orville Schell, is our primary partner on Asia coverage. Eric X. Li and the Chunqiu Institute/Fudan University in Shanghai and Guancha.cn also provide first person voices from China. We also draw on the content of China Digital Times. Seung-yoon Lee is The WorldPost link in South Korea.

Jared Cohen of Google Ideas provides regular commentary from young thinkers, leaders and activists around the globe. Bruce Mau provides regular columns from MassiveChangeNetwork.com on the "whole mind" way of thinking. Patrick Soon-Shiong is Contributing Editor for Health and Medicine.

ADVISORY COUNCIL: Members of the Berggruen Institute's 21st Century Council and Council for the Future of Europe serve as the Advisory Council — as well as regular contributors — to the site. These include, Jacques Attali, Shaukat Aziz, Gordon Brown, Fernando Henrique Cardoso, Juan Luis Cebrian, Jack Dorsey, Mohamed El-Erian, Francis Fukuyama, Felipe Gonzalez, John Gray, Reid Hoffman, Fred Hu, Mo Ibrahim, Alexei Kudrin, Pascal Lamy, Kishore Mahbubani, Alain Minc, Dambisa Moyo, Laura Tyson, Elon Musk, Pierre Omidyar, Raghuram Rajan, Nouriel Roubini, Nicolas Sarkozy, Eric Schmidt, Gerhard Schroeder, Peter Schwartz, Amartya Sen, Jeff Skoll, Michael Spence, Joe Stiglitz, Larry Summers, Wu Jianmin, George Yeo, Fareed Zakaria, Ernesto Zedillo, Ahmed Zewail, and Zheng Bijian.

From the Europe group, these include: Marek Belka, Tony Blair, Jacques Delors, Niall Ferguson, Anthony Giddens, Otmar Issing, Mario Monti, Robert Mundell, Peter Sutherland and Guy Verhofstadt.
MISSION STATEMENT
The WorldPost is a global media bridge that seeks to connect the world and connect the dots. Gathering together top editors and first person contributors from all corners of the planet, we aspire to be the one publication where the whole world meets.
We not only deliver breaking news from the best sources with original reportage on the ground and user-generated content; we bring the best minds and most authoritative as well as fresh and new voices together to make sense of events from a global perspective looking around, not a national perspective looking out.