RIO DE JANEIRO ― For the first time in six years, there was a line outside of Canecão. The famed "Big Saucer" music venue had been closed since 2010. But tonight, a ragtag and rambunctious group of artists and musicians had illegally occupied the abandoned concert hall and christened it as their new headquarters. Ocupa MinC, as the group calls itself, was protesting Brazil's interim president, Michel Temer, and his deep cuts to government funding of the arts.
Naturally, a party was in order.
It felt like an eccentric blend of warehouse clubbing and guerilla activism: a woman in a Carnival dress, standing on stilts, greeted visitors. Eerie black-and-white close-ups of characters from Walter Salles' 1995 film "Foreign Land" were projected on the stage behind a procession of rock bands, samba groups and poets. Cases of beer and cachaça fueled the festivities. At the end of the night, the legendary Chico Buarque gave a rousing performance; for the first time since the 1970s, he sang "Apesar de Você," an anti-censorship anthem banned during Brazil's dictatorship.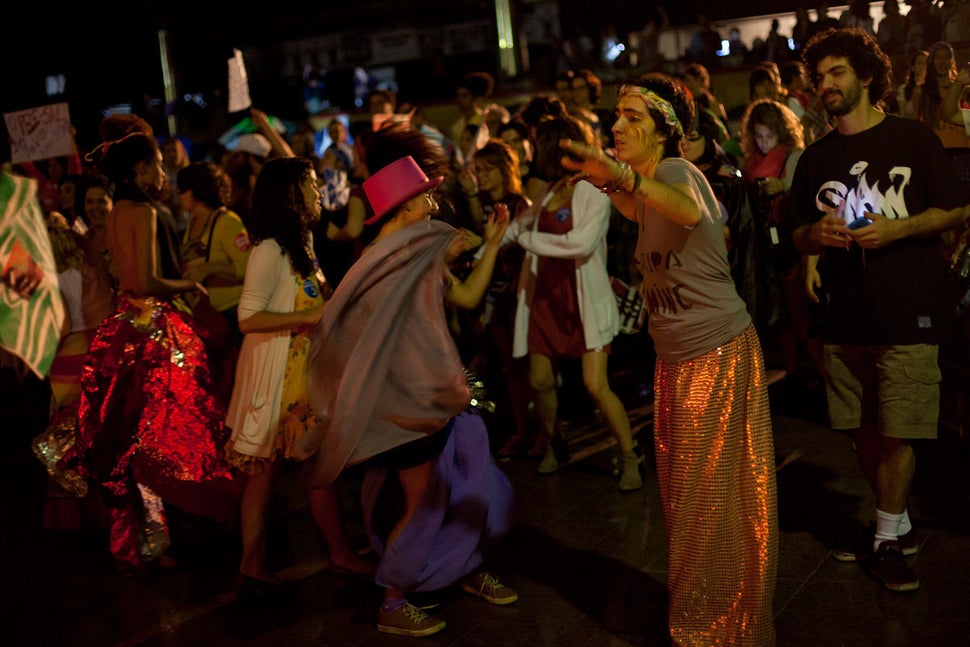 The party, an "inauguration," drew roughly 2,000 people and was purposely held on the eve of the 2016 Olympic Opening Ceremony. It spawned a series of parodied names such as the convoluted and whimsical "Ceremony-Party-Act of Olympic Re-Existence" and the "anti-Olympics." A fake torch was passed around, and a poet got up on stage and exclaimed: "Let's occupy everything, and resist!"
It was a cultural call to arms, just as the world's eyes were turning to Rio. These artists were going to expose what is really going on in Brazil.
It was a cultural call to arms, just as the world's eyes were turning to Rio.
Ocupa MinC began in May when Michel Temer became interim president and promptly announced that the government was going to deal with one of the worst budget deficits in years by absorbing the Ministry of Culture into the Ministry of Education. In response, thousands of artists and musicians occupied MinC buildings in at least 18 cities nationwide, camping out in tents and performing songs in protest.
Temer heard their discontent ― sort of. Days later, he reinstated MinC by presidential decree ― but with huge cuts to its cultural programming, which reportedly included slashing perhaps up to 50 percent of the programs planned in Rio for the Olympics.  
"There weren't resources for productions or shows or festivals ― nothing," Gracielle Monteiro, 23, said. "It was like, 'It's over.' So that's when we decided, 'No. We have to fight.'"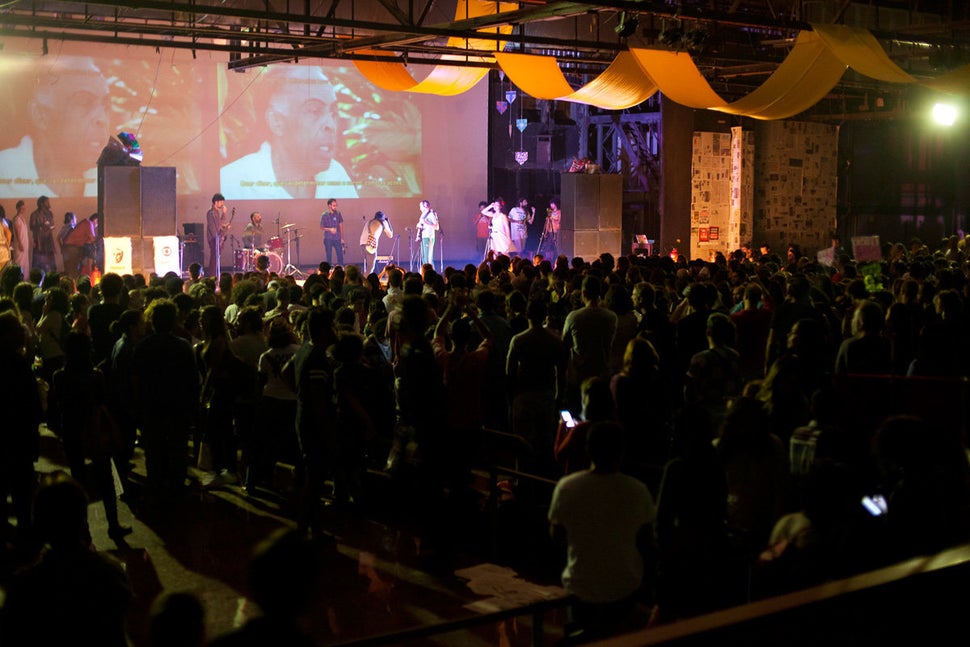 Monteiro is a contemporary ballerina, and she started offering free dance classes to the public after learning about the cuts. Two months ago, she traveled with her infant daughter from her hometown of Vitória to visit friends and family in Rio and ended up staying to participate in the early protests.
"I am here, together with my daughter of 1 year and 8 months, precisely to fight and to show force and life," Monteiro said as her daughter Maia played nearby. "And to show [her] that, yes, there is hope and a new way to live."
Like most of the occupiers here, Monteiro was born after Brazil's military dictatorship fell in 1985. But those dark days are discussed on a daily basis inside Canecão. "During the dictatorship, Brazilians weren't able to have freedom of expression and art," Monteiro said. "It was a crime."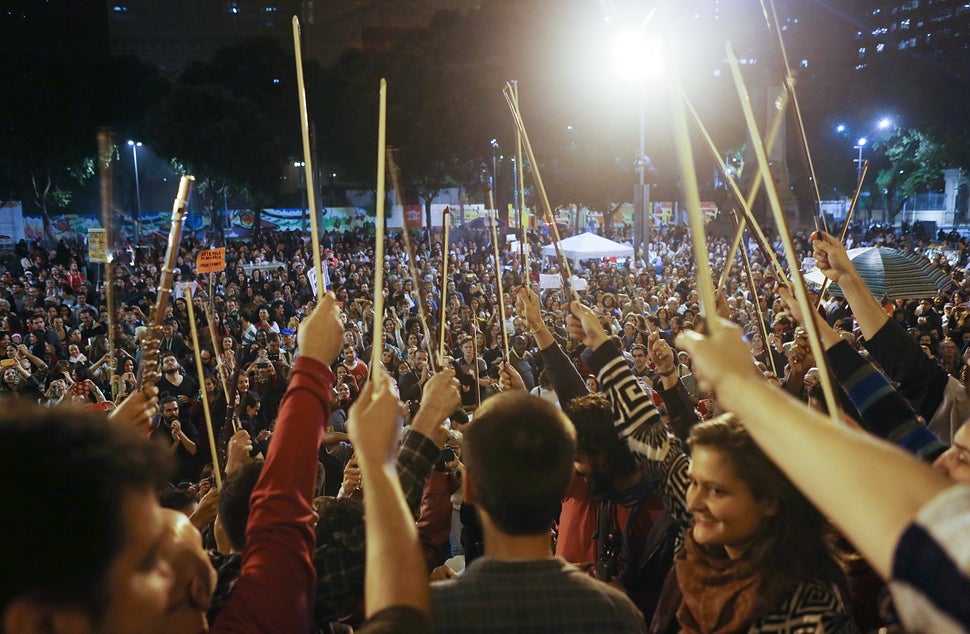 After a military coup in 1964, the Ministry of Education and Culture became a source of state censorship. The ministry actively tried to prevent producers from making politically charged films, instead encouraging safe, primetime soap operas, or telenovelas. Songwriters and singers were exiled from the country, and those who stayed used literary devices to sneak social commentary into their songs. So when today's MinC formed in 1985, the independent agency grew to symbolize Brazil's cultural liberation after 21 years of authoritarian rule. Famous artists, such as the singer Gilberto Gil and the writer Antônio Houaiss, have since overseen it.
Now, MinC's purpose is to foster cultural exchanges throughout Brazil; it provides funds for music, dance and the performing arts through scholarships and research, while creating collective spaces for artists, particularly in neglected communities. But critics say MinC is a case study in financial mismanagement ― seen as particularly egregious now, when the nation is in its worst economic crisis since the Great Depression. In fact, when the Secretary of Culture Marcelo Calero took office in May, MinC was reportedly more than 1 billion reais ($312 million) in debt.
Meanwhile, proponents point out that MinC's budget makes up only 0.2 percent of Brazil's overall budget and say that the agency is especially important because of the freedom it represents. Thousands of Ocupa MinC members perceive Temer's cuts as a threat to that freedom. And they've adopted a rallying cry that the estimated 70 percent of Brazilians who are displeased with their interim leader would applaud: "Fora Temer!" – Portugese for "Get out, Temer!"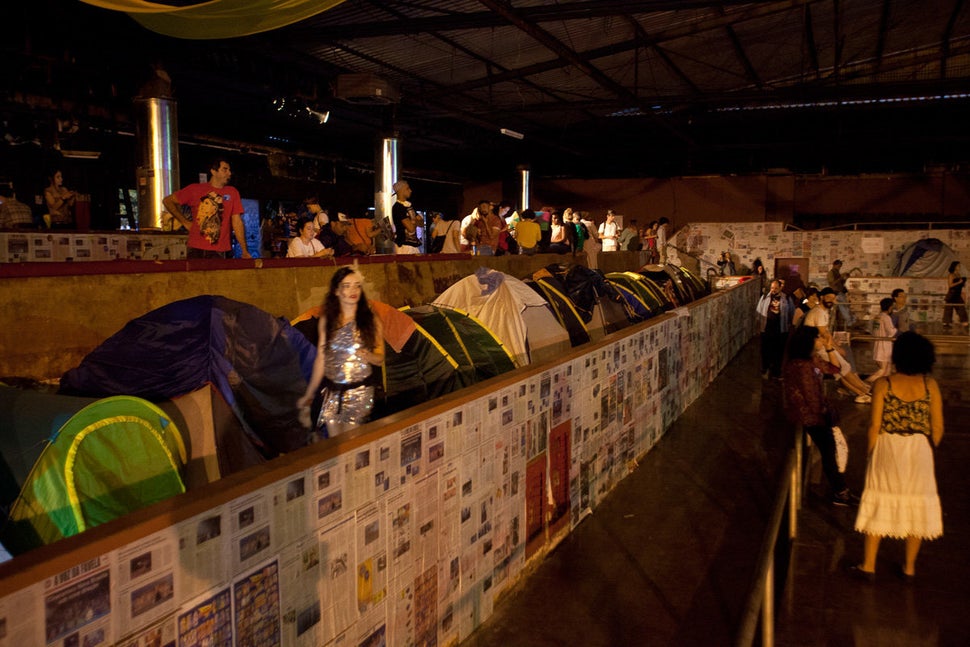 But while removing Temer from office is their primary objective, Ocupa MinC also reflects a larger frustration that Brazilians have with their government.
A corruption investigation known as Operation Lava Jato (Car Wash) has ensnared Brazil's top political and business brass; so far, 179 people have been indicted and 93 convicted on criminal charges related to bribery and kickbacks from the state-run oil titan, Petrobras. The scandal destabilized the economy and exposed a decade-long burst of economic growth ― which earned Rio the Olympics in 2009 ― as hollow and fragile. It even entangled Luiz Inácio Lula da Silva, better known as Lula, who is arguably the nation's most popular president in its 31 years as a democracy. His former chief of staff has already been sentenced to 23 years in jail.
Against this backdrop, with the country swimming in high debt and unemployment, the Olympic Games arrived. They could end up costing Brazil well over the budget of $4.6 billion. One poll found that 50 percent of Brazilians were against the Games. Ocupa MinC members argue that the mega-event exposed the vast inequality between the Rio that visitors see and the Rio that the government left behind for the people who actually live here ― a sentiment that has led to widespread protests during the Games.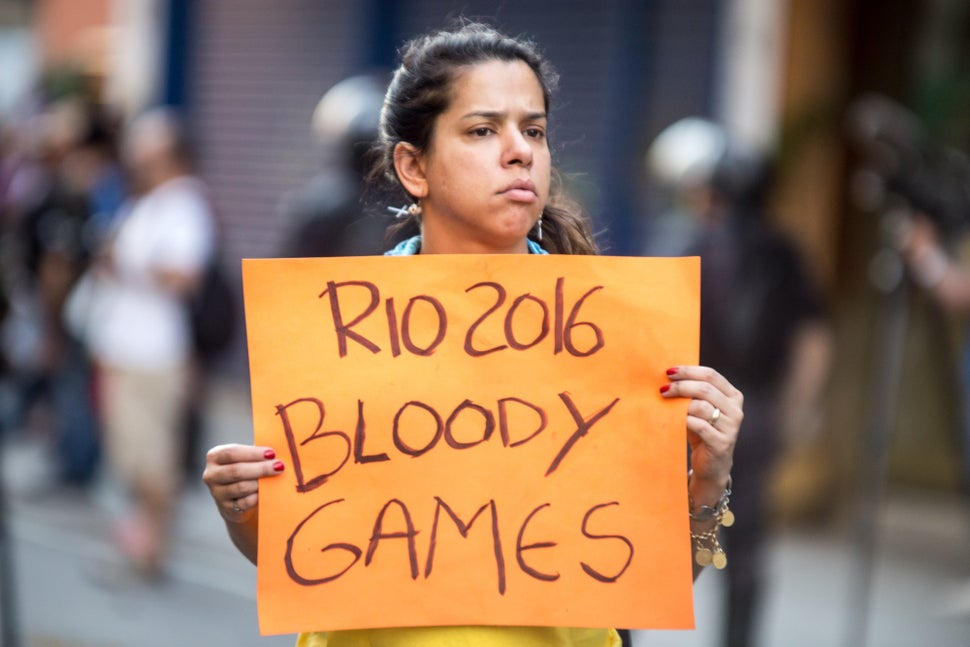 This Molotov cocktail ― of political upheaval, economic downturn and the first Olympics to be held in South America ― has re-energized youth activism across the country. The turbulence has also helped unearth deep-seated issues that say a lot about the current state of Brazil.
For Monteiro, all of this means educating her family back home in Vitória about the classist and racist ills that she says have long plagued Brazilian society.
"For me, as a woman and single black mother, it's very important to be able to tell this story," Monteiro continued. "My family is poor, and they are learning about politics through me. This gives me a lot of motivation to not only fight for myself but for them too."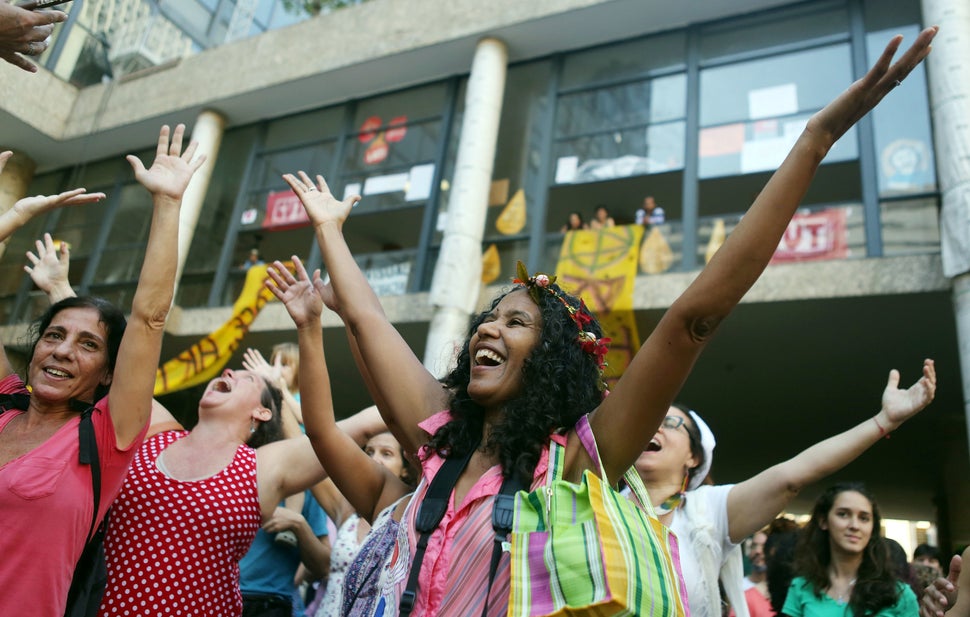 Similar to Occupy Wall Street, Ocupa MinC members tend to say that they oppose all forms of oppression in Brazil ― racial, sexual, economic, cultural. And, interestingly, a majority of the Canecão occupiers ― including the most vocal occupiers ― are women. Larissa Schiavon, an 18-year-old street artist, is a member of its feminist faction, Sereias ― "Mermaids."
"As a woman and artist working independently on the streets, late at night, sometimes men receive me like I'm a prostitute," she said. "Sometimes they'll want to pay [me] and ask for my number. Or they'll say, 'Why don't you get a real job? You're so beautiful. This isn't your place or your role.'"
Brazil's problems with misogyny are not new; a 16-year-old girl recently said police blamed her for allegedly being gang-raped by 30 men in Rio. Schiavon explained that breaking down gender barriers is part of Ocupa MinC's mission, and many of its members argue that Temer exemplifies old-world machismo.
This Molotov cocktail has re-energized youth activism in the country.
In April, Veja magazine ran an article on Temer's wife Marcela with the headline "Beautiful, Maidenlike, and 'a Housewife.'" The article explained how, even with a law degree, her only jobs have been a secretary, beauty pageant star and caretaker of their son. Her husband later made headlines when he said during an interview that women should retire earlier than men to take care of their home. He was also widely criticized for appointing an all-white, all-male cabinet in one of the most culturally diverse countries in the world and for folding the Ministry of Women, Racial Equality and Human Rights into the Ministry of Justice.
And then there's the matter of how Temer actually came to power.
He's often labeled a "golpista" ― "leader of a coup." Scores of Brazilians, including Ocupa MinC members, consider Temer's presidency to be a conservative coup against the suspended leftist president, Dilma Rousseff, who faces impeachment over charges of budget manipulation.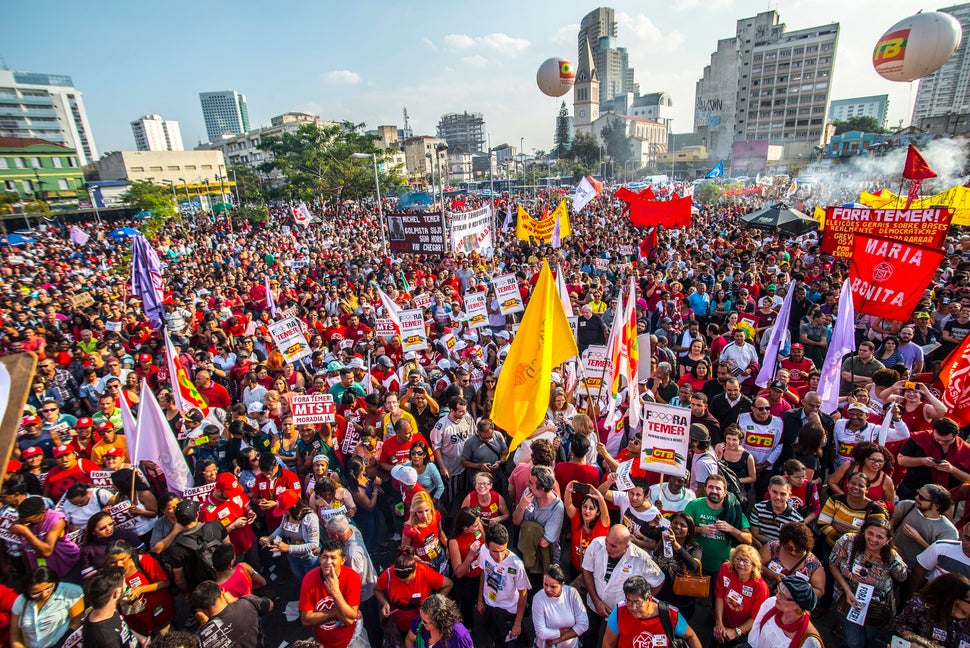 Formerly Rousseff's vice president, Temer assumed her role when the Senate suspended her in May. He joined her first winning ticket in 2010 in an effort to solidify an alliance between their two factions: Temer's PMDB (Brazilian Democratic Movement Party), which is the largest and most consequential party in Brazil, with Rousseff's PT (Workers' Party), the leftist party that Lula helped form and that has dominated Brazilian presidential politics since the early 2000s. But once Rousseff was charged, Temer's party withdrew crucial support from her in the Senate, nearly guaranteeing she would face trial.
Since taking office, Temer has gained the support of what's known as the "Bible, beef and bullets" lobby ― a conservative coalition of evangelicals, agricultural interests and pro-gun lawmakers whose influence Rousseff's administration had long obstructed. In recent years, the government has lurched rightward, in Tea Party fashion, as the caucus gained seats in the lower house and the Senate. Leaders now say they hope to capitalize on Rousseff's exit and have placed their hope in Temer.
But what Ocupa MinC members see is a cultural war that fits the pattern of what's happening globally, with Brexit, European far-right nationalism and Donald Trump. The occupiers view Temer as the face of Brazil's conservative core and Rousseff's ouster as the left's symbolic defeat. Temer's cabinet and core supporters, they argue, represent the country's backward ways ― his first pick for the science minister was a creationist, for example, and a notorious deforester was chosen to oversee the Ministry of Agriculture. Meanwhile, occupiers say his austerity measures are using the guise of the poor economy to dismantle liberal policies of the past decade through privatization and downsizing.
The process to impeach Rousseff has divided and disillusioned the country. There have been massive protests nationwide, both against Temer and against Rousseff ― according to a July poll, 62 percent of Brazilians want new elections, and around the same percent do not want Rousseff back in office. On nearly every block in Rio, "Fora Temer!" and "golpe" ("coup") are scribbled somewhere.
Although Ocupa MinC members aren't all necessarily fans of Rousseff, many see her as a victim of a "House of Cards"-style shadow plot long in the making, concocted by those who want to reinstate the militaristic "order and progress," the slogan of Brazil's past that's still splashed across the national flag. And they add that the fact that impeachment looms over Rousseff, Brazil's first female president, is by no means coincidental.
"She was a woman, so they took her out, without any evidence or crime on paper. Because, by the minute, they try to silence us, saying 'You don't have a voice,'" Monteiro said. "What she endured was a coup, a real coup, for being a woman."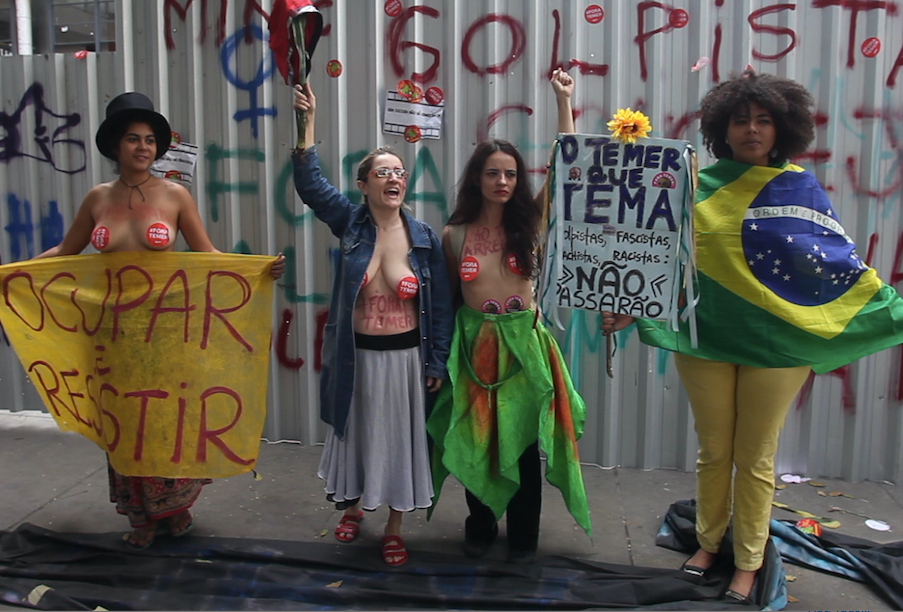 One early morning in late July, Ocupa MinC member Paulo Telles was on security patrol when federal police invaded Palácio Gustavo Capanema in Rio, the first site of Ocupa MinC in Rio. By that point, the group had been occupying the MinC building for 70 days.
"At 6 a.m., everyone was sleeping," he said. "We woke up with rifles in our faces and police saying, 'You have five minutes to dismantle your tent.'"
The energetic 28-year-old Afro-Brazilian from Bahia describes himself as an "art activist" who sings, dances, acts and writes poetry, particularly about the plight of black and indigenous people in Brazil. Telles is also part of a theater-dance collective, whose most recent performance, he said, suffered from MinC cuts. "We were working for free," he said. "We didn't have enough money to pay rent."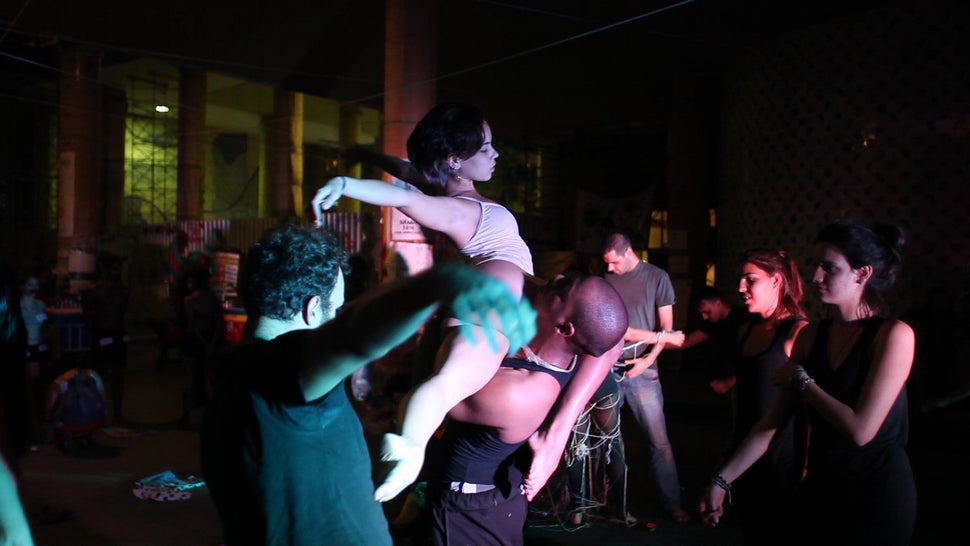 Three days before the Capanema raid, ministry officials said that funding for Olympic projects already made public was secure but that others were "going through adjustments." The agency's large debts and low funds have caused museums to cancel or postpone exhibitions. In Rio, for example, the popular Theatro Municipal has been forced to cancel ballet and opera performances. And the day after the Capanema raid, 81 MinC employees from some of the country's largest cultural institutions, like Rio's National Library, were fired.
Temer has yet to respond to Ocupa MinC, but when Calero took office as the new secretary of culture, he said that he'd be open to talks. Members refused, saying that they wouldn't sit down with a "coup government."  
On any given day at Canecão, which members now refer to as "home," meetings are held to discuss how best to organize their movement. Although they stress a horizontal hierarchy, they're divided into "GTs," or grupos de trabalhadores (working groups), that cover communication, technical support, infrastructure, production, security and cleaning, since Canecão was infested with rats before the occupiers arrived. Each day, an agenda lists what cultural programs ― dialogues, performances, concerts ― will be held, as well as internal meetings, which sometimes last hours, since decisions are based on consensus.
Tents in the building have become homes for about 40 or 50 of the protesters. They installed electric showers in the bathrooms and pasted graffiti-covered newspapers on the walls ― a critique of Brazilian mainstream media, which they believe supported Rousseff's fall. There's also a communications desk that's often filled with young members cutting video content on their laptops, discussing outreach and posting upcoming events on Facebook. 
While the other occupations have mostly receded, the Rio faction of Ocupa MinC, ignited by the Olympics, is still one of the most active. Yet it's unclear how long this occupation will continue.
The group says it plans to occupy until Temer leaves office, but the prospect of his departure looks slim. Rousseff's impeachment trial ― which determines whether Temer stays in power ― begins immediately after the Olympics end. As of the latest Senate vote in early August, her impeachment looks increasingly likely, which would keep Temer in office until 2018.
There's also the question of Canecão itself. At a meeting in early August, nearly 150 people ― Ocupa MinC members as well as students and professors from Federal University of Rio de Janeiro (UFRJ), which owns the building ― discussed whether the space could be transformed into a collective for art schools around Rio or "reactivated" as a permanent cultural space. Despite some academic support, UFRJ officials said later that the occupation must end due to structural concerns with the building.
'Either we scream or be completely silenced.'
And then, of course, there are the police.
"How did the Capanema eviction happen?" Monteiro asked. "In the morning, very early, when we weren't able to alert the media, or anyone, because there wasn't time."
"I'm scared as a mother and as a woman," she continued, "It's scary traveling with a baby and having to pass five guns," referencing nearby armed military police there for the Olympics. "I don't think that just because the Olympics are here, nothing can happen."
But fear hasn't held the group back. Rallies are still being planned until the end of the Olympic Games including, most recently, an anti-Temer protest held alongside the female marathon route. For those looking to disrupt Olympic events, there are also signs and stickers calling for Temer's resignation, which visitors take on their way out of Canecão and then flash to the international news cameras for the world to see.
"I think right now is the exact moment," Larissa Schiavon said. "Either we scream or be completely silenced."
This was produced by The WorldPost, which is published by the Berggruen Institute.