ISTANBUL ― It had been a beautiful, balmy summer night, the kind of night that beckons for a city stroll.
As the sun sank low in the sky on June 28, just before sunset, I put on a pair of comfy shoes and ventured outside. I made my way through Istanbul's iconic Taksim Square, the smell of roasted chestnuts filling the air, and on to Gezi Park, where young lovers sat intertwined on benches. Bosphorus seagulls soared high above the city's terracotta-tiled roofs as the call to prayer sounded, beckoning people home to break their Ramadan fasts.
How lucky I am, I remember thinking, to call this place home.
Then, just after 10 p.m., my phone began to buzz. Message after message from friends, colleagues and officials flooded my inbox: Attack at the airport. Casualties reported. Are you OK?
My stomach dropped. Not another one, I thought. My partner, Matt, had just flown out of Istanbul Ataturk Airport's international terminal, the same terminal targeted by attackers. I scrolled through a mental list of loved ones who might have been traveling that day, who might have been in the wrong place at the wrong time.
In the end, the triple suicide bombing ― blamed on the so-called Islamic State ― would claim the lives of 45 men, women and children.
It could have been me or someone I love, a fact that is not lost on me. And yet, I have no plans to leave.
Golden hour in Istanbul. #Turkey

A photo posted by Sophia Jones (@sophiamariejones) on
The men who blew themselves up last week had hoped to instill terror, no doubt. And after a handful of bloody attacks, many of which targeted foreigners and tourists, I would be lying if I said I wasn't ever afraid.
I've stopped taking the metro at rush hour. My pulse quickens when a heavy door slams or a car backfires. A tourniquet, taken from a first aid kit I've carried on assignment in places like Iraq and Afghanistan, now has a home in my purse.
But still, the attacks have not driven me to leave Istanbul or move back to the United States out of fear.
My American homeland, after all, is hardly a beacon of peace and tranquility. It's a place where children now find themselves practicing lockdown drills at school, learning how to prepare for a mass shooting. And over Fourth of July weekend, at least 61 people were shot in Chicago alone.
From afar, one would think Chicago is practically a war zone. Same goes for Istanbul.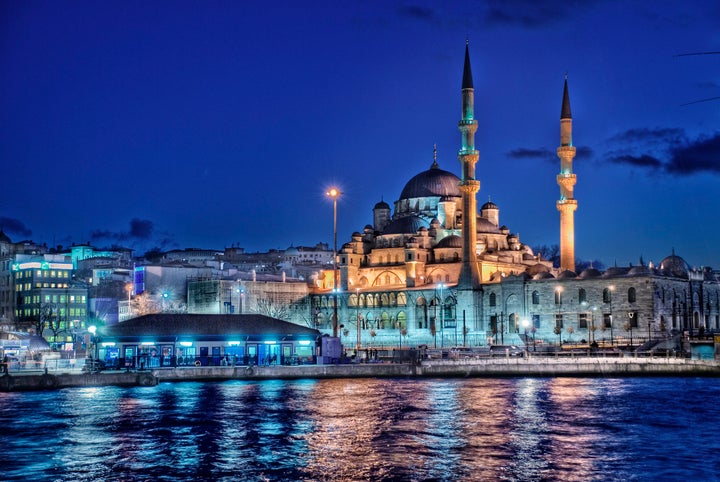 The bombings are scary, but everyday life must and does go on. Apart from increased security around embassies and at key landmarks, and Turkish flags hanging from windows of shops and homes, it's not immediately obvious that the city is reeling from a terror attack.
What's obvious is the lack of tourists, many of whom have been driven away in terror. I can't blame them ― vacations are a time to relax and decompress.
But they're also a time to explore, to soak up history, to eat well and to be enchanted. That's why, when people back home ask how Istanbul is these days, I tell them to come visit and see for themselves.
I am still enchanted by this city, just as I was the first day I arrived years ago on a reporting trip.
Sure, life has not been without problems. Reporters are routinely detained and denied entry to the country. The complex and overwhelmed residency application process here seems to change on a whim.
The fluorescent rose lights of Baskurt Sokak are so cheesy and yet so romantic. #Cihangir #istanbul #Turkey

A photo posted by Sophia Jones (@sophiamariejones) on
On a drive to the airport late last week, a taxi driver demanded: "Why would you want to live in Istanbul?" He wasn't referring to the recent terror attack, though, but to the gridlocked traffic and to the two angry drivers fist-fighting in front of us.
But for me, this city's many charms outweigh the bad.
The two years that have passed since I moved here from Cairo have flown by ― and there's still so much I have yet to see.
On a recent Sunday afternoon, I found myself with friends on one of the many Bosphorus boats. As we came to a stop after chugging along the waterfront, taking in the striking views of regal palaces and grand mosques, dolphins began leaping out of the water.
This Wisconsin girl had never seen a dolphin before. How lucky I am, I thought, to call this place home.
Istanbul's Istiklal Avenue, bustling and full of life on March 22, several days after a suicide bomber targeted tourists in the city's historic Sultanahmet district.

A photo posted by Sophia Jones (@sophiamariejones) on