Taylor Swift and her merchandise are coming to China. But the all-American star may be the latest foreign celebrity to inadvertently raise the ire of censors in the middle kingdom.
Still in the throes of a globe-conquering tour promoting her album 1989, T-Swift on Wednesday announced that she'll be opening her own store on two of China's biggest e-commerce platforms. The problem? 1989.
That was the year — and June 4 the day — that Chinese soldiers crushed student demonstrations in Beijing's Tiananmen Square, killing hundreds in the process. In the decades since, Chinese citizens have used "1989", "89" and "6/4" as shorthand for the massacre. In response, the Chinese government often treats these numbers as "sensitive," censoring online commentary that uses them.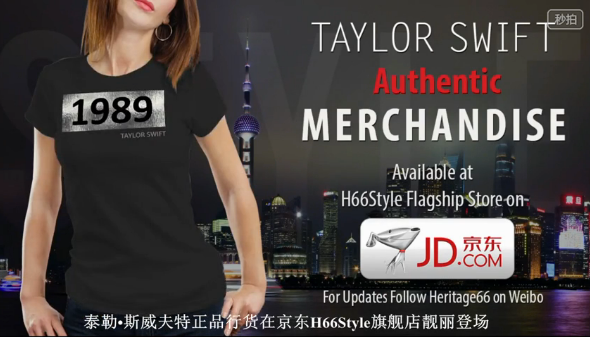 China has gone so far as to censor news about the stock market when it fell by 64.89 points on June 4 several years ago. Net users have responded by coming up with even more code words for the date, such as "May 35th."
Into this cat and mouse game walks the (presumably blissfully ignorant) Swift, whose video announcement of the clothing line features many clothes emblazoned with 1989 — the year of her birth and name of her record-breaking album. Not in the announcement but currently available in T-Swizzle's online store is this even more problematic hoodie:
China will get its first Taylor Swift authorized online store in Aug. #TS1989 hoodie anyone? http://t.co/j7mioZduUA pic.twitter.com/3wi6sq91Dr

— Alan Wong (@alanwongw) July 22, 2015
Forget Apple & Spotify, now Tay-Tay is taking on the Chinese Communist Party. http://t.co/Wm9E9fqvv4 #TS1989 pic.twitter.com/xI17hdJkyf

— Fergus Ryan (@fryan) July 22, 2015
Chinese authorities have yet to (publicly) raise any objections to the clothing line — and it may be in their interests to leave it be. Swift's core fan base is of a generation that knows little to nothing about what happened in 1989 and banning an idol's T-shirts is a sure way to raise both rancor and uncomfortable questions.
But if the clothing does end up raising issues, it would make Swift just the latest in a long list of celebrities who have unintentionally ruffled feathers in China. Linkin Park and Maroon 5 have both seen China shows cancelled, likely over tweets involving the Dalai Lama, a persona non grata in China. Smooth sax legend Kenny G rankled Chinese authorities last year when he posted a photo of himself with democracy protesters in Hong Kong. Kenny G's music is everywhere in mainland China, but the posts earned him a rebuke from China's foreign ministry. He quickly deleted the "offending" posts.
Swift herself is much beloved by Chinese fans, many of whom lovingly refer to her as "mold mold" (don't ask, but if you must). Those lucky enough to get their hands on a ticket will be seeing her in Shanghai this November.